What the pandemic taught one Miami studio owner about impermanence and returning to the very essence of Yoga: consistency & surrender.
In the midst of new pandemic living, State of Yoga (SOY, a South of Fifth staple affectionately dubbed SOY by its regulars, doles out hefty helpings of decompression with in-person and, most newly, online Yoga classes via Zoom. The studio, owned by French transplant Sandrine Kahmi, struggled like so many others to adopt the new pace of things. Embracing social distancing and a digital-savvy world didn't come without resistance, even for a Yoga teacher. But it did come with some special perks.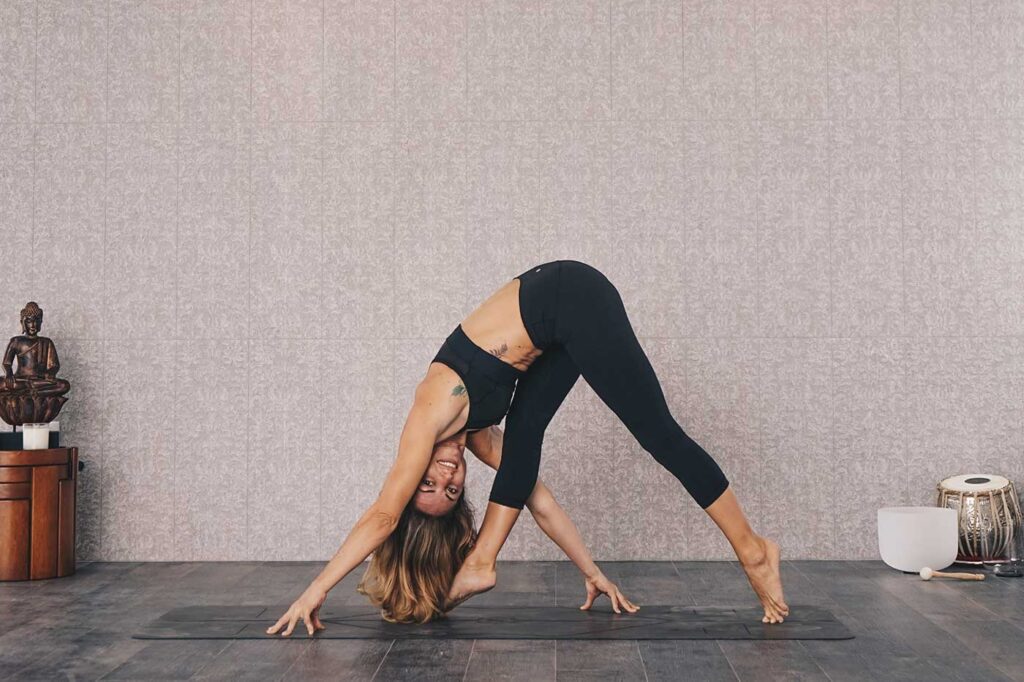 Shining a light in a lately dim environment, the NGO consultant for children's rights turned Yoga studio owner figured out a simply profound tool for surviving the chaos of the moment: applying the Yoga. After some hesitation, Sandrine decided this was an opportunity, like all other difficulties, and a chance to go with the flow rather than push and pull. Sandrine taught her first online classes in March, nervous and feeling like a first-time teacher after a career of 11 years, in order to provide those temporarily homebound an opportunity to continue their practice. On the other side of a perhaps temptingly safe comfort zone, lived new possibilities.
Now, while the studio remains open to locals with the latest safety precautions in place, students otherwise unable to attend join her from around the world virtually. The new platform was a welcomed shift, a means not only forward during quarantine, but an outlet in its own right and an unexpected way to stretch the boundaries of connection globally.
Dish Miami sat down with Sandrine to chat ringing in new challenges, valuing Yoga as a paid profession, and learning when to let go.
You have an interesting backstory. Can you talk me through your previous career and how you ended up owning a Yoga center?
Around 10 or 11 years old, I found the Bhagavad Gita in my mother's bookshelves, and I started reading it.  At that time, I didn't have any religion and I started asking myself about spirituality. As for my Yoga practice, it really began about 19 years ago. I was living in Geneva at the time working for an NGO against child labor and for better education for children. One day, a friend of mine brought me to my first Ashtanga class and I was hooked; I never stopped.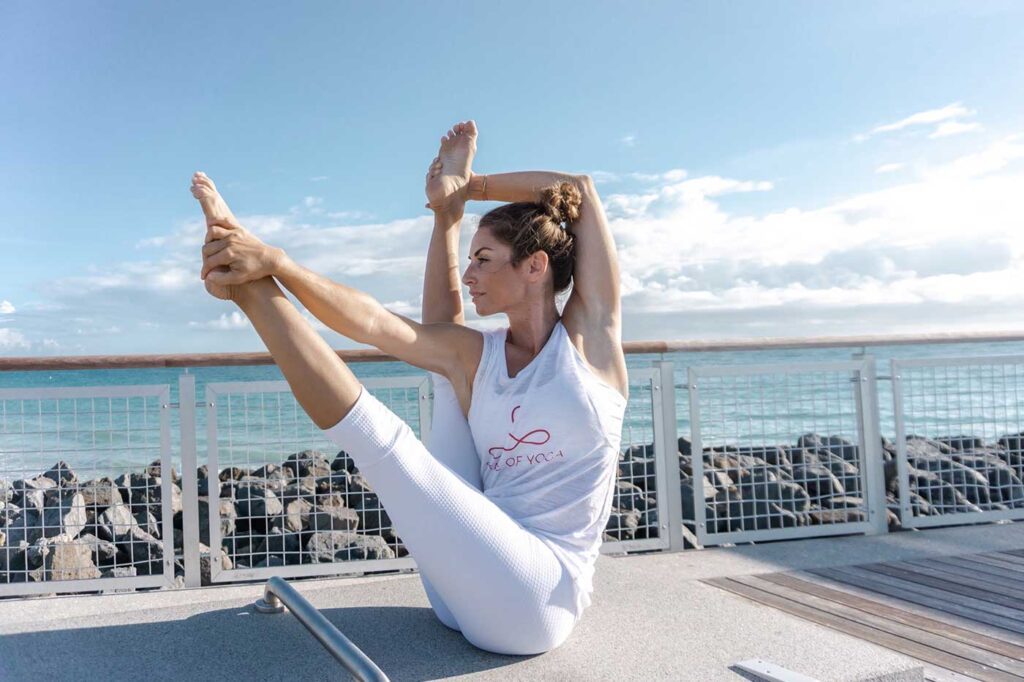 You ended up moving to Turkey for some time before settling in Florida. How did you find your way here?
My husband had to move to Turkey for his work and I was excited to change my life and to have a family. I became a mother; my children are 13 years old now. Turkey is an amazing country and a strong energetic place as well. Yoga was exactly the way in which I could re-center myself and I intensified my yoga practice. After I gave birth, I decided to complete a yoga teacher training not to become a yoga teacher at that time but to deepen my yoga practice. A year after, I went to Bali to join another training and I started teaching immediately afterward. 
Did you take any other trainings?
I did many of them, always curious and passionate about what I was learning. What I liked was to inject more and more spirituality into the Asana practice. It was to refine my own practice using the scripture and more pranayama and meditation.
A year after starting teaching Yoga in Turkey, a friend, Alexis, and I decided to open a little company called State of Yoga. We were a concierge business that offered Yoga classes, workshops, corporate Yoga, and Yoga retreats in Turkey and in Europe. 
So how did State of Yoga come to be down here in South Beach?
The political situation in Turkey started to change and I moved back 5 years ago to Miami Beach with my family; I used to live here in 2000.
I taught in many different Yoga studios in Miami and in March 2018, I decided to realize my dream and I opened State of Yoga studio, here in South of Fifth.
Everything happened organically. Nothing was pushing, I feel extremely grateful for it.
What was it like for you and the studio once Coronavirus started? What transitions did you make?
I resisted quarantine. I thought that it was not possible. At that time I tried to respect the city's guidelines and social distancing still teaching, till the point that I had to close the studio. I'm normally impatient and with a lot of fire —Yoga teaches me to let go, acceptance, and patience—but I was sad either way because it was almost the two-year anniversary of the studio. But it was an opportunity. Like okay, time to apply the Yoga! Apply the idea that everything is impermanent and you have to let go. I've learned a lot through the process.
For the last few years, my students in Turkey had asked for online classes and I didn't feel comfortable with a camera; I had many reasons why it felt terrible for me. 
Then coronavirus hit and I thought fine: I need to change and not resist. I liked the challenge. I felt like a new teacher again, scared, but really happy to be able to continue my job. Reconnecting with students in Turkey and France, with my sister, my best friends, in Switzerland, Brazil, and Sweden. More and more I started relaxing and starting feeling comfortable.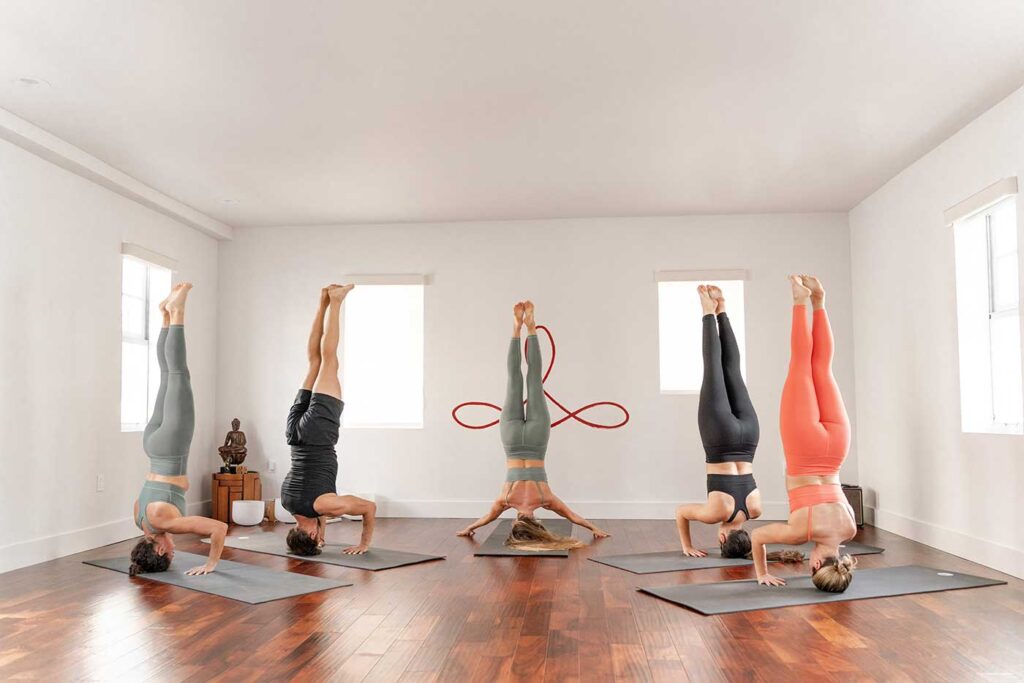 How is teaching different now that we're living in a pandemic?
Normally, I don't like to practice while I teach for the simple reason that you can't fully be with the student, you have to disconnect from them. So, even virtually, I like to use a model student. Now we stream the studio classes on Zoom as well, so what is difficult for me is to sit here in front of the camera and not to go move around while I'm teaching. 
It is challenging for sure. During the quarantine, it was especially tricky. I was lucky to be able to come to the studio, teaching and practicing, finding silence. Everything I thought I couldn't do online, I found out I could. More than ever we need to practice Yoga in challenging times to remain more calm and serene. What I think all the time is: how can you apply "on the mat" to "off the mat."
Now that we're open, some students feel vulnerable and still prefer to stay online. It's really great that I can still be with them regardless.
Why do you prefer not to practice with the students during class?
I feel it takes you away from being present with the students. For me, Yoga is about being a better listener—not only what you hear but what you feel. So being in class with students you develop an ability to really listen. When you stop showing them, you start asking them to listen instead. They start to remember the names of the postures. I try to give the names in Sanskrit too because this way wherever students go in the world they know what is being spoken about in class. When you know how to instruct well, people listen and do their best.
Students need to learn to listen to their bodies and according to that be able to extend their boundaries. In Yoga, you can dig as deep as you want. You can keep physical and dive deeper spiritually. I try my best every day to teach a playful and uplifting class, to create a supportive foundation for all students to feel balanced, energized, and confident on and off the mat. My aim is to nourish and empower students at every level of practice.
You seem pretty traditional. What do you think it is about Yoga moving further from the traditional practice? Is there a place for classes like Glow Yoga, Beer Yoga, etc.? 
We're moving very far, yes. I think there is an entry door for us to discover who we are in Yoga. The reason why you practice Yoga is always interesting. For me, it's always been to discover more myself. Maybe I'm more traditional, but when I love I do it passionately. Yoga for me is not a trend; it's who I am. So yeah, it's fun to do Glow Yoga or whatever I've seen, but oftentimes this is more about the ego, more about people showing how great their practice is. If it's for fame, if it's to be trendy, maybe you are losing the core of what the practice is. Right now, we sometimes use the name Yoga when it's not Yoga anymore. There is my Yoga practice, in which I like to include spiritual practice, pranayama, and meditation. There is the reading of the scriptures, taking time alone to chant. Maybe I'm old fashioned—okay, I can accept that. 
Being in love with Yoga means being a student first and forever. It's to love life.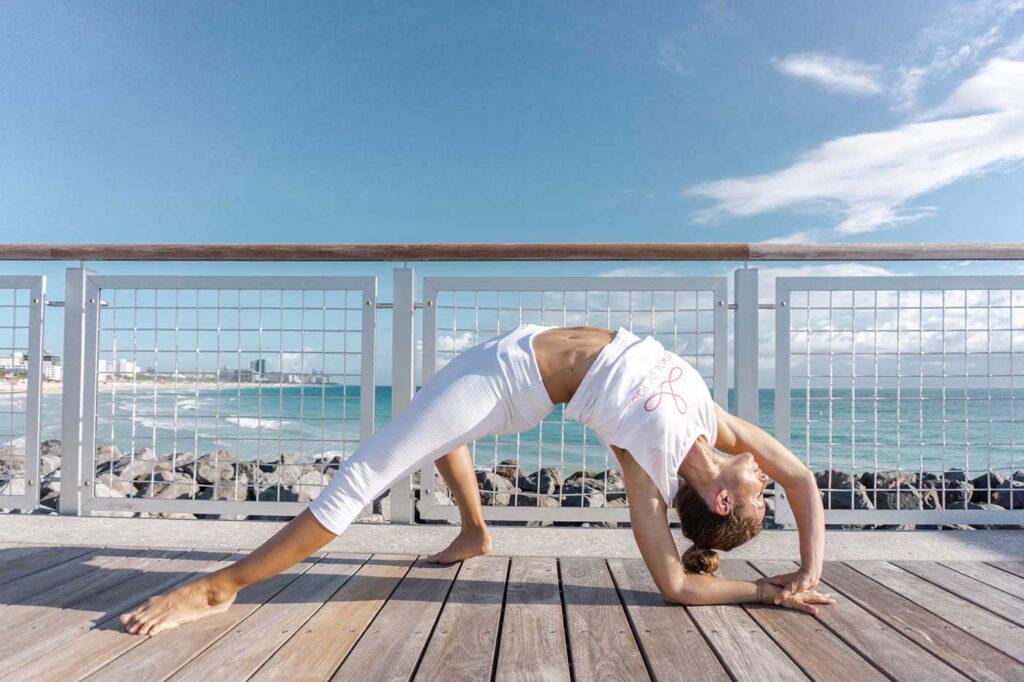 How do you learn to navigate the line between too rigid and too relaxed?
When you teach a lot of privates, you learn to refine your eyes. Maybe before I was more rigid. Slowly, I learned some days it's okay to not do my practice or to only do a little. But I do like the consistency. It's about trying to invite more Sukha and Dukha [expansion and contraction], trying to have more coming together. 
How do you think the Yoga community will change or is changing after this year?
Some students have returned, others stay home. There is still fear. But Yoga is Yoga. People will come back to the studio or practice at home. They will return to their practice. I personally think actually we will start seeing more people practicing Yoga.
What do you like about Miami?
For the first time in my life, when I came here, I felt home. All my life before, I wanted to leave, to move, to travel. Since moving here, I met many people that I can call my friends now. I love the ocean, spending time at the beach. There are so many new vegetarian/vegan restaurants. There is the yoga community. Here what you have to do is to allow yourself to have happiness, to enjoy life as it is. 
What else would you like readers to know?
We have Yoga online and in-person. We do our best! State of Yoga is a sanctuary for me. It's where I find peace and home. In Yoga, there is no pushing. As a Yoga teacher,  I'm here for you as a guide, but you have to do the work! It starts to get so interesting when you get deep in. And if you don't want to get deep in, that's fine, too. Already having a physical practice is enough. 
Good teachers are the ones living the practice. Continue your practice, be consistent. If you are not practicing, you don't have integrity. Krishnamacharya says listening is an act of truth. First, it is an action of love. When you love, you listen to your students. First, you listen to yourself. That's another story.