The allure of the travel from Miami to Key West is unquestionable; both for locals and tourists alike. After a couple of hours in the car and one of the most beautiful drives in the country, you arrive in a stunning travel spot remarkably different than Miami. For those curious travelers and those who seek refuge from the times we're living in, beloved Miami writer Alona Abbady Martinez breaks down where to eat, what to do, and where to stay in Key West.
The plan was simple. Drive south. All the way. Until the road ends at the coveted, quirky destination commonly referred to as the Conch Republic. It's been years since I last visited this famed town known to lure, among other things, stocky, white-bearded men for the annual Ernest Hemingway Contest (canceled this year due to COVID-19). Twenty years, if you're being precise, and my 21-year old daughter and travel companion was.
"I can't believe I was born and raised in South Florida and have never been to the Keys!" she admonished as I leaned into the gas, feeling the car dare to take off and fly.
"You were," I assured, remembering how much packing one had to do when traveling with an infant.
"If I don't remember, it doesn't count," she shot back, leaning into the soft, crimson leather seat and gazing at the endless turquoise vista hugging US 1 on both sides.
The last time I was on any trip had been to the blissful Caerula Mar resort in the Bahamas, back in February, before the world shut down. As a travel writer who finds herself on airplanes almost as frequently as visits to Publix, it has been challenging to be confined to one country, let alone one house. Still, there's no downplaying the severity of this pandemic, with the infection rate and death toll surely to remain in the headlines for months to come. As a result, we've shifted how we relate— to each other, to the world and to our jobs, and, while I never considered myself much of a road trip person, the idea of my hair whipping freely in the breeze while venturing out to the country's southernmost city in a luxe convertible sports car was starting to feel just right.
Of course, venturing out in the era of coronavirus calls for new guidelines, because, as much as travel soothes and nurtures our minds and souls (something in much need right now) it also has to—and can be—done with necessary COVID-19 preventative tweaks. For one, it was the first time I included masks when packing outfits for a trip (a gentle reminder: outfits are the clothing one wears when leaving the home). I also was fully stocked up on anti-bacterial wipes and gel and made sure to review the sanitation safety protocols of each hotel visited before heading south. And while the control freak in me can't help but map each minute of any trip out, I knew flexibility was key (pun intended), especially in such uncertain times. What was non-negotiable (and easy to heed) was that my daughter and I were set to leave our worries behind and have fun. Here's a peek at how we made it happen. I encourage you to steal from our plan.
How to Travel from Miami to Key West: The Drive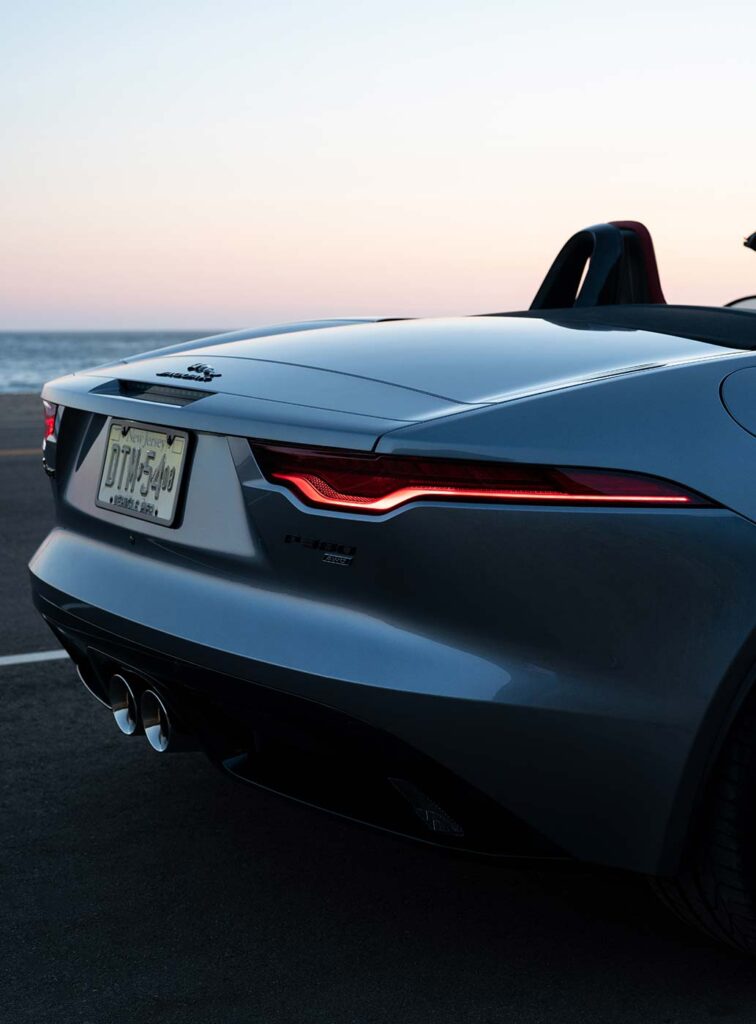 Our vehicle, which I had nicknamed Margaret (after Margaret Thatcher, a nod to Jaguar's British heritage) was a stunner. Neighbors I didn't know I had in the twenty plus years I've lived on my street were drawn to her shiny grey exterior and seamless design. I'll admit, I was nervous about fitting luggage for two women in the compact trunk. After all, this is a two-seat convertible living in a world currently measured by how many giant packs of toilet paper one can take home in the back of their Chevy Suburban. But Jaguar does not disappoint— I was pleasantly surprised when both bags perfectly, with extra room for gifts for the dog sitter, should one feel so inclined. But then, this is a Jaguar convertible (that's the 2021 F-type R-Dynamic AWD, for those in the know) a two-seat convertible living in a world currently measured by how many giant packs of toilet paper one can take home in the back of their Chevy Suburban.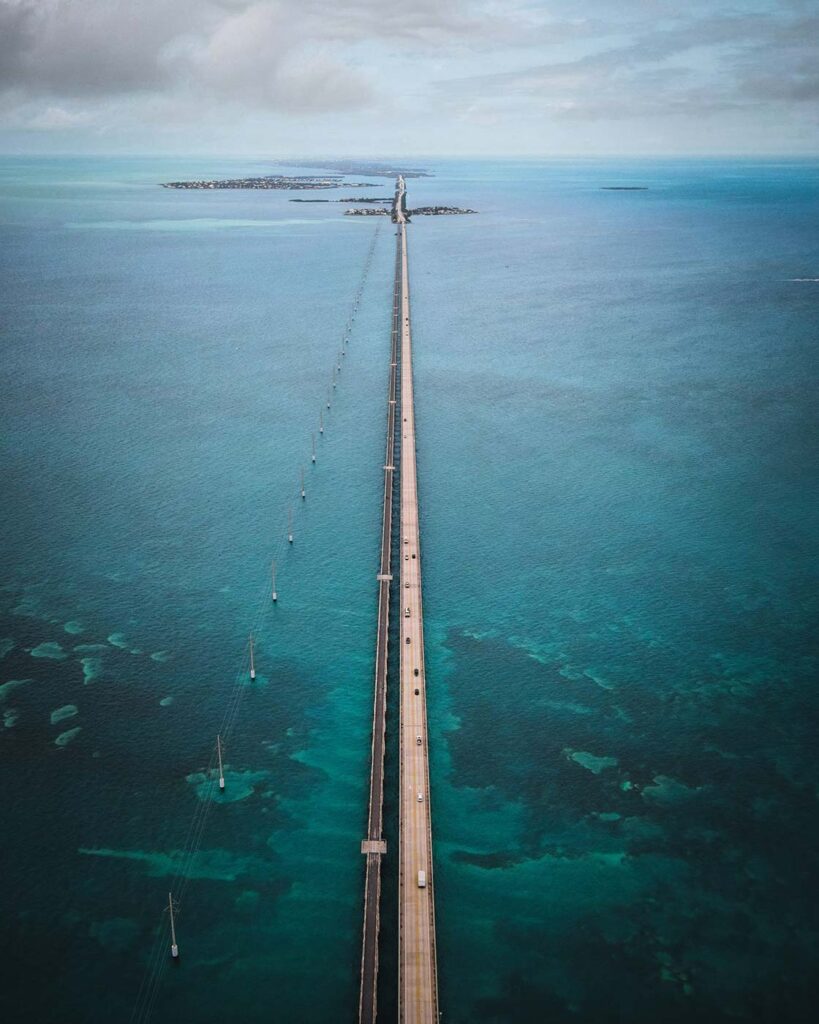 The drive to Key West is shy of 4 hours (less if your car has an 8-speed automatic transmission with gearshift paddles), offering an opportune excuse to stop midway for a bite. One could easily drive straight through, soaking in the view on the Overseas Highway—the 113 mile long road that runs through the chain of islands connecting the mainland to Key West. Driving the Jaguar with the top down, music of choice blaring (Simon & Garfunkel's "America" never sounded so good on the Meridian Sound System) and blue of every hue on all sides feels like a vacation in and of itself.
Where to Eat Lunch on the Way to Key West from Miami
Robbie's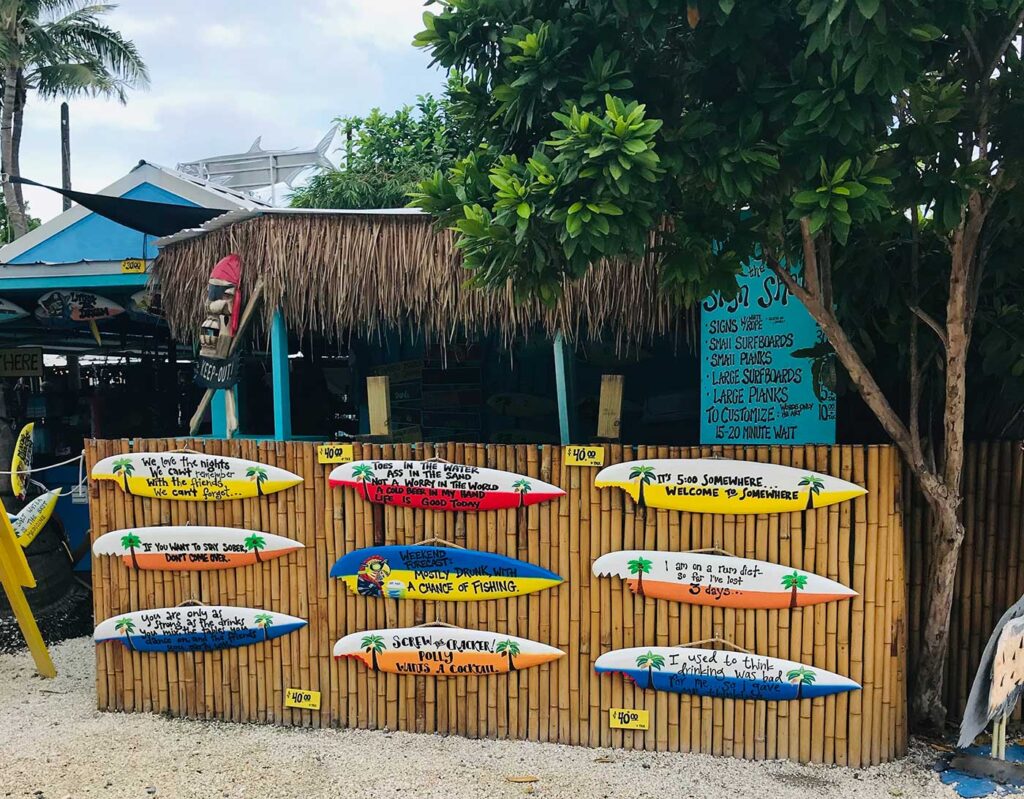 For those that plan trips around meals (guilty), a mid-morning departure will land you in Islamorada, a solid half-way point, just in time for lunch. Robbie's, an institution dating back almost 45 years, sets the laid-back, beach holiday tone from the moment you park the car. Tiki huts adorned with colorful miniature surfboards greet diners bearing messages like "We love the nights we can't remember with the friends we can't forget…" or "I am on a rum diet, so far I've lost 3 days…" And yes, they are for sale. Ask for a table by the water and begin with the conch ceviche and a local Islamorada Citrus Ale or Islamorada Ice Pick (ice tea vodka, lemonade and a splash of champagne). The menu is enormous, but fish sandwiches, with daily catches coming off the boat that morning, are a sure bet. The hogfish sandwich (grilled, blackened or fried) with lettuce and tomato on brioche bun and the Matecumbe fish sandwich, grilled, blackened or fried mahi-mahi with provolone, bacon, lettuce, tomato and Thousand Island dressing on grilled sourdough are standouts. Dessert is a no-brainer: key lime pie.
77522 Overseas Hwy, Islamorada, FL 33036; 305-664-8070; https://www.robbies.com/
After lunch go feed the enormous tarpon (easily 6-8 feet) by dangling bait (bucket is $3) above the water for the hungry fish to jump up and catch. Make sure to have your photographer handy for the perfect pic.
With a full belly, the remaining ride is leisurely and breathtaking, assuming you're not caught in a thunderstorm of biblical proportions whilst on the pinnacle of the seven-mile bridge like what happened to us. (Sometimes 2020 just can't help itself.) Arrive at Key West in time for hotel check in, where you can unload, unwind, and explore.
Welcome to the Quirky Key West
The first welcome we received was from a feisty rooster whose vivid wattle competed with Margaret's red hue. Its scrappy appearance suggested it had wandered out of a bar fight or maybe sipped on too many margaritas, both viable options in Key West. Sauntering right up to the driver's side, it pecked cautiously into the humid air, then turned and left, clearly unfazed by the roaring engine that had every other male in sight stop dead in their tracks. Chickens and roosters are as prominent and easy going as people in Key West, living off tostada crumbs and incarnated into the city's identity, as the rooster keychains and t-shirts seen everywhere attest. Cock fighting used to be big here back in the day (a tradition brought over from Cuba) and when it was outlawed in the 70's, roosters took to the streets and stayed, embraced by a community known for welcoming misfits of all kinds.
Things to Do in Key West: The Tourist's Checklist
One of the wonders and charms of Key West is the variety of things to see and do within its compact range. First-timers will inevitably want to take a picture next to the Southernmost Point of the Continental United States, an oversized concrete buoy affirming Cuba is only 90 miles away. There's also Duval Street, which, on any given weekend, competes with Bourbon Street in New Orleans during Mardi Gras. Inebriated revelers can be known to make poor choices when it comes to mask-wearing, so we opted to enjoy the scene from the safety of the car. There's enough traffic to keep the ride at a comfortable crawl on a Saturday night and safely take in all the sights. Bars and restaurants are open and thriving (double-check when you go) and there are plenty of outdoor dining options for those who want to safely further soak in the vibe. Mallory Square is another stop that needs checking off the list. Set on the waterfront of historic Key West, it is an iconic destination for sunset watching (called Sunset Celebration) followed by street performers like Will Soto, who has been captivating audiences with his tightrope act for 30 years. For those wanting the Key West Cliff Notes, there's the Conch Tour Train which visits all the city's most known spots. The 70-minute tour has been running since 1958 and is a fun, comfortable and entertaining way to get to know the city. Guests can hop on and off at three locations around Old Town, allowing for exploration at their own pace. During our stay, mask-wearing was enforced on the ride.
What are the must-see sights in Key West?
The Ernest Hemingway Home and Museum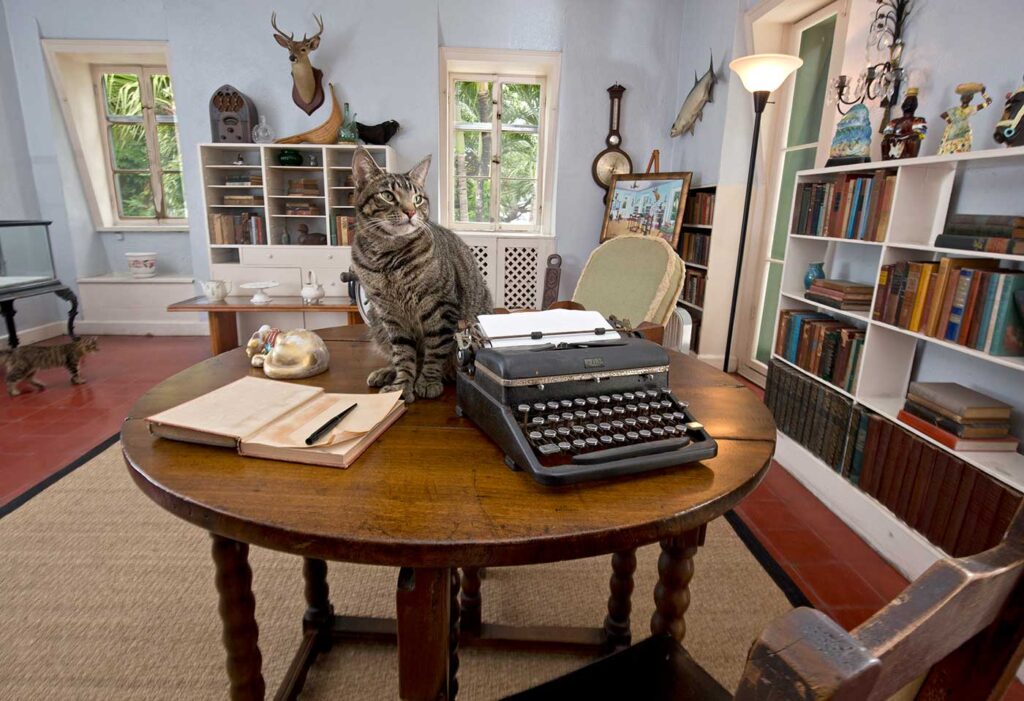 It seems everyone comes here to escape the world for a bit. The most famous person, of course, was Ernest Hemingway, whose Spanish colonial home is now a museum, offering a peek into the celebrated writer's most intimate spaces, including one of my favorite: a bathroom with mustard and onyx tile celebrating the era of Art Nouveau. There's lush foliage throughout the property, a wraparound balcony, as well as the first in-ground swimming pool built in the Keys. Hemingway's typewriter, where he penned classics like For Whom the Bell Tolls and A Farewell to Arms, sits waiting, as if Hemingway just stepped out for quick break. Six-digit toed cats slumbering in every nook and cranny are, next to the revered author, the most famous residents.
907 Whitehead St.; 305-294-1136; https://www.hemingwayhome.com/
Little White House
President Harry Truman was another high-profile person enchanted with Key West, visiting 11 times at what came to be known as the Truman White House. The house used to serve as naval officer's headquarters during World War II and was where Truman would head to escape and relax. There's a tour of the home that runs regularly, although we cut it short as it was a bit crowded and there are some cramped spots where social distancing posed a challenge (masks are currently mandatory).
111 Front St.; 305-671-9199; https://www.trumanlittlewhitehouse.com/
Audubon House & Tropical Gardens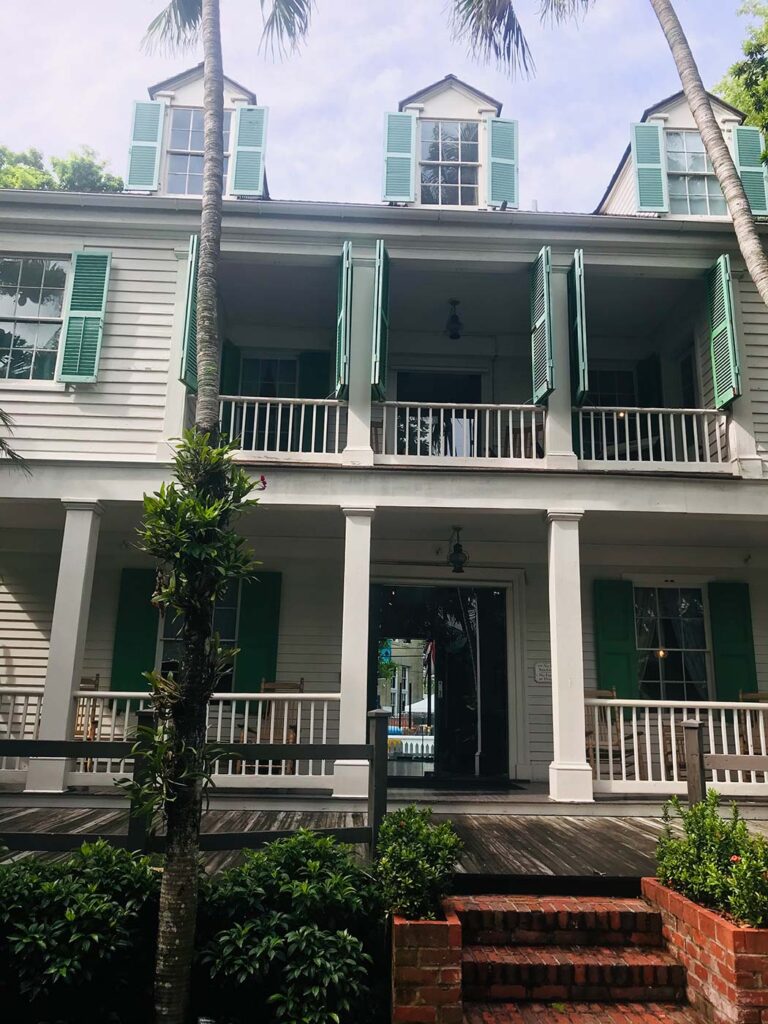 Originally built in 1840 by Captain John Huling Geiger (Key West's first harbor pilot), the home's verdant landscaping caught the attention of James Audubon, who took cuttings from the plants growing on the property and used them as backgrounds in many works. Now, the three-storied home serves as an exhibition space for Audubon's work. Audubon's tenacious commitment to detail in plant and bird life remains mesmerizing today. Plus, for addicts of social media, the top floor boasts a room made just for the 'Gram—a lively floral and bird wallpaper framed by neon yellow, pink and green trim, all crowned by a ceiling blooming with (fake) foliage. It has a Lucy-in-the-Sky-meets-Downtown-Abby feel. Don't miss the gift shop, where there is something for everyone's budget from face masks with exquisite bird designs to framed prints for those with more money to spend.
205 Whitehead St.; 305-294-2116; http://audubonhouse.org/
Take the Seaplane to Dry Tortugas
Key West Seaplane Adventures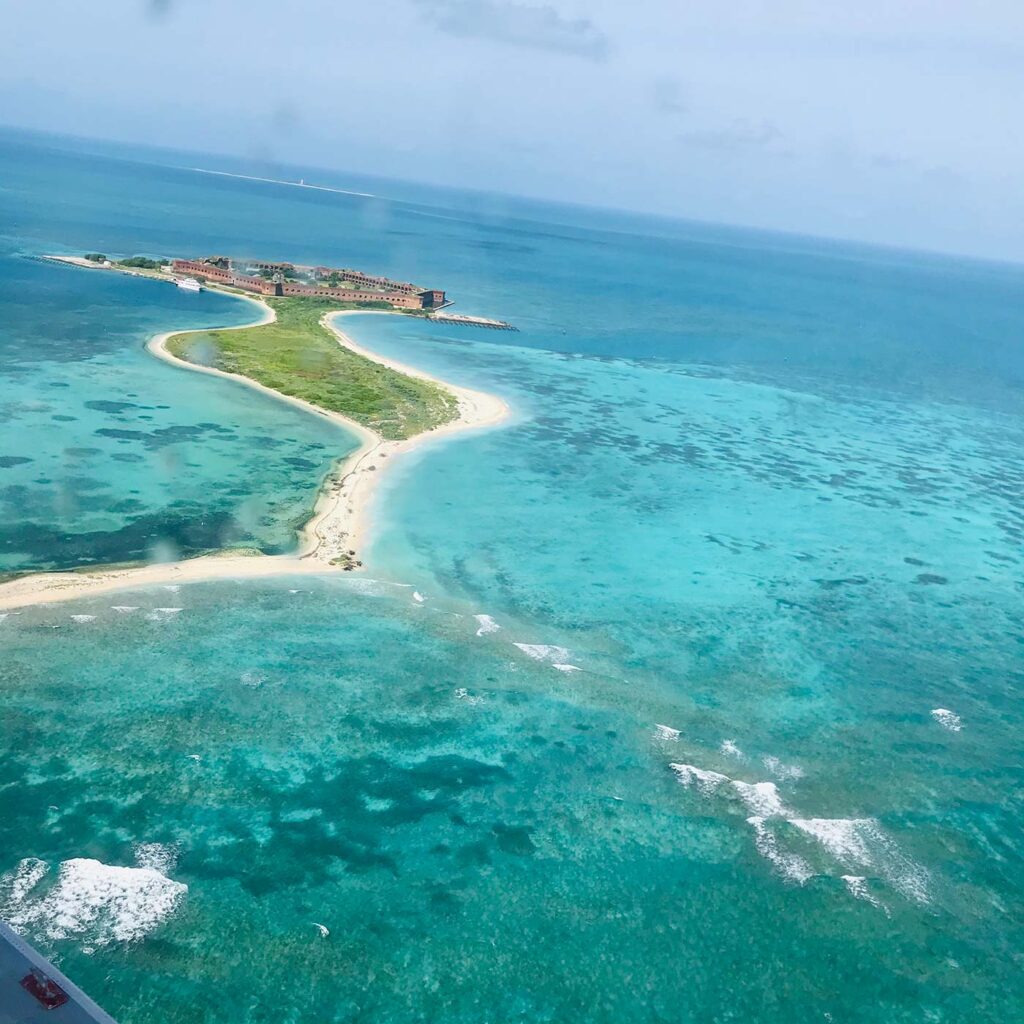 Because you only live once, you're already in the Keys, and the view during the flight is so worth it, schedule a half day with Key West Seaplane Adventures to visit Fort Jefferson at Dry Tortugas National Park. Beyond learning very cool facts you can now drop on unsuspecting guests at your next zoom happy hour (like, Fort Jefferson is the largest brick building in the Western Hemisphere and was used as a military prison for deserters during the Civil War), the island of your destination—called Garden Key—has beautiful birds to spot and beaches to explore (snorkel equipment is included with purchase of ticket). Folks weary of tiny planes, take note: you'll be so captivated by the view (it's one seat per side so there's no fighting for the window) that all apprehension will subside. Grab the provided headphones to enjoy a curated playlist of flight-related tunes (Lenny Kravitz's "Fly Away" included) perfectly timed with friendly narration of the flight sights. One lucky passenger (my daughter, in our case) gets to sit up front with the pilot. You'll see shipwrecks, a coral atoll and a shallow stretch favored by giant sea turtles known as the "Quicksands." If you're lucky, you may even spot a dolphin or a shark.
Key West International Airport; 305-293-9300; www.keywestseaplanecharters.com
Where to Eat in Key West: Best Restaurants in Key West
If you're like me, you planned this trip (and any trip) around the food. Key West does not disappoint. Here's a rundown of top favorites, although, there are plenty more left to explore.
5 Brothers Grocery and Sandwich Shop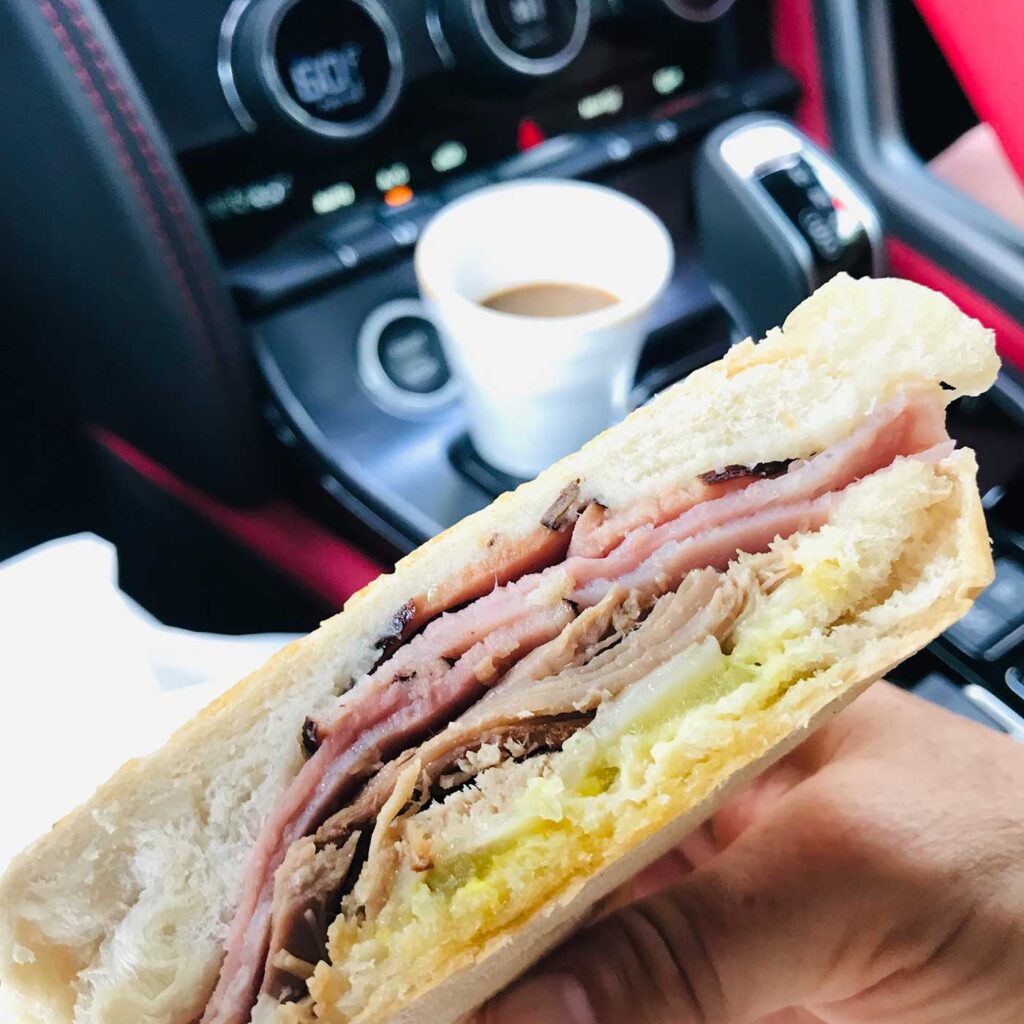 When there are groups of construction workers, painters, and cops waiting for their lunch orders, you know you've hit the right spot. Lovers of the Cuban sandwich should sample this one right at the beginning of the trip to allot time to come back at least one more time for another (you will, trust me). There's no secret here, it's the same simple ingredients: ham, pork, swiss cheese, pickles, butter and mustard. But sampling them in this tiny storefront cramped with groceries forever changed my Cuban sandwich-eating life. Pair with a cortadito, of course, and maybe for later, a cigar (there's a generous selection available for purchase).
930 Southard St.; 305-296-5205; https://5brotherskw.com/
Azur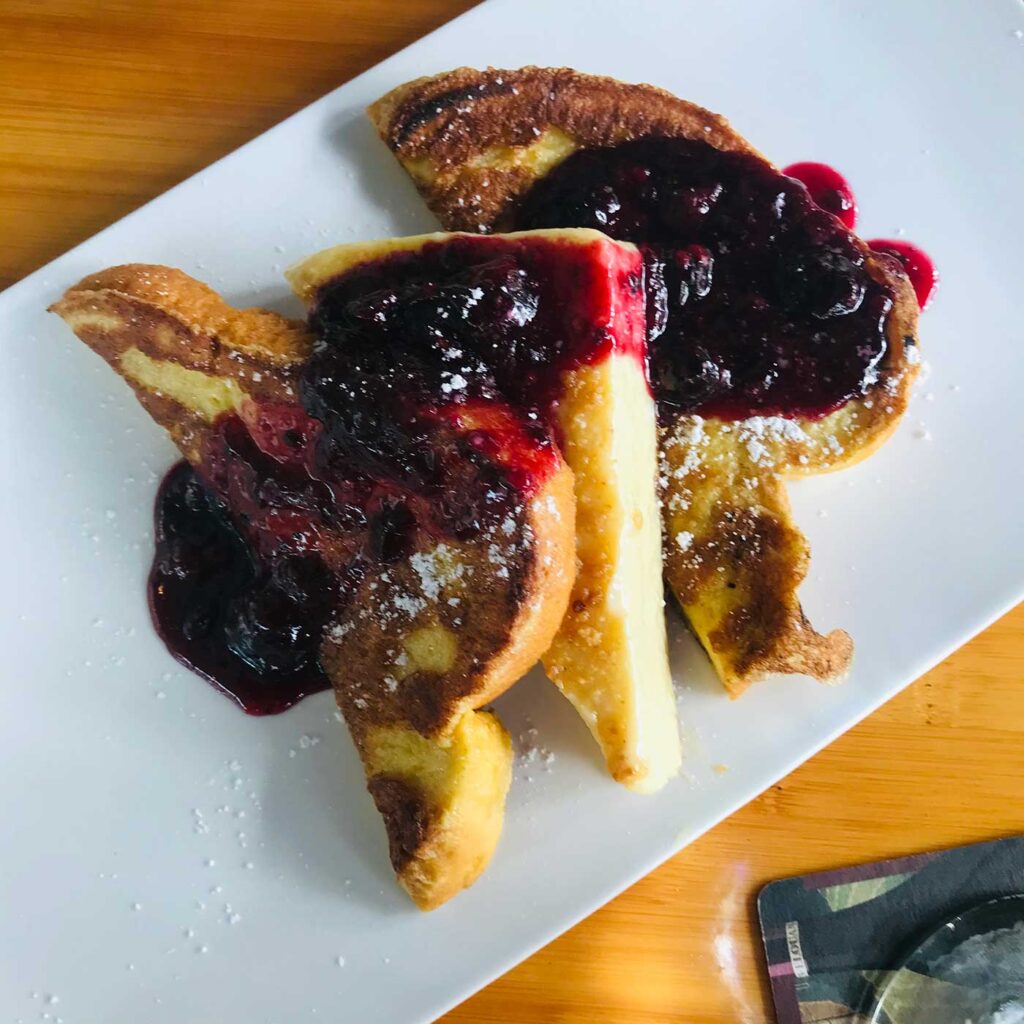 You know you've come to a good spot when there are just as many locals (or more) than tourists. Come for brunch, sit in the outdoor patio, and enjoy the relaxed vibe. Don't miss the key lime French toast (yes, there's pie in there!) as well as the crab cake benedict served on flatbread or the frittata with smoked bacon, caramelized onion and potatoes. Or you can do what we did: get all three and share.
425 Grinnell St.; 305-292-2987; www.azurekeywest.com
Blue Heaven
There are folks that will tell you if you haven't been to this iconic location, then you never really visited Key West. There's a lot of history to the spot: the courtyard is where Hemingway used to hold his boxing matches (it is, after all, a 3-minute walk from his house). Cats, roosters and chickens roam freely in the laissez-faire setting, but don't let that fool you when it comes to the grub: dishes like Blue Heaven benedicts and the Florida shrimp omelet are why folks keep coming back.
729 Thomas St.; 305-296-8666; https://blueheavenkw.com/
B.O.'s Fish Shack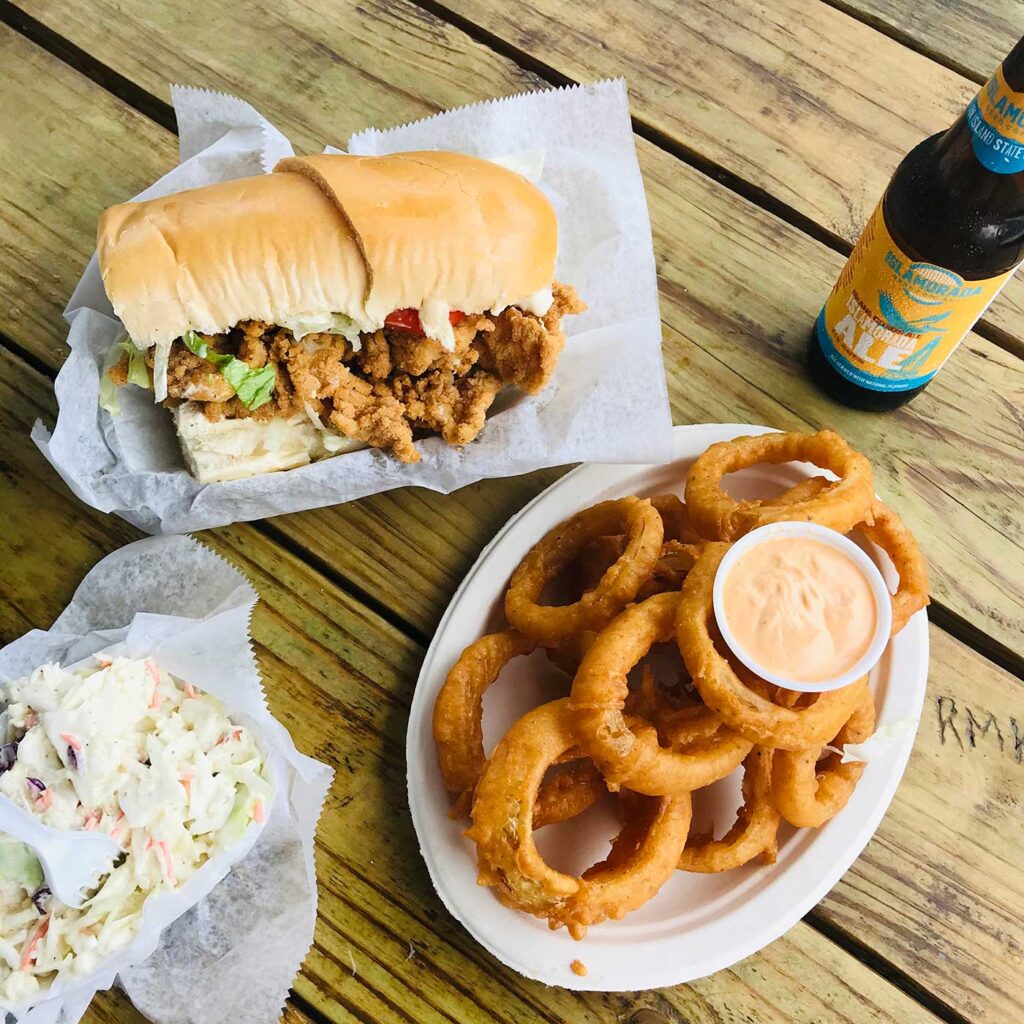 A trip to Key West is not a trip to Key West without a stop at B.O.'s (the photo op is worth it alone). The fish shack made out of driftwood is graced by a rusted junker car coated with bumper stickers offering dime-store philosophy like, "Jesus Loves You, But I'm His Favorite." The menu is a simple and straightforward array of fresh seafood along with the prerequisite burger. And while we were advised the fried conch sandwich would rock our world (it is quite delicious) it was the order of onion rings that had us hooked.
801 Caroline St.; 305-294-9272
Cuban Coffee Queen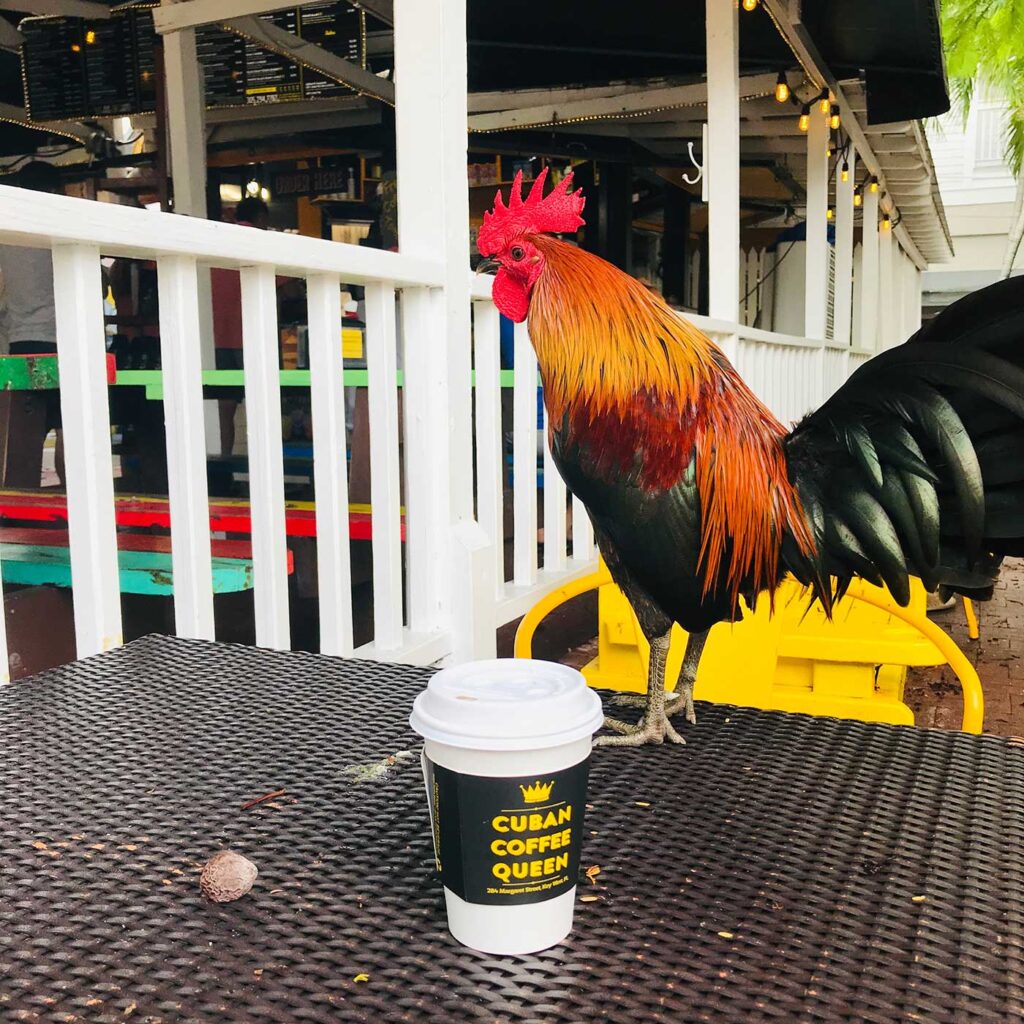 Three locations make it extraordinarily easy to load up on this creamy, thick, Cuban elixir that will deem all other coffee an utter disappointment. Order a Key Wester sandwich (eggs, cheese, choice of ham, bacon, turkey, sausage or chorizo) on pressed Cuban bread or a Cuban Bread with Guava (like a guava and cheese pastelito but on pressed Cuban bread) if you're more of a sweet tooth kind of person. The Key Lime Square location boasts rainbow-striped picnic tables guarded by crumb-seeking roosters, as well as a shop next door where whole beans are kept in large plastic beans and ground to order for those wanting to take some home. Tongue-in-cheek t-shirts boasting the message "Drink More Cuban Coffee and Do Stupid Things Faster" are available for sale as well.
http://www.cubancoffeequeen.com/
Eaton Street Seafood Market
This store is primarily a seafood market, so we had to wait while a woman that could have easily been Jane Fonda's cousin placed her order for fresh fish. Tucked away behind the entrance is a miniature counter crammed with boat charter pamphlets and a couple of stools, the only proof (along with the tables outside) that one would stop here for a bite. We ordered 2 lobster rolls to go and hit the road, beginning our drive back.
I'm not usually a cold-lobster lobster roll person. I'm more the advocate for the warm rendition drizzled with melted butter, but this sandwich rewrote my lobster story in one bite. The bun appears small, so much so that one may wonder, "is that going to fill me up?" The secret, one quickly learns is the lobster meat/bread ratio. This sandwich, unlike many, is not lobster shy. The salad is chilled but not distracted with too many condiments, allowing for the flavor of the lobster meat to shine. The bread is toasted, buttery and crisp, an afterthought to hold in the meat and make the experience right.
801 Eaton St.; 305-295-3474; https://kwseafood.com/menu
First Flight Island Restaurant and Brewery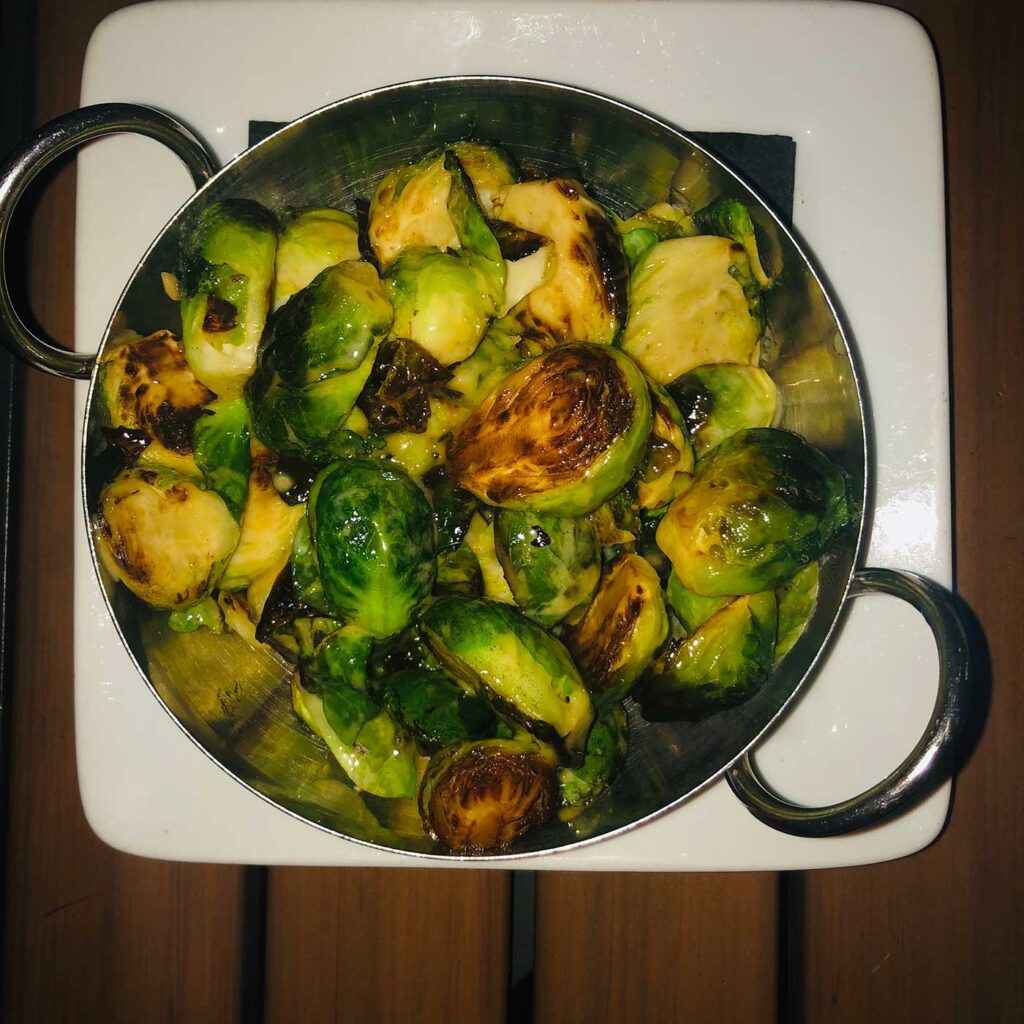 Aviation buffs will be thrilled to note this location is where Pan-Am's first tickets were sold in 1927 while beer lovers will want to visit the southernmost microbrewery in the U.S. Grab a seat in the romantic outdoor patio or perhaps a spot at the bar whose look is inspired by an airplane wing. There's plenty of flight paraphernalia to take in while enjoying dishes like beer steamed clams with fennel, chorizo and grilled ciabatta, lobster tail served over vegetable risotto and filet mignon with blue cheese mashed potatoes. All dishes pair well with their beers.
301 Whitehead St.; 305-293-8484; http://firstflightkw.com/
Four Marlins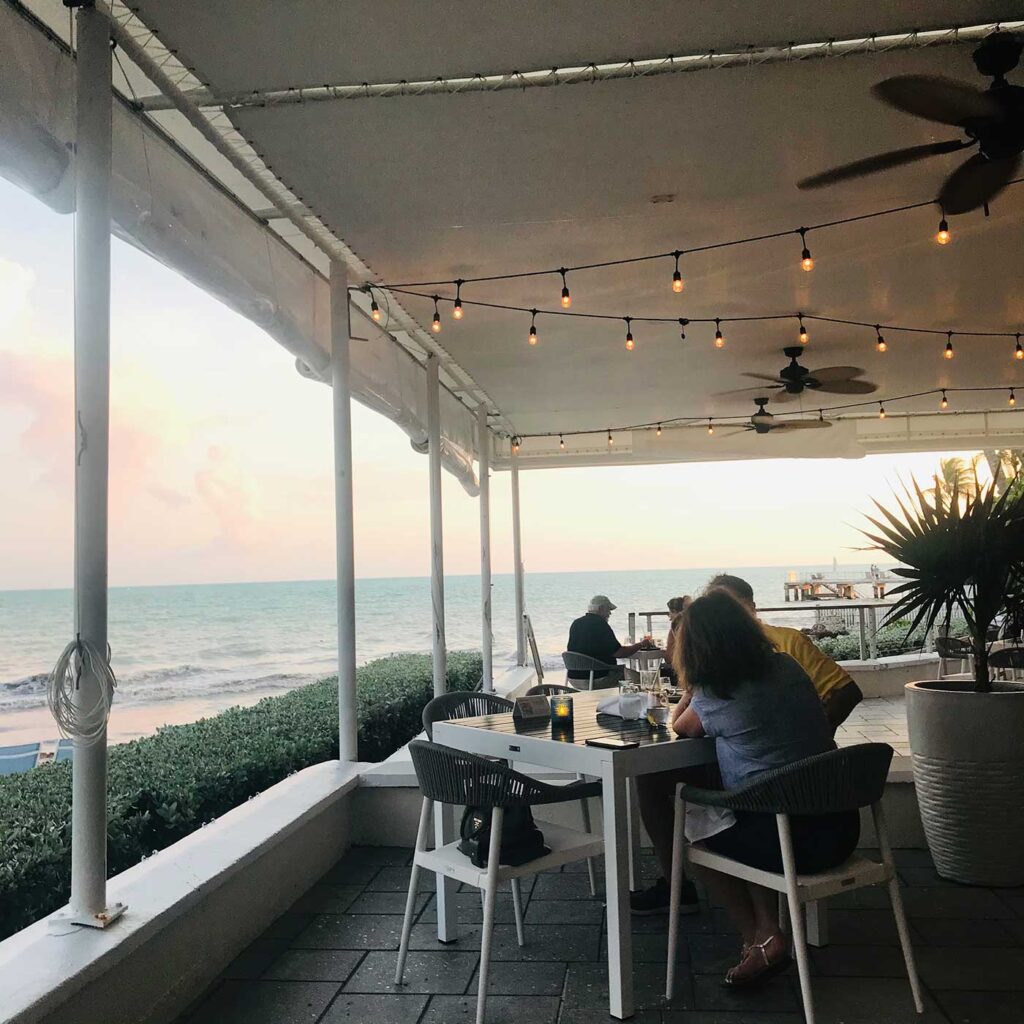 This handsome newcomer is a product of the stunning makeover at The Reach Key West. While the location has a long history (Key Westers will recall in the late 1970's and early 1980's, it housed one of the island's most popular restaurant, The Sands) today it is an airy, bright, contemporary take on tropical fishing lodges of the 1930's, filled with local art, as well as a black and white photograph that serve as the eatery's namesake: Ernest Hemingway and his family standing in front of his impressive catch. What's more, the setting is one of the best locations for sunset viewing, and certainly a wise choice to spend with a loved one and a chilled bottle of champagne. The menu has recently been revamped to include local specialties like fried green tomatoes served with Key West shrimp, laurel and a scented hot sauce; mutton snapper with whisky-spiked cream corn, bacon and pecans and jerk lamb chops with pickled mango and mint oil.
1435 Simonton St.; 305- 293-6250; Reachresort.com
Glazed Donuts
If you're headed for a selfie with Marilyn Monroe and her billowing skirt (gracing the entrance to Tropic Cinema) you'll want to make a quick detour to this cute coffee shop next door described on their website as "the donut shop you dreamt of as a kid." I'm not sure I was dreaming about doughnuts with hibiscus syrup and candied bacon when I was 8, but I'm sure glad I get to eat them now. Try the namesake glazed as well. By the way, you'll get a great cup of joe (they serve Red Buoy Coffee) too.
420 Eaton St.; 305-294-9142; https://www.glazeddonuts.com/
Kermit's Original Key West Key Lime Shoppe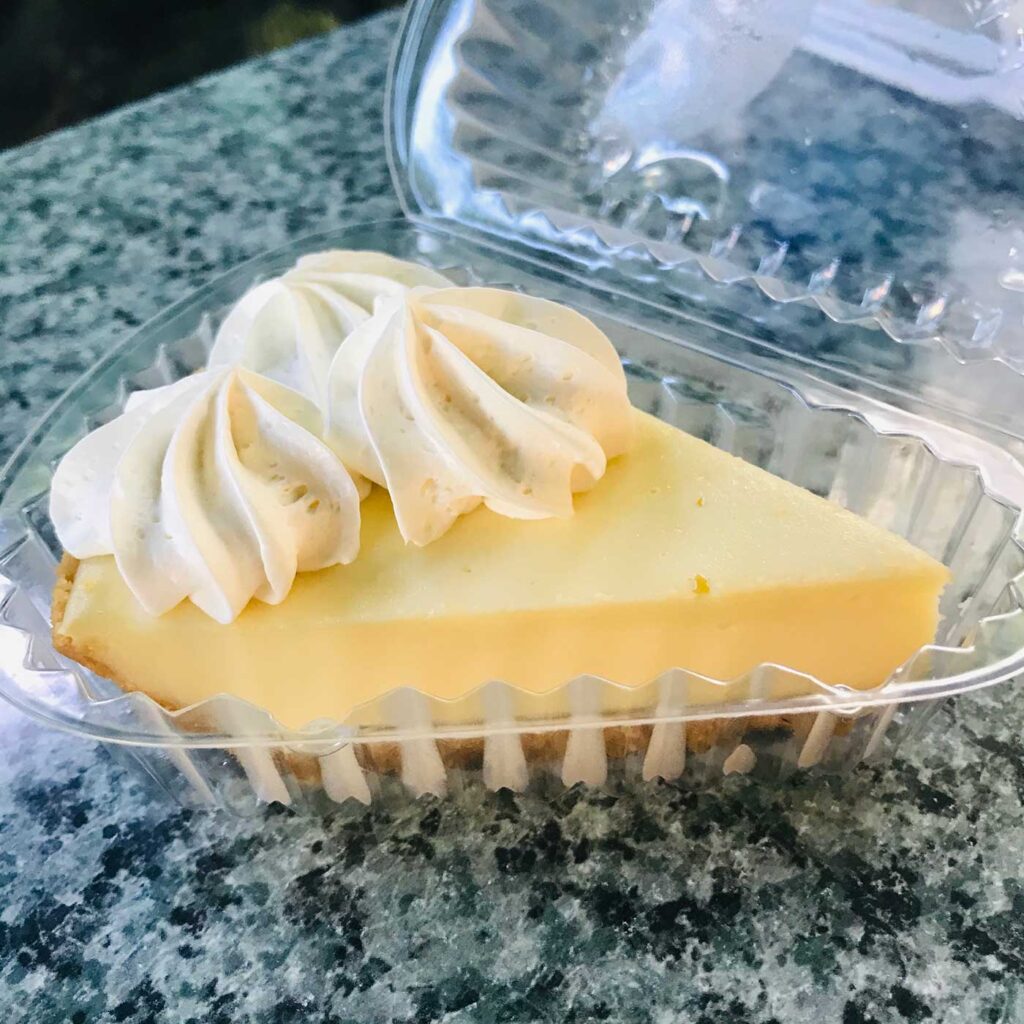 This neon yellow and green storefront is the mecca of key lime goods. For that reason, I'd recommend stopping here on your way back home so you can shop to your heart's content at the adjacent Kermit's Key West Lime Shoppe. Grab a key lime pie (or two) for sure, it's considered the best (we saw it offered on dessert menus elsewhere on the island) and has been featured on the Food Network, The Travel Channel, HGTV and The Today Show, to just name a few. Don't miss the chocolate key lime bars (covered in Belgium chocolate.) The cafe is a casual, takeout window-style, serving breakfast sandwiches, crepes, and biscuits and gravy that stole the show. Lunch includes salads, sandwiches, burgers, and house specials like barbeque ribs (you can purchase the sauce to take home at the store.)
200 Elizabeth St.; 305-906-0325; www.keylimeshop.com
Little Pearl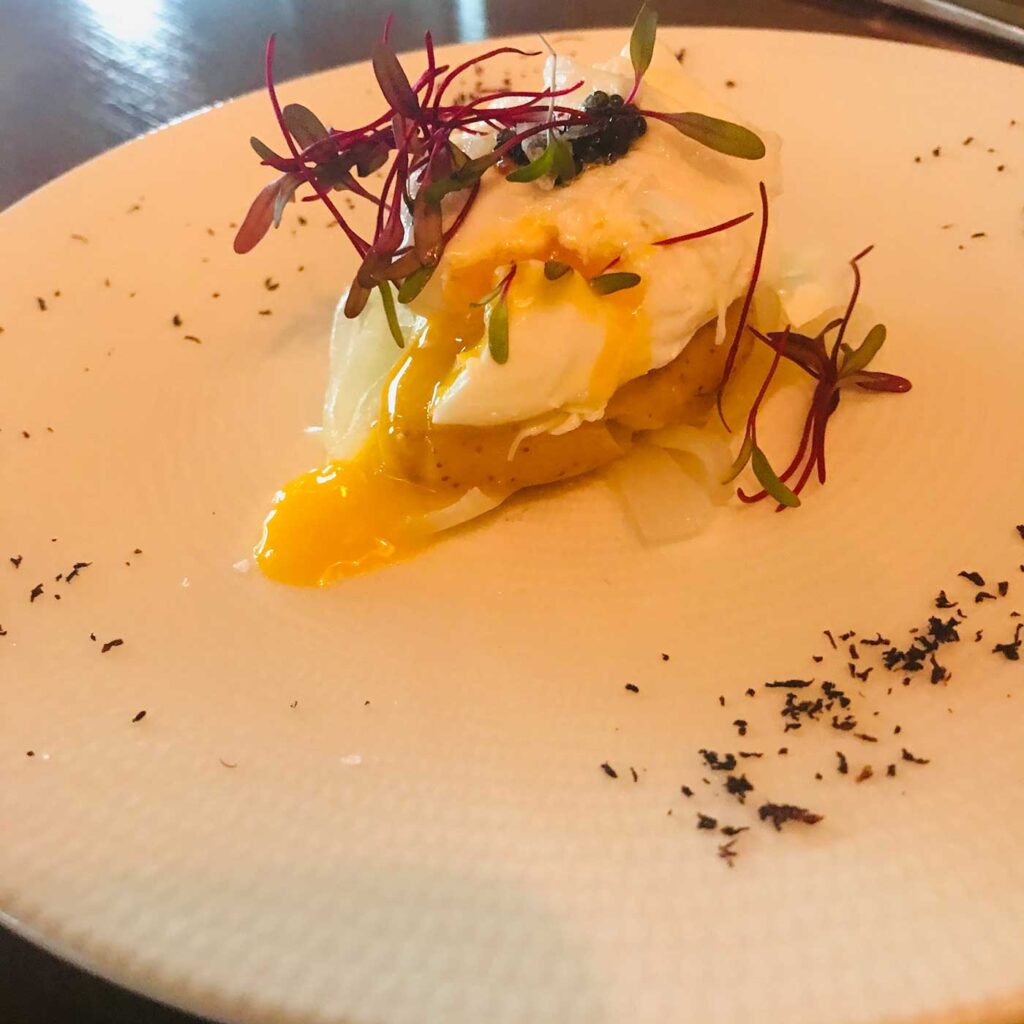 When foodie friends learned I was headed to Key West, the overall consensus was that no matter what, I best not miss this restaurant. How right they were!
Reservations are highly encouraged, as the restaurant is small and fills up. I had made my reservation a good week before and by then only the 5pm time slot was available (there are three seating times a night, dinner only).
Due to the pandemic, the restaurant is offering a Chef's Tasting Menu, 4 courses with two choices for each course. My heart sank a bit upon learning this as I had heard all about signature dishes like the tuna tartare brulee and the seafood pot pie, but these misgivings quickly melted away as exquisite interpretations graced our table, beginning with the miso clam chowder with bacon and seaweed oil and the poached egg with caviar, stewed onions and pickled fingerling potatoes. Portions are just large enough to pace the diner through the experience and raw bar add-ons like king crab and oysters are available as well. The eatery is warm and welcoming, with neutral gray tones and a wood-beamed ceiling, thoughtful wine list and attentive staff. One could easily linger, but there is a group waiting for your booth for the next round.
632 Olivia St.; 305-204-4762; https://littlepearlkeywest.com/
Matt's Stock Island Kitchen & Bar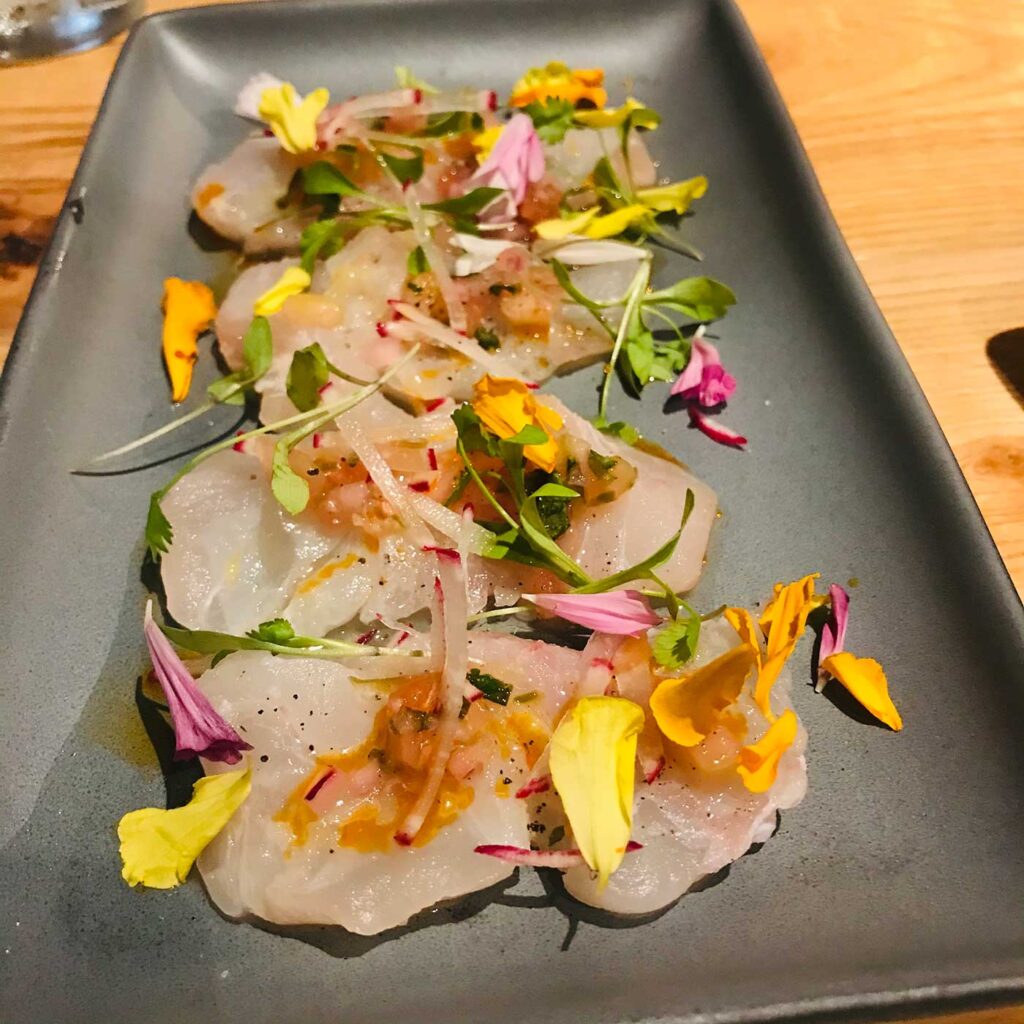 Set inside the handsome Perry Hotel, this quiet and unpretentious spot is doling out some of Key West's best meals today. It's on Stock Island, a welcome distance, from the party vibe of Duval, but that doesn't stop diners from coming (the table near us was on their second visit that week). Seafood is the main attraction here. Don't miss the crab beignets, munchkin-sized delights bursting with flavor. There's a crudo of the day along with shrimp and grits served with tomato, bacon gravy and manchego.
7001 Shrimp Rd., Suite 200; 305- 294-3939; Matt's Stock Island Kitchen & Bar
Moondog Cafe and Bakery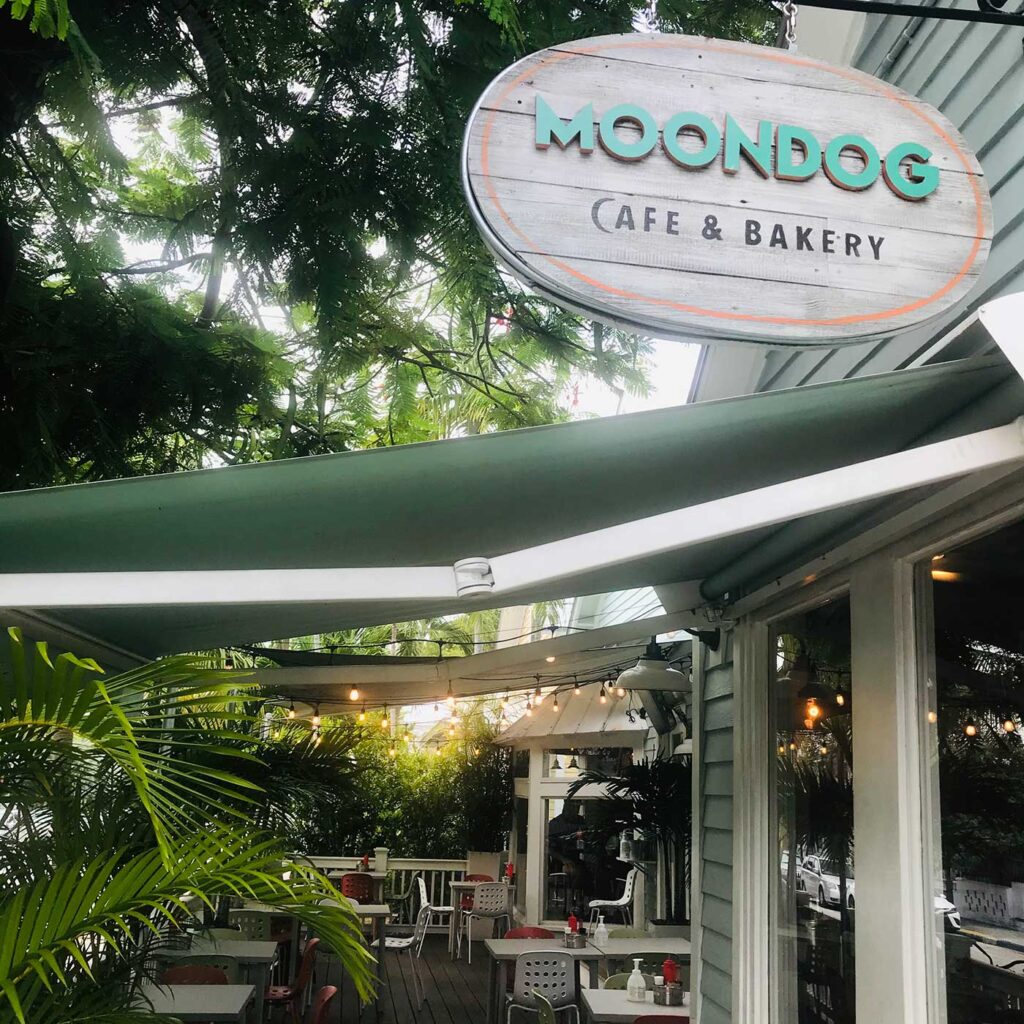 The perfect quick stop after touring the Hemingway House (it is a one-minute walk away), this whimsical gem is worth the visit just for the fun mural (check out the ode to Papa in the corner). It's an overwhelmingly large menu to satiate the hungriest soul, offering just about anything from a veggie eggs benedict to Moroccan lamb pizza to chicken cobb salad. Or, if you just want to slip in to relax, nibble on a vegan croissant while sipping on a frothy cappuccino, they've got you covered as well.
823 Whitehead St.; 305-741-7699; www.moondogcafe.com
The Ride Home: Where should you stop between Key West and Miami?
Key Fisheries
Catch this one on your way back home. You're sure to find a line patiently waiting to order from the huge menu board posted up front. We'll make it easy for you: get the lobster Rueben- a monster sandwich like you'd find in the best New York deli, but, you guessed it, with tons of lobster replacing the corned beef.
3502 Gulfview Ave. Marathon; 305-743-4353; https://www.keysfisheries.com/
Where to Stay in Key West, FL
The Marker Hotel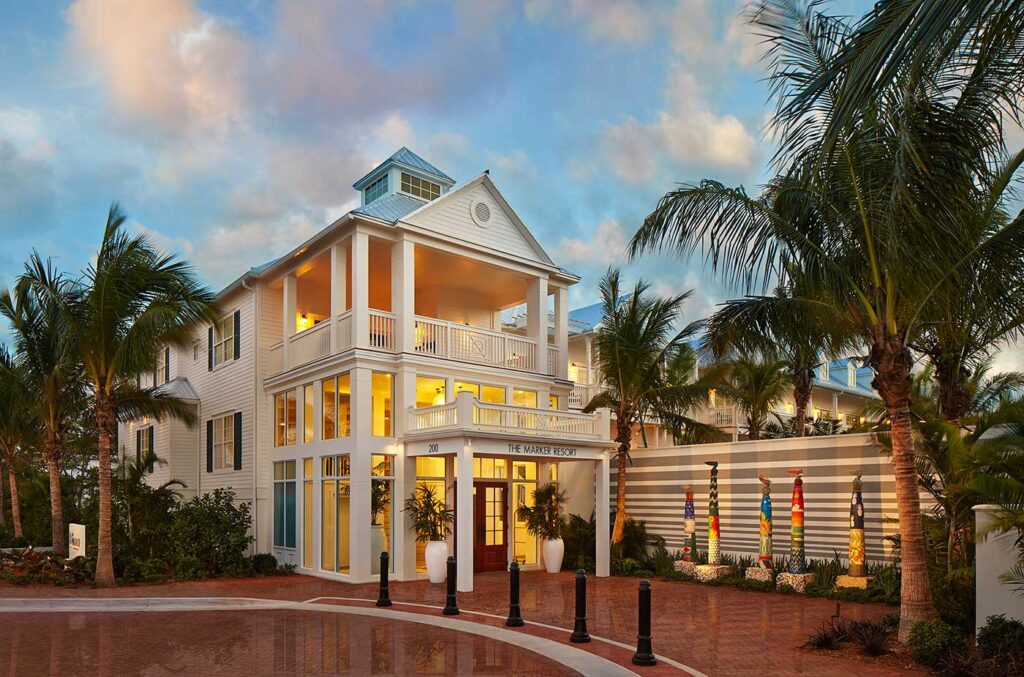 This stylish hotel is a win-win for those wanting to be right in the thick of things but still retain a relaxing space to escape to. The location is top notch—not only is the hotel a short walk to Duval Street and Mallory Square, it's also a stone's throw from one of the Cuban Coffee Queen spots, so you can practically stumble out of bed straight to that coveted cortadito. Our room overlooked the Historic Seaport, which was lovely, although a bit rowdy when tourists gathered to take popular catamaran trips like the ones offered by Sebago Watersports. Still, it served as the ideal opportunity to sit on the balcony and take in the action down below. The hotels lush grounds include three swimming pools, wrapped in tropical foliage enhancing the tropical vacation vibe.
200 William St.; 305-501-5193; The Marker Hotel
Parrot Key Hotel and Villas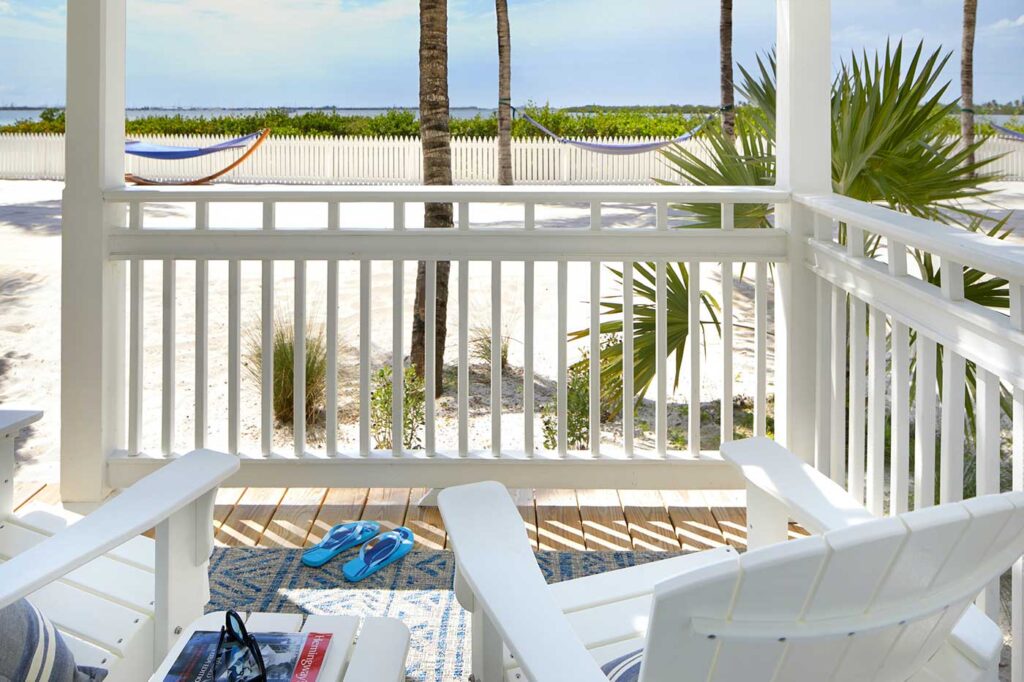 Tucked away off Roosevelt Boulevard 2.5 miles away from the Historic Old Town, it's easy to drive along the mundane sea of Americana stores like Walgreens, Home Depot, and Kmart and completely pass this gem never the wiser. You'd be ill-advised to do so. The dreamy landscaping and newly remodeled villas are a first-class ticket to relaxation in a casual luxury setting that centers around 4 pools and a restaurant featuring Key West-inspired fare. Each pool has its own name, beginning with the Sanctuary (reserved for adults only), followed by Oasis, Gallery, and the Grove, which shares the space with the restaurant by the same name. Pool areas are joined by antique doors that have a Bali-like feel. Guests can order food and drinks poolside by pressing a call button found by each lounge area or head to the Grove to enjoy appetizers like the Parrot Key ceviche, conch fritters with key lime remoulade and sandwiches like the Shrimp B.A.L.T. (bacon, avocado, lettuce, tomato and garlic aioli served on Cuban bread) or Key West scampi pizza.
Kayaks and jet skis are available for rental and there is also a state-of-the-art gym, for those disciplined enough to visit.
Aim to procure a waterfront villa, as these overlook the Gulf of Mexico and a front row seat to the phenomenal sunsets gracing Key West. Each villa comes with its own balcony with seating, but one can also head downstairs to the White Sandy Oasis (available to all guests): a sandy beach-like area boasting lawn chairs and hammocks for those wanting to sunbathe or take a snooze.
I confess, it is tempting to stay indoors with these accommodations. The villa I stayed at had two bedrooms, each with a luxurious private bathroom, a living room and two balconies. Beds were plush and delightful, welcoming a deep and restorative sleep. While room service was not being practiced due to COVID-19 safety measures, anything one would need was a phone call away and arrived instantly (like the time I was too lazy to get ice.)
2801 N Roosevelt Blvd, Key West, FL 33040; 888-665-6368; https://www.parrotkeyhotel.com/
The Reach Key West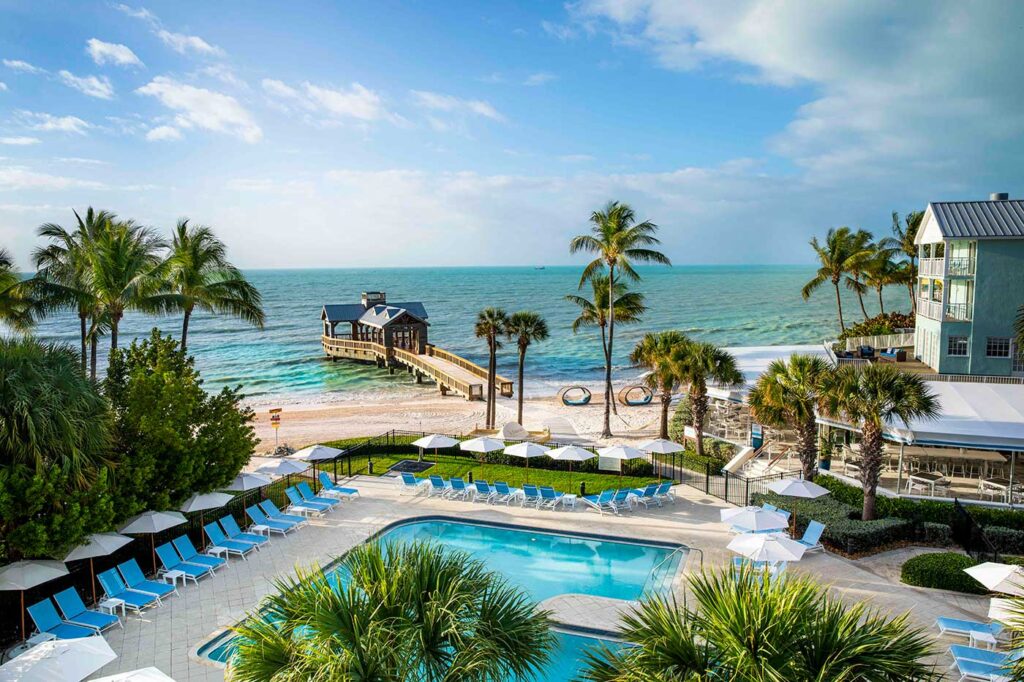 Referencing the nautical term "reaching," a relaxed point of sail, this Curio Collection property (Hilton's luxe brand) combines breezy nautical references with whimsical flair. Curio Collection aims to embrace the ambiance of each property's location and in this destination it has captured the playful, laid-back Key West vibe just right. Take, for example, the quirky "guests" (i.e. real-life sculptures) that find permanent residence at the hotel. There's a group of card players trying their luck on the way to the restaurant or a middle-aged tourist passed out on a chair on the lawn. The hotel has a private, natural sand beach (the only one in Key West), local art displayed throughout (my personal favorite is "Gypsy Chicken," a festive piece done by Cuban American muralist, DaveL), as well as the phenomenal restaurant, Four Marlins, and is a part of Hilton's "Clean Stay" program, which, in partnership with RB (makers of Lysol) take extra steps to provide guests with a clean, safe space.
1435 Simonton St.; 305-296-5000; The Reach Key West