Twenty four hours in any Spanish city will often mean a healthy cocktail of elegant architecture, endless tapas and long, warm evenings. But there's still so much more to discover in the world's second most visited country. And while many in northern Europe travel to Spain purely for the sun, for many more it's a country with a fascinating history and a hugely distinctive food scene that's just waiting to be explored.
Can we visit?
Following the European outbreak of COVID-19 in March, Spain was one of the continent's hardest-hit countries, with some of the strictest measures seen anywhere in the world. Its recovery has been strong, however, with more than half of the country now in the 'Phase 3' stage of the coronavirus de-escalation plan. Phase 3 means sidewalk cafes can open at 75 percent capacity, bars can reopen with safe-distancing measures in place, and social gatherings of up to 20 people are allowed.
Madrid and Barcelona—two of the worst affected regions of Spain—are still at Phase 2 but have made good progress. Foreign visitors will no longer have to undergo a two-week quarantine from July 1 onwards so the chance to experience a Spanish summer looks ever more likely.
Travel to Spain post-COVID
Madrid and Barcelona's airports are two of Europe's busiest and are well-served for flights from the US. With the global aviation industry anxious to restart their routes as soon as possible, American travelers to Spain will have plenty of options.
Flights to Spain from Miami
The Spanish connection between Miami and Madrid is strong, averaging 112 flights a week. Airlines offering direct services include Iberia, American Airlines, Delta, British Airways, Air Europa, Finnair, Saudi, Royal Jordanian, and El Al.
Other American cities to offer direct flights to Madrid include New York, Dallas, Philadelphia, and Atlanta.
Options between Miami and Barcelona are fewer, with American Airlines offering the only direct service. New York also has direct services from JFK (American and Delta) and Newark (United). If you aren't able to fly directly to Barcelona, then reaching the Catalan capital via Madrid is a quick and convenient option. Opened in 2008, the high-speed Renfe train between the two cities means you can reach Barcelona from Madrid in just two and a half hours.
Where to Travel in Spain
Madrid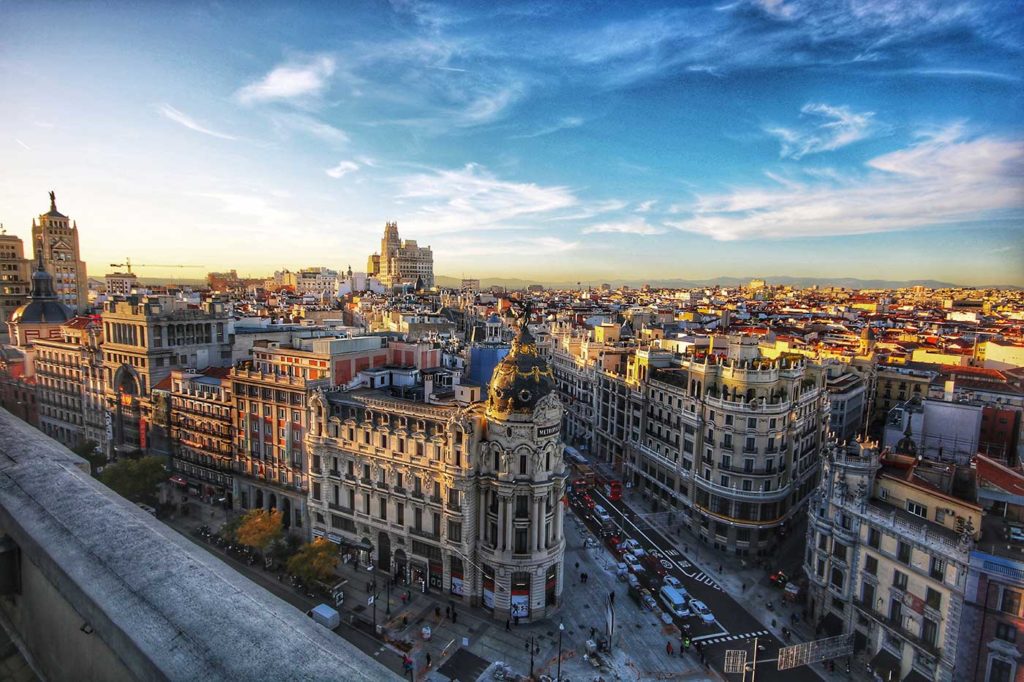 For American visitors, Madrid will probably be their first glimpse of Spain. While many tourists head straight for the coast, it would be a huge mistake to not spend a few days in the Spanish capital. A sprawling city of neighborhoods, Madrid's elegant streets, stylish parks, and lively cafes make it a perfect city to lose yourself in.
The lavish Royal Palace is worth seeing for its opulence alone, while the Prado Museum holds masterpieces by Goya, Rubens, and Velazquez, among others. To truly experience Madrid, however, head to vibrant neighborhoods like La Latina or Chueca, order a cold drink in a charming square and watch the world go by.
Barcelona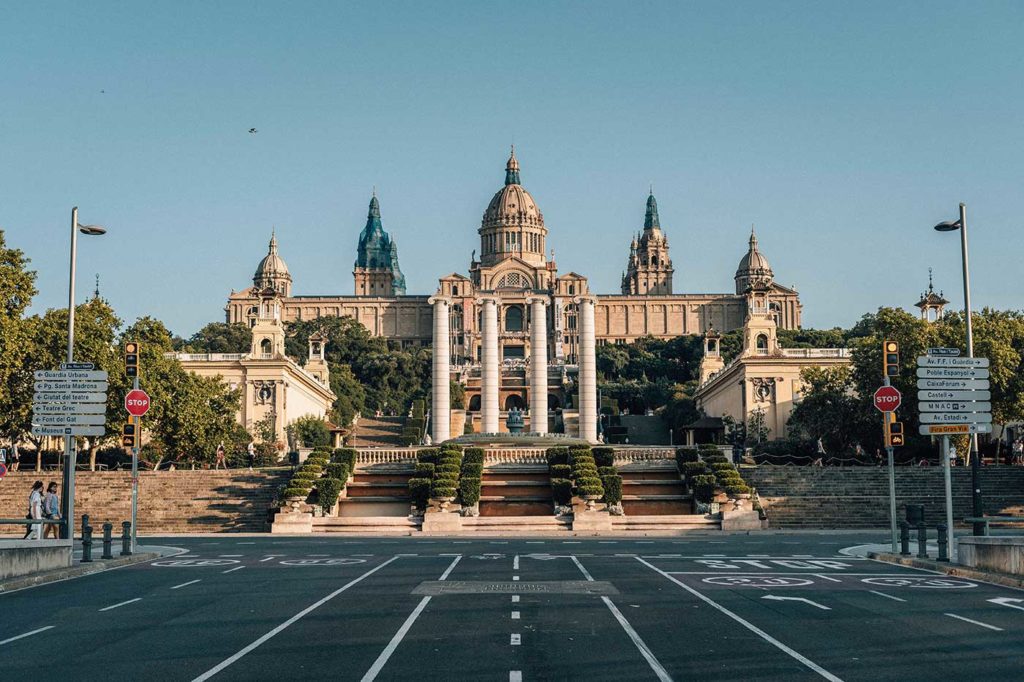 The capital of the Catalonia region, Barcelona is a buzzing coastal metropolis with a unique culture and an appetite for good times. The quirky architecture of Antoni Gaudi is perhaps the city's signature and is what separates it from so many other contemporaries. The stunning Sagrada Familia cathedral demands to be seen and is just as spectacular inside as it is outside. Explore Park Güell in the La Salut neighborhood to get a sense of how imaginative Gaudi was with his creations.
When evening comes, grab some fiery tapas in one of Barceloneta's lively bars before heading to El Raval for a taster of Barcelona's wild nightlife. The next morning, take a wander through the Mercat de la Boqueria market where the rows of colorful fruit, fresh fish, and hanging meats make for a tantalizing assault on the senses.
Seville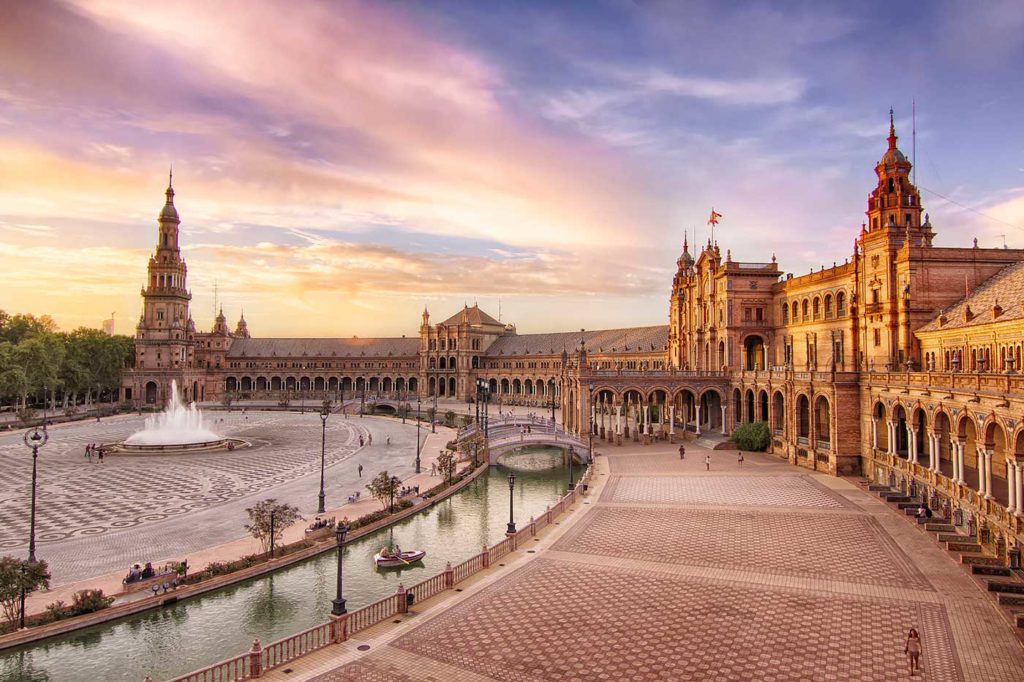 Located around 250 miles south of Madrid, Seville is the capital and largest city of the Andalusia region. Reflected in much of the city's ornate architecture, Seville's fascinating history includes periods of rule by the Roman Empire, the Muslim Caliphate of Córdoba, and the Christian Kingdom of Castile.
The Alcázar, Seville Cathedral, and the Archivo General de Indias (General Archive of the Indies) are all UNESCO World Heritage sites so allow yourself plenty of time to take it all in. And as the birthplace of flamenco music, it would be a crime to not take in a show of this world-famous cultural tradition.
Bilbao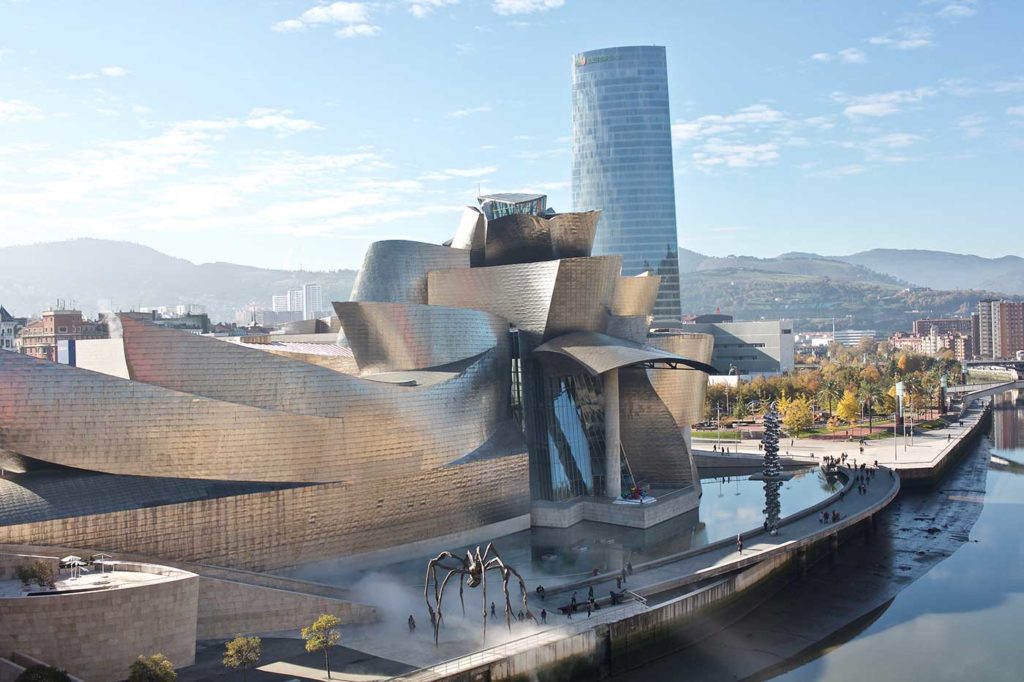 For many years a hardworking industrial city, Bilbao has undergone a remarkable transformation into something of a cultural hub, famous for its striking architecture and an exciting gastronomy scene. Designed by architect Frank Gehry and completed in 1997, the spectacular Guggenheim Museum Bilbao has become a modern symbol of the city and looks as fresh today as it did then.
Boasting several Michelin star restaurants, Bilbao has also become a huge foodie destination. And if fine dining is out of your budget range then not to worry, there's always pintxos – small slices of bread upon which an ingredient (cheese, ham, chorizo, etc) is placed and fastened with a toothpick. Head to one of the city's many pintxos bars where you'll find these small tapas bites temptingly lined along the bar.
What to Eat in Spain
Tortilla española
The española part of the name is an important distinction to make, as this tortilla has little in common with its namesake in Latin America. The Spanish tortilla is an uncomplicated and satisfying mix of egg, potato, and onion. Essentially a thick omelet, it's usually served by the slice and can be eaten as an appetizer or a main. It's versatile too so if you want to spice it up then add some chorizo, ham, or peppers.
Where to find it: A classic tapas item, it can be found in bars and restaurants all across Spain.
Paella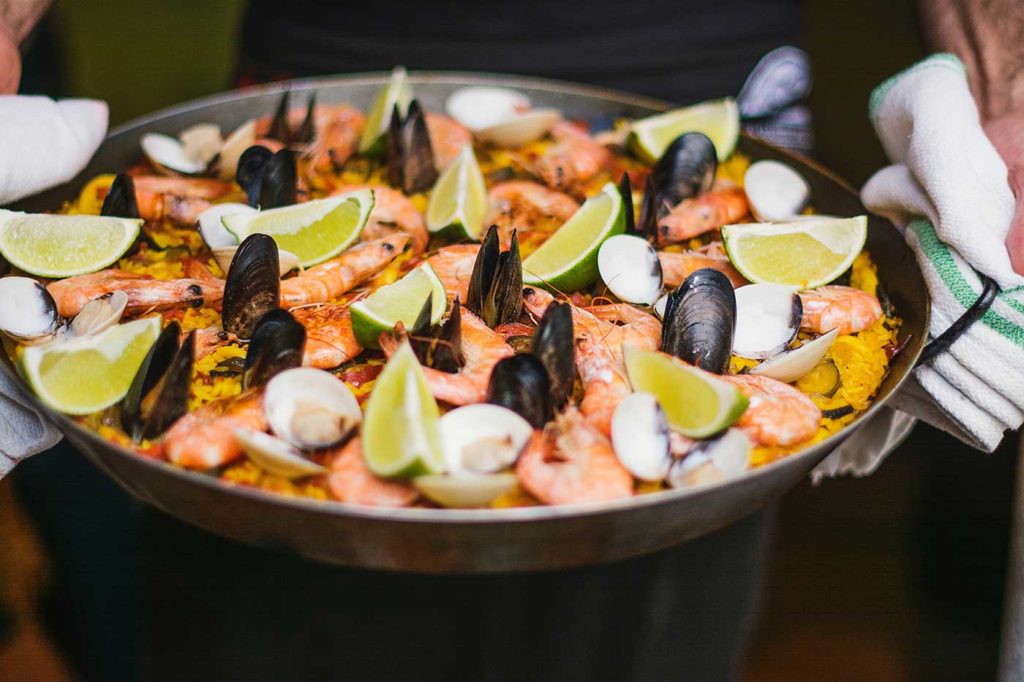 Originating in the east coast city of Valencia, paella is arguably Spain's most famous dish. With its name taken from the wide pan used to cook everything in, paella is usually a mix of colorful vegetables and fresh seafood cooked on a base of bomba rice. The seafood used is typically shrimp although chicken and duck are also common options.
Where to find it: As the national dish it's found everywhere but for the most authentic paella experience, head to Valencia for a Paella Valenciana.
Gazpacho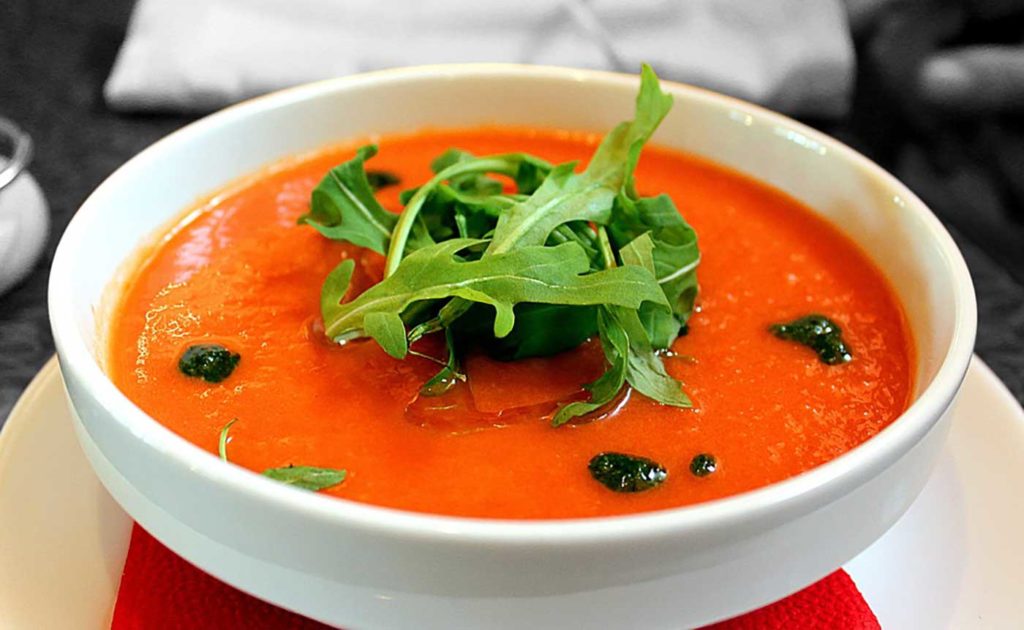 A refreshing remedy for a hot Spanish summer afternoon, gazpacho is a cold tomato soup made from the freshest ingredients. A smooth blend of ripe tomatoes, olive oil, garlic, peppers, and cucumber, this cool acidic soup bursts with flavor. If you find yourself in Córdoba then look out for salmorejo, a heavier version of gazpacho served with pieces of Ibérico ham.
Where to find it: Originating in southern Spain, an Andalusian gazpacho on a hot summer's day is the ideal way to taste this timeless dish.
Croquetas de Jamón
A common sight on bar counters across the Spain, these famous tapas snacks are deceptively mouth-watering. Crispy and golden on the outside, their creamy filling consists of bechamel sauce and beautiful Spanish cured ham. These fritters are an ideal appetizer to eat at any time.
Where to find it: You'll find this classis tapas in most bars and restaurants across the country. You can't go wrong pairing these with a glass of Spanish red wine.
Churros con chocolate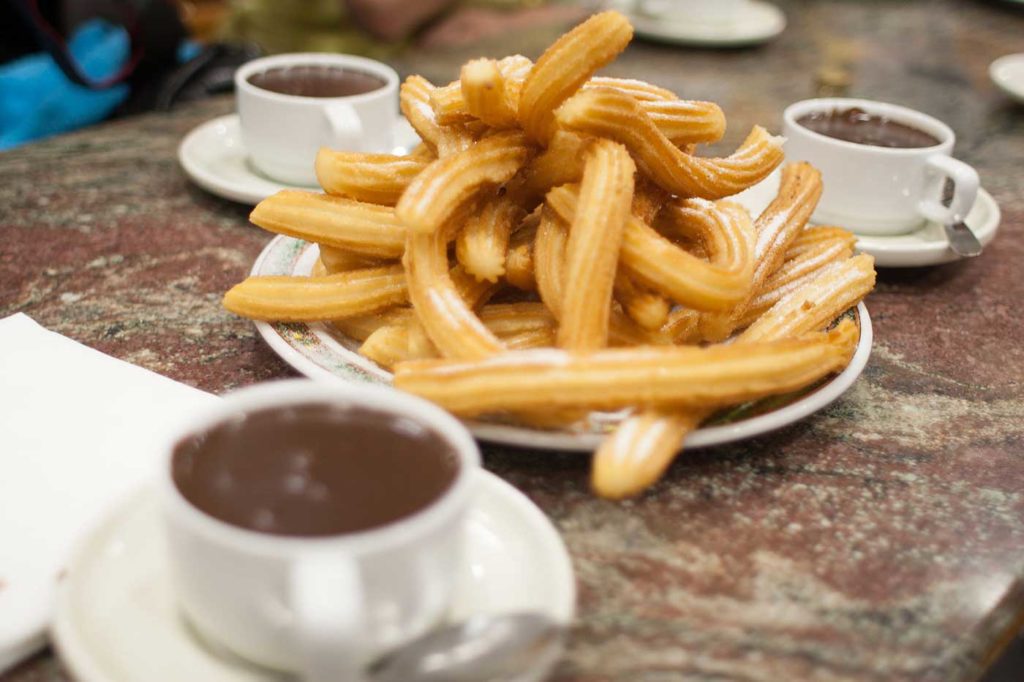 There's no time of day that's a bad time for churros. Often associated with Madrid, churros are a sweet Spanish snack made of batter, fried and sprinkled in hot cinnamon sugar. Served with a side of thick hot chocolate, they're a slice of serious Spanish indulgence.
Where to find it: While churros are a common sight around Spain (and Latin America), head to Madrid and order a plate of churros con chocolate at the legendary Chocolatería San Ginés.
Make the Most of Your Time
Visit both Barcelona and Madrid before heading to some of the more relaxing parts of Spain. They're both large cities but are very different in their culture, architecture and cuisine. They're a wonderful contrast to each other but don't spend too much time in their excellent museums. This is a country to be experienced outdoors; tapas and wine tastes so much better in the warmth of the Spanish sun.