While perhaps best known for its ancient ruins and being the birthplace of democracy, for modern travelers to Greece it's often the alluring promise of watching balmy summer evening sunsets while enjoying a meal on a whitewashed terrace that captures the imagination. From Athens' towering Parthenon to the azure seas of the Cyclades Islands, Greece is a scenic paradise and boasts some of the most iconic Mediterranean cuisines found anywhere in Europe.
Can We Travel to Greece Right Now?
But how much of Greece can we expect to see in 2020, with the world still engulfed in the coronavirus pandemic? With less than 200 fatalities, Greece has managed this crisis better than many of its European neighbors and is now preparing to open for a summer season. The country's low infection rate has prompted the government to start the season earlier than planned and, since tourism accounts for 20 percent of the Greek economy, it can't come soon enough.
Greece has restarted regular ferry services to its islands, and cafes and restaurants have also reopened for business while allowing travelers from around two dozen countries including Germany, Cyprus, and Israel to visit from mid-June without having to be quarantined.
Travel to Greece Post-COVID
Travel to Greece from the US will likely start in July. The USA, UK, Sweden, and Brazil are among the countries left off the initial list who will be allowed to travel to Greece in June but this is expected to change later in the summer.
New York is the only US city with year-round direct flights to Athens, with Emirates offering a daily flight via Newark. Your options expand in the summer with United also flying there from Newark and Delta offering a service from JFK. Travelers from Philadelphia and Chicago can also take advantage of direct seasonal routes operated by American Airlines. Please check these options when travel opens up again.
Traveling to Greece from Miami will mean connecting via either New York or Philadelphia in the US or from one of the major European airports. London Heathrow and Madrid Barajas are particularly strong options with multiple flights to and from Miami. Connecting through Europe will also open up more flight options to other areas of Greece if you don't want to go straight to Athens.
Where to Go in Greece in 2020
Blessed with captivating regions in all directions, choosing where to visit in Greece can be a nice problem to have. Here are a few of the finest spots to consider:
Aegean Islands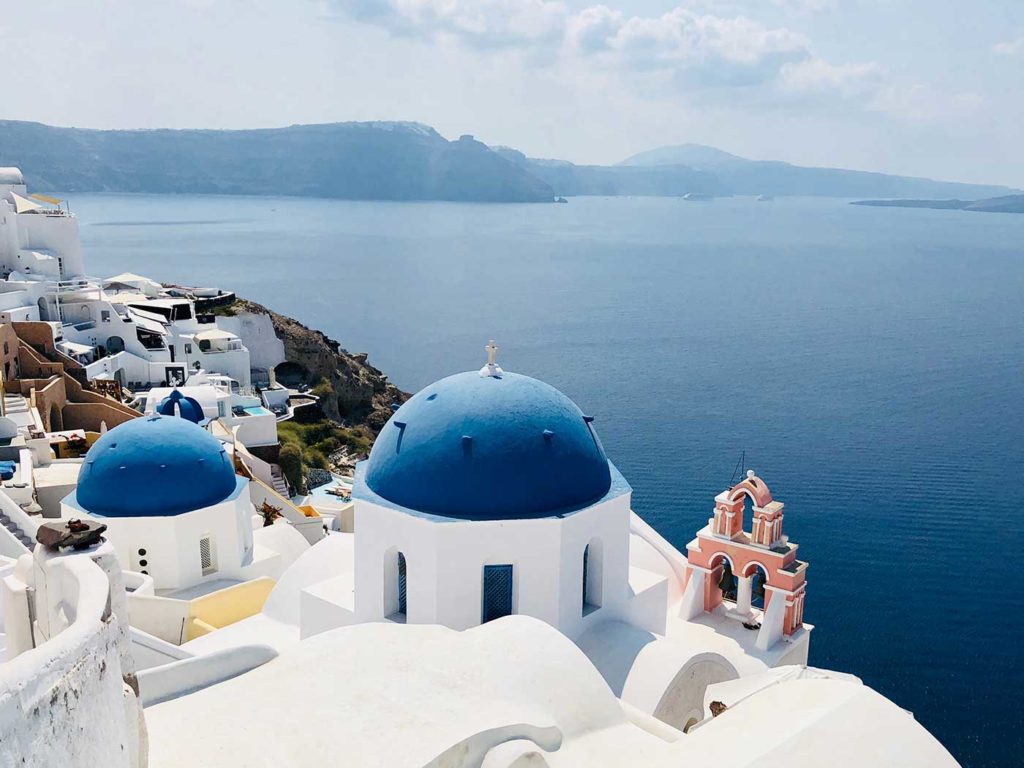 With gleaming white pastel buildings spilling down jagged hillsides into shimmering café-lined harbors, the Aegean Islands are the sun-kissed stars of every guidebook, but with good reason. It's difficult to avoid being seduced by the gentle sapphire waters of Mykonos or the blue domes and romantic cobblestoned streets of Santorini.
Crete is the largest of all the Greek islands and contains some of the country's finest archaeological treasures, as well as miles of golden coastline and some exquisite landscape for hiking. The turquoise waters and bright sands of Balos Lagoon are a dreamy escape from the tourists elsewhere. This wild part of Crete is only reachable by boat, making it that much more enchanting.
Athens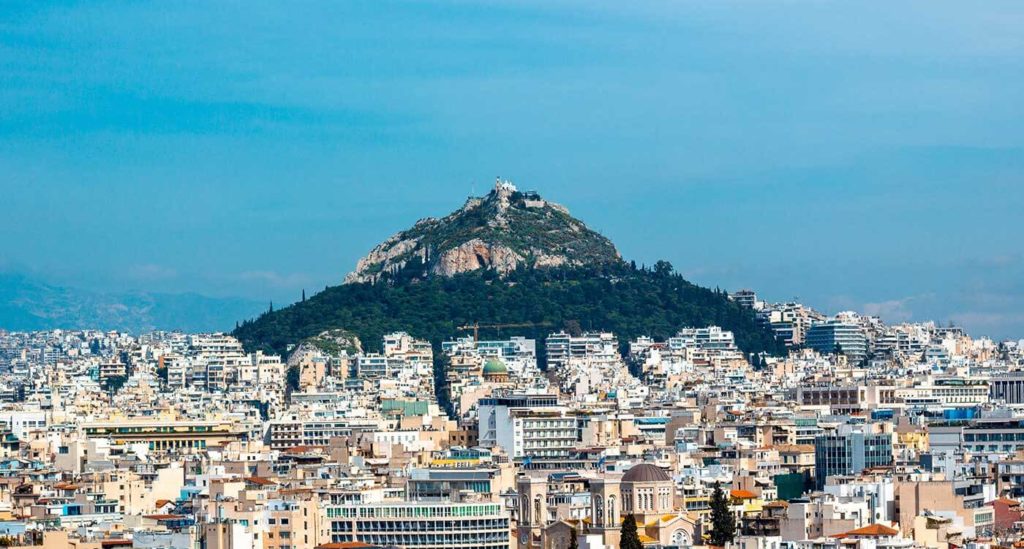 While the Greek capital can be humid and hectic in the summer, Athens' iconic heritage sites and exciting food scene are compelling reasons to spend time in this ancient city. Dating back to around the 5th century BC and visible from almost anywhere in the city, the Acropolis is a stunning ancient citadel and takes on an elegant honey-colored glow at sunset. If there's one place you visit in Athens, make it this.
Ionian Islands
Lush vegetation, wild coasts, and a more temperate climate make the Ionian Islands a nice contrast to the more tourist-friendly Aegean Islands. Made up of seven islands, they're dotted along Greece's west coast with Kefalonia being the largest and famous for its rugged mountains and golden beaches.
With numerous resorts and buzzing club culture, Corfu attracts the most visitors but the historic center of Corfu town is well preserved and contains some wonderful Byzantine and Venetian architecture. Ithaca is a smaller, more peaceful alternative offering serene evening walks along the arcing promenade of its capital, Vathy.
Thessaloniki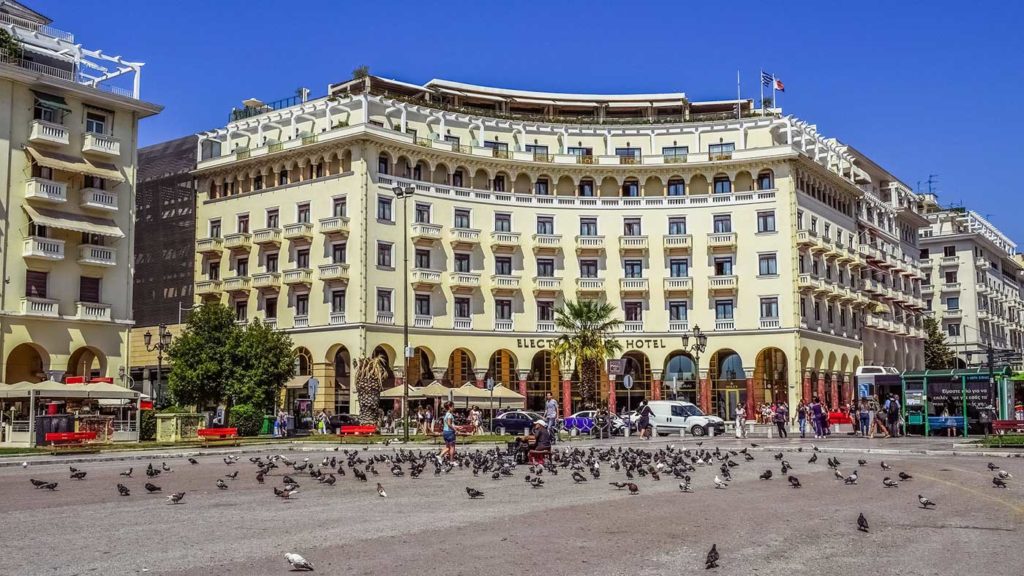 Located along the Thermaic Gulf in the northwest corner of the Aegean Sea, Thessaloniki is Greece's second-largest city and a vibrant melting-pot with a buoyant café culture and a rich history. Known as the 'Gastronomic Capital of Greece', Thessaloniki's cuisine is rich and zesty with lively street food joints providing food as interesting as anything found in the many excellent restaurants.
Head to the charming Modiano Market and take in its vast array of aromas and colors before sampling or buying some of the fish, meat, cheese, vegetables, or spices that line the aisles. Speaking of food…
What to Eat
With a simple basis of ingredients harking back to Ancient Greece and a strong emphasis on freshness, Greek food is classic Mediterranean cuisine with influences from east and west. Fresh vegetables and seafood are often complemented by seasonal herbs, cheese, olives, and a variety of delightful wines. Here's what to look out for to set your taste buds alive:
Dolmadakia
Influenced by Turkey and popularised by Greek restaurants, dolmades are soft vine leaves stuffed with rice and fresh herbs and served warm with a garnishing of avgolemono (egg-lemon) sauce. Wonderfully tender, dolmades are a traditional appetizer (meze) that can also be prepared using lamb but are usually vegetarian.
Where to find it: Dolmades will be on the menu of most restaurants across Greece so there's no excuse not to try them!
Souvlaki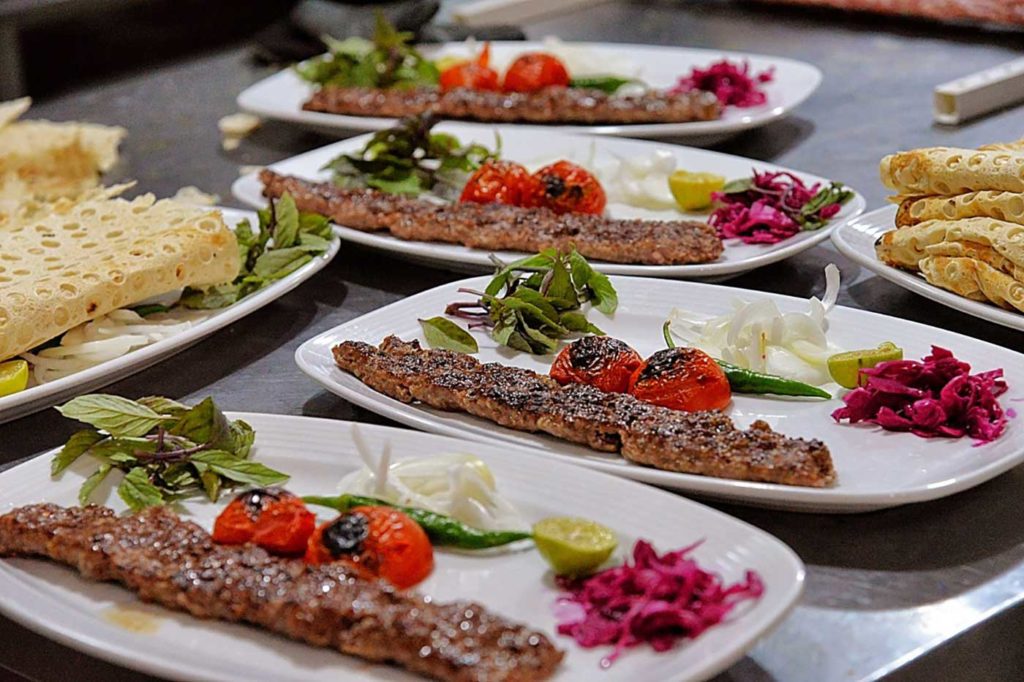 Deriving its name from the Medieval Greek for skewer (souvla), souvlaki are grilled meat skewers often served with tzatziki (a sauce made from yoghurt, cucumber and mint), pita bread, salad or rice. Now popular around the world, the meat used in Greece is usually pork although there are also plenty of lamb and chicken variations. Souvlaki is a timeless summer BBQ food and don't hesitate to put a few vegetables on the skewer too if you want to get creative.
Where to find it: Souvlaki is as much a fast food as it is anything else so there's plenty of mouth-watering joints in the streets of most Greek cities, ranging from small stands to traditional tavernas. If you're going to do street food in Athens, make it a souvlaki.
Moussaka
Probably the most famous of all the Greek dishes, this nourishing classic consists of layers of minced lamb, potato and eggplant, covered in béchamel sauce and then baked until the top is a dark, golden brown. Serve with some fresh salad on the side and you'll have a perfect moussaka to feed family and friends. Heavier than most Mediterranean dishes, it shows that Greeks can do comfort food too.
Where to find it: Ubiquitous across Greece although perhaps best enjoyed as part of a big afternoon or evening meal.
Garides Saganaki
This traditional Greek meze dish is perfect when accompanied with a glass of wine at a coastal seafood restaurant or a psarotaverna. Tender shrimp is smothered in a rich tomato sauce, garnished with a splash of ouzo and topped with crumbled feta cheese. Complement this delicious appetizer with a salad or warm pita bread.
Where to find it: While this delightful seafood dish is found across Greece, for the freshest produce try it at any coastal town or one of the islands
Baklava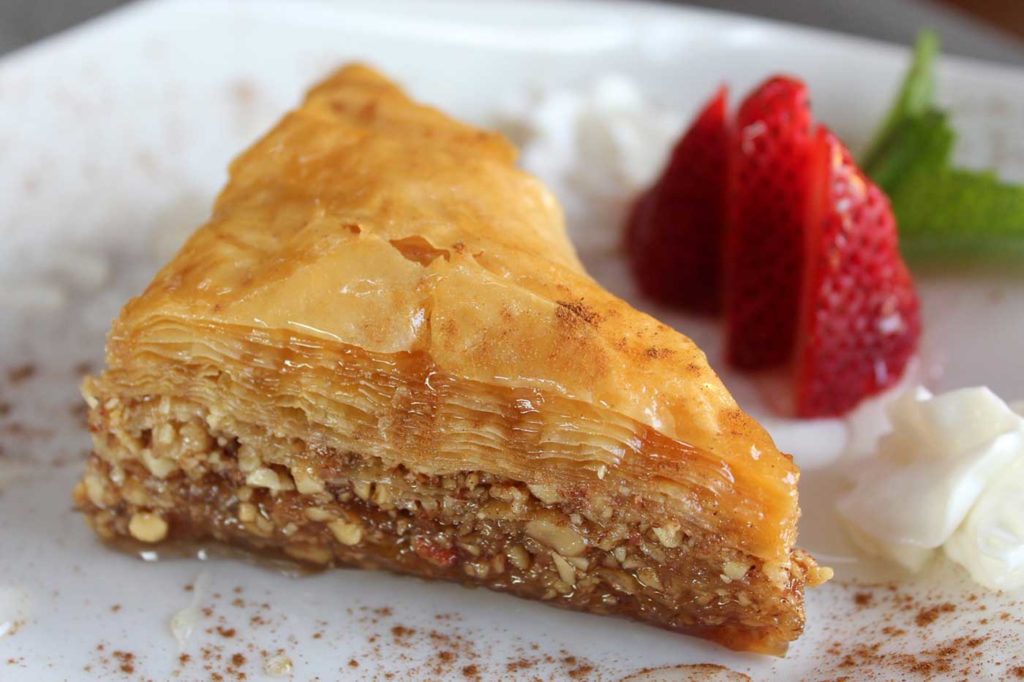 Most likely originating in the Eastern Roman Empire and taking its current form (and name) during the Ottoman Empire, baklava has been around for centuries and is now a beloved dessert found all over Greece. An indulgent treat to finish any meal, baklava consists of layers of crispy golden brown phyllo, filled with chopped walnuts and soaked in a syrup made from lemon, honey, and cinnamon.
Where to find it: Baklava is sold at most bakeries and pastry shops around Greece so there'll be plenty of opportunities to try it in all its different shapes and sizes.
Make the Most of Your Time
While Greece can get crowded and very hot (especially in the summer), it's essential to explore this captivating country at your own pace. Keep an open mind and give yourself plenty of time to try many of the unique flavors that Greece has to offer. Whether you're devouring street food in a lively Athens neighborhood or relaxing with wine and seafood on a sunny afternoon in Santorini, there's much to discover when you visit this beautiful part of the Mediterranean.