Miami has its place on almost every must-go travel destinations' list, and it deserves the respect—beautiful weather, sandy beaches, delicious Miami food, salsa dancing, animal reserves… all that and more. As of Spring 2021, things are more or less back to normal, giving way to the life-is-good-lifestyle recovery. No matter if you're looking to explore the diverse Miami gardens with family or get loose on your next yacht rental, Miami has you covered. And while the glamour of the city is spectacular, there's more than meets the eye in the well-cultured cuidad. So without further adieu, here we have the best things to do in Miami.
Herein we've mashed up a luxury list of best things to do in Miami in between tanning that beach body and café con leche. Keep in mind folks that this list is curated, not ranked—there's just too much good to give out first-place trophies.
Vizcaya Museum and Gardens
Dating back to 1916, this 34-room National Landmark is a stout 28 acres of history. Originally built as the home of industrialist James Deering, the project required over 1000 men to complete, many of whom came from Europe to ensure its Italian Renaissance-like authenticity.
The aged sculptures, furniture, gardens, architecture, and lands here are not to be missed. This is Miami's number one attraction and one of the best things to do in Miami with kids.

3251 S Miami Ave, Miami, FL 33129; (305) 250-9133, vizcaya.org; Thurs-Mon, 9 a.m. – 4:30 p.m.
Española Way
The once antiquated bohemia of Miami has lived out its fulfillment as its own bohemia of today. Built for artists in 1920s, Española Way was a commercial development modeled after Mediterranean houses. It serves as a sensual exploration in contemporary times, littered with exquisite dining establishments, shops, and community centers. One of the best things to do in Miami to connect with cool local folks.
Espanola Way is located between 14th and 15th Street in Miami Beach; Open 24 hrs
The Barnacle Historic State Park
Fastened to the shore of Biscayne Bay lies a 19 century home now known as "The Barnacle". The space is a reflection of what is known as "the simple and genuine life," and is revered for its one-of-a-kind scenic glow. Also, it is the oldest house in Dade County which still stands in its original location. For just $2, you can enjoy all the park's amenities, including biking, snorkeling, camping, hiking, horseback riding, and more. As of now, the L schedule is limited, so plan ahead.
3485 Main Hwy, Miami, FL 33133 ; (305) 442-6866; thebarnacle.org; Wed-Mon, 9 a.m. – 5 p.m.; Thurs, 9 a.m. – 7 p.m.
Jungle Island
This eco-adventure park located on Miami's Watson Island just minutes away from downtown Miami is a parrot sanctuary, botanical garden, and wildlife habitat. Not only is the park known for containing larger land animals like tigers, alligators, red kangaroos, and orangutans, it also contains over 2,000 varieties of exotic plants. Some points of interest there include attending a show in the theater, monkeying between trunks in Treewalk Villagewall, and the huge playground.
1111 Parrot Jungle Trail, Miami, FL 33132 (Temporarily closed)
Art Deco Historic District
This district has more than survived its heydey of the 1920s and become an immaculate addition to what the 305 has to offer. This South Beach neighborhood captivates visitors with its flamboyant pastel colors and dancy features. A true delight to designers, architects, artists, or anyone with a love of history. The Art Deco District comes to life at night with its neon signs, so go around dusk to witness the contrast. One of the better free things to do in Miami.
1001 Ocean Dr, Miami Beach, FL 33139; (305) 672-2014; miamiandbeaches.com; Open 24 hrs
Rubell Museum
One of the most exceptional museums in Miami, the Rubell is a contemporary exhibitory powerhouse. Here they've got artwork impossible to find anywhere else, or in any other way. The unique sweep of art here ranges from kept pieces from 50 years ago, to installations from last week. Free to US veterans and open every day except Monday & Tuesday, the Rubell is a Miami tip worth jotting down.
1100 NW 23rd St, Miami, FL 33127; (305) 573-6090, rubellmuseum.org; Wed, Thurs, Sun, 11:30 a.m. – 5:30 p.m.; Fri, Sat, 11:30 a.m. – 7:30 p.m.
The Biltmore Hotel
One look at this place and you know. 1920s hotel turned mafia murder scene turned military hospital turned University of Miami home turned haunted abandoned spooky place turned lavish hotel again — The Biltmore Hotel. Even if you don't book a room in this place, it is a Miami must-see! The premises are huge and breathtaking. The golf course alone helps you inherit its luxury, and the pool once stood as the largest pool in the world. Definitely one of the top things to do in Miami.
1200 Anastasia Ave, Coral Gables, FL 33134; (305) 445 1926, biltmorehotel.com; Open 24 hrs
Everglades National Park Boat Tour
A unique feature of swamplands that cover over 1 million acres and defines the homes of alligators, crocodiles, birds, and snakes. Although the park is filled with cool walking tours and an alligator farm, we'd recommend taking an airboat tour through Sawgrass Park. You'll be streamed through marshes into eye-popping habitats only accessible on this now shallow river.
1006 N. US Highway 27 Fort Lauderdale Florida, 33327; (888) 424-7262, evergladestours.com; Every day, 9:30 a.m. – 3:30 p.m.
Little Havana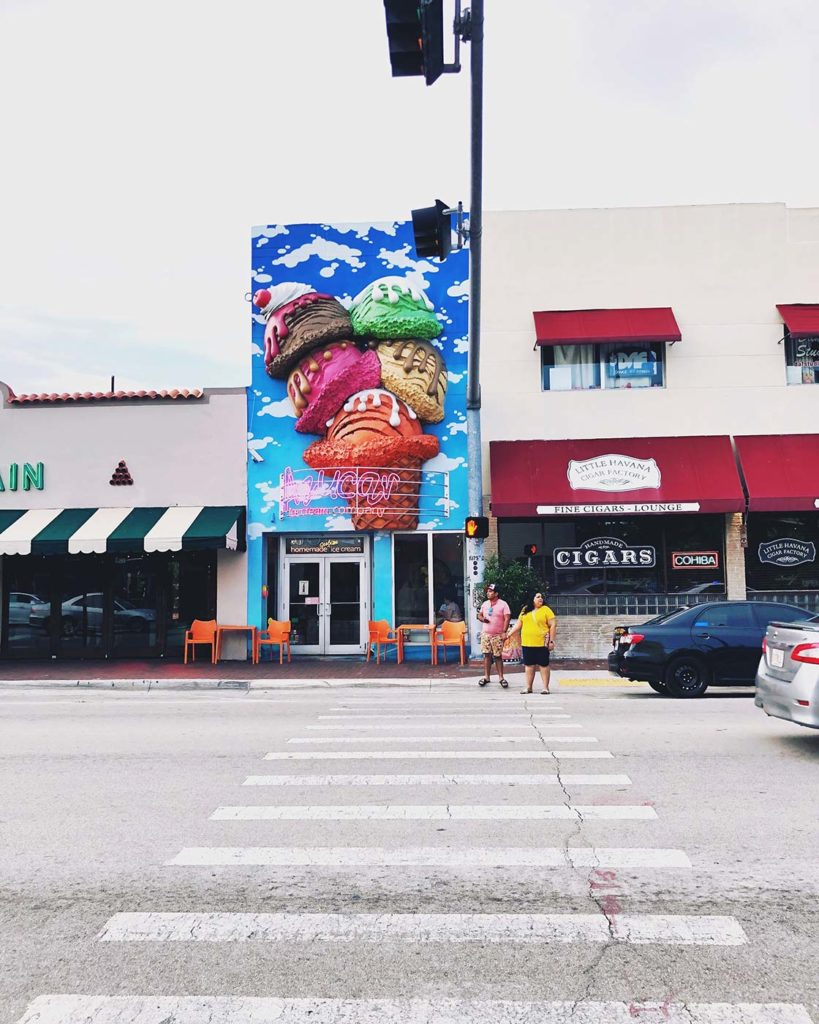 Little Havana is a most famous culinary and cultural hub in the heart of Miami. It's home to the largest population of Cubans in Miami, as well as a milieu of social areas, live music, restaurants, and specialty shops. Calle Ocho is the most popular street in Little Havana, but the surrounding areas are slowly picking up the pace as well. If you're around in March, check out the Calle Ocho Festival, the largest celebration of Cuban culture of its kind in the world.
Open 24 hrs
Fairchild Tropical Botanic Garden
This delightful garden owing itself 84 acres of magnificence is another priceless thing to do in Miami, Florida. Any lover of wildlife will love this Miami Garden. It is home to over 40 species of butterflies and several families of wild plants. Short tram tours are offered to guests. Don't forget to bring your camera for this trip!
10901 Old Cutler Rd, Coral Gables, FL 33156; (305) 667-1651, fairchildgarden.org; Every day, 10 a.m. – 4 p.m.
Bill Baggs Cape Florida State Park
This State Park is home to Biscayne Bay's 1825 Cape Florida Lighthouse. This historical site has been used as a gathering spot by those of times past in the fight for freedom. Guided tours are given around the lighthouse and keeper's cottage. The park can also be explored by foot, bicycle, or kayak.
1200 Crandon Blvd, Key Biscayne, FL; (786) 582-2673, Website; Every day, 8 a.m. – 7:30 p.m.
Deering Estate
The Deering Estate preserves the memory of Charles Deering, 20th-century industrialist, philanthropist, environmentalist, and art collector. It is listed in the National Register of Historic Places and has become a museum destination for both tourists and locals. It's full of nature trails, learning centers, and historic sites of both domestic and international influence.
16701 SW 72nd Ave, Miami, FL 33157; (305) 235-1668, deeringestate.org; Every day, 10 a.m. – 4 p.m.
The Bass Gallery
Another of the top-rated museums in Miami, The Bass Gallery focuses on international contemporary art while encompassing a wide range of media. Its thoughtful structure and design invite a sensual atmosphere that really encourages an art-appreciative spirit. Kids 6 and under get in free, as well as US veterans (with a +1).
2100 Collins Ave, Miami Beach, FL 33139; (305) 673-7530, thebass.org; Wed – Sun, 12 p.m. – 5 p.m.
Robert is Here
If you like fruit, particularly hard to find exotic fruit, take a visit to Robert is Here. Located just shy of Miami in Homestead, this family-owned business sources the rarest of fruit this side of the Atlantic. They've turned a humble roadside fruit salad stand into a business worthy of literary coverage (there's actually a book on the way). Take a little trip south to see what the rave is all about.
19200 SW 344th St, Homestead, FL 33034; (305) 246-1592, robertishere.com; Every day, 9 a.m. – 6 p.m.
Wynwood Street Art
Wynwood Miami is one of Miami's main attractions, known for its street art, galleries, food, and street culture. What was once a neighborhood full of warehouse walls has become a prime spot for the hand of talented artists all throughout the country. It's full of enchantment no matter what your reason is for showing up, and is one of the best cultural things to do in Miami.
Open 24 hours
Coral Castle
The Coral Castle is an extraordinary work of one man's dedication and mysterious technique. After 28 years of hand-carving limestone between 1923 and 1951, the "Castle" was born. Its creator, Edward Leedskalnin, refused to be observed as he worked. Subject to many suspicions and naysayers, the castle is now a top tourist destination in Miami.
28655 S Dixie Hwy, Homestead, FL 33033; coralcastle.com; Temporarily closed
Key Biscayne and Crandon Park
Another side of nature-filled fun awaits in Key Biscayne Miami's Crandon Park. While Key Biscayne has a fair number of small beaches and park areas, Crandon Park is probably the most visited. It's a laid back destination with an Amusement Center and a host of activities like paddleboarding, tennis, and golf. A subtle twist to the more conventional things to do in Miami.
6747 Crandon Blvd, Key Biscayne, FL 33149; (305) 361-5421; Open 24 hrs
Frost Science Museum
Nerd out at the Frost Science Museum. This massive museum occupies 4 buildings and features year-round exhibits. They've got an aquarium, planetarium, state-of-the-art labs, a cool science store, and bi-weekly laser art shows. A daily limit has been effected as a safety precaution, so plan ahead before you go — the early bird gets the worm!
1101 Biscayne Blvd, Miami, FL; (305) 434-9600, frostscience.org; Mon – Thurs, 10 a.m. – 5 p.m.; Fri – Sun, 10 a.m. – 7p.m.
Gold Coast Railroad Museum
Decreed Miami's first National Landmark, The Gold Coast Railroad Museum is home to over 2 dozen historic locomotives. It was created in the 1950s and commemorates the very carts that once carried US Presidents like Truman and Roosevelt. The most exciting bit is that it still operates! You can ride one of these historical gems for as low as $3 per person.
12450 SW 152nd St, Miami, FL 33177; (305) 253-0063; goldcoastrailroadmuseum.org; Mon, Wed, Fri, 10 a.m. – 4 p.m.; Fri – Sat, 11 a.m. – 4p.m.
Lincoln Road Mall
Perpendicular to the beach in the heart of South Beach, Lincoln Road Mall is a premier open-air shopping center. It's one of the best things to do in Miami when it comes time to play consumer. The mile-long pedestrian-only strip is filled with shopping centers, street performers, restaurants, and a movie theater — all the exciting night-on-a-town kind of stuff.
Lincoln Rd, Miami Beach, FL 33139; lincolnroadmall.com; Every day, 10 a.m. – 11 p.m.
Venetian Pool Miami
Just outside of Miami in Coral Gables lies the Venetian Pool. It's an aquatic facility that was built in 1923 and attracts thousands of visitors each year. It's fed by an underground aquifer and gets cleaned daily. Not to mention, it's surrounded by waterfalls and cave-like grottos which enhance the experience. Tickets sell out quickly during the peak season, so strike while the iron's hot.
2701 De Soto Blvd, Coral Gables, FL 33134; (305) 460-5306; coralgables.com/venetianpool; Tues – Sun, 10 a.m. – 4:30 p.m.
Design District Miami
The absolutely stunning Miami Design District is home to some of the best architecture in the country. Every turn of the face when walking along its blocks finds curated public art and design. Aside from the street art and show design showrooms, there are multi-level shopping complexes like Paradise Plaza and Palm Court. Lastly, this place has some of the best food in Miami, including a few Michelin-starred restaurants.
140 NE 39th St., Miami, FL 33137; (305) 722-7100, miamidesigndistrict.net; Mon – Sat, 11 a.m. – 8 p.m.; Sun, 12 p.m. – 6 p.m.
The Villa Casa Casuarina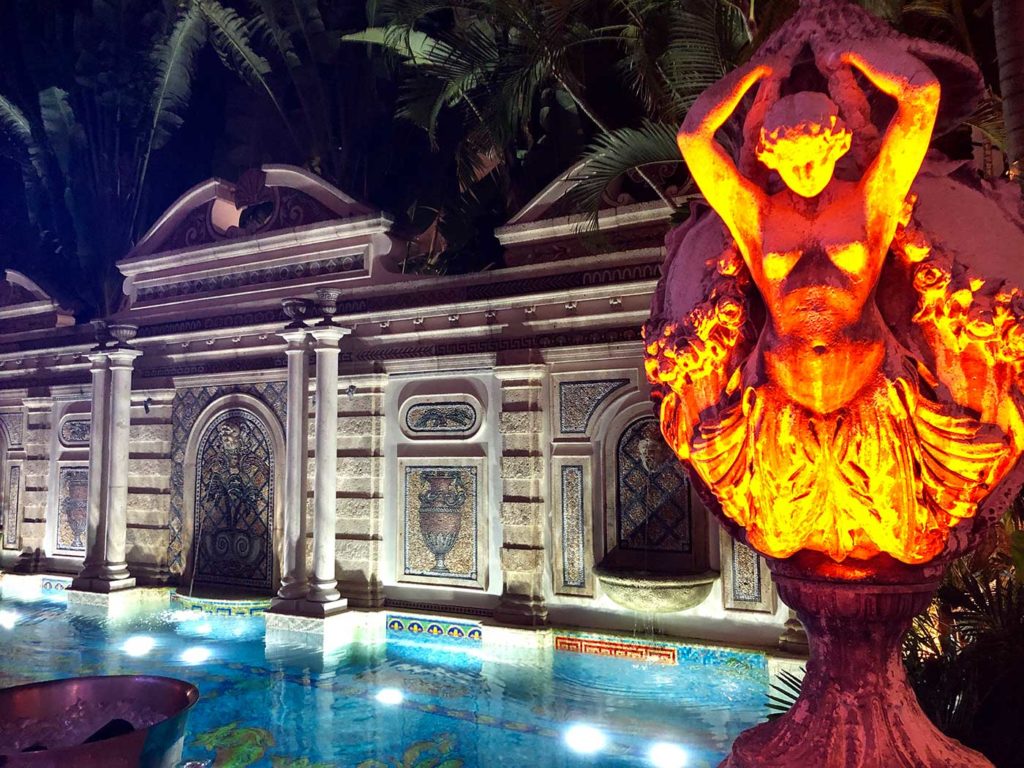 This exquisite villa often referred to as the Versace Mansion, is a lavish adornment to any pair of sore eyes. The mansion is loaded with vibrant artwork, rare trinkets, priceless collectibles, and historic sculptures of Greek and Roman myth lore. It now functions as a hotel, event space, and restaurant. Truly, one of the best places to see in Miami.
1116 Ocean Dr, Miami Beach, FL 33139; (786) 485-2200, vmmiamibeach.com; Open 24 hrs
Ocean Drive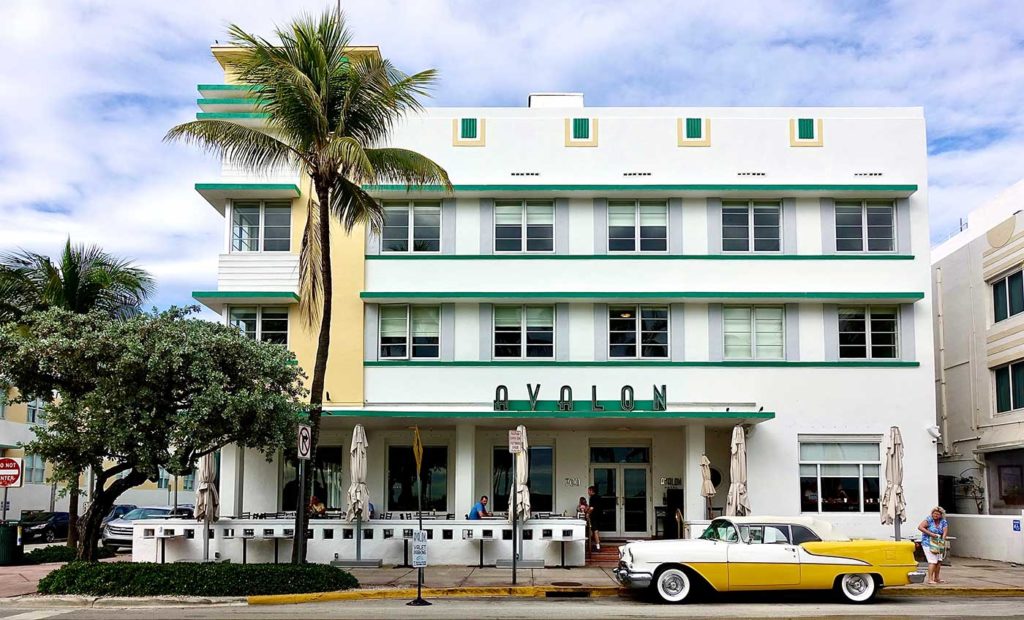 Definitely the most famous strip in Miami. It is the place visitors imagine when they picture Miami beach fun. This South Beach promenade has the water, the roller skaters, the Latin bands, the tasty restaurants, the island cocktails. If you want to feel like you've actually made it there, get to Ocean Drive Miami.
Open 24 hrs
Graffiti Museum
This is the first museum to devote itself to celebrating and unveiling the history of graffiti. The indoor exhibition is stocked with original works and scaled-down images of street art, and the outside boasts 11 original graffiti murals. There's also a gift shop with unique rare items from some of the world's best graffiti artists. For those who already found themselves wandering the streets of Wynwood in awe — it only gets better.
299 NW 25th St, Miami, FL 33127; (786) 580-4678, museumofgraffiti.com; Mon – Thurs, 11 a.m. – 6 p.m.; Fri – Sun, 11 a.m. – 7 p.m.
Millionaire's Row Cruise
This 90-minute sightseeing cruise around Biscayne Bay is one for the books. Enjoy perfect views of the downtown Miami skyline, Fisher Island, Miami Beach, the Port of Miami, and Star Island. The tour guides do a great job of explaining the surroundings in both English and Spanish. The cruise's name comes from the line of expensive houses on Star Island known as Millionaire's Row.
401 Biscayne Blvd, Miami FL; (844) 326-5840, Website; Mon – Fri, 11 a.m. – 5 p.m.; Sat – Sun, 11a.m. – 7 p.m.
Soundscape Park
This urban park in the civic heart of Miami beach reflects the spirit of the multi-faceted city. It offers different audio and visual events throughout the year in high-technology and shows free films on the wall every Wednesday evening. If you're looking for a place to kick back for a while or have a picnic with the family, this is the place to go. One of the best free things to do in Miami.
400 17th St, Miami Beach, FL 33139; (305)-673-3330, Website; Open 24 hrs
Nite Owl Drive-In
That's right. You guessed it. The Nite Owl Drive-In is an oldskool drive-in style movie theater, screening classics all year round. The film's audio comes through the radio, and everything happens from the comfort of your 4-seater. Plus, kids under 12 get in for free. Of course, you'll need some wheels to enjoy this blast to the past, but it's totally worth the half day's rental for the super rare experience.
8 S Miami Ave, Miami, FL 33130; (833) 648-3695, niteowldriveinandtropicalmarket.com; Check website for schedule
Oleta River State Park Kayaking
30-minutes from downtown Miami is Florida's largest urban park, Oleta River State Park. This oasis is known for its off-trail biking, paddleboarding, and river kayaking! It's one of the easiest access points to river kayaking from an urban environment, and it is loads of fun. As of now, visitation is limited due to covid, so plan a day ahead before tripping to this gorgeous Miami park.
3400 NE 163rd St, North Miami Beach, FL 33160; (305) 919-1846,; floridastateparks.org/OletaRiver; Every day, 8 a.m. until sundown
Perez Art Museum
The Perez Art Museum is another wonderful contemporary and modern museum in Miami. It has a beautiful architectural design, affordable entrance fees, and is effortless to navigate, in spite of its size. The surrounding Bayside park and nearby restaurants add to its convenience and comfort.
1103 Biscayne Blvd, Miami, FL 33132; (786) 345-5665, pamm.org; Thurs, 2 a.m. – 9 p.m.; Fri – Sun, 11 a.m. – 6 p.m.