A diferencia de muchos restaurantes que siguen el formato tradicional de aperitivos, platos principales y postres, otros adoptan un enfoque más parecido al de las tapas. En estos restaurantes de la ciudad se invita a compartir, y así los comensales pueden probar varios platos sin que les cueste un dineral. Reúne a varios amigos y emprendan un viaje gastronómico en estos siete mejores restaurantes de Miami para compartir platos.
Beaker & Gray
En el barrio de Wynwood, Beaker & Gray es todo un referente a la hora de compartir platos. Este ecléctico restaurante cuenta con una variedad de bocados fríos y calientes que no se ciñen a una influencia en particular: en estos platos encontrarás inspiración de todo el mundo. Entre los favoritos de todos están las croquetas de hamburguesa con queso, los calamares a la parrilla, el arroz frito con costillas ahumadas y los ñoquis de calabaza. Algo que no querrás compartir son los cocteles; asegúrate de pedir al menos uno, ya que este lugar es famoso por ellos.
Beaker & Gray is located at 2637 North Miami Avenue, Miami, FL 33127. For more information, visit their official website.
Patio Isola
En Patio Isola —el principal restaurante italiano de MiMo— podemos compartir todos los platos debido al tamaño de las porciones. Este espacioso restaurante hace gala de varias especialidades italianas, desde pastas hasta pizzas y todo lo demás. Fácilmente puedes pedir solo un aperitivo como comida, pero te recomendamos que no te limites. Lo mejor es que pruebes algo de cada sección, incluyendo el postre. ¿No sabes qué pedir? El tuétano con queso y ajo, la ensalada de albóndigas y los raviolis de ricota son buenas opciones para empezar.
Patio Isola is located at 6789 Biscayne Boulevard, Miami, FL 33138. For more information, visit their official website.
Pubbelly Sushi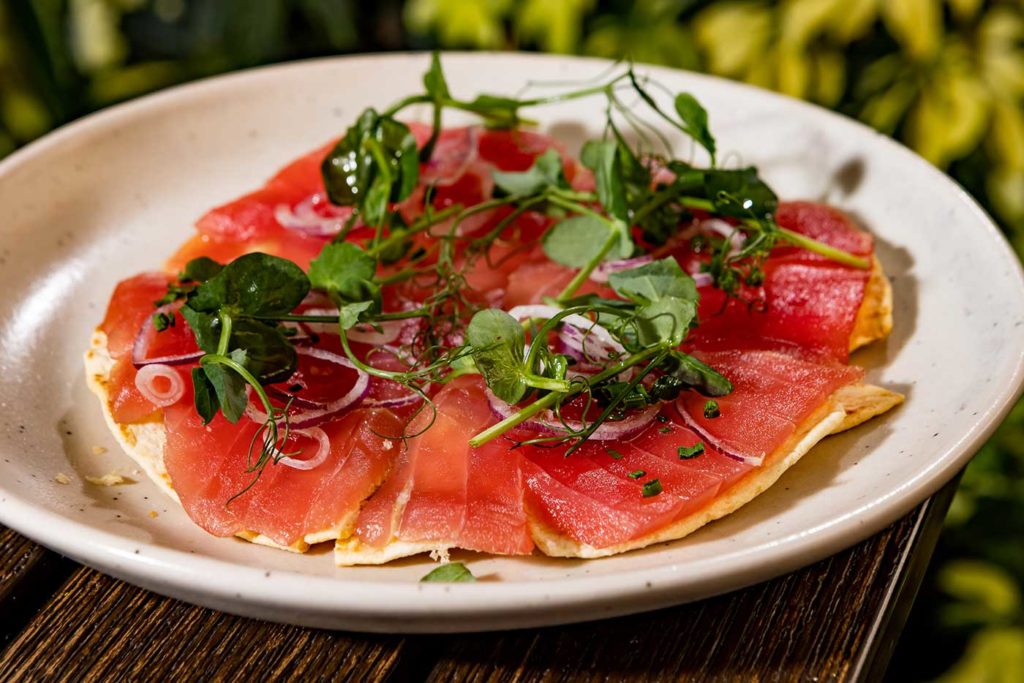 Te va a ser difícil encontrar un menú más grande en toda la ciudad que el de Pubbelly Sushi. Y es que el concepto de inspiración asiática del equipo de Pubbelly es tan ENORME que faltan calificativos para describirlo. Aquí podrás encontrar montones de deliciosos manjares para compartir con tus amigos y familiares. Algunos de los platos más populares son el Salt and Pepper Squid, los Tostones con Ceviche, la Lobster Dynamite y el Wagyu Chimichurri. Si quieres aprovechar al máximo este lugar, no dejes de repetir la visita.
Pubbelly Sushi has multiple locations throughout South Florida. For more information, visit their official website.
RED South Beach
RED South Beach es otro de esos lugares en los que un solo plato del menú podría ser tu comida. Este renombrado restaurante SoBe ofrece uno de los menús de carnes a la parrilla más amplios de todo Miami. Y la comida es igual de abundante: el chef Peter Vauthy tira la casa por la ventana a la hora de dar sabor y tamaño a las porciones. Algunas de nuestras sugerencias para la mesa son el Maine Lobster Cocktail (coctel de langosta de Maine), el Mussels Diavolo (mejillones en salsa diavolo), el Mac and Cheese (macarrones con queso) y la Ultimate Meat Board (tabla de carnes), que sin duda hace honor a su nombre —el filete tomahawk por sí solo llena mucho y es delicioso.
Seawell Fish N' Oyster
Si hablamos de selecciones de mariscos para compartir, no hay nada mejor que el restaurante Seawell de Miami Beach. Esta joya oculta en la Avenida Washington tiene todos los clásicos y mucho más: dip de pescado ahumado, buñuelos de caracola, ostras, camarones con sémola… y la lista sigue. Si quieres ahorrarte algo de dinero pásate por allí durante la «Oyster Hour» de la casa y disfruta de una selección de ostras del chef con un 50 % de descuento y una variedad de ofertas de spritz. Pero la verdad es que cualquier momento es bueno para visitarlo.
Toscana Divino
¿A ti o a tus amigos les gusta el vino y la comida italiana? Entonces no esperes más y haz una reservación en Toscana Divino. En este restaurante de Brickell encontrarás algunos de los mejores platos de pasta de la ciudad y una de las mayores colecciones de vino. Como bien dice el refrán, «compartir es vivir» así que pide unos cuantos platos para la mesa y pásalo en grande. Entre los platos principales están los Tortelli Buffalo Ricotta and Spinach (tortelli de ricota de búfala y espinacas) y los Black Seafood Spaghetti (espaguetis negros con mariscos), así como el Tuna Tartare (tartar de atún) y el Octopus Puttanesca (pulpo a la puttanesca).
The Wagyu Bar
¿Te gusta la carne? Entonces te encantará The Wagyu Bar en Coral Gables. Y es que la experiencia que vivirás en este modesto asador no solo será muy rica, sino también educativa. Aquí se da mucha importancia a que el cliente sepa exactamente lo que está comiendo.
Te encontrarás con una amplia tabla que detalla la clasificación de la carne de res, y saldrás con una mayor apreciación de lo que supone un gran trozo de carne. Para compartir recomendamos el Kansas Steak marinado en seco, cualquiera de los filetes de lomo alto y la parrillada para cuatro personas, que son carnes y más carnes.