Oysters are a dime a dozen in Miami, but there are a few spots that are a cut above the rest. The next time you're in the mood for some delicious bivalves, check out these five awesome restaurants for the best oysters in Miami.
Alloy Bistro Gourmet
Those familiar with Alloy Bistro Gourmet know that this Downtown Miami establishment serves up some delectable seafood. The Mediterranean-inspired eatery offers some of the best fish in town, alongside some tantalizing pastas.
But did you know that they also serve oysters? They do, and they're just as appetizing as the rest of the menu. There's nothing quite like a dozen delicious oysters before some equally impressive branzino carpaccio, octopus gnocchi, and black tagliatelle. Make sure to stop by on Thursdays for Oyster Night aka $1 oysters all night long.
Alloy Bistro Gourmet is located at 154 SE 1st Avenue, Miami, FL 33131. For more information, visit their official website.
Lobster Shack
Names can be deceiving: Lobster Shack offers guests way more than just lobster. At this Miami Beach eatery, guests can also enjoy a range of fried seafood, tacos, salads and more. While it's easy to overlook the raw bar in favor of lobster rolls and fish tacos, don't miss out on Lobster Shack's east coast oysters.
The selection rotates regularly but the price doesn't. At $2.50 per oyster, you're getting quite the deal – especially on Miami Beach. Treat yourself to a dozen (or more) and then go to town on the Naked Lobster Roll served warm with butter. You'll be glad you did.
Lobster Shack has two locations on Miami Beach – one at South Pointe and one on Lincoln Road. For more information, visit their official website.
Red South Beach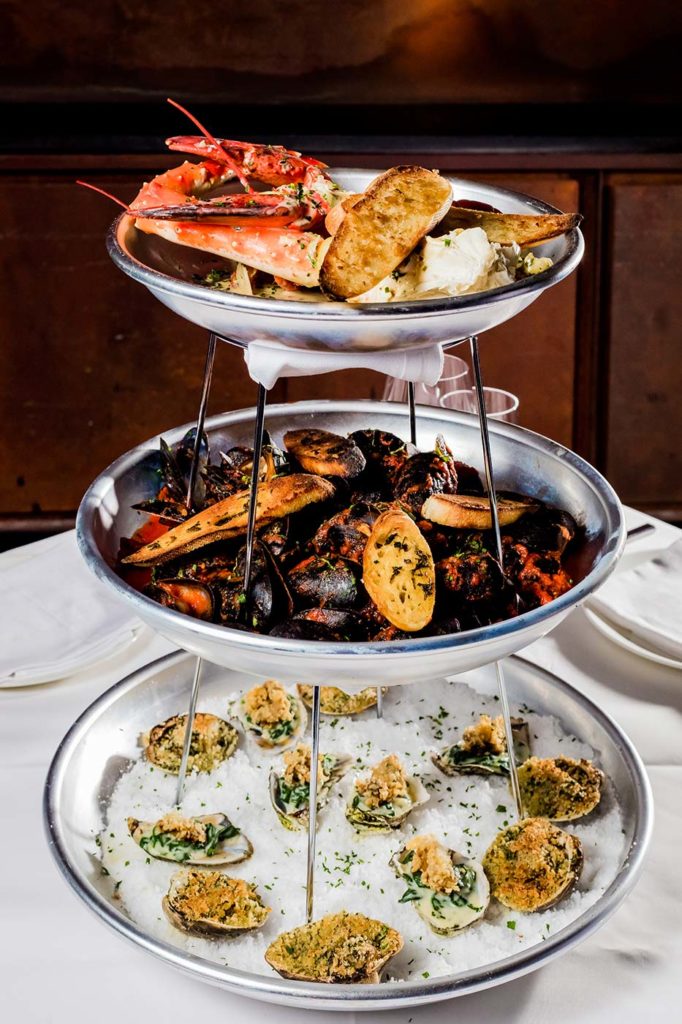 Red South Beach is known for its great steaks; meat lovers will be hard-pressed to find better cuts than the ones found here. But before you devour a tasty ribeye, porterhouse or New York strip, don't neglect the rest of the menu. There's something for everyone on this expansive men – the truffle pasta, shrimp cocktail and wild king salmon are just a few of our favorites. No matter what you choose, though, you should always start with some oysters.
At Red, oysters come in a number of flavorful forms: enjoy them raw with Red's mignonette, try them Rockefeller-style with creamed spinach, or buffalo-style with blue cheese fondue. We're partial to New Orleans-style oysters, which come baked in a spicy parmesan butter. That said, you're in for a good time no matter which you order.
Red South Beach is located at 801 South Pointe Drive, Miami Beach, FL 33139. For more information, visit their official website.
River Oyster Bar
If the word "oyster" is in your name, you better have a good selection. And indeed, River Oyster Bar doesn't disappoint. The popular Brickell restaurant has an array of awesome oysters from each coast. Choose from Blue Points straight from Long Island South, Connecticut; Tomahawks from Shinnecock Inlet in Long Island; or Big Coves from Washington – to name a few.
Selections are subject to change, but the quality remains consistent. If raw oysters isn't your thing, you can also order roasted oysters with sofrito butter, manchego cheese and chorizo. Most oysters are affordable at around $3, but if you want to save even more money, visit during happy hour when oysters only cost $1.50.
River Oyster Bar is located at 33 SE 7th Street, Suite 100, Miami, FL 33131. For more information, visit their official website.
Ruby Dee's
When you think of food halls, oysters are probably one of the last foods that come to mind. Enter Ruby Dee's, which is trying to change your perception of food hall cuisine. At this humble booth inside MIA Market, chef Daniel Roy and his team are cooking up an appetizing menu of vegetable-forward and seasonal delights. Think salt-roasted beet salad, organic red quinoa, roasted Romanesco, and soft-cooked salmon.
Alongside all these culinary hits are kusshi oysters. These smaller oysters are perfect for oyster first-timers and experts alike; they're just so darn approachable. Chef Roy kicks them up a notch with the addition of cucumber mint mignonette and paprika oil. It sounds simple, but these tiny additions go a long way.
Ruby Dee's is located at 140 NE 39th Street, Miami, FL 33137. For more information, visit their official website.