Welcome to our weekly roundup of the top dining options in Miami! Stay up-to-date on the latest happenings in the Magic City with our curated selection of the best restaurants.
Looking for more? Check out the newest restaurants in Miami and the food and drink specials this month.
Wednesday at Toscana Divino
If you've ever had the lasagna bolognese at Toscana Divino, then you probably know how utterly crave-able this dish is. We are scheduling ourselves a lunch date at the Tuscan restaurant this Wednesday and the first order will without a doubt be the lasagna. And you know what else? This Wednesday is World Pasta Day, which means our craving is totally justified. Not that we ever need a reason to justify dining at one of Miami's best Italian restaurants. 
Yes, in case you were wondering—lasagna does nestle in the pasta category. So what makes the lasagna bolognese at Toscana Divino so special? Let us paint a picture: the pasta—always made fresh in-house; the ingredients—consistently seasonal and local; the beef ragu—slow cooked and downright flavorful; and the bechamel sauce, oh the sauce—divinely creamy. We can argue it's the best lasagna we've ever had but don't take our word for it, make sure to get an order next time you're at Toscana Divino. 
Friday at CJ's Crab Shack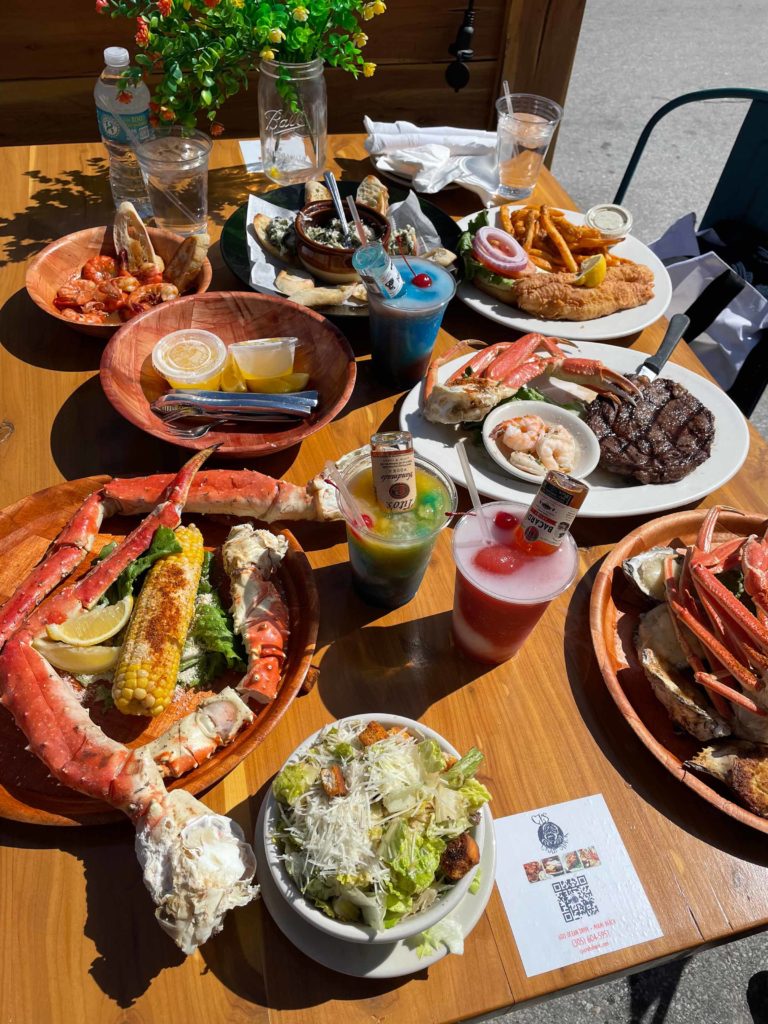 This past weekend the family team behind CJ's Crab Shack was throwing it down at the South Beach Seafood Festival. If you didn't have a chance to try the outrageously good Granddaddy GUS crab cakes join us this Friday evening for a taste of the baked-in-shell goodness and so much more. 
Did you know that CJ's Crab Shack doubles as a daiquiri bar? Legend has it their cocktails are the booziest on Ocean Drive. The restaurant offers five different options of fruity daiquiris but we're going straight for the Frozen Rainbow—all five daiquiris mixed into one colorful glass. It's a special treat. To go with the drinks we always recommend ordering a good variety of appetizers: beer-drunk Cajun shrimp, creamy spinach-artichoke crab dip, and crispy Southern-fried grouper fingers will all be gracing our table for the ideal Friday nightcap. 
Saturday at Tanuki River Landing
Over the weekend Chef Gustavo Montes of Tanuki took the gold at Battle Fusion Sushi at this year's South Beach Seafood Festival. It's safe to assume that both Miami Tanuki locations will be packed with foodies waiting to get a taste of the sushi magic. We'll be making reservations early to get a seat with the waterfront view at Tanuki River Landing while enjoying the creative provisions. 
For a truly distinctive culinary experience, turn your attention to the maki menu, where a mesmerizing dance of flavors unfolds as fish elegantly combines with unexpected ingredients. The truffled yellowtail is a picante roll of amberjack yellowtail paired with chili daikon, avocado, and spiced tenkasu. In contrast, the luxurious land & sea roll spotlights A5 wagyu, shrimp tempura, yakiniku, and asparagus. It's a feast of all five senses senses.  
Sunday at Tropezon
This just in—Tropezon, Miami's exquisite Andalusian tapas bar has prolonged its Paella Sundays. To all the paella-loving foodies of Miami, Sunday dinner at Tropezon is not to be missed. After all, this is a limited-time treat.
Make your way through the invitingly-lit alleyways of Espanola Way into the beautiful teak dining room of Tropezon where you will be offered an array of five superb paellas to choose from. On the menu one will find options like duck, squid + chorizo, fish + shrimp, grilled presa (pork shoulder), and mushroom paella, to name a few. Tropezon is also known far and wide for its libations, particularly the gin. The spiced and herbaceous grapefruit gin & tonic serves as the ideal aperitif before the appearance of the paella. 
Tropezón is located at 512 Española Way, Miami Beach FL 33139. For more information, visit their official website.