Welcome to our weekly roundup of the top dining options in Miami! Stay up-to-date on the latest happenings in the Magic City with our curated selection of the best restaurants.
Looking for more? Check out the newest restaurants in Miami and the food and drink specials this month.
Wednesday at Casa Isola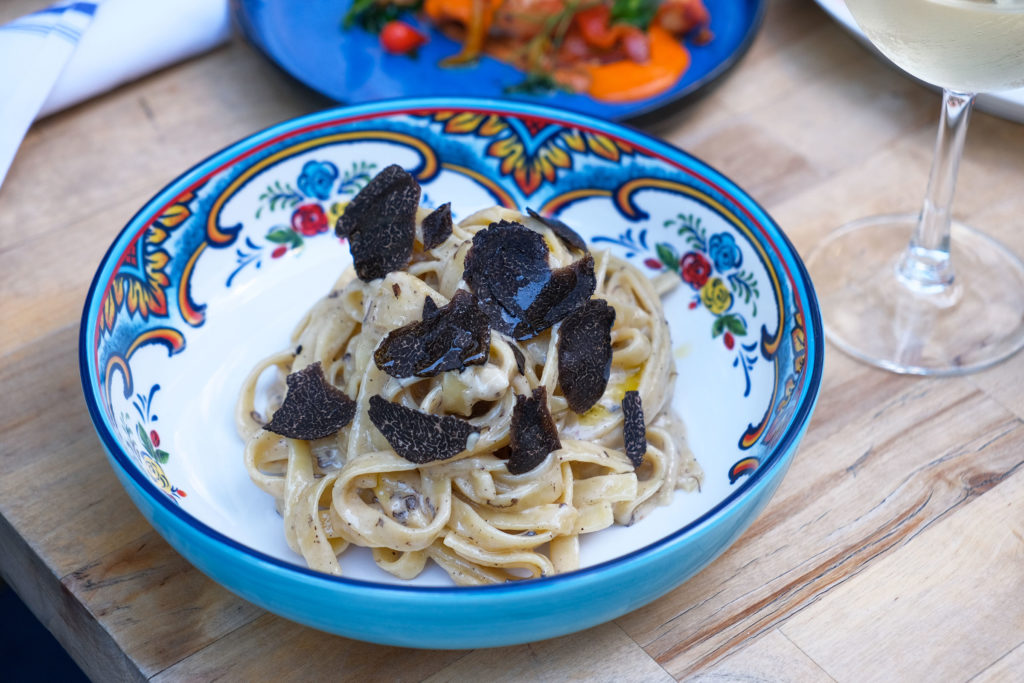 Let's carb it up this Wednesday at Casa Isola, because why not? The casual yet oh-so-exquisite osteria offers much scrumptiousness in the flour department. Homemade pastas abound and the best way to try them is family-style with some close friends.
This week let's set the autumn mood with pumpkin ravioli made with amaretto and almond-soy brown butter. It is the definition of divine. The pappardelle alla bolognese is another dish that screams comfort food this season, made with braised wagyu, kimchee, and pecorino cheese. Finally, celebrate truffle season with the truffle pappardelle prepared with fresh black truffle (a hefty serving, at that ), pecorino, and more truffle butter on top. Not only is this pasta-heavy (in all the best ways) meal comforting and delish, but it's also a great way to taste the genius fusion that chef Jose Mendin brings forth in his restaurant. 
Thursday at Paperfish Sushi
The highly atmospheric Paperfish Sushi on Espanola Way has expanded its lunch offerings and we are oh so there for it. Available daily from 12 to 4 p.m. the nikkei restaurant serves bento box-style lunch with a variety of options.
The newest addition to the party—the Miraflores bento box. A vegetarian's dream featuring a veggie roll, edamame, a sesame-dressed house salad, and crispy fried rice all served with a side of shiitake miso soup. If you're here for the fresh seafood then the crispy rock shrimp bowl is for you. That's crispy crunchy tempura-battered rock shrimp, a variety of veggies and pickles, dressed with spicy mayo and served on a bed of sushi rice. For $17, we doubt there's a better lunch deal in all of Miami Beach. 
Friday at Social 27 Supper Club
Miami sees its fair share of new restaurant openings every month and November is no exception. The newly-opened Social 27 is a love letter to 1940s and 1950s Cuba with a true supper club ambiance where patrons are invited to come for cocktail hour, and dinner, and stay for post-dinner drinks and entertainment. It's an all-night experience and this Friday we're there.
Let's start with the cocktails—the Old Cuban is a real treat, made with Havana Club, mint, lime, and La Marca Prosecco. Arriving between 4 and 7 p.m. will ensure some marvelous happy hour deals, by the way. The dishes on the menu beckon to be shared with gorgeous provisions like a dry-sherry spiced crab bisque; torched buratta brulee with mango marmalade; and pollo a la plancha—grilled half chicken in a tomato mojo served with saffron aioli and a caramelized plantain puree. By the by, the live music on Fridays is from 4 to 11 p.m. so have your dancing shoes ready, and let's salsa all night long. 
Social 27 Supper Club is located at 2555 SW Eighth St., Miami, FL 33135. For more information, please visit their official website. 
Sunday at Cafe Americano
This Sunday join us for our favorite—the unparalleled brunch at Cafe Americano in Brickell. The snazzy Latin-inspired diner does brunch its due justice with decadent sweets, saucy fried savory options, and healthy bowls for those who are taking it easy. Let's not forget our beloved perk—bottomless mimosas and bellinis prepared fresh right at the table.
If it's your first time at Cafe Americano it's easy to have eyes bigger than your stomach. Here are some of our no-fail recommendations for a scrumptious brunch with the besties: tres leches French toast—if you're a sweet bruncher, look no further; ranchero benedict with carnitas, poached egg, and two salsas on top—the best of both worlds; or, an avocado burrata toast with an extra egg on top—just trust.