Welcome to our weekly roundup of the top dining options in Miami! Stay up-to-date on the latest happenings in the Magic City with our curated selection of the best restaurants.
Wednesday at La Estancia Argentina
If you've yet to try authentic Argentinian pizza, we're about to put you on. La Estancia Argentina, the hot spot for all things Argentinian, doesn't lack in the pizza department either. How do they manage to perfect so many homeland specialties? That remains a trade secret. Stop by any of their three Miami locations for lunch and you will never look back.
The menu consists of a simplicity of two pizza items. One—the classic mozzarella (delish, always). Two—create your own with a choice of two toppings. The toppings include some Argentinian specialties like jamon and salchicha. What makes this South American pizza distinct is the thick fluffy crust and an abundance of cheese. Yum. For $15 you'll have yourself a full lunch and even leftovers for dinner.
Friday at Casa Isola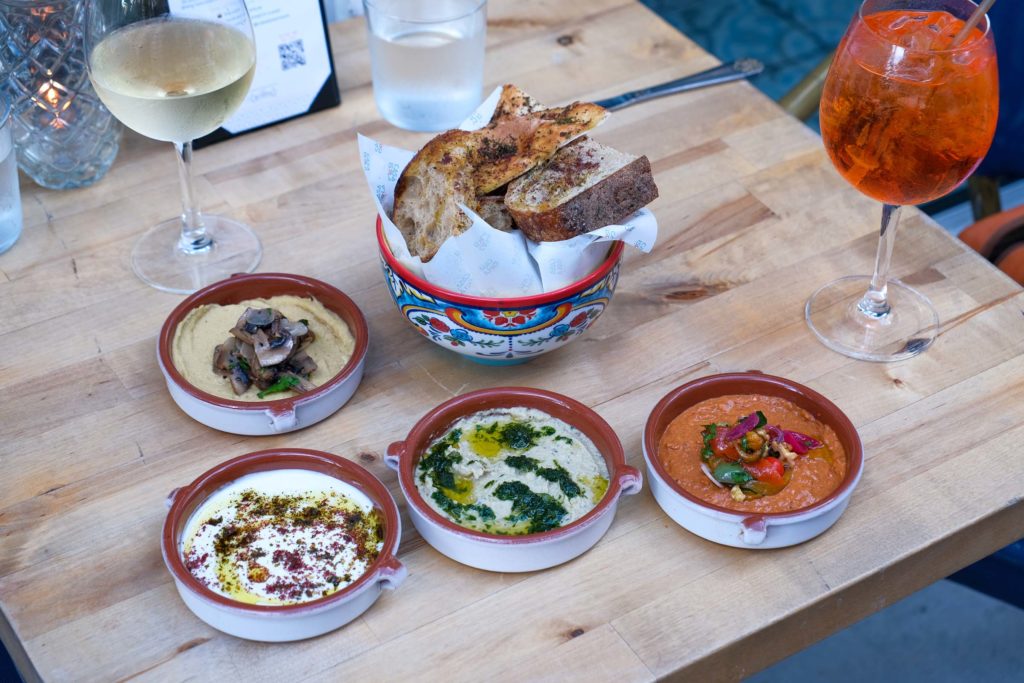 Have you been to Casa Isola to try their recently launched Mediterranean Mezze yet? During the restaurant's short break, Chef Jose Mendin was working to bring something fresh to the scene. Behold—the Mediterranean mezze platter, small dips resembling Spanish tapas that are ideal for sharing with a group of besties. The entire platter includes mushroom hummus, babaganoush, roasted red peppers, and labneh. Although you can also order the mezze a la carte—our bet is you'll want a refill of at least one of them.
Stop by the bayside restaurant on a nice sunny day, snatch some patio seating, and make sure to order one of Isola's famous cocktails. The Sicilian Gin Fiz (Malfy Lemon Gin, lime juice), the Mezcal Negroni (mezcal, Antica Vermouth), and the Apperol (ginger tea infused syrup, egg white) are all total crowd pleasers. We also can't recommend the restaurant's housemade limoncello enough. Saluti!
Saturday at CJ's Crab Shack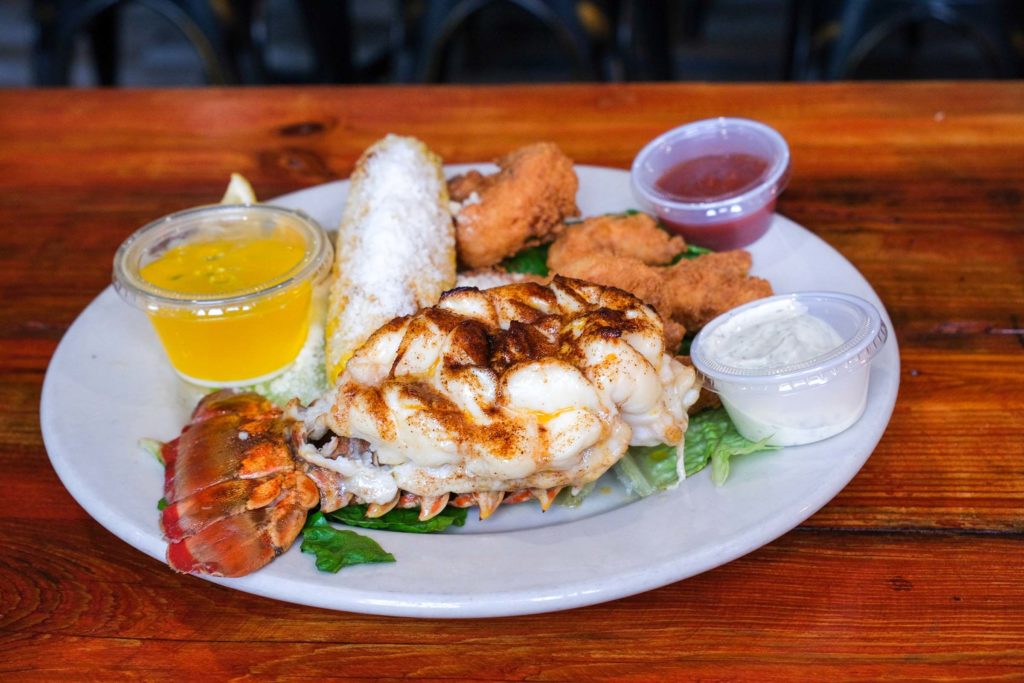 When the seafood cravings hit—run, don't walk to CJ's Crab Shack. The Ocean Drive restaurant is bound to satisfy you in all departments of marine food. Crustaceans, mollusks, and fish abound at this Miami Beach staple. The platters in particular will surely fulfill the craving of any foodie looking for the ultimate marine feast.
This Saturday we already have our eyes set on the lobster tail and shrimp platter. Get ready for this one—the dish consists of a fresh well-seasoned 8-ounce grilled lobster tail, further seasoned with a healthy dose of butter and plated with jumbo shrimp (option of garlic or fried). But that's not all, folks. A side of fries, pasta alfredo, veggies, or parmesan corn on the cob also comes adorning the infamous platter. We definitely recommend going with the pasta if you believe you'll have room. Staying a lil' on the lighter side? You can't go wrong with parmesan corn. We don't know how they make it so mouth-watering, but we're there for it every single time.
Sunday at RED South Beach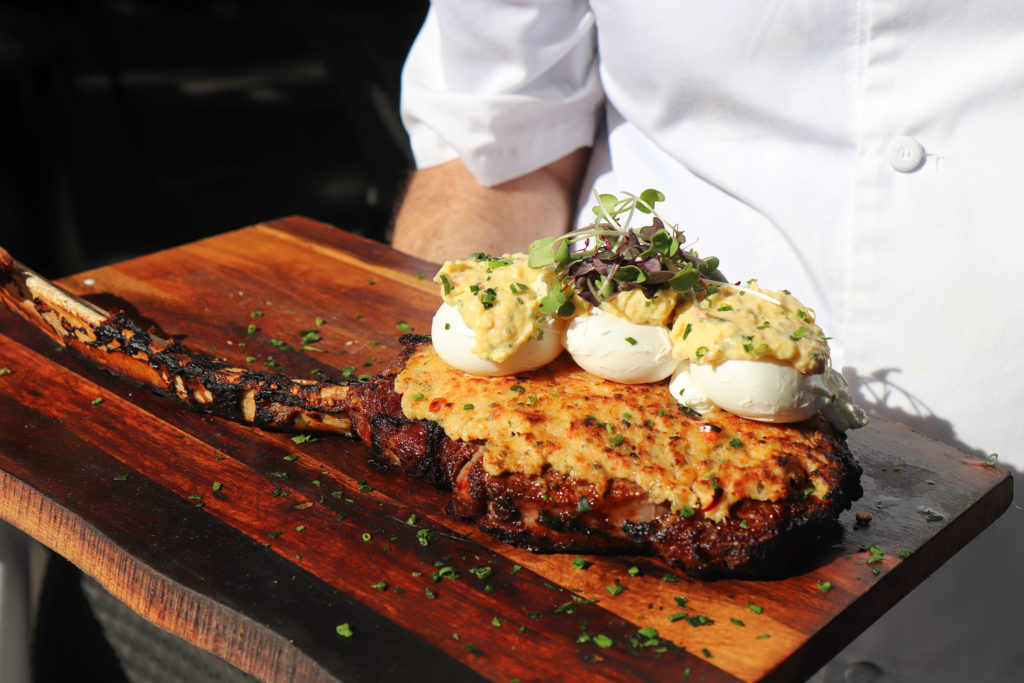 Ah, eggs benedict. An absolute quintessential dish of Sunday Brunch. Where to find it? RED South Beach, the Miami Beach steakhouse has become a true institution of mind-blowing eggs benedict. Is it the kind of eggs benny you're likely to find at your neighborhood brunch joint? Not a chance. This is an absolute behemoth of the brunch classic you've never seen before. And you have to be there for it.
Going by the name of Filet Oscar Benedict, the infamous brunch specialty consists of filet medallions on brioche, poached organic eggs, and crab bearnaise. Feel like going the extra mile? Upgrade to 32 oz. king crab-crusted dry aged Tomahawk Oscar. If you're already dining at RED, might as well get the upgrade. Just make sure to save room for unlimited brunch tapas, chef's desserts, and Telmont Champagne. You're welcome.