Monday at Lobster Shack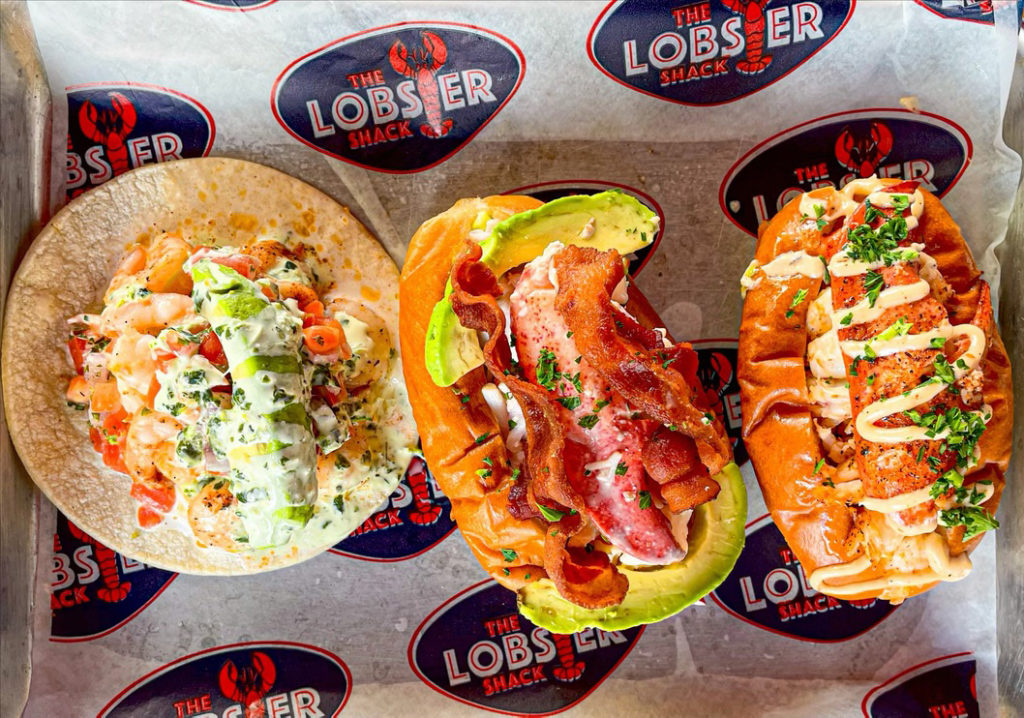 Did you know that seafood is proven to make people happier thanks to all those omega-3 fats? Honestly, though, we don't need the studies—the proof is in the pudding. Every time we take a bite of the plump, lustrous lobster roll, our eyes can't help but glisten with joy. That's why we're heading over to Lobster Shack for the start of the new week. Giving ourselves a boost of happiness and energy to tackle the busy days ahead.
Lobster Shack has been our go-to crustacean institution for a good minute now, so we've got the menu down-packed and sometimes like to take it slow and go back to the classics. Ah yes, the Classic Lobster Roll—chilled and lightly dressed to perfection. Going to pair that with the lobster bisque and once we're recharged head straight for a walk on the beach. A little extra vitamin D and the fresh ocean breeze to fully fuel that serotonin.
Wednesday at Ironside Pizza
Ironside Pizza has been heavy on our radar. We just can't get enough of this Upper Eastside pizza spot from the Toscana Divino group. It's all about that pinewood-fired puffy pizza crust, a pie jazzed up with a plethora of pizza toppings you wouldn't find in your neighborhood pizza spot. We like to get to Ironside Pizza early on Wednesday for their weekly evenings of Jazz, Pizza & BYOB.
Out in the Verde Lounge, cozying up in the cushy sofas, a glass of red in hand, and surrounded by luscious greenery—a sublime setup for the jazz appreciation to come. An utmost delightful part of this occasion is that Ironside has dropped the corkage fee for all BYOB during their Wednesday jazz nights. The lovely tunes start at 6 p.m. and reservations are recommended, as the Verde Lounge does tend to fill up fast. We're there!
Ironside Pizza is located at 7580 NE 4th Court, Miami, FL 33138. For more information, visit their official Instagram.
Thursday at Wildfire by Meat N' Bone
Ooh wee. Boy, are we particularly looking forward to Thursday this week! This Thursday, October 13th will mark the opening of Meat N' Bone's new concept, Wildfire. A dining experience serving up… you guessed it—only the best and some of the rarest meats and seafood this country has to offer. The concept is partnering up with the Magic Mike Live Tour to offer viewers a meal as sensually stimulating as the show itself. The menu has our tastebuds tingling just from the mentions of Ossetra Gold Caviar on blini, Wagyu Tartare made from BMS7+ Australian Wagyu, the 6oz. Wagyu-Angus Filet Mignon, and a sweet finish of arroz con leche nigiri. Say what?! As divine as these dishes sound, this is but a sneak peek of what to expect—Wildfire has the real magic down locked for the lucky fellows visiting the show-dining duo! Reservations are strongly encouraged for the omakase-style dining affair paired with the spiciest performance you'll ever lay eyes on. You probably already have a clue by now that we have been die-hard Meat N' Bone fans since their opening and won't be missing this experience for the world.
Head over to their website to book your spots and for more exclusive deals.
Friday at Riviera Focacceria
After the wild night at Wildfire, we'd like to take the afternoon slow and easy with lunch at Riviera Focacceria. This Ligurian restaurant has always been our go-to for casual lunch dates, business meetings, and solo sessions. The eatery always has this relaxed, friendly vibe where we can just unwind with a grounding meal and savor our cafe and dolci without a rush. We're already dreaming of the Trenette al Pesto—one of Riviera Focacceria's signature dishes. Al dente linguine thoroughly coated in the restaurant's luscious pesto, prepared in-house true to its Genovese origins. For dessert, the tiramisu is truly hard to pass up, but this week we'll keep it light with an order of affogato al caffe, silky and rich Italian espresso poured over the creamiest scoop of vanilla ice cream. Just what we need to round out our week!