Art Basel is back for another year of nonstop art perusing, art buying, and art immersing. But all that culture makes us hungry and we're constantly being asked, "Where should we eat during Basel?" Herewith are some of our picks for Art Basel 2021 dining in and around Miami, Miami Beach, Wynwood, and the Design District.
Fuego y Mar
The Ritz-Carlton South Beach recently reopened after years of being shuttered following Hurricane Irma. The $90 million remodel includes this stunner of a restaurant, complete with a spacious oceanfront terrace and a stellar cocktail lounge. The mixology-focused drinks incorporate the restaurant's Latin influences like the Holy Mole made with Casamigos Reposado, Cointreau, grapefruit, cane syrup, Harpke Farms micro cilantro, and Batterman's mole bitters. The Caribbean-inspired Put the Lime in the Coconut made with Havana Club Light Rum, local coconut milk, lemongrass tea syrup, and lime also seems like the perfect drink to enjoy poolside.
Fuego y Mar is located at 1 Lincoln Rd, Miami Beach, FL 33139. For more information, visit their official website at ritzcarlton.com.
Hakkasan
This Michelin-starred Chinese restaurant with locations in London, Abu Dhabi, and Mumbai, is arguably the jewel in Fontainebleau's crown of world-class signature restaurants. The chic den of Asian cuisine is famous for its delectable dim sum lunch on Saturdays and Sundays, serving a variety of dumplings ranging from tender to crispy, Congees with meats, poultry, and vegetables, stir Fried rice and noodles dishes, soups, and vegetable sides. We love to pair the plump dumplings with cocktails like the Hakka – a blend of vodka, Kubota sake, lychee juice, lime, coconut, and fresh passion fruit.
Hakkasan is located at 4441 Collins Ave, Miami Beach, FL 33140. For more information, visit their official website at hakkasan.com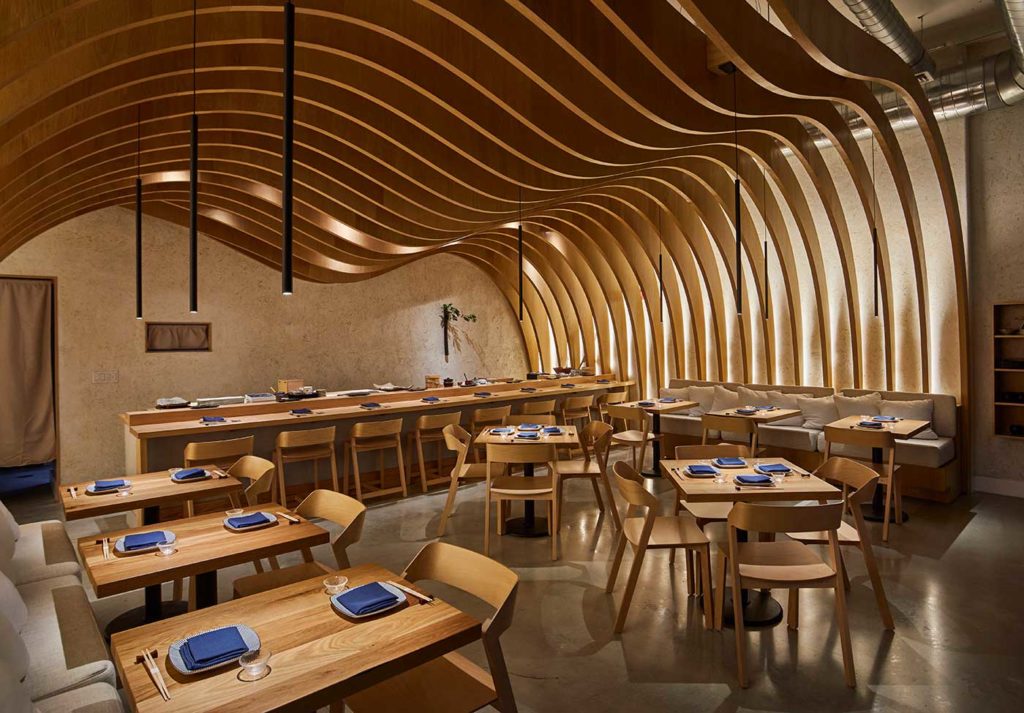 High rollers who love spending heavily on impeccable sushi will no doubt be headed to this Wynwood den of raw fish and Japanese cuisine. The concept, which opened late 2020, was created by restaurateur and art dealer Alvaro Perez Miranda. The kitchen is helmed by Master Chef Masayuki Komatsu and the menu's focus is simplicity, seasonality with a variety of a la carte fried dishes, soups, appetizers, and seasonal sushi, nigiri, and handrolls offered by the piece, and Omakase offerings which are the highlight of the menu. Time-honored practices are used to prepare no more than 50 meals a night composed of seasonal ingredients from boutique purveyors and growers.
Hiyakawa is located at 2700 North Miami Avenue, Miami, FL 33127. For more information, visit their official website.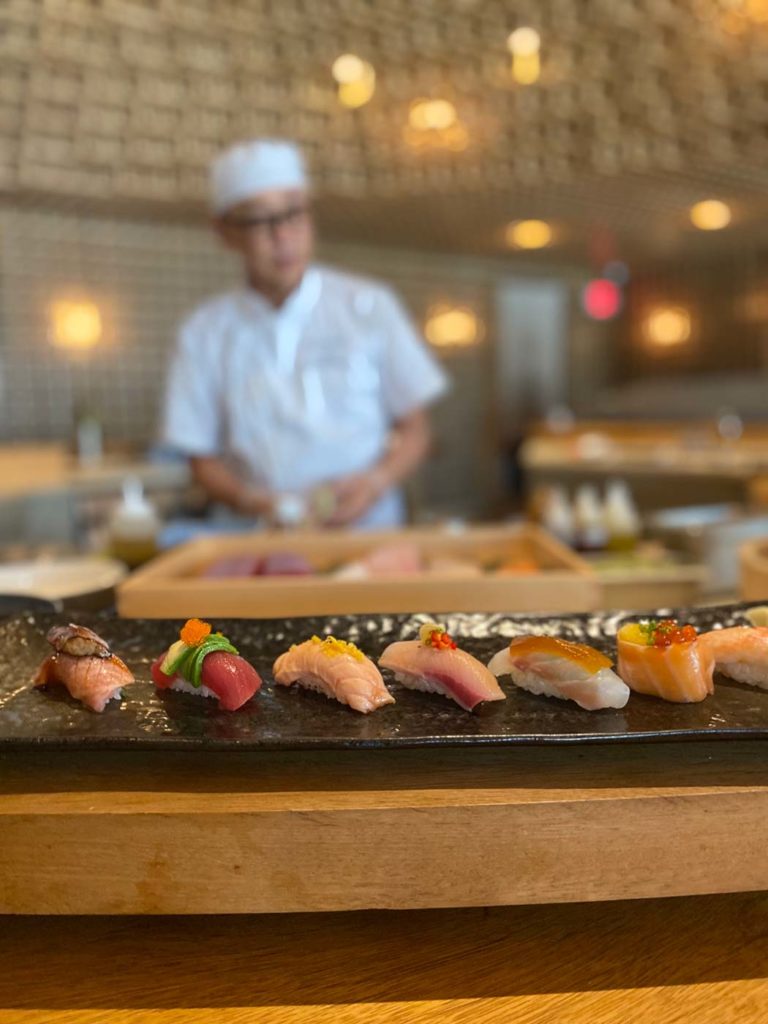 Michelin-starred Kosushi's Miami branch is the perfect Japanese restaurant to enjoy creative cocktails and traditional dishes by Chef Shoyo Iida during Art Basel 2021. Located in Miami Beach's affluent South of Fifth neighborhood, the restaurant's floor-to-ceiling contemporary light oak Japanese carpentry is set to impress, designed by award-winning Brazilian architect Arthur Casas.
Kosushi is located at 801 South Pointe Drive, #105, Miami Beach, FL 33139. For more information, visit their official Instagram.
Osteria Morini
Altamarea Group's Osteria Morini is bringing Michelin star-rated sister restaurant Marea NYC to Miami for two nights only (Dec 3 and 4). The one-of-a-kind dining experience will take place on the expansive canal-front patio which will be fully transformed into Marea in Miami thanks to Robert Legere and Nathan Sabo of La Bella Productions. Design elements include inspiration from the Central Park restaurant's signature honey onyx lighting and breathtaking floral installation, resulting in a romantic and magical setting to enjoy a Michelin-star dining experience. Guests can expect an exquisite four-course menu highlighted by the high-end seafood and housemade pastas that the upscale Italian restaurant is known for, along with a welcome cocktail reception and coursed wine pairing for $350+ per person. Tickets are available for purchase here. The indoor dining room will be open for regular dining; reservations are recommended. Friday, Dec 3 and Saturday, Dec. 4 starting at 7 p.m.
Osteria Morini is located at 1750 Alton Rd, Miami Beach, FL 33139. For more information, visit their official website.
Pubbelly Sushi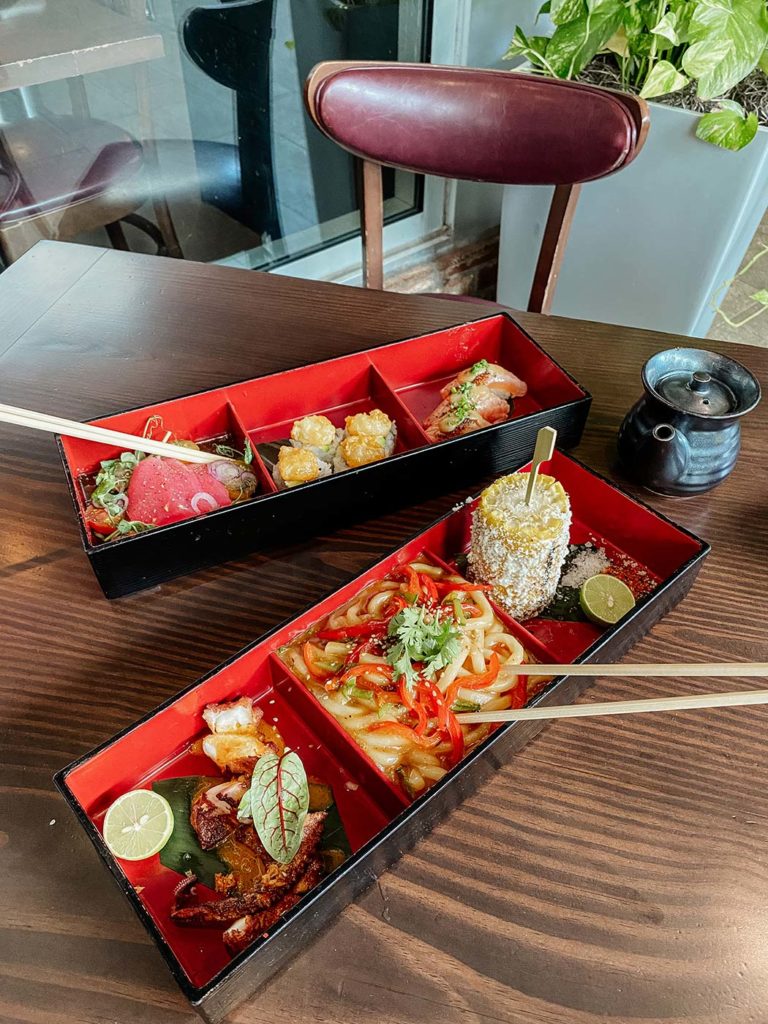 Pubbelly Sushi will host an artistic brunch experience with a live DJ at all four locations on Sunday, December 5th. A limited-time-only week-long specialty cocktail Tequilart—a mix of tequila, grape juice, lime juice, agave, and soda—will be served in their signature Lucky Kat glass custom designed by a local artist and avid Pubbelly fan, Robert Greene. The best part is you get to take the custom glassware home as a commemorative Art Basel souvenir. Artist-designed Pubbelly t-shirts that will also be available for purchase and proceeds will be donated to YoungArts. Guests can expect giveaways of special Art Basel-inspired merch as well—think keychains, stickers, and more.
Thatch Miami
If you're on the mainland and looking for a quick and healthy refueling stop in between art fairs, this vegetarian and vegan-friendly spot is an ideal choice. Thatch is not your usual sprouts and seitan place, more L.A. glam than health-food co-op. The restaurant is undeniably chic, inhabiting a cavernous space in Midtown awash in soft pinks, brass fixtures, and cushy tan booths. It's a modern yet comforting diner environment that's sophisticated enough for a date but also accommodating to a casual night out with friends. The restaurant and the adjacent market offer inventive vegetarian dishes and natural wine using organic ingredients. The service is friendly and informative, guiding you to familiar things like the incredible non-dairy "Thatch mac" made with cashew sauce and Brazil nut Parmesan while also encouraging you to be adventurous with dishes like pesto kelp noodles or the crispy "chicken" sandwich made with fried mushrooms. 
Thatch Miami is located at 3255 NE 1st Ave, Miami, FL 33137. For more information, visit their official website at thatchmiami.com.
Wabi Sabi Miami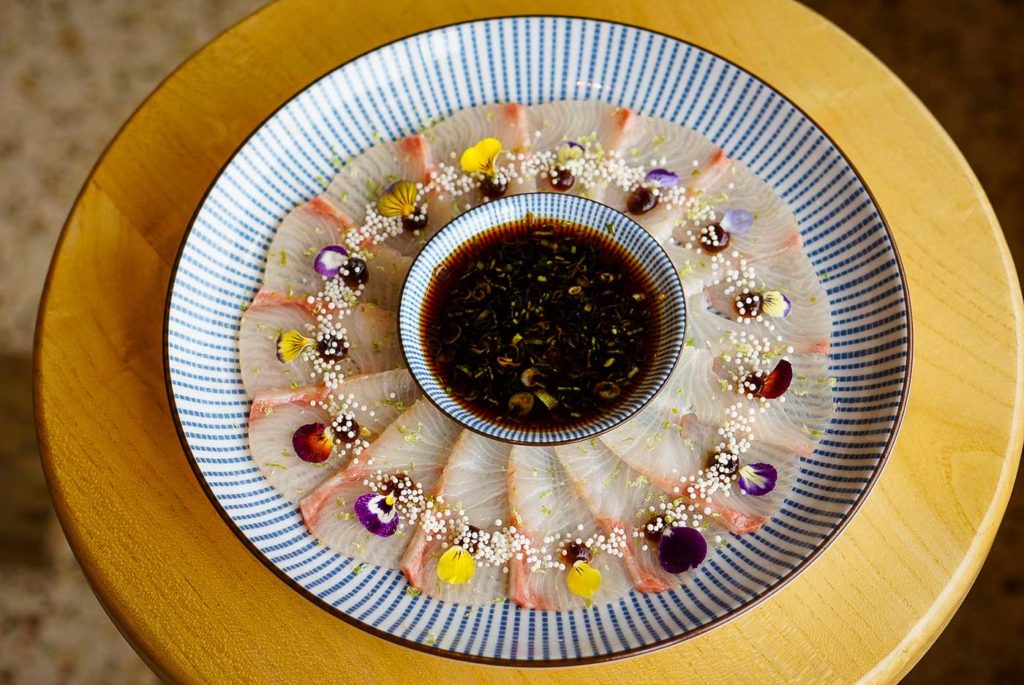 This stellar Japanese spot is perfect for a quick and high-quality meal between art week happenings. The menu features traditional rolls and hand rolls, meticulous omakase platters, refined vegetarian offerings, and various private dining experiences. Guests can enjoy an ever-changing array of seasonal and hard-to-find ingredients served in multiple formats, while also enjoying the ability to customize donburi with various bases and sauces. The restaurant is located next to Black Ship Moment gallery by the same owner, Alvaro Perez Miranda, which will be exhibiting Paul Amundarain's first sculpture show for Art Basel.
Wabi Sabi is located at 851 NE 79th Street. For more information, visit their official website at www.wabisabimiami.com.