Summer is upon us, which means only one thing in South Florida: beach time. After soaking up some sun, get some post-beach bites at these nearby restaurants.
Casa Isola
Located inside the old Pubbelly space on Miami Beach, Casa Isola serves up delectable Italian cuisine that will make your beach trip all the more memorable. Come as you are, and enjoy stunning pastas and specialties like calamari fritti, rigatoni alla vodka, and veal chop parm. Looking to maintain your beach body? Casa Isola also offers an array of lighter bites such as tuna crudo, burrata, and octopus. Finish off with an Aperol Spritz or any of the other refreshing adult libations on the menu.
Casa Isola is located at 1418 20th Street, Miami Beach, FL 33139. For more information, visit their official website.
Full Bloom
Gourmet vegan cuisine is Full Bloom's claim to fame, and it certainly hits the spot for any plant-based cravings. The neighborhood gem is home to a diverse menu of vegan selections like buffalo cauliflower wings, smoked jackfruit dip, a bacon cheeseburger (with tempeh), and lo mein with sweet potato noodles. You haven't had vegan food like this before.
Don't miss out on the cold-pressed juices: The Heartbeet (pineapple, apple, cucumber, beet, berries, ginger) and Glow (apple, ginger, carrot, lemon) are perfect for staying cool. Full Bloom also offers beer and wine if that's more your style.
Full Bloom is located at 1670 James Avenue, Miami Beach, FL 33139. For more information, visit their official website.
Little Brazil
On the other side of the food chain, Little Brazil is a must for satisfying any carnivore cravings. The Brazilian hotspot in North Beach features succulent selections like meat and cheese pastries, picanha steak, chicken parm, sauteed shrimp, pork sausage, and more. These heavier items are complemented by lighter fare such as salmon and quinoa, grilled tilapia, and a wide range of protein-filled bowls.
At Little Brazil, there's also a delicious kids menu available so all ages are welcome here. For the adults, alcoholic beverages abound in the form of sangria, caipirinhas, wines and beers. If you visit on the weekend, make sure to ask about the chef's specials.
Little Brazil is located at 6984 Collins Avenue, Miami Beach, FL 33141. For more information, visit their official website.
Lobster Shack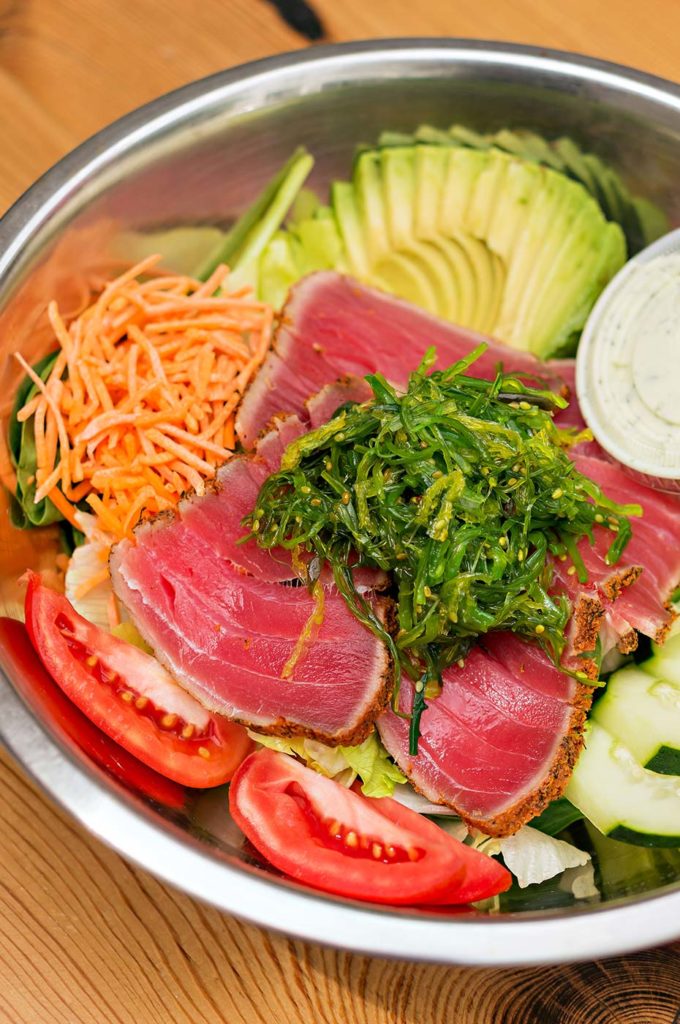 Whether you're dressed in swim shorts and flip-flops or had a chance to change into actual clothes, Lobster Shack welcomes everyone to enjoy some darn good seafood. The casual lobster shop has two convenient locations, so you're never too far away from the best lobster rolls in town.
As you've probably guessed from the restaurant name, Lobster Shack's menu focuses on the beloved crustacean in all forms. Start with a lobster cocktail and then enjoy one of the Shack's many rolls. Order it chilled and lightly dressed or get your lobster roll warm with butter; both are packed with flavorful meat.
You can also get adventurous with the spicy lobster roll or South Beach lobster roll that comes with bacon, avocado and slaw. Non-lobster fans, fear not: There's everything from fish tacos and fried shrimp to snow crab and burgers on the menu, too.
Lobster Shack has locations at South Pointe and Lincoln Road. For more information, visit their official website.