One of the perks of living in Miami: great weather all year long. One of the downsides: it can get pretty hot, which can make outdoor activities uncomfortable. If you want to take advantage of the nice weather without breaking a sweat, consider grabbing a drink at one of these hotspots with plenty of shade.
Buya
Cold beer and sake are everywhere at Buya, Wynwood's Japanese hotspot. For a change in scenery, get a table outside and drink up—you're well protected from the elements thanks to the covered seating. The restaurant doesn't have a full liquor license, but it has everything else you can imagine including house cocktails made with sake as well as PG drinks like homemade lemonade and Japanese soda. Get some pork belly buns or Tokyo street corn to round out your experience.
Casa Isola/Patio Isola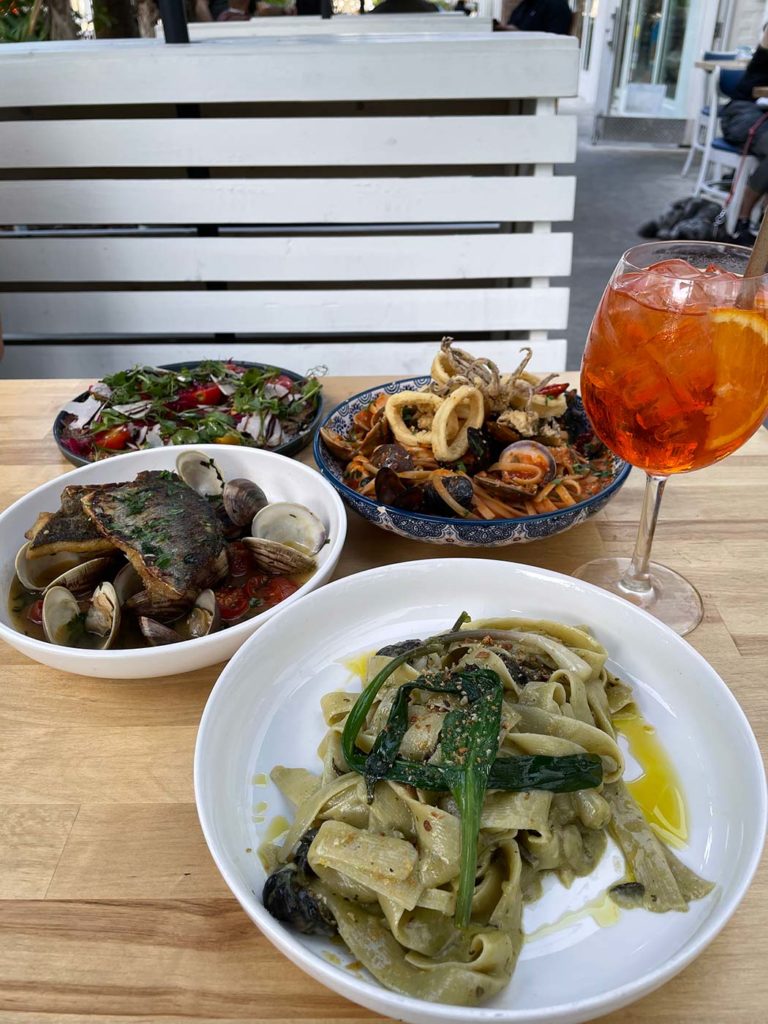 No matter which Isola outpost you choose, you'll find covered outdoor seating in abundance. Both Casa Isola (Miami Beach) and Patio Isola (MiMo) feature a wealth of alcoholic beverages you can enjoy outside, including Italian beers and classics like Aperol spritzes. If it's cocktails you crave, though, head on over to Patio Isola as it is the one with a full liquor license. There you can enjoy libations like mezcal negronis and basil mojitos. Foodwise, you'll find great pastas and starters at both like rigatoni alla vodka and fried calamari.
Patio Isola is located at 6789 Biscayne Boulevard, Miami, FL 33138. For more information, click here.
Cebada Rooftop
Drinking outside at Cebada Rooftop is a must, mainly because there's not really a choice. The restaurant's interior seating is extremely limited. No matter where you sit, though, you'll have umbrellas and other coverage to shield you from the sun.
Once you've gotten comfortable, order one of the house cocktails whose names will make you grin. The Bro, Why Are Your Pants So Tight is a customer favorite, with a mix of vodka, guava, raw sugar, and lime. Another winner: Every Belen Guy's Christmas Vacation with gin, lemon, honey, ginger, and cucumber. In terms of food, raw bar bites like oysters and crudos will keep you plenty busy.
Cebada Rooftop is located at 124 Giralda Avenue, Coral Gables, FL 33134. For more information, visit their official website.
CJ's Crab Shack
When given the option to sit inside or outside at CJ's Crab Shack, choose outside. Why? The sights and sounds of Ocean Drive, a Miami Beach institution. Few things are more Miami than drinking margaritas, daiquiris, and pina coladas while watching this crazy cast of characters. The drinks here at CJ's Crab Shack are surprisingly affordable for the location, so grab your friends for some budget-friendly fun in the sun.
Lobster Shack
If you find yourself thirsty near Lincoln Road or South Pointe Park, check out one of the Lobster Shack outposts. At either location, you'll encounter a ton of delicious seafood and stiff drinks—emphasis on stiff. Selections like the Famous Rum Punch, Lemonade Vodka and Soon to Be Famous Margarita all pack a punch; make sure to try a lobster roll to balance things out. Not a lobster fan? The shrimp salad and the tuna tacos are also menu standouts.
Riviera Focacceria
More the wine type? Then Riviera Focacceria should be on the top of your outdoor drinking list. The Midtown Miami Italian spot boasts an extensive list of wines from across the European country. Red, white, rose, dessert wine… every section has multiple options available. As you work your way through the wine list, don't forget to order the restaurant's famous focaccia con formaggio. We've said it before and we'll say it again: Words can't do this amazing dish justice.
Sadelle's
If you're an early riser, Sadelle's should be on your radar. The Coconut Grove brunch joint serves breakfast late and drinks all day long. Sit outside under a shaded table and indulge in one, two, or more mimosas. A full bar is also available, as are coffee, tea, and other non-alcoholic staples. The restaurant is also open for lunch and dinner service with even more drink and food offerings. Fair warning: This place isn't cheap. Stick to drinks and a starter or two and you should leave satisfied without overspending.
Sadelle's is located at 3321 Mary Street, Miami, FL 33133. For more information, visit their official website.
Toscana Divino
Toscana Divino is the best Italian restaurant in Brickell—no contest. The restaurant has been the cornerstone of Mary Brickell Village for years, and that's because it's amazingly consistent. Toscana Divino is home to one of the largest wine collections in South Florida—we're talking over a thousand bottles. Needless to say, you'll find something to your liking here. Snag a seat outside on the patio for a closer look at Brickell's mesmerizing high-rises. While you're at it, don't miss out on highlights like the black seafood spaghetti and beef tartare.