Summer's still a few weeks away, but South Florida temperatures have been steadily rising. To escape the heat, pop into one of these great spots and enjoy some cool drinks and tasty food.
Clutch Burger
With summer almost here, there's nothing as refreshing as an ice-cold drink. Clutch Burger in Coral Gables has dozens of beers to keep you (de)hydrated. The popular burger shop boasts an impressive roster of local and out-of-state beers from breweries like Funky Buddha, Concrete Beach, Holy Mackerel, Victory Brewing, and more; they're the perfect complement to Clutch's appetizing offerings.
Enjoy yuca cheese bites, sauteed octopus, chicken katsu sandwiches – and of course – burgers, burgers, and more burgers. First-timers should start with the namesake selection, which features two wagyu patties, American cheese, taleggio cheese fonduta, onion rings, and signature sauce. It's a mouthful, as our other options like the Turkey on Fleek (turkey burger) and The Spartan (lamb burger).
Clutch Burger is located at 146 Giralda Avenue, Coral Gables, FL 33134. For more information, visit their official website.
CJ's Crab Shack
After a stroll down Ocean Drive, stop inside CJ's Crab Shack for some of South Beach's top seafood. The casual crab joint offers up the delicious crustacean in several forms, including crab dip, shrimp and crab salad, crab cake, and crab clusters. Aside from crab, guests can indulge in fried shrimp, fried calamari, fish and chips, lobster tail, and seafood pasta – there's more to the menu than the restaurant name suggests.
Drinks-wise, expect to find fun twists on classic cocktails like the Hurricane Molly, Jori's "Soon to be Famous" margarita, and Gwen's Summertime Sangria. Each drink will only set you back $12; that's a steal for the Beach, so take advantage. Beer is also available and plentiful to keep you cool.
CJ's Crab Shack is located at 600 Ocean Drive, Miami Beach, FL 33139. For more information, visit their official website.
Lobster Shack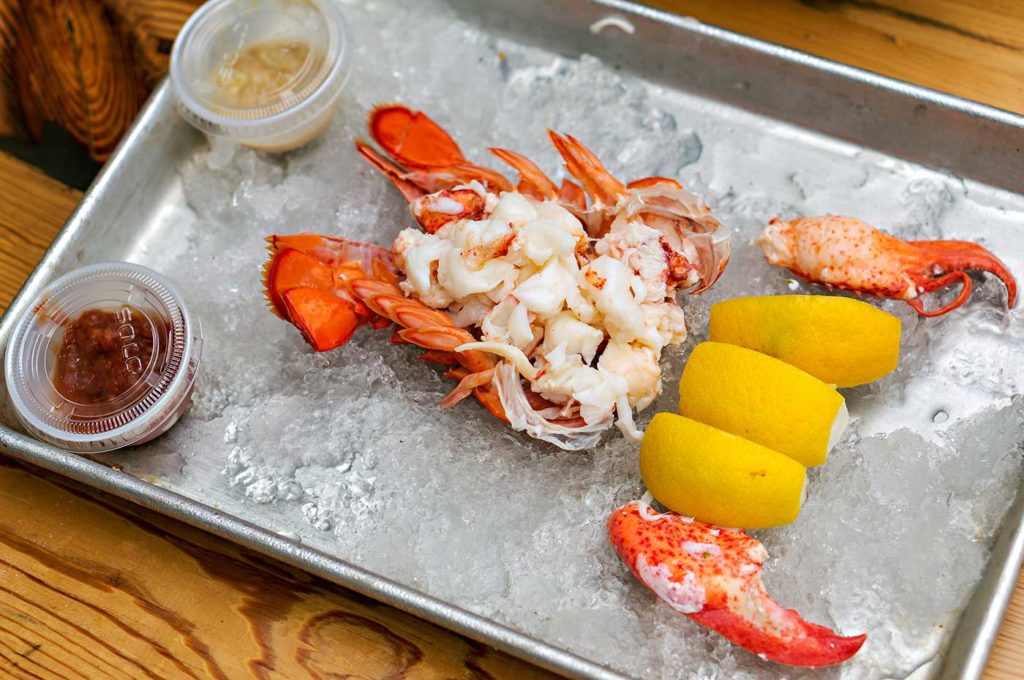 If crab isn't your thing, check out CJ's sister restaurant Lobster Shack. As the name implies, lobster is the main attraction on the menu, and its chilled seafood options make Lobster Shack the perfect summertime destination. Load up on oysters and lobster cocktail to start, and then nosh on the classic lobster roll – a chilled and lightly dressed delight.
If you're feeling adventurous, there are other chilled lobster rolls like the South Beach variation – a giant that's packed with bacon, slaw and avocado. Lobster Shack also features an array of fried seafood and tacos. To help wash everything down, you'll find classic cocktails galore like mojitos, daiquiris and rum punch as well as various champagne selections. Cheers!
Lobster Shack has two locations on South Beach. For more information, visit their official website.
Osteria del Teatro
For a more upscale summertime escape, grab a table at Osteria Del Teatro. The extensive menu at this Italian eatery will make sure you and your party stay cool and full. The covered patio and sizeable dining room should offer some protection from South Florida's humidity and heat while you dig into refreshing, cold appetizers like hearts of palm salad, beef carpaccio, burrata, and tuna tartare.
Should you be particularly hungry, Osteria del Teatro pasta options like penne alla vodka and agnolotti al pesto should fill you up and then some. A full bar and a mouthwatering wine selection round out the offerings. Like we said, the menu is big and so are the portions so bring come hungry and prepare for leftovers.
Osteria Del Teatro is located at 1200 Collins Avenue, Miami Beach, FL 33139. For more information, visit their official website.
River Oyster Bar
Brickell's hottest happy hour is also one of the best places to ride out the summer. River Oyster Bar is known for its generous post-work specials, which include $1.50 oysters, $4 beer, and $6 wine and cocktails. These selections aren't the only things that will help you cool down while South Florida heats up. Guests will also find ahi poke, snapper tartare, ceviche and other refreshing bites on the menu, which has a little something for everyone.
Just remember to make a reservation at River Oyster Bar. This neighborhood gem fills up fast, so it's better to be safe than sorry.
River Oyster Bar is located at 33 SE 7th Street, Suite 100, Miami, FL 33131. For more information, visit their official website.