Step into any of the top Italian restaurants in Miami, and you'll find yourself facing the difficult choice of figuring out which delicious dish—or dishes—to order. When everything sounds so good, it can be a little overwhelming to decide.
That's why we're here: to help make that decision a little easier. Whether it's your first time or 10th time at these restaurants, you can always count on these items to hit the spot.
What to Order at Casa Isola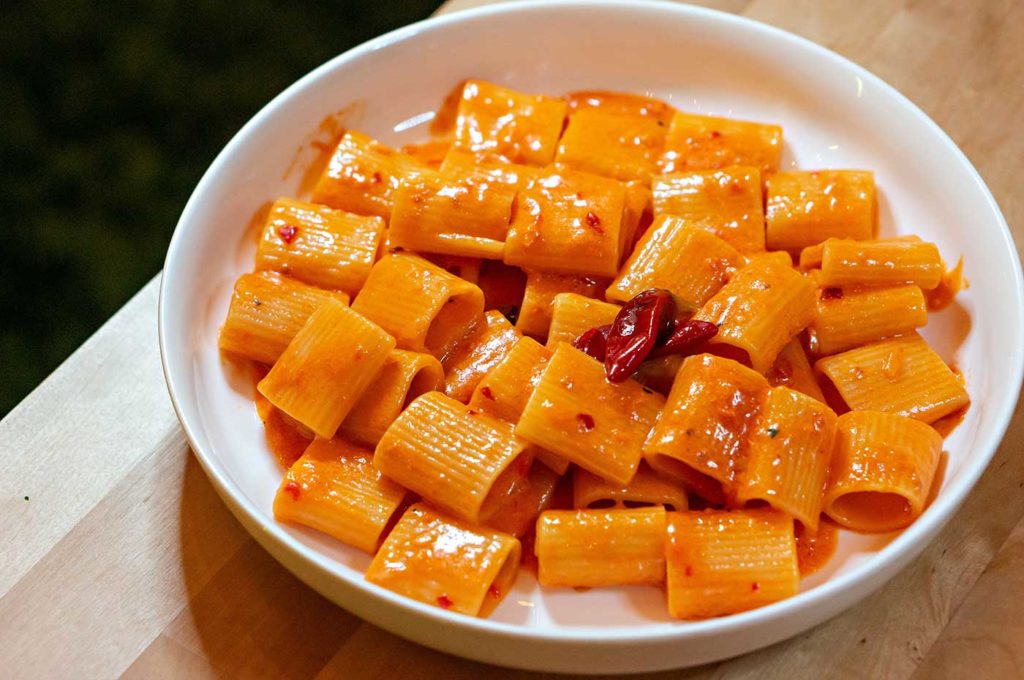 From start to finish, Casa Isola delivers a divine dining experience. This Italian eatery in Sunset Harbor kicks things off on a high note with pane al prosciutto, Brooklyn-style bread packed with – surprise – prosciutto (plus parmesan honey butter and caponata on the side). It's a hearty starter and one that will have your taste buds singing.
You can't leave without trying pasta, and the restaurant's rigatoni alla vodka is a must; it's gigantic for the price ($23) and can easily be shared between two people. Order it for the table along with the veal chop parm, and you have yourself a party. Worry about the calories tomorrow.
Casa Isola is located at 1418 20th Street, Miami Beach, FL 33139. For more information, visit their official website.
What to Order at La Giulietta
An Ironside gem, La Giulietta and its expansive menu ensures that all palates feel welcomed. You can't go wrong with any appetizers, but the tagliere platter with wild boar, prosciutto and crucolo is a good bang for your buck – especially if you love your meats and cheeses.
The wealth of tasty pastas makes it easy to overlook gems like the wood-oven baked salmon; it sounds simple, but the quality of the fish is unmatched. Get the salmon along with the ricotta and spinach ravioli for a taste of heaven on earth.
La Giulietta is located at. 7580 NE 4th Court, Miami, FL 33138. For more information, visit Ironside's official website.
What to Order at Osteria Del Teatro
Osteria Del Teatro on Miami Beach easily boasts the largest menu on this list. In addition to their extensive regular menu, there's an entire "verbal" menu to enjoy. That latter menu is full of specialties like the lobster salad, a local favorite. Layered Napoleon-style, the appetizing mix of chilled Maine lobster medallions, sliced avocados, and mangos makes for a refreshing starter in this South Florida heat.
Another highlight: The tagliarini neri con fruitti di mare in zafferano. It's a pain to pronounce, but the payoff of homemade black squid ink linguine and seafood in a saffron cream sauce is worth butchering the name. Save room for Osteria Del Teatro's daily homemade desserts – especially that tiramisu.
Osteria Del Teatro is located at 1200 Collins Avenue, Miami Beach, 33139. For more information, visit their official website.
What to Order at Riviera Focacceria italiana
Once you arrive at Riviera Focacceria in Midtown Miami, there's one thing you should immediately tell your server: "I'll have the Focaccia con Formaggio." Don't even think about it – just say it. There's just something special about the two layers of dough filled with Italian stracchino cheese; the menu even warns you about how addicting it can be.
And that dish is just the tip of the iceberg when it comes to delectable selections on the menu. If you're in the mood for pasta, consider the gnocchi al gorgonzola or pesto Genovese (when it's available); you've likely come across these two dishes elsewhere, but you haven't had them this good. Should proteins be more up your alley, Riviera's branzino and snapper are both solid choices.
Riviera Foccaceria is located at 3252 Buena Vista Blvd. #110, Miami, FL 33137. For more information, visit their official website.
What to Order at Toscana Divino
As a local, you know a place must be great when it's practically outlived every other tenant at Mary Brickell Village. Toscana Divino, located in the heart of the famed Brickell shopping center, has withstood the test of time due to its quality cuisine and ideal people-watching location. While you take in the neighborhood sights, dig into the octopus puttanesca and burrata caprese; both selections start your meal on a high note.
Then, consider the pici senesi with duck ragu or the maccheroni sugo Toscano with braised beef ragu; you haven't had anything like them. If budget isn't an issue, your best bet is the Fiorentine dinner, which includes highlights like a cold cuts board, the pici senesi, risotto and Toscana's gigantic 42-ounce porterhouse steak.
Toscana Divino is located at 900 South Miami Avenue, Miami, FL 33130. For more information, visit their official website.