Standing in front of the understated entrance, one can easily assume to have arrived at the wrong spot. That is, until the velvet rope is removed, granting entry to Villa Azur, a unique eatery that blends France's luxurious Côte d'Azur with the party scene of South Beach. Plush sofas alongside a wall lined with worthy literature greet diners before rounding the corner towards a well-stocked, elegant bar. French doors lead to the spacious courtyard outback. Framed by foliage and colorful lights, the outdoor space is both celebratory and intimate, with expansive booths able to accommodate large groups of partygoers as well as tables for two for those wishing a night of romance.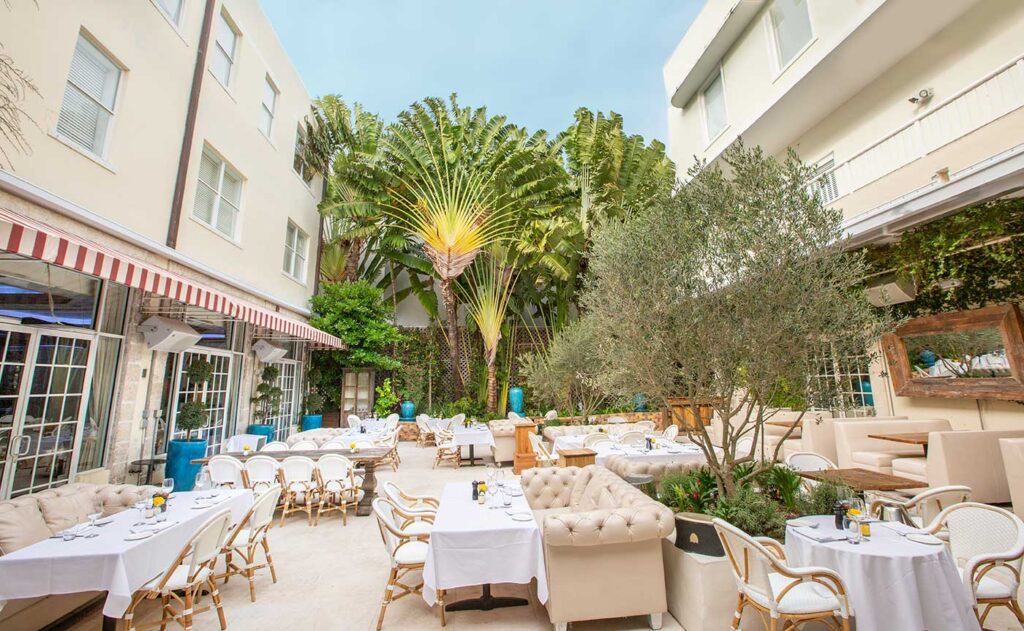 The food, described as avant-garde French-Mediterranean with an international twist, does not disappoint. The in-house sommelier will gladly pair dinner with the perfect wine, but start the night with the namesake Villa Azur cocktail, a blend of champagne, raspberry purée, and limoncello, or the Dr. Azur, made with tequila, vermouth, Campari and torched rosemary, for a bit more punch. From there, kick off the meal with the tuna tartare, which incorporates pickled vegetables, orange segments, lemon emulsion, and avocado salsa verde for a bright and fresh rendition of the popular dish. Arancini (a Sicilian specialty) arrive as miniature golden risotto balls fried to perfection and packed with flavor, topped with truffle aioli. Burrata (mozzarella's creamier cousin), is offered in two appetizers: Truffle Burrata, (shaved truffle atop the cheese) and the Local Burrata, which comes with a balsamic glaze and tomato-garlic concassé served over a tangy romesco sauce.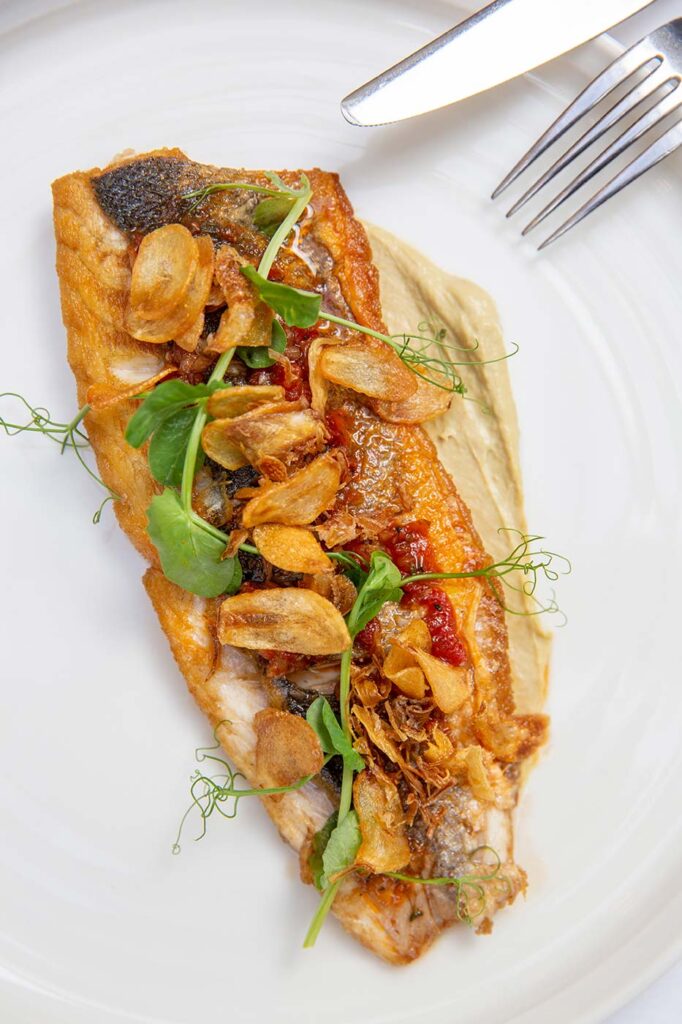 For those wanting a show paired with, what could easily be labeled as the most exquisite comfort food dish, the Pâtes a la Meule is a must. Literally translating to "grindstone pasta," the dish is prepared tableside inside an enormous wheel of Parmigiano-Reggiano cheese, then flambéed with cognac for dramatic (and tasty) effect. For truffle fans, the Raviole de Romano offers a generous portion of miniature ravioli stuffed with Comte cheese (a French cheese with a nutty flavor profile similar to Gruyere), served in a truffle cream sauce with shaved truffles on top.
Seafood lovers take note: bronzini, the Mediterranean fish that has captured the heart of Miami's restaurants, will have you smitten here. It arrives whole and is expertly fileted and served alongside a sun-dried tomato vinaigrette and roasted tomatoes. Our server even knew to procure the meat encased in the fish cheek; a prized bite often neglected in other venues.
Chateaubriand au Poivre, prime filet mignon served with either a bordelaise (rich, red wine-based) or bearnaise (clarified butter and herbs) sauce, is expertly prepared and buttery soft. Sides include staple favorites like truffle fries, Brussels sprouts sautéed with a sweet Dijon glaze and roasted asparagus with polenta.
End on a sweet note with Crème Brûlée Cheesecake or Passion Fruit Tres Leches—both satisfactory finales to a decadent night.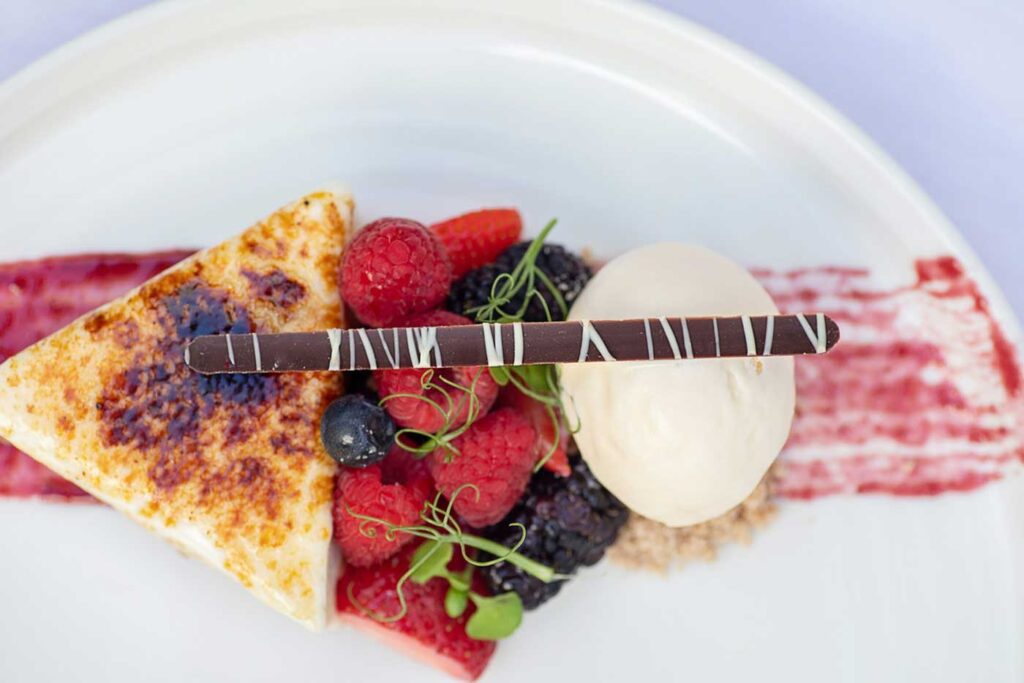 While the food will capture your undivided attention, the atmosphere, which becomes more vibrant as the night goes on, is equally restorative. Music plays, costumed performers circulate the space, and carefree happiness reigns—a much-needed escape from the difficulties of 2020.