​​If you follow a plant-based diet, many Miami restaurants can accommodate your dietary restrictions. Here are some of the best vegetarian-Friendly restaurants in Miami:
Happea's
If you've never heard of Happea's, you're not alone. The plant-based Mediterranean-Latin fusion restaurant opened quietly at Mary Brickell Village, and it's a bit hidden. Eagle-eyed diners will be rewarded with an abundance of unforgettable vegetarian- and vegan-friendly fare.
Start your day with the Just Egg & Cheeze Brioche sandwich or Next-Level PB&J smoothie bowl, or grab a quick lunch comprised of the falafel wrap or Mission: Impossible Burger; there's something for everyone here on this extensive menu. Just make sure to save room for the chocolate chip cookie.
Happea's is located at 900 South Miami Avenue, Suite 125, Miami, FL 33130. For more information, visit their official website.
Hiyakawa
Wynwood's Hiyakawa serves up a tasty dining experience no matter your dietary preferences. For guests who are vegetarian, there are delicious rolls filled with items like cucumber, braised gourd, and shitake mushroom. If your vegetarian restrictions are a little looser, you can opt for delectable selections like the famous chawanmushi (egg custard) and egg omelet. The Hiyakawa team will work around your diet to ensure a quality time.
Hiyakawa is located at 2700 North Miami Avenue, Miami, FL 33127. For more information, visit their official website.
Kosushi
Looking for a vegetarian-friendly spot in South of Fifth? Look no further than the neighborhood gem Kosushi. This Japanese eatery features an assortment of cold and hot dishes that blow your mind. Even simple items like the edamame and miso soup are a step above the rest. Baked cauliflower, watercress salad, veggie rolls… Kosushi has you covered with no shortage of vegetarian-friendly options.
Kosushi is located at 801 South Pointed Drive, Miami Beach, FL 33139. For more information, visit their official website.
MyRoots Juice Bar & Kitchen
MyRoots Juice Bar & Kitchen has two locations—Doral and Kendall—and both spots feature affordable healthy options that are also vegetarian-friendly. One of the biggest draws here are the soups; it's rare to find a place that serves up more than one or two soup selections. Expect to find cauliflower cream soup, butternut cream soup, lentil soup, and other delicious options. Enough about soup, though: MyRoots also features healthy bowls with curry chickpea, spaghetti, beans, quinoa, and other fun fillings. Wraps, smoothie bowls, pastries, and toasts are also available; come hungry.
MyRoots Juice Bar & Kitchen has multiple locations in Miami. For more information, visit their official website.
Pubbelly Sushi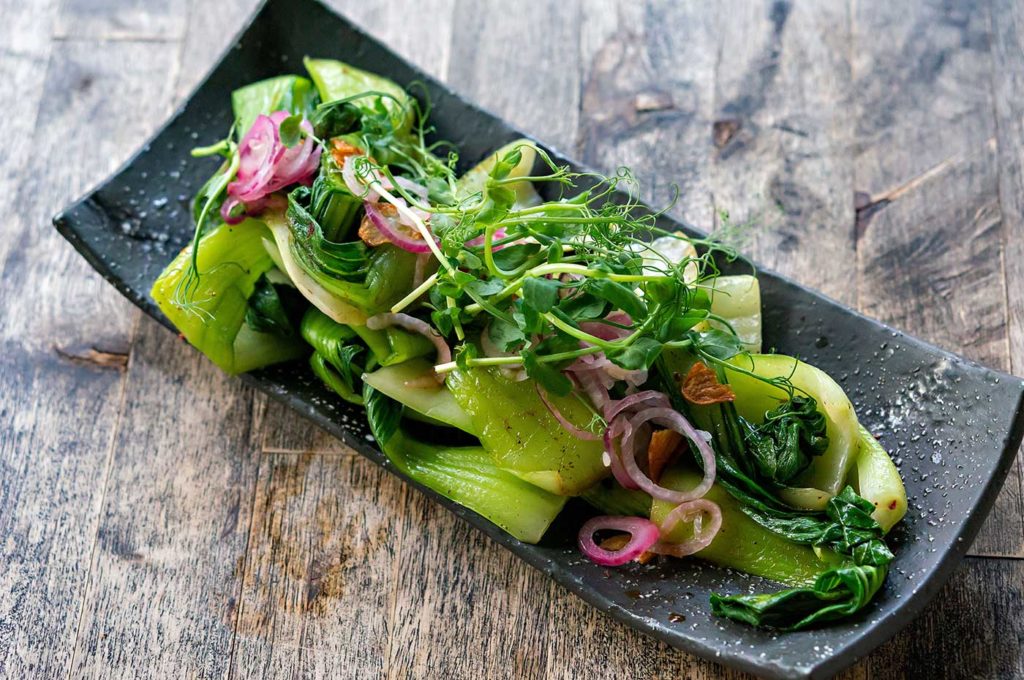 With multiple locations throughout Miami, you're never too far away from a Pubbelly Sushi. The notable sushi spot boasts one of the biggest menus on this list, and vegetarians will find plenty to like here. The burrata salad and spicy veggie roll are both highlights, and the Japanese eggplant, baby bok choy, and truffle corn are all must-orders—heck, all the vegetables are great. Don't forget to get a sake cocktail or two while you're here.
Pubbelly Sushi has locations in Brickell, Aventura, Dadeland, and Miami Beach. For more information, visit their official website.