Dining alone? You don't need company to enjoy a nice meal at these five spots. Grab a seat and dig in.
Boia De
Boia De is one of those restaurants that's always busy. But if you show up early enough, you can snag a seat at the bar—emphasis on early. The Italian restaurant is such a tough reservation because the food is incredible; after all, it has one Michelin star to its name. Once you do get one of the coveted bar seats, you're in for a treat: Items like the baked clams, caviar-topped potato skins, and rabbit pappardelle will take your taste buds for a ride (as will the fun wine list).
Boia De is located at 5205 NE 2nd Avenue, Miami, FL 33137. For more information, visit their official website.
Eating House
Since moving to a larger space on Giralda Avenue, Eating House in Coral Gables has plenty of room for parties large, small, and solo. Pop in right when they open to beat the crowds and immediately order the restaurant's watermelon caprese or Brussels Sprouts Caesar as a starter—the flavors will blow your mind. For mains, you can't go wrong with the famous bucatini carbonara or buttermilk fried chicken thighs. And always save room for the dirt cup dessert.
Eating House is located at 128 Giralda Avenue, Coral Gables, FL 33134. For more information, visit their official website.
Gueritos
Food halls are perfect for solo diners as they offer a wealth of tasty options. At The Citadel in Little River, the first option you should consider is Gueritos, a Tex-Mex spot from the team behind United States Burger Service (aka one of the best burgers in town). The burritos are just as good as the burgers and are stuffed with proteins like carnitas, pulled chicken, and steak. Fans of Publix Subs should try the aptly named Pub SuBurrito, which uses USBS's popular chicken nuggets.
Gueritos is located at 8300 NE 2nd Avenue, Miami, FL 33138. For more information, visit their official website.
LPM Restaurant & Bar
LPM Restaurant & Bar is in Brickell, but you'll feel as if you've been whisked away to the French Riviera. The neighborhood French eatery features a small bar that's perfect for dining solo, but given its size, you'll want to arrive as soon as the restaurant opens. Secured your seat? Great: Now order best-sellers like tuna tartare, burrata with black truffles, grilled Chilean sea bass, and marinated baby chicken. When it comes to quality, LPM is hard to beat.
LPM Restaurant & Bar is located at 1300 Brickell Bay Drive, Miami, FL 33131. For more information, visit their official website.
Toscana Divino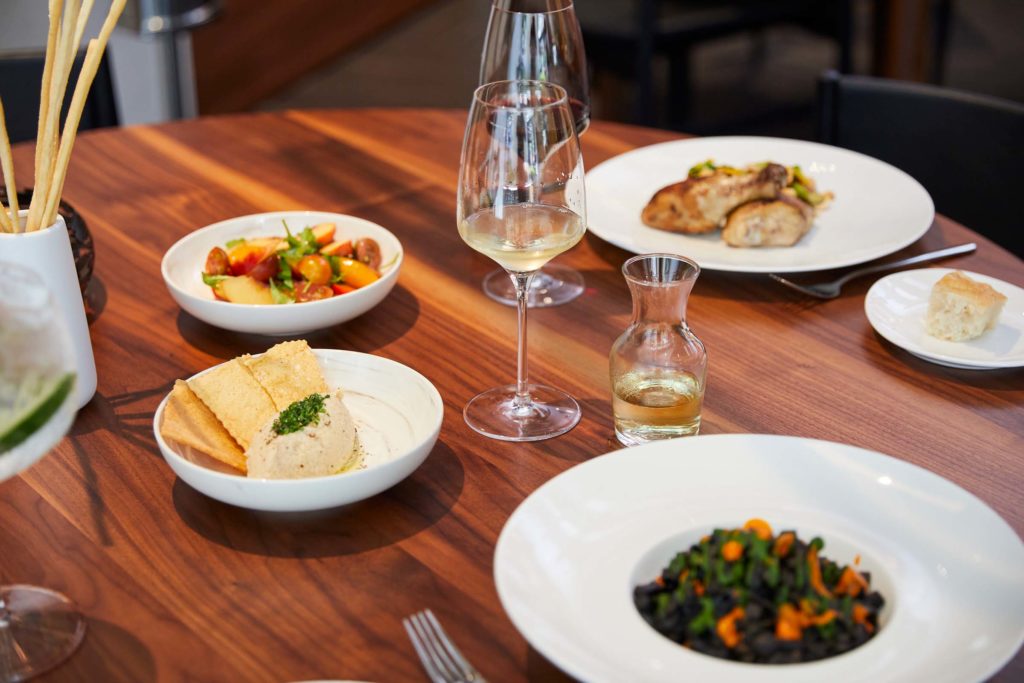 Toscana Divino is another restaurant that's always busy—and for good reason. The Brickell Italian restaurant has impressed diners for years, outlasting pretty much every other tenant at Mary Brickell Village. This longevity is a testament to its quality food and service. Solo diners should skip the table and head for the bar, where they can enjoy Toscana Divino's pastas and wines away from the hustle and bustle of Brickell. The full menu is available at the bar, so you can order favorites like caviar and potato, tuna tartare, spinach and ricotta tortellini, and lasagna. Don't forget to order some wine, too: Toscana Divino has one of the largest wine collections in the city. Toscana Divino is located at 900 South Miami Avenue, #185, Miami, FL 33130. For more information, visit their official website.