Have you ever thought about the well-being of your server? What about the chef?
As hard-working individuals who deserve a night out, we tend to think only of our own experience when dining at a restaurant. After a long day replete with micro-disappointments, it's a bummer when a server tells you they are out of your favorite item on the menu. Imagine the backlash as he delivers the blow to a room full of people eager to vent their frustrations for the day.
Any number of things can go wrong during the hour or so that you spend in a restaurant. Imagine how many antagonistic encounters, no matter how small, that a waiter will endure while serving several, often less than lucid, guests on any given night.
Now envision a chef who oversees six or seven servers, each with their own set of issues, and an entire kitchen staff. Wrong orders, send-backs, dropped plates, and a multitude of other mishaps can jam up the production line, adding more pressure to a confined working environment already near combustion.
There have been several films and television shows released recently that capture the potentially crushing high-stress environment and long hours of working in a restaurant. A film called The Menu imagines a dystopia in which the workers spend so much time at the restaurant for which they work that it makes more sense for them to actually live there full time. This is only a slight exaggeration.
No other industry demands quite the same grueling hours of interacting with the public while managing the interpersonal relationships of an entire staff, all as a mere supplement to the explicit task of executing flawless dishes for a room of strangers eager to eat and critique.
With an oversaturated market full of competitors, an economy that only allows for a slice of the public to be regular customers, and third parties chomping away at already slim margins, financial distress is piled onto a mountain of responsibilities to worry about.
It is no wonder that eight out of ten hospitality workers have experienced mental health issues within their careers. To put things into perspective, while one out of four Americans will be diagnosed with a mental illness in their lifetime, that number soars to four out of five for hospitality workers. As problematic as that may seem, the real challenge lies in the taboo nature of it. There is an unspoken shame associated with conversations about mental health, and that shame is copiously heightened in the hospitality industry.
Eradicating Mental Health Stigma in Hospitality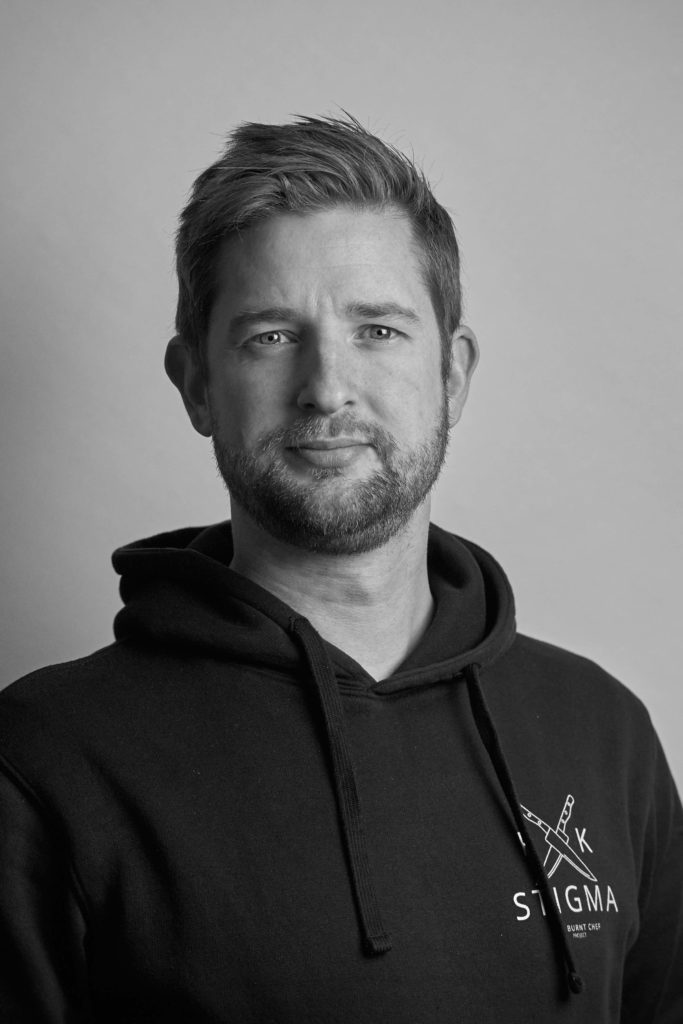 With a vision for awareness and education, one man has broken the silence surrounding mental health with his non-profit organization aptly named The Burnt Chef Project. Kris Hall, who had been on his own journey with depression, witnessed friends in the industry suffering the same and decided to do something about it. An amateur photographer, Kris started taking black and white close-cropped photos of the chefs—their faces partially concealed by shadows. During these sessions, the subjects would open up to him about their struggles with mental health, specifically in relation to working in hospitality. "What would happen is that I would be hidden behind the camera, and they would open up to me. People knew why I was there and one by one, all of a sudden, they opened up to me and told me their stories. The number of people was staggering. The Burnt Chef is a start-up trying to solve a problem. It's an epidemic of epic proportions," says Kris.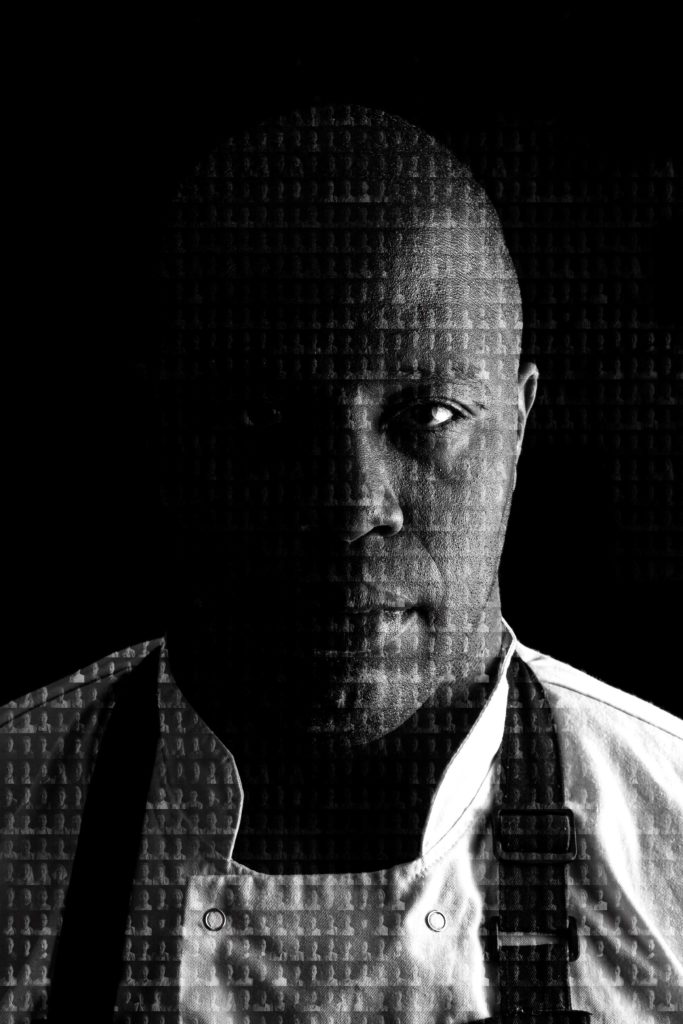 By way of captivating photos, provocative t-shirts, and other branded merch, a conversation was started. The Burnt Chef was born in the UK in 2019 with the sole intention of eradicating mental health stigma within the hospitality industry.
Since its inception in the UK, TBCP has launched a podcast; a free, text-based support platform available 24/7 to anyone involved in hospitality who wishes to talk about their mental health, bullying, relationship problems, and more; The Burnt Chef Academy, a free online training and resource center offering hospitality specific mental health knowledge and training; and even a mental health and leadership diploma designed to upskill leaders in mental health and management skills. All proceeds from now a vast array of cool merchandise, kitchen tools, and gadgets, go back into funding these programs and more.
Since 2021, TBCP has delivered training to almost 9,000 individuals in the past year and provided one-on-one mental health support to 1,544 hospitality professionals.
How You Can Help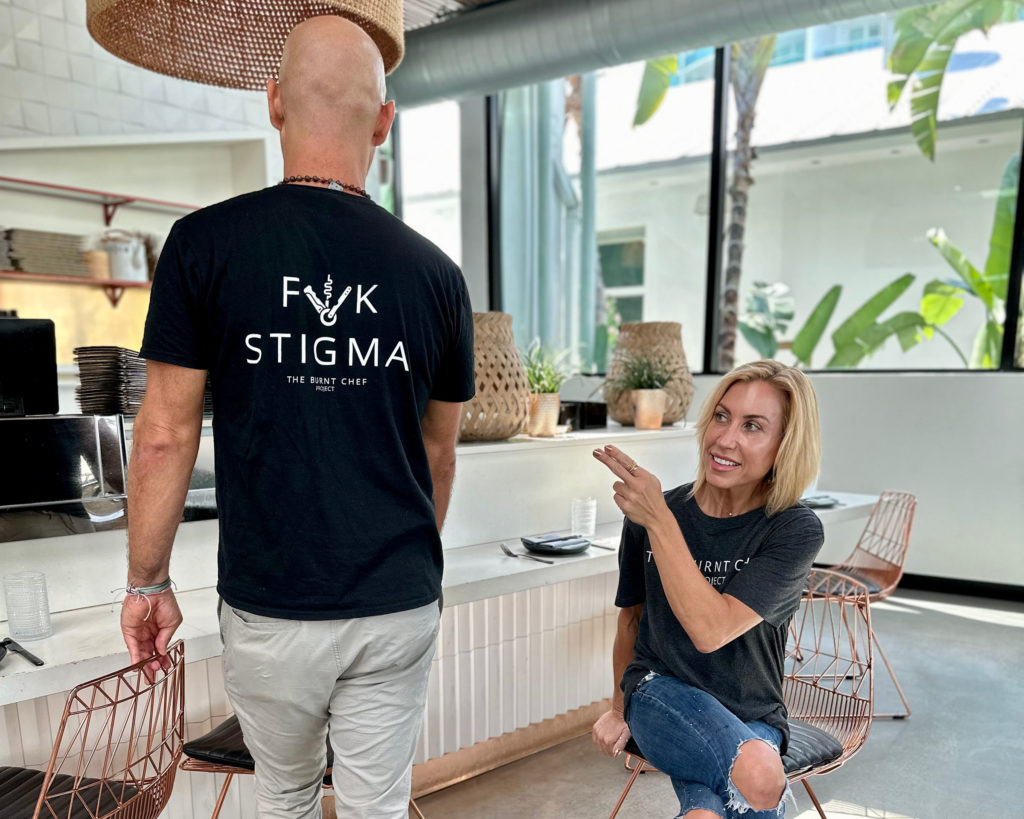 Birthdays, graduations, anniversaries, weddings, and proposals—we rely on restaurant people for our happy moments. Let's help keep them happy too. To get involved, you can make a donation on their website at or purchase any "The Burnt Chef Project" merchandise, which not only funds the program, but also spreads awareness.  
Dish Miami was founded on a love of and desire to support our local restaurants, so a partnership with The Burnt Chef Project makes perfect sense. To help the foundation find its footing on this side of the pond, we will donate on behalf of each new restaurant that becomes a Dish Miami partner in 2023 and will aid in facilitating training programs and fundraisers.
Chefs, owners, and anyone who is interested in getting involved or learning more, please email burntchef (at) dishmiami.com. Miami is also looking for ambassadors, so contact us to help spread awareness and participate locally.