Spicy tuna rolls floating around on tiny boats, dimly lit omakase speakeasies, decadent buttered rolls, and tantalizing nikkei-style maki. Miami Beach truly has it all when it comes to sushi, and below we've gathered the best of the best.
Katana
For a unique experience of sushi flowing toward your table on tiny boats, Katana is the spot to be. The sushi restaurant has been satisfying hungry Japanese food lovers for two decades now and its dedication to its craft is seen in the line that forms outside the restaurant daily.
Here, skilled sushi chefs prepare nigiri, sashimi, and rolls out of the freshest fish and send it swimming along the river. Plates are color-coded and priced accordingly so you can grab the dish that's looking at you and leave the stack to be collected at your table.
As far as the sushi goes expect an extended menu of all your typical sushi bar culrits along with seasonal specialties like bluefin toro and madai. Diners can also order a la carte from the full menu to get hot dishes straight from the kitchen including crispy pork gyoza, chicken karaage, and piping hot shrimp tempura udon.
Katana is located at 920 71st St, Miami Beach, FL 33141. For more information, visit their official website.
Makoto
Makoto is a true Japanese fine dining experience, with elegance present in every detail of the affair. Helmed by acclaimed sushi chef Makoto Okuwa, the eponymous restaurant presents epicureans with traditional edomae-style sushi in a modern setting.
The sushi bar is open for lunch and dinner and offers diners an omakase meal for $185 as well as chef's sushi samplers and a la carte options. You'll find the most exquisite cuts of fish including ones that are hard to come by in other sushi joints like fatty salmon, saltwater eel, and wahoo, to name a few.
Other popular menu items include robata-style wagyu short rib with chili sesame ponzu and whole branzino laced with a wasabi chimichurri and aromatic shiso. In addition, there's an extensive menu of charcoal-grilled premium steak and one of the most comprehensive sake lists in Miami Beach. This is an experience for the books, ladies and gentlemen, and reservations are highly encouraged.
Makoto is located at 9700 Collins Ave, Miami Beach, FL 33154. For more information, visit their official website.
Nossa Omakase
Nossa is a Michelin-recommended omakase restaurant offering Miami's most adventurous diners an experience like no other. The sensual extravaganza begins with patrons receiving an envelope containing a special password needed for entry.
The password changes every night, so no cheating here. Then you are guided to a dark and ambient speakeasy where you can enjoy pre-dinner cocktails accompanied by a curated playlist of enticing tunes. Only after which you are led to the secluded omakase dining room to be truly wowed.
The menu at Nossa rotates daily per the freshest ingredients available but do expect a healthy dousing of Latin influence. Unique provisions include dry-aged fatty bluefin tuna, king salmon belly, and dry-aged Miyazaki Gyu wagyu.
Much of the dishes from the 16-18 course omakase experience come adorned with caviar and freshly shaved black truffles to further tickle the palate. Naturally, reservations are necessary.
Nossa Omakase is located at 1600 Collins Ave, Miami Beach, FL 33139. For more information, visit their official website.
Paperfish Sushi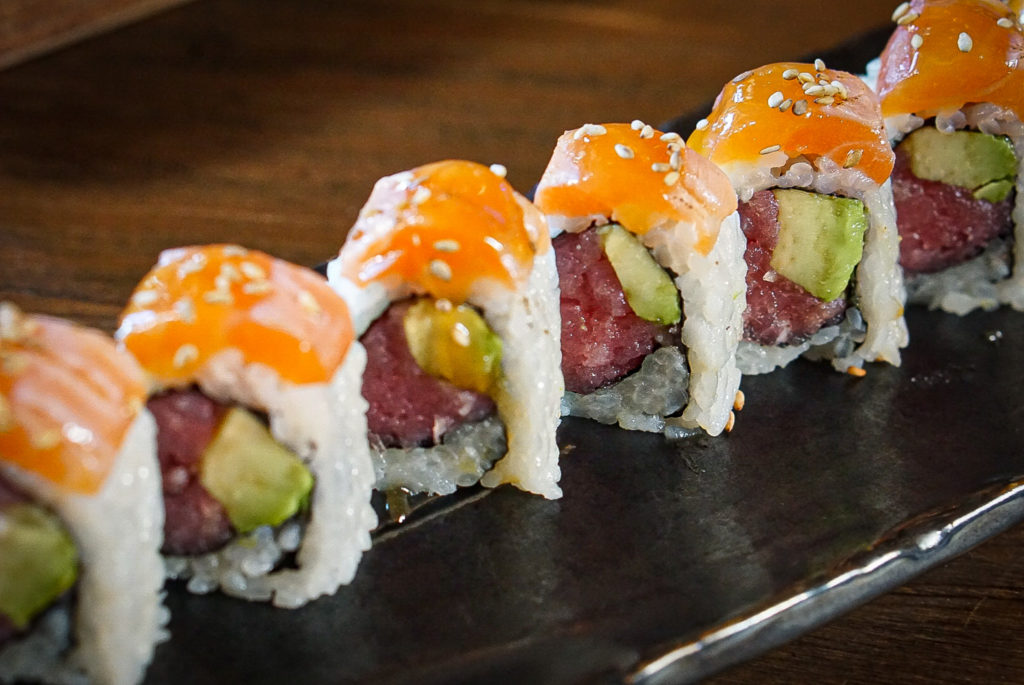 With two outposts in Miami, the newly opened Espanola Way location is a true haven of perfectly executed nikkei cuisine and a welcoming Tokyo izakaya-style vibe. Helmed by highly passionate Chef Michael Asalie, the sushi offerings here are always prepared in the best traditions of Japanese and Peruvian fusion with a true Miami Beach flair.

On the a la carte sushi menu find nigiri and maki with crowd-favorites like torched wagyu, scallop with truffle butter, and the Acevichado roll made with shrimp katsu, white fish, and acevichado aiolo.
Paperfish Sushi also offers a signature omakase to share featuring nikkei ceviche, tiradito, and chef-choice nigiri, sashimi, and maki. For $120 this might just be the most affordable yet quality omakase experience in Miami Beach.
Pubbelly
The Pubbelly name has become synonymous with Miami Beach dining itself and there is no question why. Since its opening in 2010, Chef Jose Mendin has established a cult following behind his creative Asian fusion dishes, fun atmosphere, and utterly crave-able provisions.
With multiple newly opened locations around Miami (and the world), the pioneering Sunset Harbor location has been holding it down with all the Pubbelly classics your soul desires. If it's your first time then make sure to remember the following order carefully: Butter Krab Roll, Bigeye Tuna Roll, and the Yellowtail Roll. Enough Said.
For those wishing to venture outside the sushi menu, there are also dumplings, bao buns, ceviche tostones, and delectable robata grill offerings. P.S. Please don't skip dessert — you'll be dreaming of the sweet and salty miso bread pudding for days to come.
Sushi Bar Miami
Joe Rogan fans, or simply those who are curious about what's the hype all about, should not miss making a reservation at Sushi Bar Miami, the Miami Beach outpost of the Austin original. Celebrities aside, the omakase speakeasy has truly deserved the clout. It's an intimate experience and behind the bar skilled sushi chefs work wonders right before your eyes.
Amidst the elegant dimly-lit ambiance, the staff genuinely makes you feel like a high-esteemed guest. With seasonally rotating ingredients, each of the 17 courses is a true work of art putting gifts of the land and sea on a pedestal.
Here, you won't only undergo a luscious culinary experience, but you'll also learn about the ingredients and preparation from the highly attentive staff. So without further ado, reservations are necessary.
Sushi Bar Miami Beach is located at 1438 Washington Ave, Miami Beach, FL 33139. For more information, visit their official website.