Where to Eat Before a Broadway Show
Are you catching a Broadway show at the Adrienne Arsht Center? The dining options at the venue can be expensive, so we recommend grabbing something before the show. 
These five restaurants in Downtown Miami and Brickell have you covered with delicious bites and booze.
Brasserie Laurel
Downtown Miami's Brasserie Laurel is a fun ode to French cuisine. Expect to find selections like escargot, frog legs, turbot, guinea fowl, and other staples done to the highest of standards. The restaurant's beverage menu also hits all the high notes and features whimsical names like Beneath the Sheets, Corpse Reviver Deluxe, and the House Stinger. The whole experience isn't cheap, but it will leave one heck of a lasting impression.
Brasserie Laurel is located at 698 NE 1st Avenue, Miami, FL 33132. For more information, visit their official website. 
El Primo Red Tacos
For something quick before your Arsht Center experience, El Primo Red Tacos checks all the boxes. Fast? Check. Affordable? Check. Delicious? Check. The fast-casual restaurant specializes in birria tacos, those beef tacos that you dip in delicious consomme —you've likely seen all over social media. Don't expect to find much else here: Everything is a twist on the birria taco, including quesadillas (birria quesadilla), ramen (birriamen), and nachos (you get the idea). If you're cool with the limited menu, you can fill up for cheap, especially on Taco Tuesdays when the namesake dish is 2-for-1.
El Primo Red Tacos is located at 179 East Flagler Street, Miami, FL 33131. For more information, visit their official Instagram.
Mignonette Miami
A few blocks north of the Arsht Center, Mignonette is a seafood paradise and ideal for those seeking lighter fare. Order a round of oysters and champagne before the show or enjoy a full-on dinner—Mignonette works for all situations. Should you opt for more substantial bites, consider selections like the clams casino, lobster deviled eggs, crispy skin snapper, and black grouper. Whether you choose the "plain" options or the "fancy" plates, you'll quickly turn into a regular.
Mignonette Miami is located at 210 NE 18th Street, Miami, FL 33132. For more information, visit their official website. 
NIU Kitchen
Feeling adventurous? Pop into NIU Kitchen in Downtown, a neighborhood gem that's been wowing diners since before Miami became a dining destination. The Spanish eatery encourages guests to order dinner without thinking by simply closing their eyes and pointing to items. If you have a picky palate, that approach may not work for you but trust the kitchen—everything on this menu is great (and we're speaking from experience). Among the many highlights here: the pan-seared foie, the cold tomato soup, the steak tartare, and the soupy seafood rice. Take a peek at the wine selection, too—there are some rare finds there (and at the neighboring wine shop NIU Wine).
NIU Kitchen is located at 104 NE 2nd Avenue, Miami, FL 33132. For more information, visit their official website. 
Toscana Divino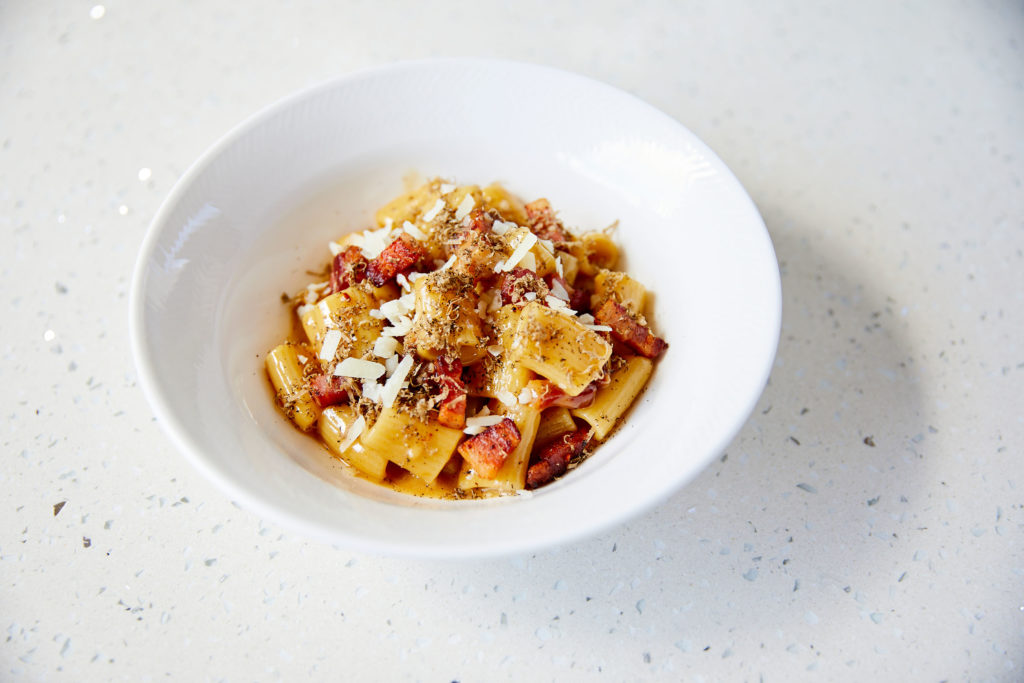 Toscana Divino is the furthest restaurant on this list, but just like BBQ & Craft Company, the journey is worth it if you have the time. A stone's throw away from the 10th Street MetroMover Station, this Brickell Italian eatery boasts hearty pastas and lots and lots of wine. The menu changes regularly, so odds are you'll always find something new available. That said, there's a reason why items like the octopus puttanesca, pici senesi, and mushroom risotto stick around—they're divine, and you absolutely need to try them.