When you think of dining out on Miami Beach, what spots come to mind? Many people will gravitate toward more popular areas like Lincoln Road and Espanola Way, but those "in the know" stay away from the tourist traps and head to South of Fifth.
South of Fifth—aka SoFi—is a neighborhood that doesn't get enough credit when it comes to dining out. It's much more low-key than the rest of the beach, and parking isn't too bad (emphasis on too). The next time you find yourself on SoBe, head a little more south and eat at one of these great concepts.
Azabu Miami
Don't let the Ocean Drive location fool you: Azabu Miami is not a tourist trap. It's actually a South of Fifth gem that deserves your full attention. The restaurant, located inside the Stanton Hotel, is known for its memorable Japanese cuisine that's both satisfying and inviting. You'll encounter classics like tuna crispy rice, shrimp tempura and pork dumplings along with more substantial plates such as branzino filet, king crab fried rice and wagyu sirloin (served on a hot stone!).
The menu is big, but the stellar service will help guide you through it. Just remember that many of the items are meant to be shared, so you're going to want to order at least two to three plates per person. If you still can't make up your mind, there are various tasting options that leave the big decisions to the chef—the toro tasting being one of them.
On the cocktail side of things, highballs get their own section and do a great job of showcasing some tasty Japanese whiskies. Sake is also plentiful, as are Japanese beers—you won't go thirsty here at Azabu. Should you choose not to imbibe during your meal, there's no need to settle for just water or a soft drink: There's an entire non-alcoholic drink menu to keep your taste buds busy. The East Brew Tea is a fascinating one, with its tea, condensed, milk, lime and matcha—the flavors just work together so well.
Azabu Miami is located inside the Stanton Hotel at 161 Ocean Drive, Miami Beach, FL 33139. For more information, call 786-276-0520 or visit their official website.
Lilikoi Organic Living
Lilikoi Organic Living proves that good food and good health aren't mutually exclusive. As you'd expect from the name, the menu at this charming SoFi eatery focuses on lean proteins and more health-conscious fare—a perfect fit for the South Beach aesthetic.
What you'll like the most about this restaurant is its variety. Whether you stop by for breakfast, lunch or happy hour, there's an abundance of options to keep you on your toes during every visit. Early birds can nosh on house-smoked salmon and bagels, sourdough pancakes and quinoa waffles to start their day on the right foot. Later in the day, guests can enjoy tuna niçoise salad, Hawaiian style poke and shrimp coconut curry bowls.
Vegetarians and vegans are welcome here, as well as those who are thinking of dabbling in the lifestyle. Lilikoi's plant-based options make it easy to ease into it—even if you're just looking to eat a few more veggies. Selections like the buckwheat ramen noodle soup and vegan nacho platter might sound strange at first, but the flavors should win over even stubborn carnivores.
In addition to creative cuisine, Lilikoi offers customers a wide range of juices to complement their meal. Keep things simple with fresh-squeezed orange juice or choose something with a little more flair, like the Red Boost with carrot, ginger, orange, lemon and beet. For some heat, there's also a lemon, ginger and cayenne shooter. Mix and match until you find your perfect drink.
Lilikoi is located at 500 South Pointe Drive, Miami Beach, FL 33139. For more information, call 305-763-8692 or visit their official website.
The Lobster Shack
For fresh seafood on South of Fifth, look no further than The Lobster Shack. While South Beach has no shortage of seafood, The Lobster Shack goes above and beyond by providing something that other places fail to: tremendous value. That's not to say The Lobster Shack is inexpensive—your check can add up fast—but you get your money's worth and then some.
This South of Fifth spot provides guests with seafood in all forms: raw bar, tacos, rolls and platters. With such a varied menu, restaurants can sometimes risk doing too much. But at The Lobster Shack, that's not the case. Whether you opt for a monstrous lobster cocktail with delicious house sauce, a three-cluster snow crab dinner, or a naked lobster roll (warm with butter), the quality is consistent across the board.
Fair warning: Try not to eat with your eyes here. It's easy to overorder here, so it's recommended you work your way through the menu bit by bit. Then, see how hungry you are. If you order everything at once—it's hard not to—you may end up with leftovers for days, which is not necessarily a bad thing.
Also of note: The place is family-friendly. If your child isn't in the mood for king crab or lobster tacos, there's a short-and-sweet Kids section with approachable fare like a PB+J sandwich and cheese quesadilla. And if there's that one random person in your party who doesn't want seafood, burgers and hot dogs are also available (but honestly, that person is at the wrong place).
The Lobster Shack is located at 40 South Pointe Drive, Miami Beach, FL 33139. For more information, call 305-763-8230 or visit their official website.
South Pointe Tavern
Good drinks, good bar food, and good vibes can all be found at South Pointe Tavern, a fun neighborhood hangout in SoFi. South Pointe Tavern is straight out of Cheers: Expect to run into familiar faces every time. By your second visit, you'll likely be on a first-name basis with everyone.
One reason for its charm is its solid menu of, well, everything. The menu isn't divided into sections or anything: It's just a list of tasty food that ranges from wings and nachos to tacos, ribs and bucatini. It's an interesting mix of offerings, but one that works; the items are affordable and shareable, making it an ideal hangout anytime of the day. The eatery is especially popular for sporting events, and game day specials are the norm. Get a group of friends together, grab your masks and come watch the big game here—there's plenty of room.
If you think the food menu is extensive, wait until you get a look at all the drinks. Cocktails range from "Pirate & Boozy" to "Highballs & Tropical" but they're all relatively refreshing, which is appreciated in this Florida heat. Whisk(e)y and tequila fans are in for a treat, as SPT features over 200 types of the former and 80+ of the latter. That's… a lot. All the more reason for you to keep coming back. The generous Monday-Friday happy hour also helps.
While most of the offerings cater to the lunch and dinner crowds, SPT hasn't forgotten about its early morning crowd. South Pointe Tavern's convenient location makes it a prime spot for refueling after your morning run or bike ride. Expect to find breakfast classics like smoked salmon, avocado taste and omelets on the menu, along with more grab-and-go stuff like croissants and bagels.
South Pointe Tavern is located at 40 South Pointe Drive, #109, Miami Beach, FL 33139. For more information, call 305-763-8368 or visit their official website.
Stubborn Seed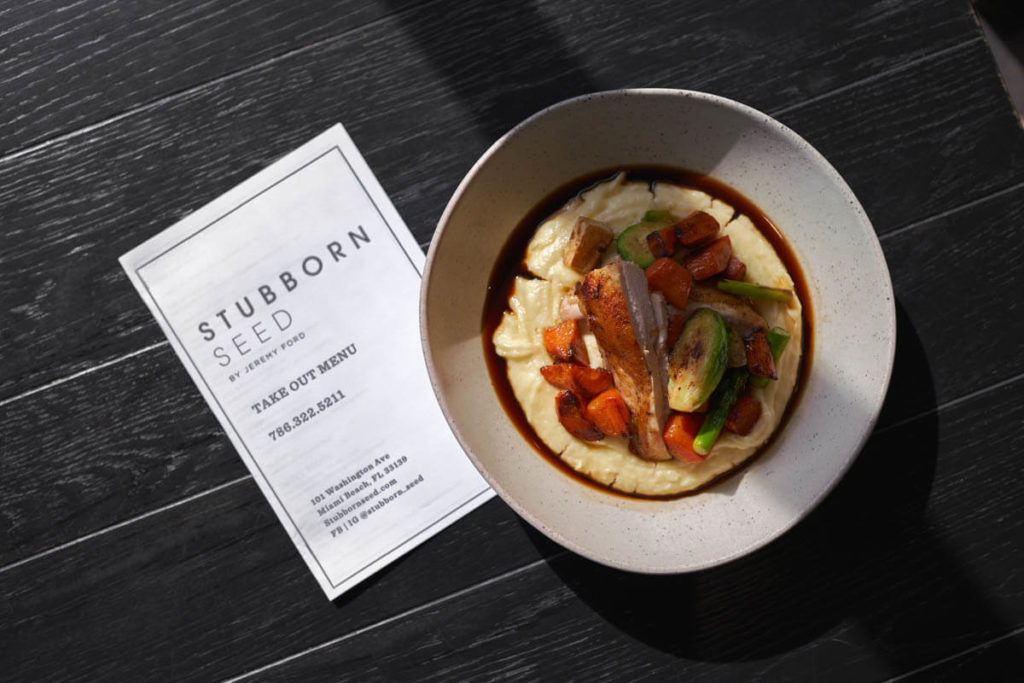 What's there to say about Stubborn Seed that hasn't been said already? The award-winning upscale SoFi eatery is helmed by chef Jeremy Ford, a Top Chef alum who masterfully creates dishes that are as flavorful as they are beautiful. Everything about Stubborn Seed is an experience, which is why the Chef's Tasting can't be recommended enough. Sure, you can order bites like the ricotta gnudi and shigoku oysters a la carte, but if you're spending that kind of money, you might as well go all in with the curated menu.
It's hard to pin down the type of cuisine served at Stubborn Seed—"global" doesn't do it justice. Raw shaved Florida cobia, Arab spiced foie gras, truffle chicken … chef Ford is constantly changing the menu and upping the ante for his guests, always keeping them on their toes. No two visits are alike, and the unique dining experiences are complemented by just-as-thoughtful cocktails such as the Negroni a la Ford (a negroni with a kick) and the namesake Old Fashioned.
If you're looking for the Stubborn Seed experience on a budget, consider swinging by for happy hour. It's literally only an hour but the promotion features the above cocktails plus oysters and other bites at a discount. Once you get a feel for the place, though, you'll likely want to stay for a full-on dinner.
Stubborn Seed is located at 101 Washington Avenue, Miami Beach, FL 33139. For more information, call 786-322-5211 or visit their official website.