When you look at Best Restaurant lists in Miami, you tend to see the usual neighborhoods like Wynwood and South Beach. But the local food scene is much bigger than those popular areas. Little Haiti deserves just as much praise for its rich culture, history, and creative cuisine.
If it's Haitian food you're seeking, you'll find it in spades throughout Little Haiti. There's no shortage of spots to enjoy specialties like griot (Haitian fried pork), pikliz, and more. And Caribbean cuisine is just the tip of the iceberg when it comes to dining options in the area.
Here are the best Little Haiti restaurants that should be on your radar. Please note that details are subject to change due to the COVID-19 pandemic. Contact the restaurants directly for the latest information:
B&M Market & Grocery
Walk into B&M Market and then keep walking to the back. The front of B&M is your standard bodega, where you can pick up a quick soda and some chips if you're so inclined. The back, however, features a tiny kitchen capable of blowing your mind with Caribbean and West Indian flavors. Expect to find roti galore here along with signature staples like curry goat, brown stew chicken, and oxtail. Some items are known to sell out, so it's best to call ahead or order online.
While you can order the proteins on their own, you should consider the roti versions. Choosing the latter means that your meat or fish of choice is wrapped in the roti like a burrito. Having everything bound up makes it easier to handle, and the roti adds a new dimension of flavor to your already tasty meal. There's a little bit of room to enjoy your food on-site, but honestly, space is tight: You're better off taking it to go and eating it in the comfort of your home.
B&M Market & Grocery is located at 219 NE 79th Street, Miami, FL 33138. For more information, call 305-757-2889 or visit their official website.
Boia De
Boia De is a stone's throw away from Little Haiti, so we think it's close enough to include in this guide. Prior to the pandemic, there was a two-week wait for reservations at this charming Italian restaurant. The pedigree behind it is one reason for that: Dual owners Luciana Giangrandi and Alex Meyer previously worked at Michelin-starred restaurants, and their local food truck La Pollita gained a huge local following for its delicious fried chicken sandwich and tacos.
At Boia De, the cuisine is much more refined than food truck fare. Some examples: green pea garganelli, caviar potato skins, rabbit pappardelle, lamb ribs, and wagyu beef cheek. The menu changes regularly, so no visit is ever the same. Wine lovers will find a lot to love with Boia De's impressive wine selections by the bottle; they're not cheap but worth every penny. The short-and-sweet dessert menu features ice cream by local favorites Frice Cream along with a decadent guava bombolini and carrot cake.
Boia De is located at 5205 NE 2nd Avenue, Miami, FL 33137. For more information, call 305-967-8866 or visit their official website.
Bon Gout BBQ
Chicken, fish, pork, beef… Bon Gout BBQ has it all and at prices that won't break the bank. The affordable neighborhood favorite opened its brick-and-mortar shop in early 2019; it began as a weekend BBQ operation among its three owners and has since blossomed into something much greater.
A hearty chicken dinner with two sides will only set you back $12, and for a bit more, you can go all out with whole fried fish or a combo platter. Needless to say, you won't leave hungry. Other standouts include Bon Gout BBQ's take on tacos—called zakos—and the eatery's extensive list of sides. Classics like mac and cheese, potato salad, collard greens are available along with the massive griot loaded cheese fries. Finish off with a rum cake and then take a nap.
Bon Gout BBQ is located at 99 NW 54th Street, Miami, FL 33127. For more information, call 305-381-5464 or visit their official website.
The Citadel
The Citadel isn't in Little Haiti proper: It's right off the border. And because it's so close, it's worth mentioning. As the only food hall on the list, The Citadel is home to a number of tasty tenants including Ash! Pizza Parlor, United States Burger Service and Manjay.
Ash! is an extension of Brickell's beloved pizzeria Stanzione 87. Unlike its sister restaurant that's more focused on classic pizzas, Ash! gets a little more fun with selections like the Evel Knievel (double pepperoni) and Truffle Shuffle (aka truffle to the max). It's hard not to smile and laugh at the whimsical menu and marketing.
United States Burger Service is also playful with its postal puns, but their food is no joke. The Ground—the signature single-patty burger—is served with "government cheese" and "priority sauce." We're still not sure what those ingredients are, but there's no denying they are delicious. Insurance (house cut fries) are a safe investment, and Tariffs are available if you want to upgrade your fries with jerk spice and other seasonings.
At Manjay, expect a bevy of Caribbean delights including all the classics like conch fritters, roti, griyot and jerk chicken. While the menu is mostly Caribbean-inspired, there's one item that sticks out like a sore thumb—for all the right reasons. The Neo Cubano is the restaurant's take on a Cuban sandwich with sliced prosciutto, Creole-style braised pork, swiss cheese and a few other goodies. Whether you're a fan of Cuban sandwiches or not, you'll likely become a fan of this gem.
The Citadel is located at 8300 NE 2nd Avenue, Miami, FL 33138. For more information, call 305-908-3849 or visit their official website.
Clive's Café
Clive's Café should ring a bell for local foodies. The Jamaican establishment made a name for itself in Wynwood for years, and it has since moved its operations to Little Haiti. While the location is different, the quality remains the same.
Delicious oxtail, jerk chicken, fried conch and stew peas are just a few of the selections that can be enjoyed from the restaurant's exhaustive menu. The majority of plates clock in at under $15, so budgets of all sizes are welcome here. Visit early to indulge in the breakfast options, which are unique for Miami standards. Think mackerel, salt fish and yams. Early risers seeking something more traditional need not worry, as Clive Café's eggy breakfast sandwiches have you covered.
Clive's Café is more than a restaurant—it's also a meeting place. On any given day, you might enjoy your meal with a side of slam poetry, live music or live art. COVID-19 has unfortunately put all of that programming on pause, but it's only a matter of time before things pick back up.
Clive's Café is located at 5890 NW 2nd Avenue, Miami, FL 33127. For more information, call 305-757-6512 or visit their official website.
Fiorito
Since 2012, Fiorito has been cooking up tasty Argentine food for locals. The restaurant describes its food as simple and straightforward, and that's definitely the impression you'll get when you read the menu. Don't expect anything fancy: This is comfort food done right.
Empanadas are a must here—the corn and mozzarella cheese ones are divine—and sandwiches will easily double as lunch and dinner; the choripan (organic pork sausage) and churrasco (skirt steak) sandwich are worth a look and bite.
If you need something more substantial to hold you over during a soccer match—this is a great place to watch futbol—there's the milanesa. This heart attack on a plate is a breaded steak with ham, tomato sauce and mozzarella on top plus some fries for good measure. It's worth the risk but should probably be shared with the table. An ample supply of South American and European wines should help wash everything down.
Fiorito is located at 5555 NE 2nd Avenue, Miami, FL 33137. For more information, call 305-754-2899 or visit their official website.
Zubi Supermarket & Fish House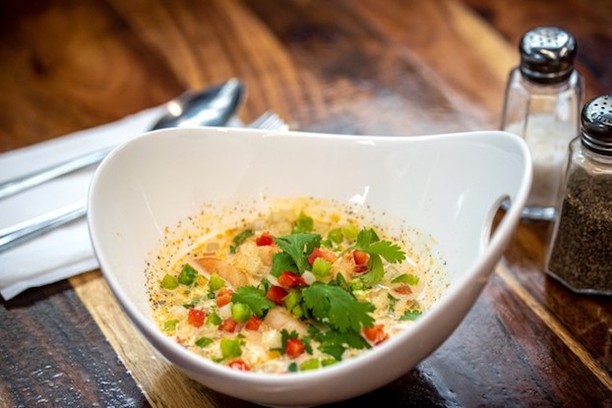 "If it swims, we have it." That's the motto at Zubi Fish House, which touts its wide range of seafood selections. The tagline certainly holds up, as fish options abound here: fish croquettes, fish dip, fish soup… and that's just the appetizers. Sandwiches are also seafood heavy, with proteins like dolphin, snapper, tilapia, crab cake and catfish. Sound pricey, right? Nope: Most sandwiches cost less than $8. And the appetizers are even cheaper.Mains with the same proteins and two sides are also around the same price.
Zubi Fish House is also open for breakfast, but that menu is a whole different beast. Expect Cuban staples like tostada, empanadas, pastelitos and—of course—Cuban coffee. If you still want some fish in the morning, don't worry: salt fish and grits is also on the breakfast menu. The restaurant offers daily specials as well, so be sure to ask about them.
Zubi Supermarket & Fish House is located at 5700 NW 2nd Avenue, Miami, FL 33127. For more information, call 305-758-7773 or visit their official website.