When you hear people talk about cities with good pizza, there are always some places that make the list: New York and Chicago. One city that you almost never hear in the same sentence as pizza is Miami. Instead, most people associate the 305 with Cuban food—which is completely understandable. But there are several pizza joints throughout the city that are trying to put us on the map and these eateries made it to our best pizza restaurants in Miami roundup. Whether you're looking for thin crusts, square pies or some other variation, you can find it right here in the Magic City.
The next time you're craving pizza, make sure to add these six spots to your list for dine-in, takeout and delivery:
Frankie's Pizza
"You're saying Westchester has some of the best pizza in Miami?" Yes.
The humble municipality is home to Frankie's Pizza, which has been feeding the masses for 65 years. The idea for the concept started after namesake owner Frank B. Pasquarella and his wife Doreen noticed a lack of pizza shops in Miami. They opened the original store in South Miami on Valentine's Day 1955. Two years later, they moved to their current location on Bird Road. The rest is history.
The first thing you'll notice about Frankie's is the retro look; the website jokes that the newest item at the store is the cash register (and we believe them). Even the website is a blast from the past. Another blast from the past: the prices. A square-shaped slice will only set you back a dollar or two, and a small pizza can cost anywhere from $7 to $10. Medium (eight slices) and large pizzas (10 slices) don't cost much more.
Don't feel like driving all the way to Westchester? Did you move away and miss a piece of your childhood? Frankie's can deliver its half-baked pies anywhere in the U.S. A half-baked pizza is just that—half-baked; you finish baking it at home. It's ideal if you want to freeze the pizza to enjoy later. That said, the best way to enjoy Frankie's is fresh out of their oven.
Frankie's Pizza is located at 9118 Bird Road, Miami, FL 33165. Call 305-221-0221 for more information or to order.
Lucali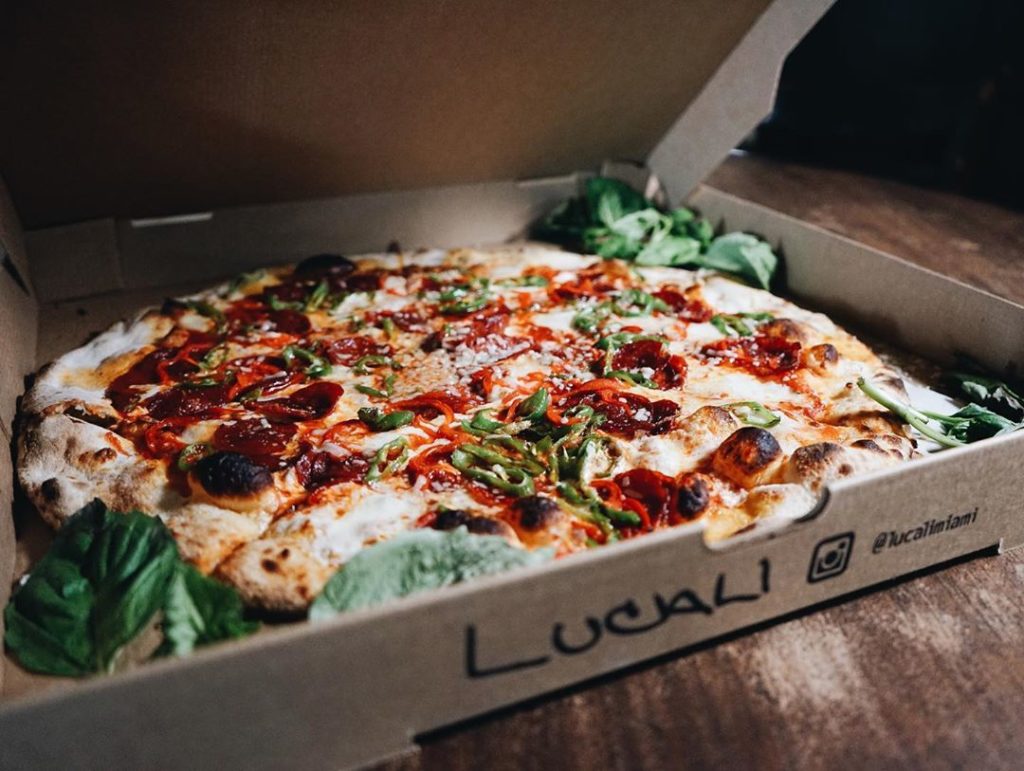 If you want a quality sit-down pizza experience on Miami Beach, there are two names that usually pop up in conversation: Lucali and Mister-01 (more on them in a bit). The former might sound familiar to you, especially if you've been up north. Lucali hails from New York, and Miami has been enjoying their slices of Brooklyn for years now.
Before you visit Lucali, there's something you should know about the place: It's not cheap. First-timers often experience sticker shock when seeing that a signature plain pie costs $24. Throw in a few toppings at $3 each, and you quickly have yourself an expensive meal (at least for pizza). Paying more than $30 for a pizza at Lucali is not unheard of; it's the priciest of the restaurants in this list.
Here's the thing, though: Lucali is worth the money. These thin-crust pizzas are monstrous, and once you see them in person, you'll realize why they're priced as listed. One pizza can feed a party of three, and a party of two will leave with leftovers. A few bites are all it takes to change your mind on the cost.
For guests who want more than pizza, Lucali offers a few other options like a meatball sandwich, chicken wings and eggplant parm. Dessert offerings are slim with mini cannolis and a Nutella pizza pie, but let's be honest, you won't be hungry after eating one of these pizzas.
If you decide to dine in, get there early. Lucali fills up fast, and the waits can be long. Thankfully, the Bay Club is right next door to enjoy some drinks while you wait. Better yet, just get a pizza to go; you can order ahead through Lucali's website to save some time.
Lucali is located at 1930 Bay Road, Miami Beach, FL 33139. Order online or call the restaurant at 305-695-4441.
Mister-01
"We are that famous hidden place." That tagline is everywhere in Mister-01's marketing — and rightfully so. The humble beginnings of Mister-01 — back then known as Visa-01 — trace back to a nondescript office building on Miami Beach's Michigan Avenue. You'd need to enter through a secret back entrance, and only "those in the know" would be able to find it. If you were one of those lucky people, you were in for a treat.
Well, the secret's out. The "secret" Miami Beach location is not-so-secret anymore, and the concept has expanded into other neighborhoods, including Brickell and Wynwood. The brand's popularity should come as no surprise, considering the extensive and delicious offerings on the menu. Prepare to be overwhelmed (in a good way).
Purists can stick to traditional pies like the margherita, pepperoni and mushroom selections, all of which are the best versions of the basics. The aptly named Special Pizzas are where Mister-01 truly shines, though. The literal star of the menu is the Star Luca, a star-shaped pizza stuffed with ricotta, spicy salami and mozzarella. Best of all: The pizzas are priced reasonably at anywhere from $11 to $19. And if you want a smaller 8-inch pie, the price goes down to as little as $6. All budgets are welcome here.
Fun fact: Mister-01 operates a pizza school out of its Wynwood location. So if you want to learn how to make your own pizzas at home, consider signing up. Each class runs for about three hours and includes a complimentary chef's hat and apron. Prices range depending on the number of people in your party.
Mister-01 has multiple locations throughout Miami. To find the one nearest you, visit the official website. A Coconut Grove location is scheduled to open later this year in Coco Walk.
Navé
If you consider yourself a local foodie, you know or have heard of chef Justin Flit. Those familiar with Flit's background are aware that his former restaurant Proof Pizza & Pasta in Midtown Miami was the go-to for… pizza and pasta (as well as one of the best burgers in town). Sadly, that restaurant shuttered a few years back. You can consider Coconut Grove's Nave the next evolution of that cozy concept: It's bigger in every way.
Unlike the other entries on this list, Nave doesn't specialize in pizza. It's a coastal Italian restaurant, which means that pizzas are just one part of the cuisine here. Aside from a handful of pizzas, you'll find a bevy of pastas and seafood to enjoy — and enjoy you will (We are huge fans of the snapper Milanese and braised lamb lasagna).
The small pizza section here is easy to overlook, but it shouldn't be. The three current offerings—soppressata, clam, and truffle—are each hefty and satisfying. As tempting as it may be to eat an entire pizza yourself, these pies are best shared so you can enjoy the rest of the menu. Don't let the simple descriptions fool you: Nave's pizzas pack a punch. Be on the lookout for rotating specials, too.
Nave is located at 3540 Main Highway, Coconut Grove, FL 33133. Make a reservation online or call the restaurant at 786-615-3747.
Stanzione 87/Ash! Pizza Parlor
Brickell's Stanzione 87 checks all the boxes when it comes to best pizza restaurants in Miami: reasonable prices, great quality, and fast service. Because these are Neapolitan-style pizzas, they can be out of the oven in a mere 90 seconds. That speed is crucial in a bustling neighborhood like Brickell, where business professionals are always on the run and looking for a quick meal.
The menu at Stanzione 87 is divided into two parts: red and white pizzas (with or without tomato sauce). There's no wrong choice, because each section features an array of mouthwatering items. On the red side, the burrata with its namesake ingredient is a refreshing fan favorite, while the Angry Spinach on the white side provides some nice heat and flavor. Frozen pizzas are also available, if you'd rather eat one of them later. This is a restaurant made for serious pizza lovers.
Up north, Stanzione's younger and more playful sibling Ash! Pizza Parlor is making its own name for itself. At Ash!, you'll see more whimsical names like the Evel Knievel and Truffle Shuffle and less focus on traditional pies. The former option is a double pepperoni monster and the latter is the definition of decadence with black and white truffle puree and white truffle oil. Stop by on the weekend for the Sunday Sauce, a Bolognese beast of a pizza. No matter which restaurant you visit, you can expect some darn good pizza.
Stanzione 87 is located at 87 SW 8th Street, Miami, FL 33133. Click here to visit Stanzione 87's official website. Ash! Pizza Parlor is located inside The Citadel at 8300 NE 2nd Avenue, Miami, FL 33138. Click here to visit Ash! Pizza Parlor's official website.