If your friend group wants to hang out at the last minute and you need a table somewhere, keep reading: These five Miami restaurants always welcome big parties.
CJ's Crab Shack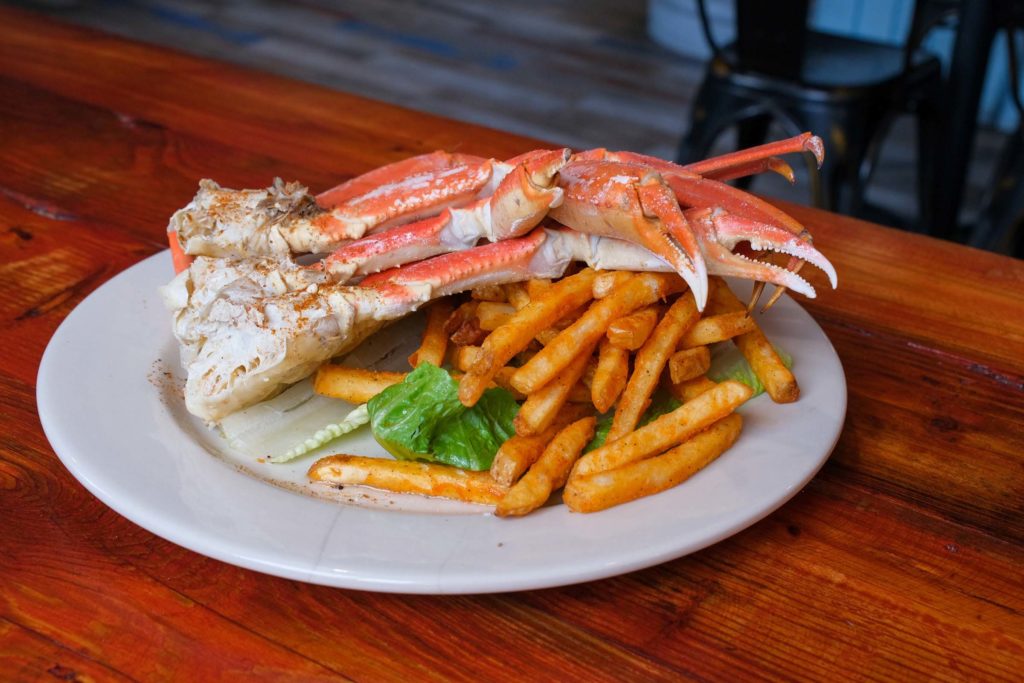 CJ's Crab Shack is an Ocean Drive institution, and one that has no shortage of tables. The enormous seafood eatery offers plenty of space indoors or outdoors for parties of all sizes. Whether you're a party of three or a party of 10, CJ's will be happy to accommodate you and fill you up with some of the tastiest seafood in town. Of course, no visit to CJ's is complete with their signature snow crab, but if you don't want things to get too messy, there are a lot of other items to enjoy; fried shrimp, crab cakes, and grouper fingers are just a few examples. Plus, there's a full bar!
Ironside Pizza
Sharing is caring at Ironside Pizza, a neighborhood joint that serves up some of the area's best pies and pastas. While you may be tempted to keep a pizza all to yourself, it's best for your large group to order a few and spread the wealth. Everything on the menu is great, but if you twisted our arm, we'd have to point you in the direction of the funghi and calabrese pizzas and the gnocchi pesto and spaghetti puttanesca pastas. Don't forget to start with some housemade meatballs.
La Cañita
When you think about great food, one of the last places you think about is Bayside. That outdoor mall is a tourist trap, but not everything there is terrible. In fact, there's one amazing restaurant to look out for: La Cañita from Michelle Bernstein. Unlike most of the places at Bayside, this Cuban eatery serves up quality grub at reasonable prices. Among the many standouts on this menu are the plantain and coconut-crusted shrimp, the oxtail, and the arroz con pollo. The cocktail list is also worth a look, as the mojitos and old fashioneds are ::chef's kiss:: The restaurant also hosts live music regularly—what's not to like about this place?
La Cañita is located on the second floor of Bayside Marketplace located at 401 Biscayne Boulevard, Miami, FL 33132. For more information, visit their official website. 
Toscana Divino
One of the first things you'll notice about Toscana Divino is the large outdoor seating area. You and your gang should have no issues finding a table that meets your needs. The second thing you'll notice: the menu variety. The selections here at Toscana Divino are divine: From decadent cheese and charcuterie and hearty pastas to quality meats and seafood, Toscana Divino covers all the bases. Our picks: the tuna tartare, the lasagna Bolognese, the cacio e pepe and the veal costoletta. If you really want to splurge, opt for the Florentine dinner that includes a 40-ounce T-bone steak and a ton of other goodies. 
Tropical Chinese
Dim sum is built for group dining, so a visit to Tropical Chinese is a no-brainer for any large group. Carts come around fast, and they're stocked with tasty items like crispy shrimp balls, chicken pot stickers, leek dumplings, roast pork buns, and more. You can order a la carte, too, if you don't feel like sharing, but there's just something about the controlled chaos of dim sum ordering that keeps us coming back. Others must feel the same way since the restaurant has been around for almost 40 years—a lifetime in Miami. 
Tropical Chinese is located at 7991 Bird Road, Miami, FL 33155. For more information, visit their official website.