You don't have to travel to Italy to try some of the best food the Mediterranean-side country has to offer, from Lombardy and down to Sicily. Luckily, Miami has some of the world's top Italian restaurants. So you can savor everything from saucy and comforting nonna's spaghetti and meatballs to next level prosciutto. There are tons to feast on, and the city's Italian restaurants work hard to compete within the fast-paced industry. We've helped gather the best Italian restaurants in Miami to make the choice a little easier when craving some decadent hand-cut pasta or a dessert of tiramisu with espresso.
Casa Isola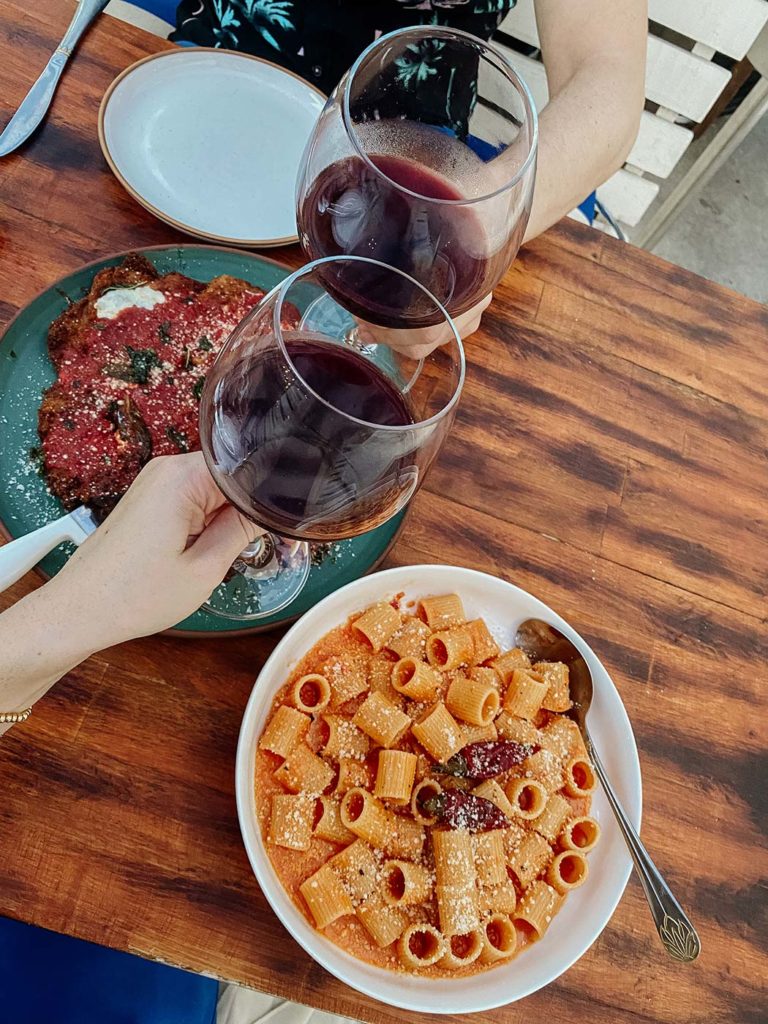 For an Italian feast by the water, head on over to Sunset Harbour, where you'll find Casa Isola. Seeing the rustic wooden tables coupled with white and blue striped bench cushions, you'll be hard-pressed not to feel like you're on vacation on the Mediterranean coast. The culinary collaboration that Miami's been waiting for, Jose Mendin and Brooklyn-born chef Santo Agnello, bring forth made-from-scratch Italian fare inspired by Agnello's childhood memories of his nonna. Not to mention, Mendin masterfully adds his iconic touches of bold and unexpected flavors, which bring Casa Isola to a whole new level of Italian restaurant Miami has not yet seen.
The experience here starts with the infamous Pane Al Prosciutto, a Brooklyn-style bread baked with prosciutto cubes and paired with decadent smears of parmesan honey butter and caponata. Perhaps you were once cautioned against munching up on that warm Italian bread before your meal, but this exception is totally worth it.
Next up, we got the Tuna Crudo from the appetizers, refreshingly paired with parmesan, shiro soy, basil pesto, and Sicilian olive oil. As for Macaroni and Secondi, bound to grace the plates of anyone who dines here are the Rigatoni Alla Vodka and Veal Chop Parmigiana—a large portion of perfectly breaded veal that begs to slide off the bone the moment you touch it. Finishing off, this may seem a little needless to say, but the Nutella Tiramisu is a heart snatcher (the good kind). The entire experience pairs perfectly well with a glass of cool Aperol, albeit, the wine list is equally impressive on its own. Happy hour runs till 7, so we reckon there should be no shortage of good sips going around. Buon appetite!
Costa Med Bistro + Wine
Let's get straight to the point: Costa Med is not specifically an Italian restaurant. Heck, it's not even in Miami. But that is stopping no one. Costa Med is a chic Key Biscane bistro whose forte is food from all over the Mediterranean coast. It is absolutely not to be missed by those looking for quality Italian Mediterranean dining.
For the complete Italian Mediterranean dining affair, the bistro's crispy Calamari Fritti, fresh Octopus Carpaccio, and creamy Burrata & Prosciutto are the ultimate appetizers. As for mains, try Piccata di Vitello al Limone — perfectly executed veal cutlet in a lemony caper sauce. Or, Pear and Gorgonzola Ravioli — a sweet, velvety, tangy filling, nestled within a delicate ravioli sheet. Your mind might be telling you to take it easy, but your tastebuds will thank you for the gastronomical journey which they're preparing to embark on.
Costa Med Bistro + Wine is an excellent example of pure ingredients taking the center stage and being elevated to their highest degree by masterful chefs. We shall say no further. The cuisine, the classy old-school bistro vibe, and the refreshing terrace air are enough to get Miamians making the drive to Key Biscane. Just be sure to make reservations first. 
Riviera Focacceria Italiana
Come to Riviera Focacceria to sample pure genius executed by age-old Ligurian traditions. Take a step into this humble trattoria, and you'll see that quality beats pompousness any day. The folks who run this place aren't here to please the hearts of those looking for the next Instagram sensation but are here to simply let the food speak for itself. Be sure to make a reservation in order to see the magic firsthand.
While glancing through the menu, you're sure to notice the trays of perfectly toasted focaccia passing by the hands of sincere waiters. The smell of soft-baked cheese fills the air. Diner's eyes glistening with anticipation — "I came here hungry. Should I risk jumping the gun, or death by chaffing?" Chances are you'll have a glass of wine by your side, so take your time and thoroughly enjoy the wait. And yes, as you may have already guessed by the establishment's name, ordering the Focaccia con Formaggio is a must.
But let's stay focused. That's only for starters. Mains include housemade pasta dishes like Trenette al Pesto (signature Ligurian pasta featuring the restaurant's revered housemade pesto), Ravioli Ragu Genovese (ravioli filled with spinach, beef, Parmigiano cheese, and Italian herbs in a 6-hour slow-cooked beef, pork, and tomato ragout), and the Polpo alla Griglia (grilled, poached octopus accompanied by the delicate yet piquant melange of chickpea puree, roasted pumpkin seeds, and smoked paprika). Wednesdays feature half off on bottles from Riviera Focacceria's carefully selected wine collection. We suggest arriving with some good company for this one. 
Sottosale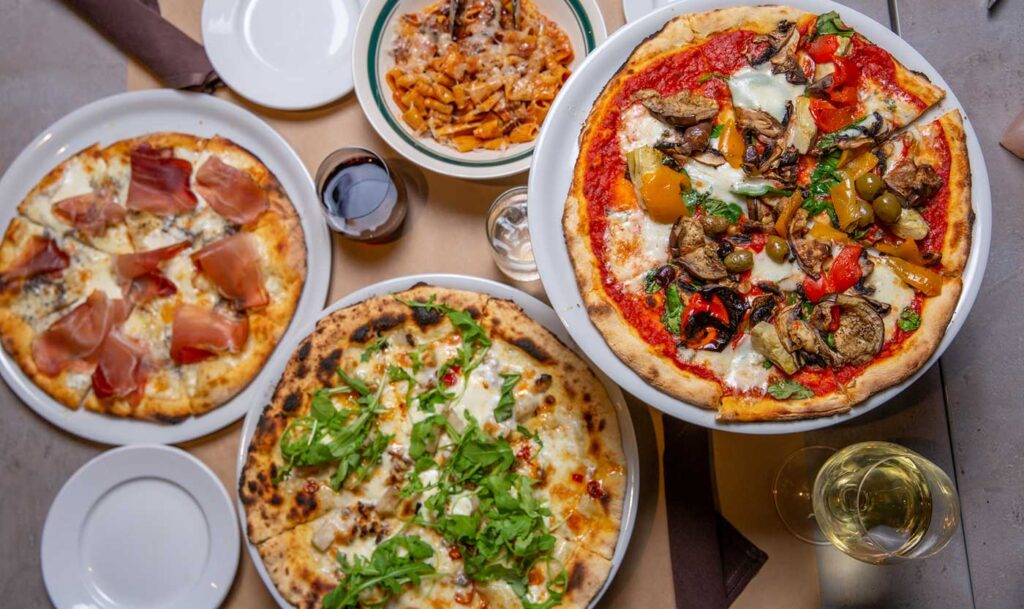 Nowadays, when we hear Sottosale, we know we're in for a spread of Italian comfort food. Come hungry. Come with company. This is not exactly the place where you'll be well off ordering a side salad — portions are family-sized. Luckily, this is one of those places where quantity doesn't mean a sacrifice in quality. The chefs are well aware of what they bring to the table and do it with skill and soul — nothing less of what you'd expect from an Italian nonna. Dishes are unquestionably executed with class and mastery, so don't expect the sloppy joe presentation of the corner pizzeria. It's quite a wonder how these heartwarming plates can mingle so well with the top-notch presentation, clad within a laid back and homey atmosphere.
For starters, let's bring it back to everyone's childhood favorite — fried goodness. The restaurant's signature Fritto Misto is a mish-mash of perfectly crispy, not too oily, calamari, shrimp, smelts, and veggies. As for pasta, the Rigatoncini Allo Stracotto certainly captured our hearts. Al dente rigatoni meshes ideally with pulled overnight-cooked lamb shank and shaved Ricotta Salata. That's the kind of care your family puts into a meal, all at the hands of chef Ivo. And of course, pizza… Can't go wrong with any of them. Thin crust, puffed and toasty edges, layered with a plethora of ingredients that already stand out on their own. Now place them on the pizza… It gets no better. Expect speck, marinated boquerones, artichokes, and fresh mozz, to name a few.
What really makes this Italian kitchen stand out in Miami's bustling food scene is the sincerity with which they operate. The restaurant's very own enoteca offers wine at retail price plus a $10 corkage fee (Wednesdays are corkage fee-free). Also, don't miss the November special for BOGO bottles of wine. By the way, there are specials to take advantage of daily, so you'll be winning any day of the week.
8001 Biscayne Blvd, Miami, FL 33138; (786) 634-1005; sottosalemiami.com; Open Tue-Fri, 5-11p.m.; Sat and Sun, noon-11p.m.
Toscana Divino
Toscana Divino falls off the tongue of any Miamian enticed by luxury dining. It's not easy to combine next-level sustainability practices with superior cuisine. Yet, this Italian kitchen sets the mark high for anyone willing to follow in their footsteps. Since opening its doors in 2012, the restaurant has been annually named top three Italian cuisines in Miami — that's nearly a decade of offering the city exceptional food and service!
This Brickell restaurant pays homage to the exuberant cuisine of Tuscany. Upon entering, you'll immediately notice the monumental collection of wine, much of which comes from the Tuscany region itself. Diners have the option of enjoying their meal in the sleek interior, taking advantage of the open kitchen where executive chef Andrea Marchesin showcases his skill. Otherwise, one can opt for the casual yet spacious outdoor seating, soaking in the city's tempo.
The restaurant's main principles are sustainability and seasonality. A seasonally-rotating menu comes to no surprise and only entices patrons to dine here more frequently to savor the peak of each ingredient. This year's fall-winter menu features appetizers of poached lobster and peppers, as well as octopus puttanesca. A concise collection of pasta and risotto, including the luscious Carbonara Di Mare, an exceptionally executed spaghetti chitarra, pearled with sea urchin, fish roes, caviar, and bottarga. For seconds, an autumn rendition of Filet Mignon is served with pumpkin and chanterelle mushrooms. And if you thought the best burrata is always imported from Italy, think again. Toscana Divino serves the creamiest, most delicate local Burrata Caprese — naturally, all complemented by Tuscany's robust wines. 
Palat
Palat is a fairly new edition to Miami's highly competitive food scene. Albeit in the past two years of its existence, it has quickly earned the hearts of hungry Miamians looking for a fashionable Italian seafood feast. The minimalist interior encompasses an open kitchen and a shared indoor/outdoor dining space. Large wooden dining tables and industrial lighting creates a chic air suitable for nights out on the town, dates, and celebrations.
Fresh seafood is the name of the game here, and plates at Palat yearn for sharing. The menu is compact and well-curated, which means you'll get to try an abundance of dishes if you choose to come with a crowd. For example, the choice of grilled octopus or calamari. Or better yet, both. Main dishes encompass the zesty salmon steak served with a refreshing citrus-ginger creme; and Gamberoni All Griglia, scandalous seared head-on prawns. The star of the show, however, might just be the Tagliolini "Cacio e Pepe" — a timeless classic of creamy tagliolini pasta with an exclusive twist of shaved black truffle served in a wheel of Parmigiano cheese. Pair with one of Palat's many organic wine options for the complete celebration for the senses.
4702 NE 2nd Ave, Miami, FL 33137; 786-953-7577, palatmiami.com; Open Sun-Wed, noon-10 p.m.; Fri-Sat noon-11 p.m.