Let's face it—drinking in Miami can wreak havoc on your budget. As in many other big cities, it's normal to spend $15-$20 on a drink here (sometimes even more, depending on where you go and what you order), which means a few rounds can easily wrack up a bill that will kill your buzz right away. Ask any savvy local and they'll tell you that happy hour-hopping is the best way to get your drink on in this city. To help you plan your next night out, we've rounded up some of the best happy hours in Miami. You'll find a wide range of options here, from well-established to under-the-radar, and from super-luxe to super laid-back. Cheers!
Buya Izakaya + Yakitori
Buya Izakaya + Yakitori has been a straight-up patriot to the streetwise Wynwood ideal since its inception last year. They know what the people want. They know what the people need. They are the people. Erected under a "high-spirited, high-merited" philosophy, the Japanese-style Izakaya is the perfect equation for that Friday-night-vibe we all love. We're talking opaque neon lights illuminating hotpot steam. Vintage 20th-century posters and live painting. Waxed woodgrain and canned sake. It's a bar, restaurant, and exhibition hall all in one. The best part is the menu is affordable and delicious—and comes with a few perks.
Between Monday and Friday from 3-6 pm, Buya's happy hour is on and in full effect. Let's start with the steamed buns: Their Shiitake Mushroom Bun (usually $8) and Pork Belly Bun (usually $10) cost just $4 each! And they add a Short Rib and Tsukune option to the menu for the same bargain. Like… come on. As if that wasn't enough, you and your buds can split a Karaage plate for just 40% of the original price during this time. Shall we continue? Let's do drinks: Find yourself choosing between bushido sake, a number of draft beers, or red or white wine—all $4 a pop. Plus, the staff are super friendly and easy to tell your secrets to. Boom! What more could one want from a happy hour?
Buya is located at 250 NW 24th Street, Miami, FL 33127. For more information, visit their official website.
CJ's Crab Shack
We can't keep hogging this secret—CJ's Crab Shack has hands down the most slammin' Happy Hour in town. We're talking $2 beers (a wide selection of domestic brews, at that) and $3.50 well drinks. Yowza! Oh, and let us tell you… it's not your usual 5 to 6 early bird happy hour thing. CJ's happy hour begins as early as 4 in the afternoon and lasts all the way up to 9 in the evening! That's five hours of drinks, the best crab legs in town, and more drinks.
While going for Happy Hour in Ocean Drive might be every Miami resident's last option, we guarantee that this is just that one gem you have to know about if you live in the city. At CJ's, you'll find a healthy melange of locals, tourists, and pure, friendly, family vibes.
Remember: those favorably under-priced drinks might catch up with you quick, so don't forget to order a goodish spread of munchables. CJ's Crab Shack is known for the best crustaceans in the city (if not on the whole East coast, just sayin'). Everything comes in massive sharable portions (more like family size, actually), and getting a platter is a good choice. We recommend going with the Fisherman's choice, a loyal serving of all the ocean's crawlers cooked to your liking. Naturally, you'll want the Alfredo pasta as a side. Come with a group of pals, kick back, and relish in those Ocean Drive vibes.
CJ's Crab Shack is located at 600 Ocean Drive, Miami Beach, FL 33139. For more information, visit their official website.
La Placita
Stepping inside La Placita is the equivalent of being cradled by your favorite and most exuberant Boricua tia, whose house is really a giant kitchen. Okay, that was a bit of a stretch, but so is this darn restaurant. La Placita offers all ends of a Latino/a lollapalooza while keeping enough class for a school day. It's the bees' (and the birds') needs. And as we should know about our Puerto Rican pals, good drinks are a part of any worthwhile occasion.
La Placita has a daily happy hour, Wednesday through Sunday, from 4 pm to 7 pm. They've got a little bit of something on the happy hour menu for everyone: crispy mojitos, sparkling wine, Ballentines scotch whiskey, Medalla beer—whatever you need. And about the prices (the best part), well… $2 beers, $6 cocktails, $5 wines, and $5 spirits. Yup. It's like that. Now, what more incentive would you need to stop by with your homiest circle after work to enjoy some mid-day Mofongo with garlic shrimp, plus a beer? Or chef Jose Mendin's mom's Carne Guisada (beef stew), with some Don Q as a chaser? Yea, we already know—absolutely zero.
Oh, and by the way, while the liquid love spreads for 3 hours a day, chef Mendin and his team are spreading a greater love every day for the sake of preserving small businesses in Miami. Add the extra incentive of community on your way to enjoy these good vibes.
La Placita is located at 6789 Biscayne Boulevard, Miami, FL 33138. For more information, visit their official website
Osteria del Teatro
For the last three decades, this acclaimed South Beach gem at the historic Marlin Hotel has been serving mouthwatering, authentic Italian cuisine to local patrons and visiting in-the-know foodies alike. Chef Martin and his team have won awards for their delicious dishes while winning hearts with their warm, Old World hospitality. Everything on Osteria del Teatro's menu—from the pasta to the sauces to the shrubs and syrups used in the cocktails —is made in house, and the long list of Italian wines offered is absolutely head-spinning. But we also love the fact that Osteria del Teatro serves an awesome happy hour every day from 5-7 p.m. featuring $8 drinks and bites — a steal in this neighborhood. All of the signature cocktails are divine, but we especially love the Mojito Veneziano, made with a good dose of Bacardi Superior, natural sugar, freshly squeezed lime juice, and crisp mint, topped with Aperol and prosecco. The Sofia Loren is also a must-try sip, made with Absolut vodka, St-Germain elderflower liqueur, fresh strawberries, and lime juice and topped with prosecco. If you're feeling peckish, ask for an order of Osteria's locally sourced burratina con prosciutto, drizzled with balsamic glaze. Want something a little heartier? Opt for the ravioli di pesce, handmade black squid ink ravioli that comes stuffed with seafood and served in a light and creamy pink lobster sauce.
Osteria del Teatro is located at 1200 Collins Avenue, Miami Beach, FL. For more information, visit osteriadelteatro.miami or call (305) 538-7850.
Riviera Focacceria Italiana
The Masters of Ligurian cuisine are at it again! Yes, we'd like to bring your attention to the latest news from our friends over at Riviera Focacceria Italiana. Any self-proclaimed Italian food-lover would have a tough time living up to the title if they've yet to try the focaccia from this local nutshell — thin layers of dough filled with imported stracchino cheese, baked to a bubble. Go get some if you're off the "been there, fun that" list. Oh, and make sure to go when you can get the most out of it; as of Monday, November 16th begins Riviera Focacceria's (Be) Happy Hour!
Henceforth, every Monday through Friday between 4-6pm, the hometown favorites are giving out the deals on wheels. For starters, vetted wines take the stage: Chardonnay, Pinot Noir, Cabernet Sauvignon, and more, just $5 a glass. Up next, we've got some classic small plates: Carciofi Fritti (crispy fried artichoke hearts), Muscoli del Marinaio (sauteed mussels with peperoncino in a wonderful tomato sauce), and a must on every table — the Antipasto plate (parma prosciutto, parmacotto, mortadella, parmigiano, taggiasca olives). Each just $7. Alongside the enticing menu here, the pasta is made daily, the ingredients are authentic, the steaks are grass-fed, and the staff is caring. Don't say you weren't warned. Pampering awaits. Get it while it lasts!
3252 Buena Vista Blvd #110, Miami, FL 33137; (786) 220-6251; rivierafocacceria.com; Open Mon-Thurs, 11:30 a.m.–10:30 p.m.; Fri-Sat 11:30 a.m. –11 p.m.; Sun noon–10:30 p.m.
Seaspice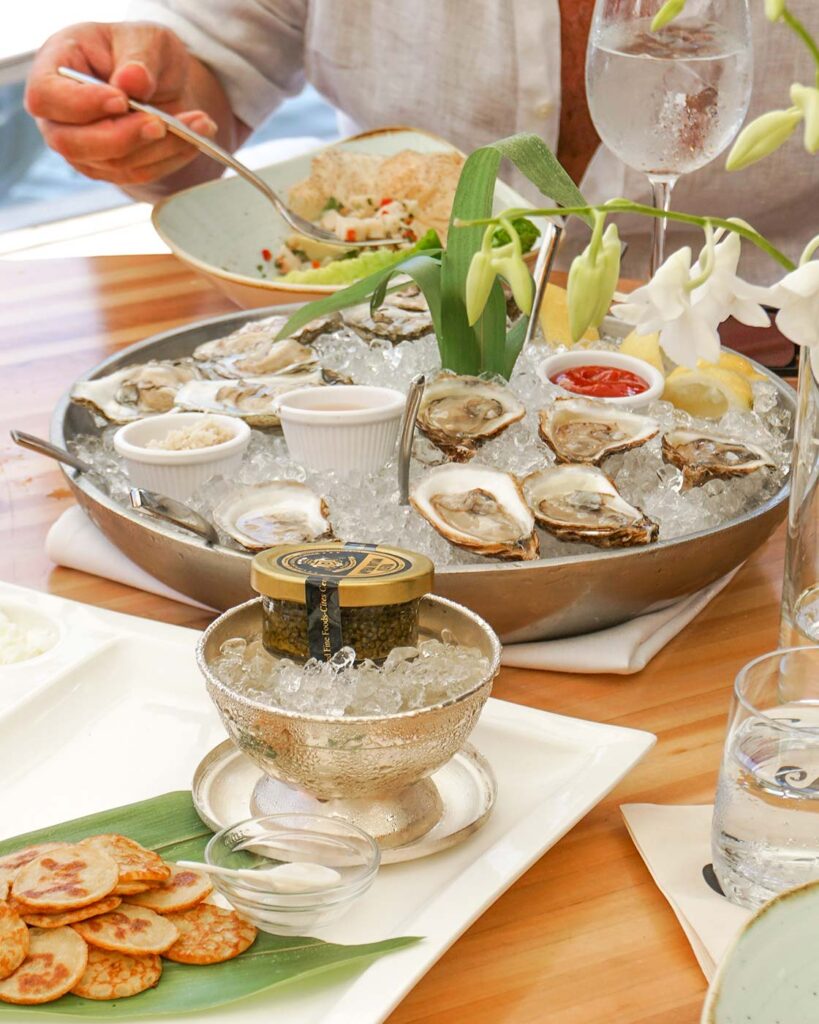 As if belching spritzers in tandem with coral-born bivalves weren't enough all on their own. Well, for the folks down at Seaspice, the truth is, they weren't. Introducing the latest & greatest Sunset Hour — Seaspice's special invitation to enjoy more of the crafty cocktails and waterside sunset allure at an even lower price. You heard us right.
Beginning this Tuesday, November 17th, expect top-shelf bargains on select wines and champagnes. Plus, all hand-crafted cocktails, like the fruity Rose Froze, piquant Yellowtail, and our personal favorite Melonade, are just $10 per glass. Can't beat that with a bat.
And as for the food? No worries. The steal continues. Seaspice has also chosen some seafood-lover classics to grab for the low low — flaky Stone Crab, fresh East Coast Oysters, crispy Malanga Frituritas, and more. Tuesday to Friday from 5:00 to 7:00pm, come raise a glass to social fulfillment during strange times and save a penny while doing it. Oh, and don't fetter about the huge crowds sure to be drawn to this bargain — Seaspice has skipped no steps at ensuring a clean, safe experience for all diners. That being said, space is limited, so be sure to beat the crowd!
Seaspice is located at 422 Northwest North River Drive, Miami, FL 33128. Sunset Hour offered Tuesday to Friday from 5:00-7:00pm. For more information visit seaspice.com or call them at (305) 440-4200.
Sherwood's Bistro & Bar
Calling all jazz lovers — Sherwood's Bistro & Bar in Miami's Little River neighborhood has just the happy hour for you. Every Friday night from 6-8 p.m., a talented two-piece jazz ensemble provides the soundtrack to your sipping at this charming and whimsical hangout spot. Grab a table on the restaurant's open patio and unwind beneath the stars while you savor delicious drinks and the sound the soothing, smooth jazz. If you can't squeeze in a visit at the end of the week, don't worry. You can still take advantage of great happy hour specials every day (yes, you read that correctly) from 5-7 p.m. Think $5 draft beer, $6 house red, white, and sparkling wine, $6 sangria, $7 well liquors, and cocktails ranging from $8-10. We love their Mezcal Tail, made with honey syrup, fresh lime juice, and sparkling rose, but you can't go wrong with a margarita or old fashioned here, either. Make sure you come with an appetite, too. Dishes at Sherwood's Bistro & Bar are served family-style, so you can order several dishes to share. The bone marrow starter is irresistible, and the flatbread with caramelized onion, arugula, and gorgonzola cheese is the perfect starter. Save room for dessert — you won't want to miss out on decadent options like a chunky caramel sundae served with caramel popcorn and chocolate bacon, a homestyle blueberry blackberry crumble, and shaved carrots with dulce de leche and vanilla ice cream.
Sherwood's Bistro & Bar is located at 8281 NE 2 Avenue, Miami, FL. For more information, visit sherwoodsmiami.com or call (786) 359-4030.
South Pointe Tavern
Miami Beach's South of Fifth neighborhood is well known throughout South Florida as one of the best neighborhoods for amazing food and creative craft cocktails. This chic, sleepy oasis is home to many acclaimed restaurants and bar concepts, and South Pointe Tavern is definitely one of them. At this beloved neighborhood spot, you'll find the largest selection of spirits in Miami Beach (including more than 200 kinds of whiskeys and more than 80 kinds of tequilas). Its extensive menu of seasonally inspired tipples has drawn discerning cocktail fans to the bar since the Tavern opened in 2016. But in addition to serving up delicious drinks and food in a laid-back, bistro-style setting with nautical touches, South Pointe Tavern also offers one of the best happy hours on the Beach. Monday through Friday from 5-7 p.m., guests enjoy half off all house wines by the glass, house spirits, domestic beer, and select cocktails. Pair your drinks with something tasty off the food menu, like piping hot pigs in a blanket served with tangy whole grain mustard, hoisin BBQ ribs served with a sweet and spicy chili-caramel sauce, or the SPT platter, which comes with your choice of salmon, mahi, chicken, shrimp, or veggie patty paired with your favorite specialty sauce.
South Pointe Tavern is located at 40 South Pointe Dr #109, Miami Beach, FL. For more information, visit southpointetavern.com or call (305) 763-8368.