Let's face it—drinking in Miami can wreak havoc on your budget. As in many other big cities, it's normal to spend $15-$20 on a drink here (sometimes even more, depending on where you go and what you order), which means a few rounds can easily wrack up a bill that will kill your buzz right away. Ask any savvy local and they'll tell you that happy hour-hopping is the best way to get your drink on in this city. To help you plan your next night out, we've rounded up some of the best happy hours in Miami. You'll find a wide range of options here, from well-established to under-the-radar, and from super-luxe to super laid-back. Cheers! 
Glass and Vine
When it comes to al fresco dining, few places are as gorgeous and well-suited to dinner and drinks outdoors as Glass & Vine. Surrounded by the lush foliage of Peacock Park in Coconut Grove, this idyllic restaurant was designed to offer guests a respite from the hustle and bustle of everyday life. Enjoying a meal or a couple of drinks here feels like an escape from reality, and the incredible flavors that come from the kitchen and behind the bar are certainly the stuff dreams are made of. Happy hour here takes place a little earlier than usual — Monday through Friday from 3-6 p.m., in fact, so you can bask in the golden afternoon light while enjoying your favorite wine, beer, or cocktail. The deal features half off well spirits and all wines by the glass, and $5 select draft beers. There's also a selection of $8 cocktails you can choose from, including a Bay View Spritz made with Fos Greek Mastiha and prosecco, a Maduro Mai Tai made with Havana Club Rum, vanilla, and banana liqueur, and a Glass & Vine mule made the traditional way, just to name a few. Enjoy your cocktails with $7 small bites like crispy yuca and watermelon salad, or $4 snacks like sweet potato tater tots and cured meat.
Glass & Vine is located at 2820 McFarlane Rd, Miami, FL. For more information, visit glassandvine.com or call (305) 200-5268.
La Santa Taqueria
La Santa Taqueria has come a very long way since it first opened as a food truck in 2017. Following a wildly successful debut, the cult-favorite is now a fully-fledged restaurant and bar—and one of the best places in Miami to swing by for authentic Mexican street food and cocktails that are just as crave-worthy. The dishes Chef Omar whips up in La Santa's kitchen are out of this world. From classic tacos stuffed with carnitas, barbacoa, pork al pastor, and alambre de pollo, to shareable starters like queso fundido, elotes with cotija cheese and chile powder, and tostadas topped with crab ceviche, salmon, and yellowfin tuna—everything on the menu here hits the spot. The drinks are equally as impressive, and you'll be hard-pressed to stop at just one. Designed by head bartender and bar manager Grace, an agave expert who has worked at top restaurants like Cantina La 20, Quinto La Huella, and more, the cocktail menu here highlights mezcal and tequila, offering unique and unexpected riffs on classics like palomas, margaritas, and micheladas, plus some really creative originals. We're obsessed with La Santa's Sunset in Acapulco, a spin on the iconic gin and tonic that works in basil, tart grapefruit, and delicate hibiscus. If you like things a little sweet and spicy, you should definitely try the No Tan Santa, a tasty concoction of tequila, blackberry, jalapeno, lime, and ginger beer. In addition to great flavor in every sip and bite, La Santa Taqueria also offers some pretty sweet deals. Happy hour takes place Monday through Friday from 5-7 p.m. and features two-for-one drinks. But that's not all—every Wednesday, you can also sip on $5 wine until 10 p.m., and on Thursdays, ladies enjoy happy hour pricing until closing time. If you happen to be dropping by on a Tuesday, make sure you have room for some tacos because you'll be able to order three for the price of one.
La Santa Taqueria is located at 201 NE 82nd St, Miami, FL. For more information, visit lasantataqueria.com or call (305) 906-1149.
Osteria del Teatro
For the last three decades, this acclaimed South Beach gem at the historic Marlin Hotel has been serving mouthwatering, authentic Italian cuisine to local patrons and visiting in-the-know foodies alike. Chef Martin and his team have won awards for their delicious dishes while winning hearts with their warm, Old World hospitality. Everything on Osteria del Teatro's menu—from the pasta to the sauces to the shrubs and syrups used in the cocktails —is made in house, and the long list of Italian wines offered is absolutely head-spinning. But we also love the fact that Osteria del Teatro serves an awesome happy hour every day from 5-7 p.m. featuring $8 drinks and bites — a steal in this neighborhood. All of the signature cocktails are divine, but we especially love the Mojito Veneziano, made with a good dose of Bacardi Superior, natural sugar, freshly squeezed lime juice, and crisp mint, topped with Aperol and prosecco. The Sofia Loren is also a must-try sip, made with Absolut vodka, St-Germain elderflower liqueur, fresh strawberries, and lime juice and topped with prosecco. If you're feeling peckish, ask for an order of Osteria's locally sourced burratina con prosciutto, drizzled with balsamic glaze. Want something a little heartier? Opt for the ravioli di pesce, handmade black squid ink ravioli that comes stuffed with seafood and served in a light and creamy pink lobster sauce.
Osteria del Teatro is located at 1200 Collins Avenue, Miami Beach, FL. For more information, visit osteriadelteatro.miami or call (305) 538-7850.
Riviera Focacceria Italiana
The Masters of Ligurian cuisine are at it again! Yes, we'd like to bring your attention to the latest news from our friends over at Riviera Focacceria Italiana. Any self-proclaimed Italian food-lover would have a tough time living up to the title if they've yet to try the focaccia from this local nutshell — thin layers of dough filled with imported stracchino cheese, baked to a bubble. Go get some if you're off the "been there, fun that" list. Oh, and make sure to go when you can get the most out of it; as of Monday, November 16th begins Riviera Focacceria's (Be) Happy Hour!
Henceforth, every Monday through Friday between 4-6pm, the hometown favorites are giving out the deals on wheels. For starters, vetted wines take the stage: Chardonnay, Pinot Noir, Cabernet Sauvignon, and more, just $5 a glass. Up next, we've got some classic small plates: Carciofi Fritti (crispy fried artichoke hearts), Muscoli del Marinaio (sauteed mussels with peperoncino in a wonderful tomato sauce), and a must on every table — the Antipasto plate (parma prosciutto, parmacotto, mortadella, parmigiano, taggiasca olives). Each just $7. Alongside the enticing menu here, the pasta is made daily, the ingredients are authentic, the steaks are grass-fed, and the staff is caring. Don't say you weren't warned. Pampering awaits. Get it while it lasts!
3252 Buena Vista Blvd #110, Miami, FL 33137; (786) 220-6251; rivierafocacceria.com; Open Mon-Thurs, 11:30 a.m.–10:30 p.m.; Fri-Sat 11:30 a.m. –11 p.m.; Sun noon–10:30 p.m.
Seaspice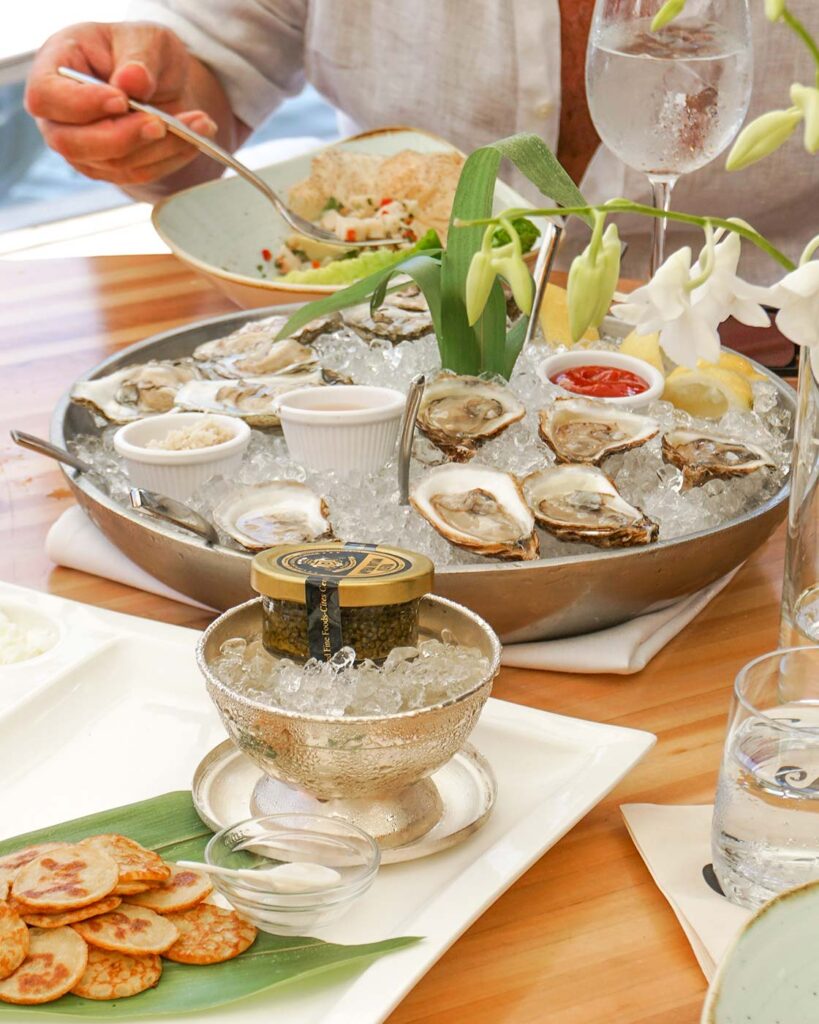 As if belching spritzers in tandem with coral-born bivalves weren't enough all on their own. Well, for the folks down at Seaspice, the truth is, they weren't. Introducing the latest & greatest Sunset Hour — Seaspice's special invitation to enjoy more of the crafty cocktails and waterside sunset allure at an even lower price. You heard us right.
Beginning this Tuesday, November 17th, expect top-shelf bargains on select wines and champagnes. Plus, all hand-crafted cocktails, like the fruity Rose Froze, piquant Yellowtail, and our personal favorite Melonade, are just $10 per glass. Can't beat that with a bat.
And as for the food? No worries. The steal continues. Seaspice has also chosen some seafood-lover classics to grab for the low low — flaky Stone Crab, fresh East Coast Oysters, crispy Malanga Frituritas, and more. Tuesday to Friday from 5:00 to 7:00pm, come raise a glass to social fulfillment during strange times and save a penny while doing it. Oh, and don't fetter about the huge crowds sure to be drawn to this bargain — Seaspice has skipped no steps at ensuring a clean, safe experience for all diners. That being said, space is limited, so be sure to beat the crowd!
Seaspice is located at 422 Northwest North River Drive, Miami, FL 33128. Sunset Hour offered Tuesday to Friday from 5:00-7:00pm. For more information visit seaspice.com or call them at (305) 440-4200.
Sherwood's Bistro & Bar
Calling all jazz lovers — Sherwood's Bistro & Bar in Miami's Little River neighborhood has just the happy hour for you. Every Friday night from 6-8 p.m., a talented two-piece jazz ensemble provides the soundtrack to your sipping at this charming and whimsical hangout spot. Grab a table on the restaurant's open patio and unwind beneath the stars while you savor delicious drinks and the sound the soothing, smooth jazz. If you can't squeeze in a visit at the end of the week, don't worry. You can still take advantage of great happy hour specials every day (yes, you read that correctly) from 5-7 p.m. Think $5 draft beer, $6 house red, white, and sparkling wine, $6 sangria, $7 well liquors, and cocktails ranging from $8-10. We love their Mezcal Tail, made with honey syrup, fresh lime juice, and sparkling rose, but you can't go wrong with a margarita or old fashioned here, either. Make sure you come with an appetite, too. Dishes at Sherwood's Bistro & Bar are served family-style, so you can order several dishes to share. The bone marrow starter is irresistible, and the flatbread with caramelized onion, arugula, and gorgonzola cheese is the perfect starter. Save room for dessert — you won't want to miss out on decadent options like a chunky caramel sundae served with caramel popcorn and chocolate bacon, a homestyle blueberry blackberry crumble, and shaved carrots with dulce de leche and vanilla ice cream.
Sherwood's Bistro & Bar is located at 8281 NE 2 Avenue, Miami, FL. For more information, visit sherwoodsmiami.com or call (786) 359-4030.
South Pointe Tavern
Miami Beach's South of Fifth neighborhood is well known throughout South Florida as one of the best neighborhoods for amazing food and creative craft cocktails. This chic, sleepy oasis is home to many acclaimed restaurants and bar concepts, and South Pointe Tavern is definitely one of them. At this beloved neighborhood spot, you'll find the largest selection of spirits in Miami Beach (including more than 200 kinds of whiskeys and more than 80 kinds of tequilas). Its extensive menu of seasonally inspired tipples has drawn discerning cocktail fans to the bar since the Tavern opened in 2016. But in addition to serving up delicious drinks and food in a laid-back, bistro-style setting with nautical touches, South Pointe Tavern also offers one of the best happy hours on the Beach. Monday through Friday from 5-7 p.m., guests enjoy half off all house wines by the glass, house spirits, domestic beer, and select cocktails. Pair your drinks with something tasty off the food menu, like piping hot pigs in a blanket served with tangy whole grain mustard, hoisin BBQ ribs served with a sweet and spicy chili-caramel sauce, or the SPT platter, which comes with your choice of salmon, mahi, chicken, shrimp, or veggie patty paired with your favorite specialty sauce.
South Pointe Tavern is located at 40 South Pointe Dr #109, Miami Beach, FL. For more information, visit southpointetavern.com or call (305) 763-8368.