What are you doing for brunch this weekend? With dining restrictions in South Florida lifted (for now), weekend warriors have plenty to celebrate. More and more restaurants have reopened not just for dinner service, but brunch service as well. There is bad news, though: Don't expect the return of the brunch buffet anytime soon – thanks, COVID. But Benedicts and bottomless mimosas are back in business across the city, so we decided to round up our favorite spots to help you find the best brunch in Miami.
Below, we've rounded up some of the best brunch spots in Miami. Whether you're looking for a healthy approach to brunch or you're seeking a "let's forget I have work on Monday" vibe, we have you covered with selections all over the city. Cheers!
Amare Ristorante
Italian food fans know that Amare Miami on South Beach is one of the best restaurants for the cuisine. But while most guests are familiar with Amare for its lavish dinner menu, its brunch offerings deserve just as much attention.
Classic brunch fare like frittatas and avocado toast will hit the spot for those seeking more breakfast-y selections, but the real stunners are – unsurprisingly – the pastas. Gnocchi braciola and lasagna Bolognese are both highlights on a short-but-sweet Mains section. Guests with a sweet tooth should look no further than the limoncello French toast for a memorable start to the day.
As you'd expect from an Italian brunch, Bellinis and mimosas all make an appearance, alongside aperol spritzes and negronis – there's no shortage of bubbles and booze here. Brunch is offered Saturdays and Sundays from 11:30 a.m. to 3:30 p.m. – that's more than enough time to make the most of your experience at Amare Miami.
Amare is located at 1 Collins Avenue, Miami Beach, FL 33139. For more information or to make a reservation, call 786-598-8622 or visit their official website.
Bachour
The namesake restaurant from internationally acclaimed baker Antonio Bachour spares no expense when it comes to a quality brunch (and breakfast) experience. It should come as no surprise that there's a big focus on the sweet offerings at this Coral Gables eatery. Two crowd favorites – the guava and cheese pancakes and the challah French toast – are sure to put a smile on anyone's face with their bright flavors and beautiful Instagram-worthy looks.
These sweet restaurant selections are bolstered by a beautiful lineup of bakery selections that put Bachour's skills on full display. Carrot cake, gianduja cake, Valrhona brownie, tiramisu tarts … dentists everywhere need to look out. Even if you're full of brunch food, take a few of Bachour's greatest hits with you on the road.
Not in the mood for something sweet? You're at the wrong place. Just kidding: Dishes from the other end of the spectrum are just as impressive as their sugary counterparts. One bite of the Bachour egg sandwich makes for a messy meal but will win over even the pickiest of palates. There are also brunch classics like croque madame (and mademoiselle), avocado tartines and chilaquiles. Because Bachour offers an all-day menu, you'll find items like a Reuben sandwich, bone-in short ribs and deep-fried whole fish, too. With such a varied menu from morning to night, you have no reason NOT to go.
Bachour is located on the ground floor of 2020 Salzedo Street, Coral Gables, FL 33134. For more information or to make a reservation, call 305-203-0552 or visit their official website.
Glass & Vine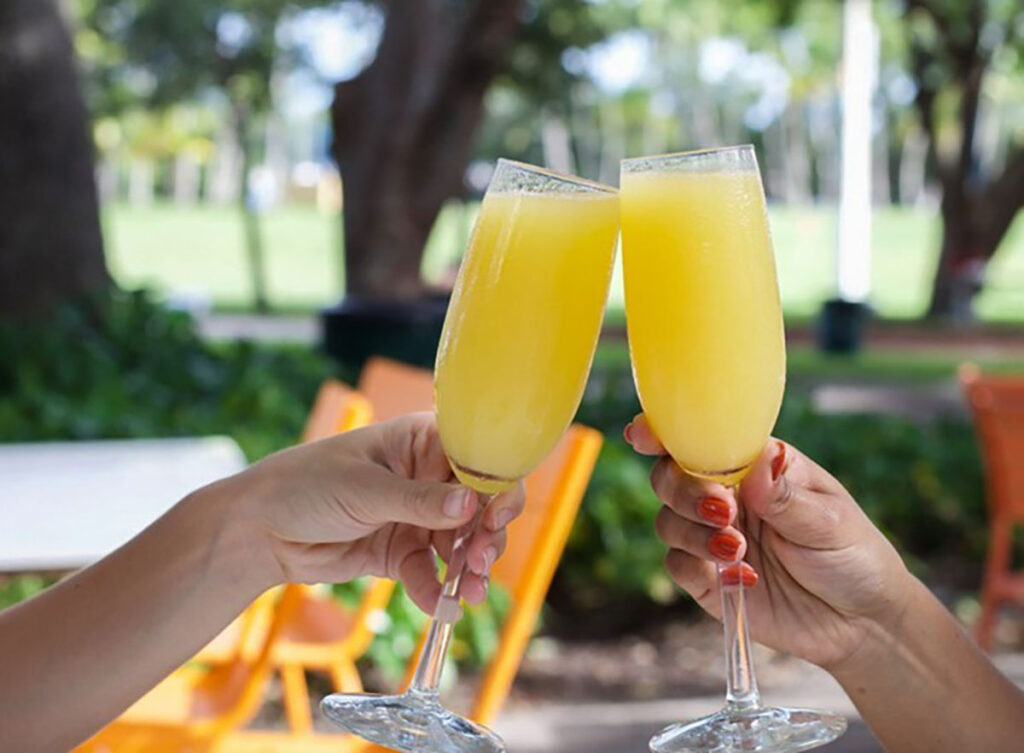 If the weather is looking good for brunch, then a trip to Glass & Vine is in order. No matter how far you have to drive, the Coconut Grove restaurant is worth the trek for its beautiful outdoor setting and hearty brunch selections. Emphasis on the hearty: We're talking steak and eggs, fried chicken sandwiches, and chicken and waffles. It's best you avoid counting calories today.
You'll find a lot of familiar fare on the menu but taken up a notch. Yes, there's French toast, waffles and benedicts – brunch classics galore – yet they all feature fun twists that keep diners on their toes. Case in point: Corn Flake-crusted French toast and dulce de leche waffles. The Surf and Turf Benedict is another clever variation that will have you rolling (happily) out of the restaurant.
Don't worry if you're not in the mood for something heavy or some extra time at the gym. Lighter selections are abundant: A refreshing watermelon salad and a tasty grilled fish sandwich pack in as much flavor as their more indulgent counterparts. What's cool about the brunch menu is that it also features many of the regular menu options, so first-timers can get the best of both worlds in one meal. And of course, brunch cocktails are available.
Glass & Vine is located in Peacock Park at 2820 McFarlane Road, Miami, FL 33133. For more information or to make a reservation call 305-200-5268 or visit their official website.
Lilikoi Organic Living
Should you be searching for a healthier approach to brunch, look no further than Lilikoi Organic Living in South of Fifth. At Lilikoi Organic Living, brunch is served all day, every day, so you can satisfy your breakfast-like cravings whenever you want. The offerings at Lilikoi range from veggie egg frittata and house made banana bread to sous vide eggs benedicts and breakfast burritos – and several things in between.
There's a little something for everyone, and you won't feel much guilt after eating here. Portions are sizable but manageable; your dish is enough to leave you full and satisfied but not leave you ready for a nap. You actually feel good about yourself – it's a nice feeling.
Complementing these mid-day selections is a rainbow of juices and smoothies. The Lilikoi Signature Lemonade has that name for a good reason: Its delicious mix of ginger, mint and local wildflower honey is a must during any visit. You can also keep things simple with fresh pressed orange juice or keep things interesting with the blueberry charcoal smoothie. Wine is also available if you want something a little more kick. One thing's for certain: the wide selection of drinks is enough reason to come back over and over again.
Lilikoi Organic Living is located at 500 South Pointe Drive, Miami, FL 33139. For more information, call 305-763-8692 or visit their official website.
Rosie's
After temporarily shutting down their Overtown bed & breakfast, chefs Akino West and Jamila Ross kept themselves busy with their on-site breakfast pop-up, Rosie's. Copper Door Bed & Breakfast has reopened, and Rosie's is continuing to serve some of the best brunch and breakfast food in the city.
On the menu is an array of traditional brunch dishes as well as some whimsical fare that showcases the range of talent behind the concept. A soft scramble toast with roasted mushroom, Parmesan and garlic stands out among more substantial options like the hot chicken and biscuit and fish and grits; it's arguably the star of the show despite its subtle appearance. 
The menu at Rosie's is constantly changing, and one of the latest additions to join the roster is the lemon ricotta pancakes with macerated berries; if you were to look up "light" and "fluffy" in the dictionary, you'd find a photo of this dish under each entry. And that's an understatement – they're perfect.
Expect to see more lunch and dinner-appropriate items available soon. While breakfast and brunch have been the pop-up's bread and butter, the duo has been adding selections like oxtail rigatoni to the all-day menu. We say the more, the merrier.
Rosie's is located outside Copper Door Bed & Breakfast at 439 NW 4th Avenue, Miami, FL 33128. For more information, call 305-454-9065 or visit their official website.
Seaspice
Seaspice's weekend brunch features the perfect pairing: great food and a great view. The waterfront backdrop is considered one of the best views in town, and it's one that everyone should experience for themselves. Day or night, the downtown restaurant is magical, but there's just something so relaxing about it during the day – especially when the skies are clear and mimosas are to be had.
The first thing you'll notice about the menu is its size. Compared to what you might be used to, the menu is short and sweet with over a handful of brunch selections to choose from. What it lacks in size, it makes up for in taste and presentation.
The truffle parmesan tagliatelle is one of the heavier dishes, which we suggest splitting with someone if you're not especially hungry. It's tempting to scarf down the whole thing, but that might keep you from ordering another signature staple: the Seaspice lobster benedict. The short rib benedict and shrimp avocado toast round out the menu along with salmon gravlax and a power waffle.
Even if you're not feeling the brunch options, fear not: An all-day menu is also available with many Seaspice favorites to enjoy. This is another place that provides the best of both worlds – with a gorgeous view to boot.
Seaspice is located at 422 Northwest North River Drive, Miami, FL 33128. For more information or to make a reservation, call 305-440-4200 or visit their official website.