Whether you're trying to slim down or just eat a little healthier, these six Miami restaurants have you covered with plenty of healthy takeout options.
GreenLife Organic Bistro
Whether you visit the Coral Gables or Brickell location for takeout, one thing's for sure at GreenLife Organic Bistro: You're in for a treat. The healthy spot is known for its signature acai and smoothie bowls that are loaded with fruits and flavors—you can even create your own. Other healthy options include salads, wheat sandwiches, and spinach wraps plus organic smoothies, cold-pressed juices, and teas. This place has it all.
GreenLife Organic Bistro has locations in Coral Gables and Brickell. For more information, visit their official website.
Kosushi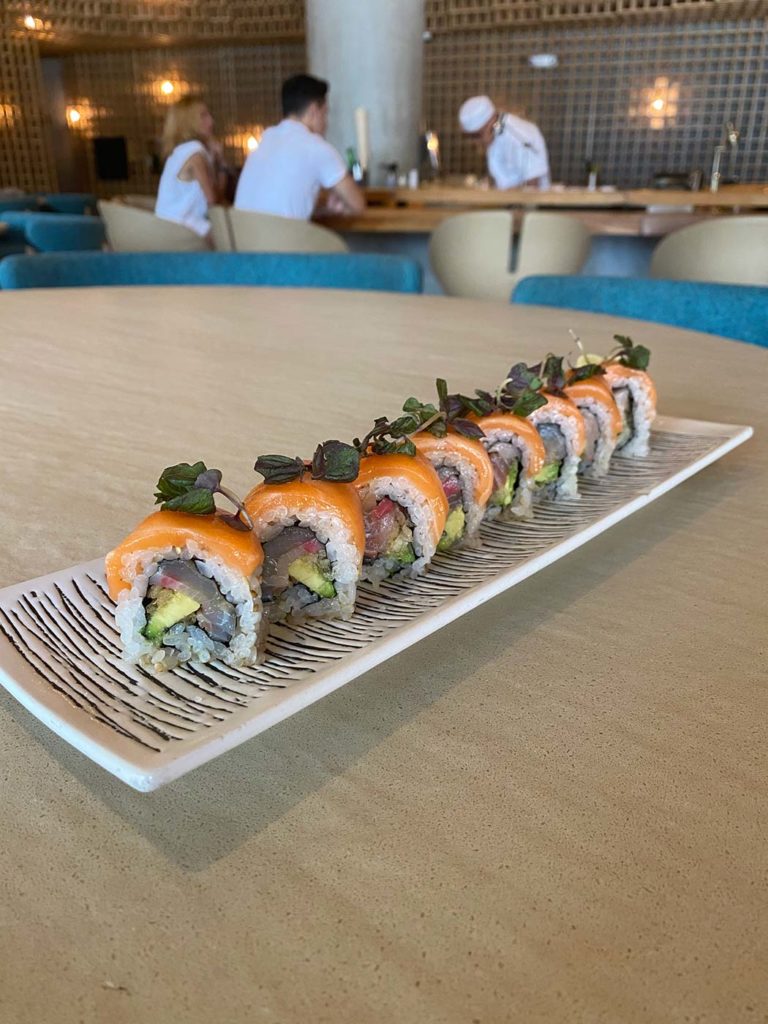 Kosushi in South of Fifth is an experience. While we would recommend dining in whenever possible, the food is just as memorable for takeout. You can enjoy many crowd favorites to go: salmon truffle maki, baked cauliflower, miso seabass skewers, and more. With such a large menu, it's easy to order healthy fare for the road. Just don't wait too long to pick up your food—it's best enjoyed as quickly as possible.
Kosushi is located at 801 South Pointe Drive, #105, Miami Beach, FL 33139. For more information, visit their official Instagram.
La Giulietta
Another great spot with an extensive menu: La Giulietta in Ironside. The menu at this cozy eatery is internationally inspired, so expect a bit of everything—all available to go. Selections range from breakfast pastries and sandwiches to salads and seafood. Most of the items are on the lighter side; highlights include the salmon tiradito, tuna tartare, airline chicken anticuchero, and burrata salad.
La Giulietta is located at 7580 NE 4th Court, Miami, FL 33138. For more information, visit their official website.
The Doral Yard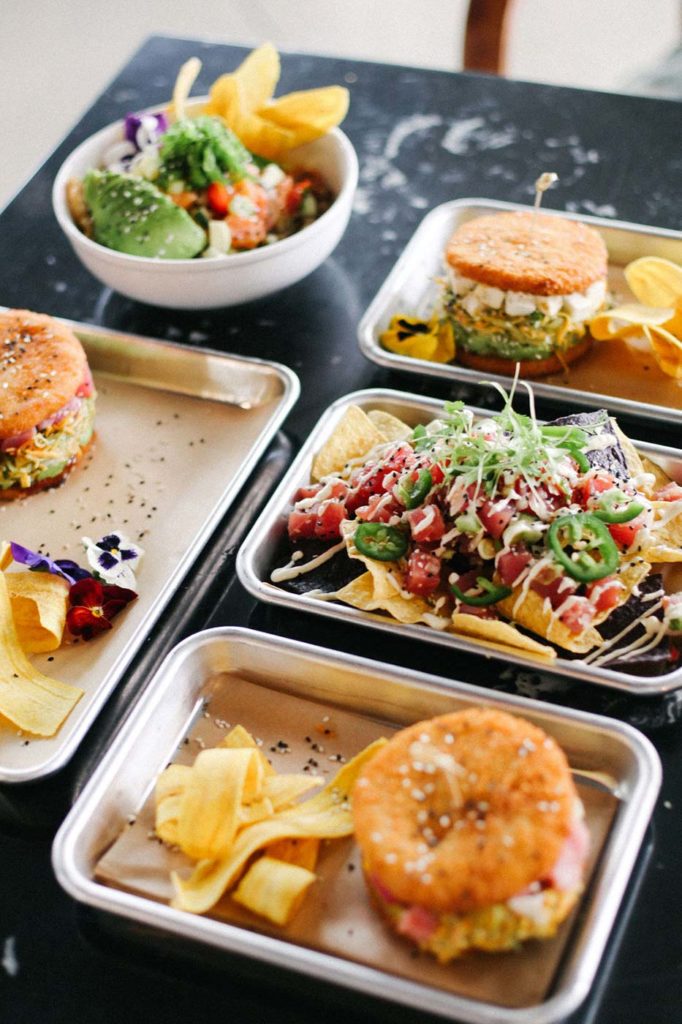 Not sure what you're in the mood for? Then head over to The Doral Yard, where you'll find a mouthwatering lineup of vendors. Enjoy some delicious chicken dishes at Un Pollo, nosh on a plant-based bowl at Della, or scarf down some dumplings at Yip. You won't have any problem finding healthy(ish) items on everybody's menus, so it all comes down to preference. Even dessert vendors like Paletas Morelia have something for the calorie conscious. So pick your favorite items and get them to go.
The Doral Yard is located at 8455 NW 53rd Street, #106, Doral, FL 33166. For more information, visit their official website.
Vista
Vista's vibrant menu is sure to impress regardless of whether it's enjoyed on site or on the road. The Upper East Side restaurant boasts an internationally inspired menu featuring selections like seared scallops, artichokes and greens salad, branzino, octopus, and avocado toast. There's even a kids menu if you need to feed your little ones, however, it's not so light: chicken Milanese, steak and fries, and margherita pizza.
Vista is located at 5020 NE 2nd Avenue, Miami, FL 33137. For more information, visit their official website.
Wabi Sabi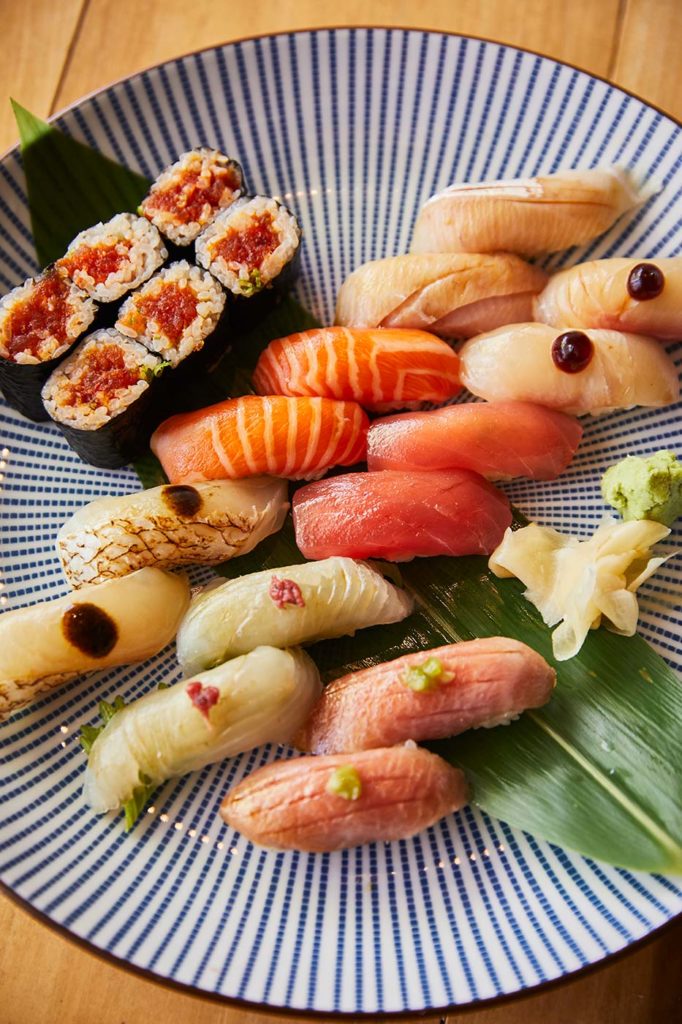 You can never go wrong with sushi, and MiMo's Wabi Sabi serves it up in spades. What started as your neighborhood healthy bowl shop has expanded its menu to include some of the tastiest rolls in town—and they're available for takeout. Load up on spicy tuna and Hamachi rolls or try something a bit more adventurous like golden eye snapper, saltwater eel, and sea urchin. There's no shortage of proteins here, so we suggest experimenting. Just make sure to eat the food as soon as possible—this is another spot where the food is best enjoyed ASAP.
Wabi Sabi is located at 851 NE 79th Street, Miami, FL 33138. For more information, visit their official website.