This list is for all the New Yorkers who have made the move to Miami and chose to resettle in the tropical paradise, without sacrificing the allure of the big city vibes. For those of you who are still considering making the move, we've got you covered too. Thankfully, Miami hasn't seen much of a slow down in light of the pandemic. Whether it's fresh seafood by the beach, late-night ramen, or fresh-baked goods—we've got it! So if you are missing some of those iconic New York munchy destinations, here's a list of their equivalent for the best restaurants in Miami.
How to Eat Like a New Yorker in Miami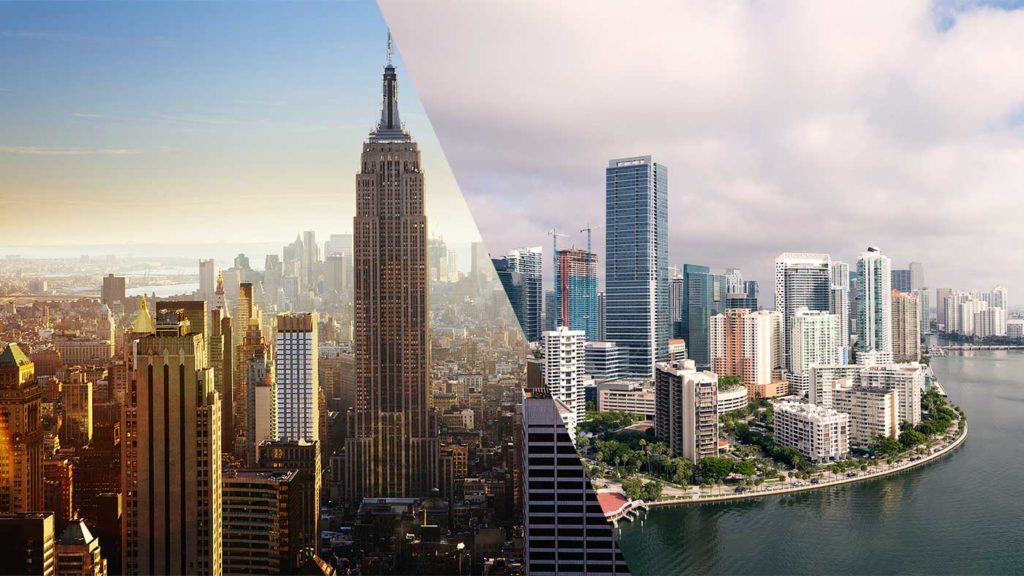 Lilia – Osteria Del Teatro
Whether you're already addicted to Lilia's scrumptious handmade pasta or you were one of the many who could only make it to the waiting list, Miami's got you covered. Much like Lilia, Miami's iconic Osteria Del Teatro is the ideal spot for people-watching in a classy atmosphere with mesmerizing Italian fare.
If your favorite homemade pasta dish at Lilia's was Rigatoni Diavola don't miss the Rigatoni Amatriciana at Osteria Del Teatro, made with fresh tomato sauce, aromatic herbs, and pancetta. Oh, and you definitely won't want to skip the establishment's luscious menu of appetizers. To finish, top it off with the most authentic Tiramisu this side of the Atlantic.
Osteria del Teatro is located at 1200 Collins Avenue, Miami Beach, FL; (305) 538-7850,; osteriadelteatro.miami; Open Thurs-Sun, 5 -9:30 p.m.

Peacefood is a well-established vegan oasis for New York's hefty health-conscious community. Luckily, Miami shows no lack in that game either. Lilikoi Organic is not 100% vegan but that just means more options on where to grub with your omnivorous friends. Plus, they live up fully to their mantra of organic eats and sustainable ways.
Go for the Probiotic Bowl and Vegan Nachos for a taste of home, and make sure to get a side of their signature Gobo Chips to share. For a quick post-yoga snack stop by for one of their many smoothies — the Kale Pina Colada really does taste better when you're not shivering.
Lilikoi Organic Living is located at 500 South Pointe Drive, Miami Beach, FL 33139; (305) 763-8692, https://lilikoiorganicliving.com/; Open every day 8 a.m. – 7 p.m.

New York = cold East Coast waters = Lobsters. Whether you've made it out to Green Point to get a taste of Lobster Joint or not doesn't really matter now that you're about to become a part of Miami's Lobster Shack family. Miami Beach = Lobsters, too.
These lobster rolls come positively loaded with Maine lobster chunks and can be served with sides like clam chowder or lobster bisque, to name a few. Furthermore, the menu boasts live oysters, seafood tacos, and crab dinners. The best part about the Lobster Shack is that its steps away from the beach. Don't be shy to use their "straight to the beach" delivery option — we all know what you really came to Miami for, anyway!
The Lobster Shack is located at 40 South Pointe Drive, Miami Beach, FL; (305) 763-8230, lobstershackmiami.com; Open daily, 11 p.m. -10 p.m.
The Lobster Shack's second location on Lincoln Road is located at 613 Lincoln Road, Miami Beach, FL; (305) 397-8032, lobstershackmiami.com; Open daily, noon-10 p.m.
Ol' Peter Luger is the steak place to take out-of-town guests and on-the-fence in-laws. The critics have spoken — one taste of their house dry-aged steaks will surely have you craving for more. And then, there's Red. Red South Beach, has been featured in almost any respectable Miami publication you can name, attracting tourists, trend-setters, and television aficionados alike.
The signature cuts here take the cake — Miyazaki Japanese Kobe A5, Filet Mignon, Ribeye, New York Strip, and Porterhouse. However, the menu is not limited to steaks. There's a gorgeous selection of seafood, tartare, foie gras, and whole Maine lobster pasta. Decadent sides like four-cheese mac'n'cheese and truffled whipped potatoes might leave you in a food coma, but we guarantee you'll be planning your next visit to Miami's best steakhouse.

RED South Beach is located at 801 South Pointe Dr # Cu-1, Miami Beach, FL; (305) 534-3688; redsobe.com; Open every day, 6 – 11 p.m.
How not to miss Balthazar? This is the spot where all New Yorkers gather, where you can meet literally anyone from celebrities to your long-lost cousins. The vibe is always poppin' and we're sure you couldn't wait for next weekend's brunch date to be back in the lively atmosphere of the infamous French bistro.
We'll let you in on a secret—after a day out at Villa Azur you'll have no question as to why you ever left the big city. The masterminds behind the lavish villa bring the best of the French Riviera, and elegantly intermingle it with Miami's party scene. One brunch-time visit and you might find yourself dancing away into the wee hours. The menu is also nothing short of magnificence—fresh oysters, steak tartare, Dover Sole Meuniere, and decadent desserts paired with sweet sips await.

Villa Azur is located at 309 23rd Street, Miami Beach, FL 33139; 305-763-8688; villaazurmiami.com; Open Wed-Sat, 6:30 p.m. to 10 p.m.

If you need a good dose of cajun seafood, you've come to the right place. Florida may not be Louisiana but the cajun fare is jumpin' either way. For that authentic sea-boil vibe that you're used to getting at Claw Daddy's, head on over to CJ's Crab Shack. Ocean Drive may not be loaded with recommendable eats, but when it's there—it's there. And we're definitely recommending it.
What's good about CJs is that they're not just another boil joint. Instead, they've created their own authentic experience of a crab shack. The Shack is a family business and they've been doing their part to keep their recipes as delicious and pure as they were 95 years ago when Grand Daddy Gus started it all. For the real deal, order a Crab Cake and CJ's Cajun Combo with Pasta Alfredo. To top it all off, Chris' Famous Rum Punch in a souvenir cup. Finish the meal off with a nice stroll down the beach — a Florida special.
CJ's Crab Shack is located at 600 Ocean Drive, Miami Beach FL 33139; (305) 604-5951; www.cjscrabshack.com; Open every day, noon-11 p.m.

Casa Adela is New York's iconic Puerto Rican eatery where the family has been holding it down for almost 50 years, treating both the locals and the hipsters to noteworthy eats. In Miami, you don't have to look hard to find an authentic Puerto Rican joint with the right vibe. La Placita got you covered.
Chef Mendin is inspired by Puerto Rico's bustling marketplace and brings the island eats directly to Miami, creating a melange of authenticity and upbeat city vibes. There's a lot on the menu that might catch the eye, but we're sure you'll be coming back for seconds anyway. For starters — Pastelon de Tati (sweet plantain casserole), Milanesa de Pollo (breaded chicken breast with green papaya salad), and the Mofongo Experience should be plenty to go around a small group of friends. If it's a solo lunch then you can't go wrong with their famous La Tripleta Boricua Sandwich (roasted pork, country ham, pastrami, fritas, salsa marirosa). By the way, La Placita hosts a healthy selection of rum and craft cocktails by the pitcher. Happy Hour is 4-7.
La Placita is located at 6789 Biscayne Boulevard, Miami, FL 33138; (305) 400-8173, https://www.laplacitamiami.com/; Open Wed-Sat, noon-11 p.m.; Sun, noon-10 p.m.
Casa Isola takes their pasta seriously. Seriously. We couldn't think of a better match for all you New Yorkers hungry for Italian roots cooking. The Mendin – Agnello team has opened this establishment with an understanding of Italian tradition and Italian-American cuisine. The perfect melange. Off the rip, you should be ordering the Pane Al Prosciutto, a Brooklyn-style bread baked with prosciutto, parmesan honey butter, and caponata. Portions are family-sized, just like nonna intended it, so save some room for the macaroni. Speaking of which, next up, the Pappardelle Alla Bolognese Di Coniglio. The broad and flat pasta with a braised rabbit ragu is a divine match for the one you would have in New York's Via Carota.
For dessert, another homage—Cartocci Siciliani. Cannoli's Sicilian relative, but a more decadent one. Think deep-fried sugar-coated dough with a healthy filling of ricotta. One last Miami tip—get the outdoor seats and enjoy the marine breeze and passing yachts. Not exactly the vibrant West Village streets, but we reckon it's a fine swap.

Casa Isola is located at 1418 20th St Miami Beach, FL 33139; (786) 558-5787; https://www.casaisolamiami.com; Open Tues – Sun 5 p.m. – 11 p.m.; Sunday Brunch noon-3p.m.
New York likes to stick to the roots, at times downright outdoing the original cuisine in terms of tradition and technique. Miami, on the other hand, is all about fusion. Those who have dined at Sushi Yasuda, let alone ordered their Omakase might have a difficult time finding something that lives up to par.
No fret — Kosushi brings Miamians a taste of top-shelf Japanese cuisine. Hailing from Brazil, this new edge restaurant puts forth Japanese attention to detail and Brazilian flavor with a dash of Miami ingenuity. For fresh-fish cuts order the Chef's special sashimi set. And for a taste of what Kosushi is really known for, the salmon belly tartare served with fried taro chips and an eye-catching dollop of osetra caviar. The menu is not short of traditional and signature sushi and sashimi, melting pot appetizers, and gorgeous main dishes with rare ingredients. The stunning wooden environment was designed by reputed architect Arthur Casas. Kosushi also hosts a fine collection of sake and wine for any taste.
801 S Pointe Dr, Miami Beach, FL, 33139; (786) 647-7272, kosushimiami.com; Tues – Sun, 6 p.m. -12 a.m.
Court Street Grocers have been satisfying every Brooklynite sandwich cravings for a good minute. With over 30 varieties to choose from daily, the bread's coming in fresh from city bakeries, and prime cold cut slices, it's no wonder you're missing the bite. So for those who are hungry for the soft and crunchy — we got Ruby Dee's. Best sandwiches in Miami, hands down.
Ruby Dee's is a relatively new establishment on the Miami scene but it's already gaining well-deserved recognition thanks to their bomb sandwiches and next-level Kusshi oysters. Located within what is known as MIA Market, Ruby Dee's doesn't take up a lot of space but surely earns a place in the heart of Miami's foodies. Chef Daniel Roy works with a small menu of seasonally available items so you won't need much time to choose. All in all, you'll probably go straight for the Wagyu Picanha Sandwich, like us. That's prime wagyu beef, white cheddar cheese, habanero aioli, and sweet hot peppers, all nestled atop a soft and crunchy cut of baguette. Take that, New York!

Ruby Dee's is located inside Mia Market at 140 NE 39th St, Miami, FL 33137; https://www.miamarket.com/ruby-dees; Open Mon. – Fri., noon- 8 p.m.; Sat. – Sun, noon-9.p.m.
Kenka is as iconic in the world of quirky Japanese eateries as can be. Every New Yorker has stood on Saint Mark's waiting for a seat in this bustlin' place just to feast on some meat skewers or the takoyaki roulette. Our best remedy for being "kenka-sick" — Buya!
Not a far stretch away, Buya is as izakaya as it gets. Modeled after the iconic bars of Golden Gai in Tokyo, Buya is covered in Japanese posters and serves up quality Japanese comfort foods and beer snacks. Make this your next hang-out destination with the gang, and order yums for the table. Delectable bites include the crispy karaage served with kewpie mayo, the steamin' Duck Gyoza Hot Pot, and the Short Rib Ramen. Come between 3-6 p.m. for the deals on karaage, buns, and brews.

Buya is located at 250 NW 24th St, Miami, FL 33127; (305) 699-0601, buyarestaurants.com; Open every day noon-11 p.m.

La Giulietta may not be as poppin' as Bushwick's Roberta's (yet), but every good Italian establishment has to start somewhere, no?
La Giulitta and Roberta's in fact share some similar philosophies — a warm and sustainable hub in the community, for the community. Located within Miami's Ironside (a quaint little district filled with artisanal cafes, shops, and even a garden to stock La Giulietta's fridge,) it's the ideal location for an outdoor gathering with friends. As far as food goes, what you'll really be coming back for is the pasta (handmade daily) and bread (fired on Florida cedarwood). Feast on one of our faves — Lombrichelli Alla Parmigiana, rustic thick noodles, wood-fired eggplant, locally farmed tomatoes and basil, and salted ricotta cheese. Explosive!
The charming eatery also offers salads, flatbreads, and heartier mains, like meat and fresh-caught fish — also wood-oven fired.

La Giulietta is located at 7580 NE 4th Ct, Miami, FL 33138; (305) 702-0252; www.miamiironside.com/lagiulietta; Open Tues – Sun, 8 a.m. – 10 p.m.; Mon, 8 a.m. – 3 p.m.
Oasis – Meet the Goat
Oasis has been feeding hungry mouths with enormous fresh falafel balls since pre-Williamsburg Williamsburg. Naturally, any New Yorker will seek out an affordable falafel joint before making any rash decisions (like riding the bus.) In other words, "city-based Middle Eastern grub" is really a synonym for "travel security."

With the amount of clout they have in the Miami streets, you'll be surprised they had their grand opening merely a month before the pandemic. Aside from falafel they also serve delicious Lebanese & Mediterranean foods like baba ghanoush, rice-stuffed grape leaves, kabobs, and shawarma.
P.S. Baklava = yes. Baklava + Coffee = yes yes.

Meet the Goat is located at 16 W Flagler St, Miami, FL 33130; (786) 717-6015, meetthegoat.co; Open every day 11 a.m. – 10 p.m.
In the city of bagels, Black Seed was able to capture the hearts of New Yorkers since its inception. Coming to Miami, you may be wondering where to find the soft chewy dough with the ideal cream cheese shmear. Look no further than Zak the Baker, Wynwood's gem of a bakery.

Zak the Baker serves up next-level Kosher-certified bagels with scrumptious toppings like smoked salmon, whitefish salad, tuna salad, and house-made cream cheese (all sold by the tub). The bakery provides all sorts of baked goods — sourdough things, cookies, turnovers, challah, breads, sandwiches; as well as coffee, teas, and juices. It gets no better. Pro tip: Show up early. The goodies do sell out.
Zak the Baker is located at 295 NW 26th St, Miami, FL 33127; (786) 294-0876, zakthebaker.com; Open Sun – Fri, 7 a.m. – 5 p.m.
Van Leeuwen is really the New Yorker's first date come summertime — that means yes, they serve some of the best ice cream this side of the universe. Their innovative flavors and vegan options are of course sold at their homebase, and even grocery stores and delis. Miami being warm year-round, naturally, a solid ice cream find is a must.
And thus, Dasher and Crank has come to the rescue. Located in Wynwood, it's a great stop after grabbing your daily baked goods from Zak the Baker. The creamery takes pride in its small batches of flavors (with over 425 varieties created to this day). Each week is a new flavor, some of which are results of collabs with local Miami establishments. So you'll have plenty of chances to stop by again, and again. And again. The ice cream and sorbet are hand-crafted with some favorites being Ube (coconut ice cream with Philipino purple yams – vegan), Yoko Matcha (coconut-matcha, vegan), and London Fog (Jojo's Earl Grey Tea and dark chocolate chunks).
Dasher and Crank is located at 2211 NW 2nd Ave, Miami, FL 33127; (305) 640-8579; dasherandcrank.com; Open Mon – Thurs, 10 a.m. – 11 p.m.; Fri – Sun, 10 a.m. – midnight.
Mr. Taka has definitely been an essential ramen joint in the LES, year-round, day and night. Coming to hot and humid Miami, pipin' hot bowls of soup may not be the first thing on your mind, but that's cause you haven't tried Momi Ramen yet. And indeed, it is some good competition for Taka San.
Most important, Momi is here to support the Miami community — serving up bowls into the wee hours (sometimes even open 24 hours). The ramen broth is made from chicken and pork bone marrow with exquisite toppings like pork char siu, oxtail, shrimp, and wagyu. The ramen noods are house-made and the sake selection is extensive.

Momi Ramen is located at 5 SW 11th St, Miami, FL 33130; (786) 391-2392, https://www.facebook.com/momitamen/; Every day, noon-2:30 a.m.
We know you gotta be craving some of Red Rooster's famous grits right now, paired with a nice craft cocktail for the perfect Sunday brunch. In fact, many-a-celebrity have graced the doors of the famed establishment. In Miami, we got Blue Collar paving the way for Southern Soul Food. It's been on the scene for almost 10 years now and stays. So, be ready for a wait. But please do remember — very very good things come to those who wait.

Dive into comfort food classics like Shrimp'n'Grits (served with smoked bacon and New Orleans style BBQ sauce), Conch Fritters (with spicy tartar sauce), and Spicy Oxtails (with 4 spiciness levels). They also have a vast array of veggie dishes, so yes, finally you can bring your vegan friends to get Comfort Food. The staff is always friendly, so you know you're leaving Blue Collar happy and jolly as if you just came from gramma's house.

Blue Collar is located at 6730 Biscayne Blvd, Miami, FL 33138; (305) 756-0366, https://www.bluecollarmiami.com/; Open Mon – Fri, 11:30 a.m. – 3:30 p.m., 5:30 – 10 p.m.; Sat – Sun, 11:30 a.m. – 10 p.m.
If you miss jammin' the night away with some legit jerk chicken, head on over to Miami's Dukanoo. They got the vibes to match. They got you set for brunch, "Irie hour" (happy hour), ladies night (Thursdays), and late-night food and dancing. Just check out their IG to see what's poppin' this week. Choose from indoor seating or an extensive "backyard" style outdoor space which can't help but invite the grooves.

Some must-haves: jerk chicken (grilled on their very own jerk stand), pressed plantain bites (topped with crispy fried snapper and escovitch veggies), and vegan ackee callaloo rolls. If you're looking for a place like Dukanoo it means you are ready to party, so don't skip out on their extensive selection of tropical cocktails. But really, just order "The Bong" and get ready to partyyy.

Dukanoo is located at 316 NW 24th St, Miami, FL 33127; (786) 334-5150, dukunoojamaicankitchen.com; Open Tues – Sun, noon-midnight.
The Smith – Greenstreet Cafe
The Smith is the establishment for native New Yorkers and out-of-town guests to enjoy a fine American brunch while people-watching on the streets of East Village. The next time you find yourself wondering where you can do all that and more in Miami, head on over to Coconut Grove's Greenstreet Cafe. It's the place for people-gazing and brunching. The extended outdoor patio gives patrons a nice fresh breeze from the Atlantic too, so you rarely find people seated inside.

The menu features staples of American cuisine prepared right. Expect the classics: French toast, eggs, and omelets prepared any way you like it, and pancakes, including the Cinnamon Roll Pancake (a must-try.) For the nice Miami weather, order up a sangria pitcher for the table and enjoy the perfect lazy afternoon before hitting the beach, Florida style.

Greenstreet Cafe is located on 3468 Main Hwy, Miami, FL 33133; (305) 444-0244, www.greenstreetcafe.net; Every day, 7:30 a.m. – 10 p.m.