Ah, September in Miami. The temperatures are marginally cooler while the dining scene remains as hot as ever, and between the breezy vibes and ever-growing restaurant list, it's the perfect time to hit the town to explore the latest. From upscale Lebanese spots to fully plant-based eateries, here are eight new restaurants to check out this month.
Amal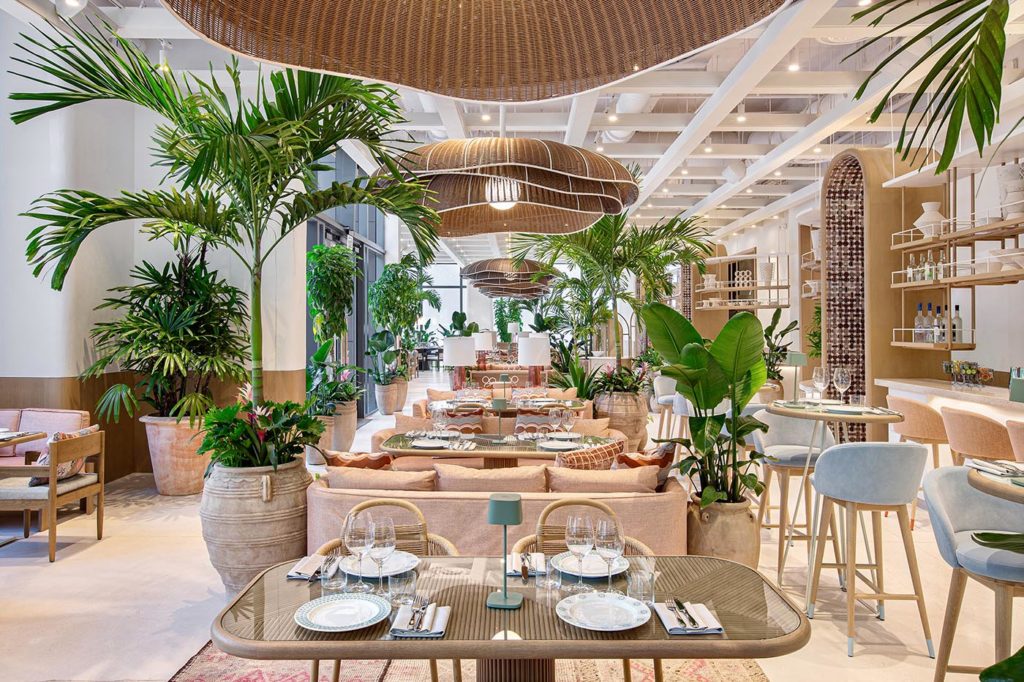 This 180-seat Lebanese restaurant is the latest venture from INK Entertainment Group. Amal features 8,000 square feet of spectacular design by award-winning Studio Munge with Lebanese flair and a soulful rooftop bar lounge.
Inside the eatery, guests will find a space inspired by Lebanon's sandy shores and Mediterranean architecture. Think terracotta colors, pastel blues, and dusty rose. Around the restaurant, a plethora of interesting details will catch your eye, like gently stacked 8-feet wide oversized woven baskets and a collection of sculptural earthenware artifacts.
On the menu, expect items like Truffle Rakakat with honey, grapes, mint, and pistachio; Kibbeh Nayeh with beef tartare, bulgur, and house spices; Pistachio Kabab with minced beef and lamb and a house spice blend; Grilled Tiger Shrimp with spiced tomato emulsion, cilantro, and micro sorrel; and more.
Amal is located at 3480 Main Hwy Suite 100, Miami, FL 33133. For more information, visit their official website.
CHIKIN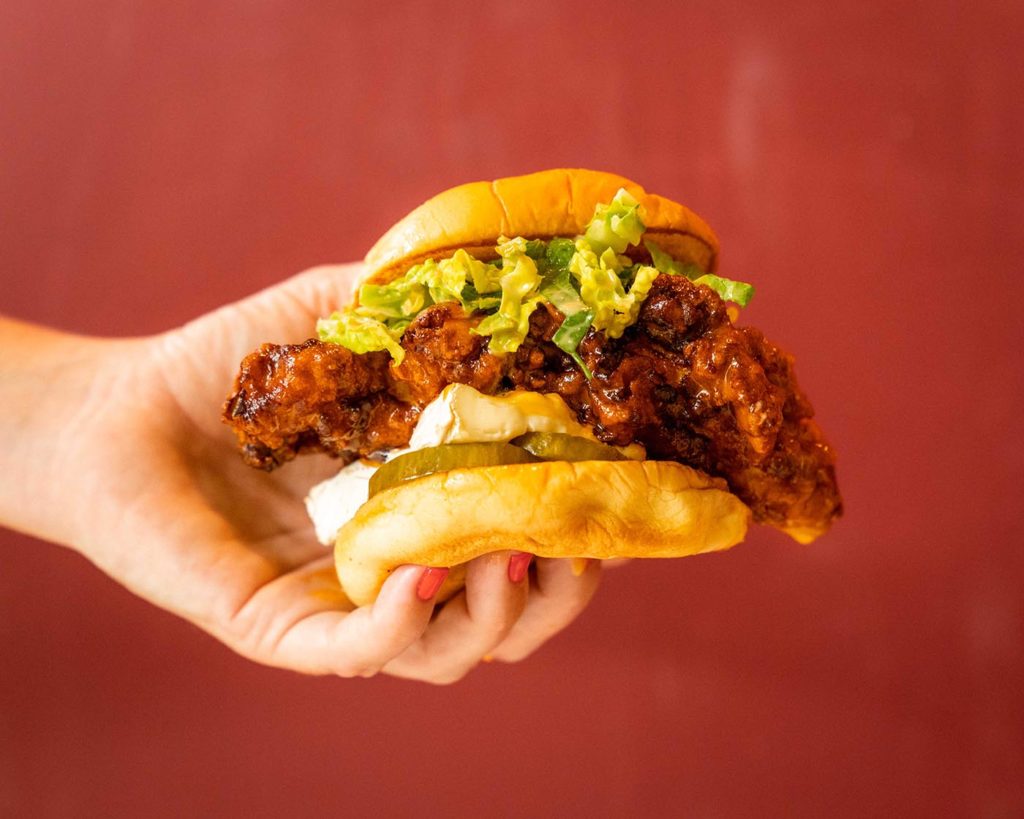 The latest vendor to hit the scene at Shoma Bazaar, CHIKIN, is a fast-casual concept from Scotch + Bacon Hospitality group serving up crispy fried chicken sandwiches with Asian-inspired sides and salads. Menu items include Chikin, Bacon & Egg, made with fried chicken, crispy bacon, sunny side egg, and American cheese; Spicy Chikin Sandwich with fried chicken, hot sauce, and yuzu pickles; Classic Cauliflower Sandwich, made with a crispy cauliflower patty, American cheese, lettuce, tomato and mayo; and a Watermelon Salad, made with Thai chili and herbs.
CHIKIN is located at 9420 NW 41st St, Doral, FL 33178. For more information, visit their official website.
Dirty French Steakhouse
Major Food Group (MFG), behind spots like Carbone and ZZ's Club, is back at it, this time with French fare and steaks aplenty. Dirty French Steakhouse opened its doors in Brickell and offers up a combination of traditional French dishes, steakhouse fare, and over 700 wine wins, in glamourous environs. On the menu, for now, are items like Mushroom Millefeuille with green curry and snap peas; Scottish Salmon, served with cherry tomato and harissa cocktail; Duck a L'Orange with ras el hanout and preserved orange; Filet Mignon; and Wagyu Tomahawk.
Dirty French Steakhouse is located at 1200 Brickell Ave, Miami, FL 33131. For more information, visit their official website.
Klaw Miami
This new Edgewater restaurant took over the five-story Miami Women's Club building to offer the area upscale surf and turf eats and the first rooftop bar in the neighborhood, all in fully restored digs. A partnership between entrepreneur Sasha Krilov and restaurateur Misha Zelman, the founder behind several London restaurants including the acclaimed Burger and Lobster, Klaw features unobstructed water views, as well as an abundance of "the very best, sustainably sourced cuts and crustaceans," per their website.
Klaw Miami is located at 1737 N Bayshore Dr, Miami, FL 33132. For more information, visit their official website.
Mazeh
NYC-based Hospitality Group GPG Hospitality has recently brought Downtown Miami its latest concept, a modern Middle Eastern eatery called Mazeh. Boasting a unique modern flair on traditional Middle Eastern cuisine (think tapas!), the Mazeh encourages guests to order small dishes throughout the night, rather than larger plates all at once. Middle Eastern flavors are applied to the tapas in a way that respects the fresh, local fare of Miami, offering an authentic taste of the region while allowing the main ingredients to shine.
Signature dishes include Arayes, made from ground lamb or grilled fish inside fresh pita and topped with amba; Falafel Cigars wrapped in brick pastry and served with tahini; Skewers, including grilled octopus with labneh and za'atar, grilled steak in a smoked tomato sauce and bone marrow olive vinaigrette, and grilled cabbage with green tahini and herb gremolata; and Mazeh's specialty Tiffin Box which holds an assortment of seasonal Middle Eastern dips and spreads served with fresh pita.
Cocktails are intended to elevate the flavors of the tapas. On the menu are items like the You Oughta Know, made with vodka, Lillet Rouge, grapefruit, dill, and honey; Doo Wop, made with silver rum, kaffir lime, passion fruit, lemongrass and lavender; and the Hypnotize, a vodka-based drink mixed with bergamot, smoked pineapple, and grapefruit.
Mazeh will also be open in the morning, offering a selection of breakfast boards. The boards include the Greek Breakfast which includes eggs, Greek salad, tzatziki, feta, and Kalamata olives; a traditional English Breakfast which includes eggs, baked beans, turkey bacon and sausage, tomato, and hash browns; a Continental Breakfast, featuring a selection of bread and viennoiserie; and the Middle Eastern Breakfast with eggs, Israeli salad, labneh, avocado, and tahini.
Mazeh is located at 227 NE 2nd Street at Yotel Miami. For more information, visit their official website.
Patio Isola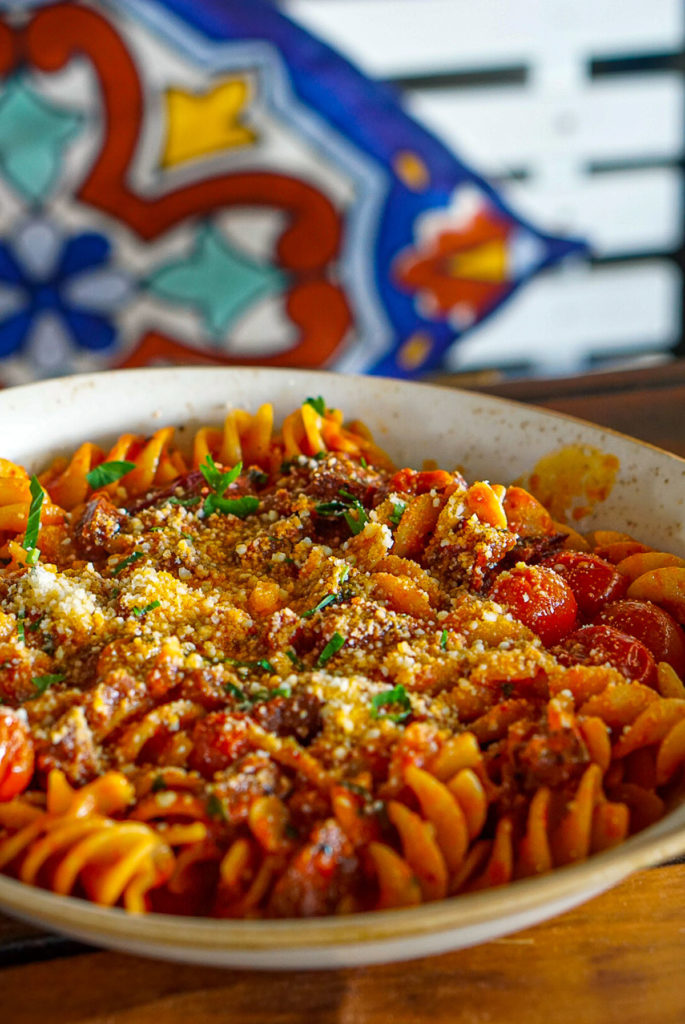 Casa Isola's sister restaurant, Patio Isola, is officially up and running! This means you can now snag chef Jose Mendin and chef-partner Santo Agnello's Italian concoctions in Midtown, too. Just like at Casa Isola, expect a scratch-made approach using the best possible ingredients.
Menu highlights include Linguini Mendini with aglio olio, pepperoncino e acciughe, garlic, olive oil and anchovy; Pappardelle alla Bolognese di Agnello with braised lamb ragu and pecorino; Fussilli Amatriciana with pomodoro, guanciale, shallots, white wine, nduja and pecorino; Braciola di Maiale Marsala with heritage pork chop, roasted wild mushrooms and polenta bramata.
Casa Isola lovers will also be thrilled to learn that Santo Agnello's former experience as a Lucali chef will now shine at Patio Isola, where the two have added several pizzas to the menu, including the Don Enzo with pepperoni, sausage, nduja, mikes hot honey, pecorino, and fresh cut basil; La Polpetta with meatball crumbles, ricotta, mozzarella, pecorino, and fresh basil; MiMo Calzone with pepperoni, shallots, long hot peppers, ricotta, mozzarella and parmesan; and more.
Patio Isola will also offer a cocktail menu, including beverages like the Giardino Verde with vodka and fresh cucumber juice; Sicilian Gin Fizz with Malfy Lemon Gin and lime juice; and Punch della Passione with Jim Beam Orange and orange blossom infused tea.
Patio Isola is located at 6789 Biscayne Blvd, Miami, FL 33138. For more information, visit their official website.
SoBe Vegan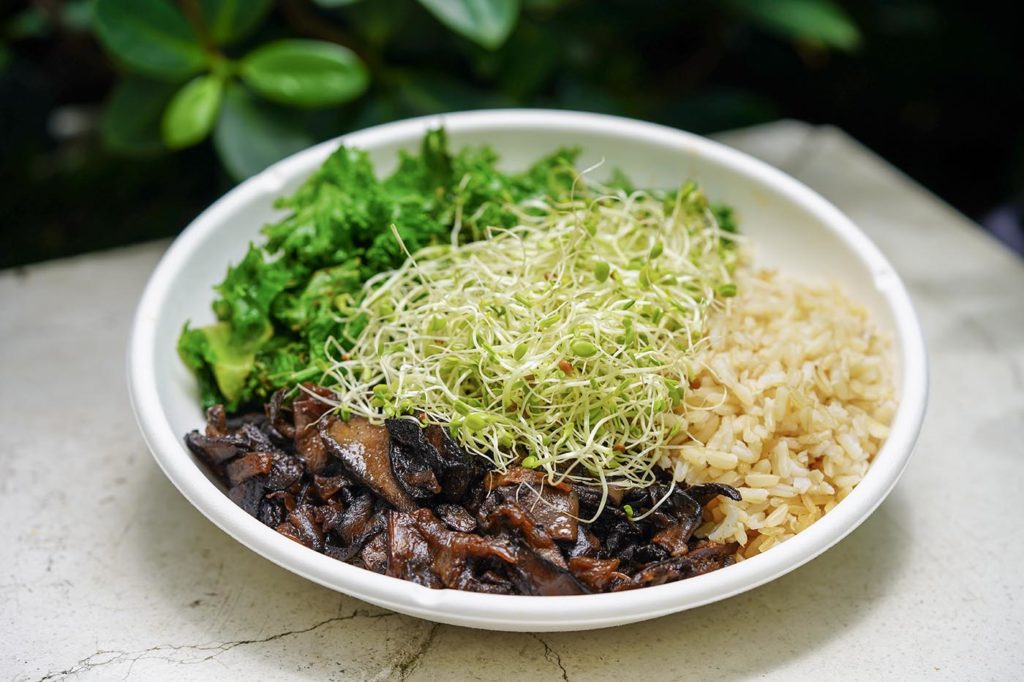 Fort Lauderdale's 100 percent plant-based restaurant has officially opened a new location in the South of Fifth neighborhood. Owners Kris Singh and Nick Abraczinskas traveled the world in search of great-tasting vegan food and brought to life the SoBe Vegan concept with one core promise: to offer a fun and healthy way of living with a focus on environmental sustainability and locally sourced ingredients, whenever possible. Their menu is divided into sections such as Salads, Power Bowls, All Day Breakfast, Burgers, Tacos, Chick'n Sandwiches, Hot Dogs Sausages, and more.
Menu highlights include the Sausage, Egg and Cheese Sandwich, made with house-made sausage, scrambled egg, American cheese, and gluten-free sourdough; Philly Cheese Steak, served on a Hoagie bun, with provolone cheese sauce, sautéed mushrooms, burger crumble, roasted red pepper and caramelized onion; Spicy Chick'n Sandwich with lightly breaded chick'n, lettuce, tomato, pickle, spicy sauce, and blue cheese dressing.
SoBe Vegan is located at 110 Washington Ave # Cu-3, Miami Beach, FL 33139. For more information, visit their official website.
Vinya Table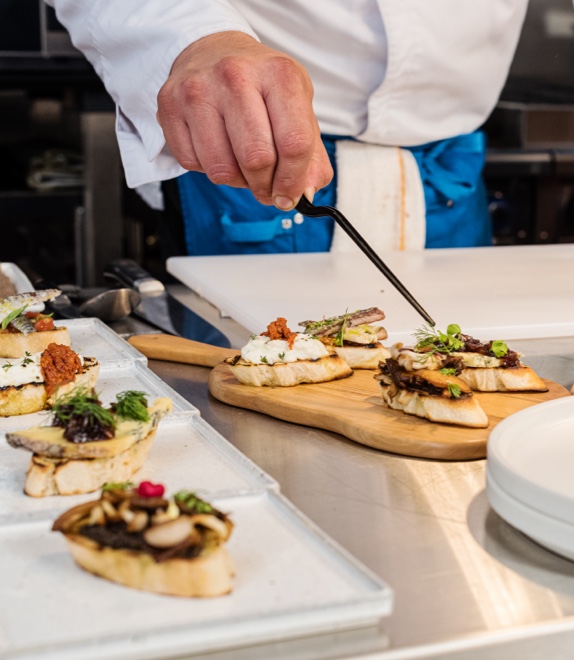 Miracle Mile's latest addition is a wine lovers paradise. In keeping with its sister Key Biscayne restaurant, Vinya Wine, Vinya Table offers a curated selection of vinos from around the globe, in a spacious 3,200-square-foot venue complete with a bar area and a wine market.
As for the food, expect small plates like Hamachi Tiradito with aji amarillo leche de tigre, torched orange and crispy quinoa; medium plates like Lamb Baklava with braised lamb, spiced pistachio and honey-orange glaze; rice and pasta dishes like Crispy Paella with seafood, chorizo, and vela pepper; and Braised Lamb Moussaka made with pasta-eggplant layers, sage béchamel, and grilled halloumi; meats, such as Chateaubriand served with béarnaise sauce and asparagus; as well as an assortment of soups and salads, charcuterie boards and a caviar and champagne experience.
Vinya Table is located at 266 Miracle Mile, Coral Gables, FL 33134. For more information, visit their official website.