September, we're all kinds of crazy about you so far. Not only are you offering us overheated Miamians slightly cooler (and less rainy) days, but you've also brought us a bouquet of new spots to get our nosh on. Here are 10 new or upcoming spots to keep on your radar.
The Backyard at The Doral Yard
The community-gathering concept created by Della Heiman Goldkind of Yard Hospitality and Joseph Furst, founder of Place Projects, The Doral Yard has announced the opening of its newest area, The Backyard, which will be open for happy hour. The Backyard boasts a larger live music stage, covered turf, casual self-serve seating, as well as an outdoor bar, a garden by Little River Cooperative, and a large screen for viewing movies and sporting events. The Backyard is also home to sweets culinary vendor Santo Dulce! Churros, Barbakoa by Finka from chef Eileen Andrade of Finka Table & Tap, Paletas Morelia, and Pokekai, a customizable Hawaiian poke bowl joint; as well as the myriad offerings of The Doral Yard.
The Backyard is located at 8455 NW 53rd St Suite 106, Doral, FL 33166. For more information, visit their official website.
Bodega Taqueria y Tequila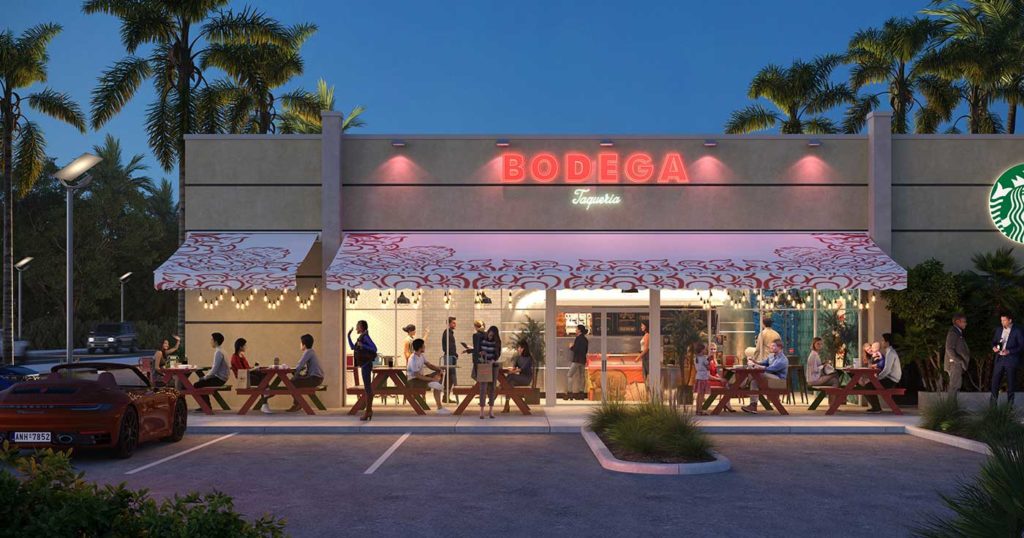 Known for its fast-casual, taco-meets-speakeasy-lounge concept, South Florida's iconic Bodega brand has officially opened a new outpost in the city of Aventura. The Aventura location will be a taqueria only, mirroring the food options of its SoBe sister in 1,500 square feet of industrial environs with Machine Age-inspired light fixtures, exposed brick walls, and outdoor picnic tables.
Expect Bodega classics such as burritos and tacos, as well as healthy alternatives like gluten-free tortillas, kale bowls, and cauliflower rice, along with a variety of Mexican beers, sodas, and frozen margaritas. They've already launched both brunch on the weekends and a daily happy hour from 6 to 8 pm with menu items ranging from $2-5, so mosey on over whenever.
Bodega Taqueria y Tequila is located at 19129 Biscayne Blvd, Aventura, FL 33180. For more information, visit their official website.
Crab du Jour
Can we really ever have enough of those New Orleans flavors? Nope. With over 60 locations around the U.S., Crab du Jour, a Cajun-seafood boil concept, is at it again with its newest opening (and its second Florida outpost) in Midtown Miami with more locations to come soon. Think a variety of baskets with options like fried shrimp, chicken, fried fish, fried oysters, and crab cakes; Po Boys; burgers and a bunch of customizable sharing-sized options.
Crab du Jour is located at 3201 N Miami Ave Unit 106, Miami, FL 33127. For more information, visit their official website.
Doya
Former Mandolin executive chef Erhan Kostopen has opened his own spot with no shortage of the incredible flavors we've come to know him for: a modern Aegean mezze bar serving up Greek and Turkish bites in Wynwood. Based on the principle that "food tastes better when shared," Doya offers a variety of shareable plates all made with simple, fresh ingredients, focused bold flavors, and prepared in unpretentious ways, often over wood fire and coals.
Menu standouts from the cold meze section include haydari, with garlic yogurt, burnt butter, and mint; muhammara, with roasted red pepper, pomegranate, walnuts, garlic, and breadcrumbs, octopus salad with garlic, virgin olive oil, and green pepper; and greens & fig, feta, watermelon-radish, and hazelnut-pomegranate dressing. Hot meze options include köpoğlu, potato, eggplant, pepper, zucchini, garlic yogurt, and tomato sauce; Doya kebab, wood fire-charred lamb; pide with truffle, made with kasseri cheese; and sucuk, grilled Turkish beef sausage, and cherry tomatoes.
Doya is located at 347 NW 24th St, Miami, FL 33127. For more information, visit their official website.
Los Felix
Coming soon to Coconut Grove is a new modern Mexican spot named Los Felix. Aside from traditional Mexican eats with indigenous roots, Los Felix will feature a natural wine bar and weekly vinyl DJ programming. Think casual and ultra-homemade (the restaurant even has an in-house Mexican tortilla mill) items like blue corn tortillas, tacos, arepas, tamales, and more. According to their website, Los Felix will honor the indigenous way by supporting "Mipla" farming, "an ancestral tradition of cultivating the soil with awareness of the sacred connection between self and land." Through Milpa farming Los Felix plans to cultivate and honor native ingredients such as heirloom corn, cacao, chiles, and squash, all of which will make regular appearances on the menu.
Los Felix is located at 3413 Main Hwy, Miami, FL 33133. For more information, visit their official website.
Lur
TimeOut Miami's latest, Lur, is a Basque-inspired, elevated tapas spot you'll want to run to as fast as your feet will carry you. From Michelin-trained chef Aitor Garate Berasaluze, formerly of Leku at the Rubell Museum, Lur is named after the Basque word for "earth" and will feature a plethora of fresh ingredients strewn throughout traditional Spanish eats.
Options from the tapas portion of the menu include Iberico charcuterie platter with 5 Jotas Iberico ham, chorizo, and fuet; pan con tomate, on Cantabrian bread with tomatoes and olive oil; and strawberry tomato gazpacho, with sundried tomatoes, strawberries, and microgreens. As for mains, think Angus tenderloin steak sandwich with grilled CAB tenderloin, arugula, and a special sauce; arroz caldoso de bogavante, grilled Maine lobster with creamy calasparra rice; and grilled octopus with crushed potatoes, thin-sliced grilled Spanish octopus with potatoes and smoked paprika.
Lur is located at 1601 Drexel Ave, Miami Beach, FL 33139. For more information, visit their official website.
Meet Dalia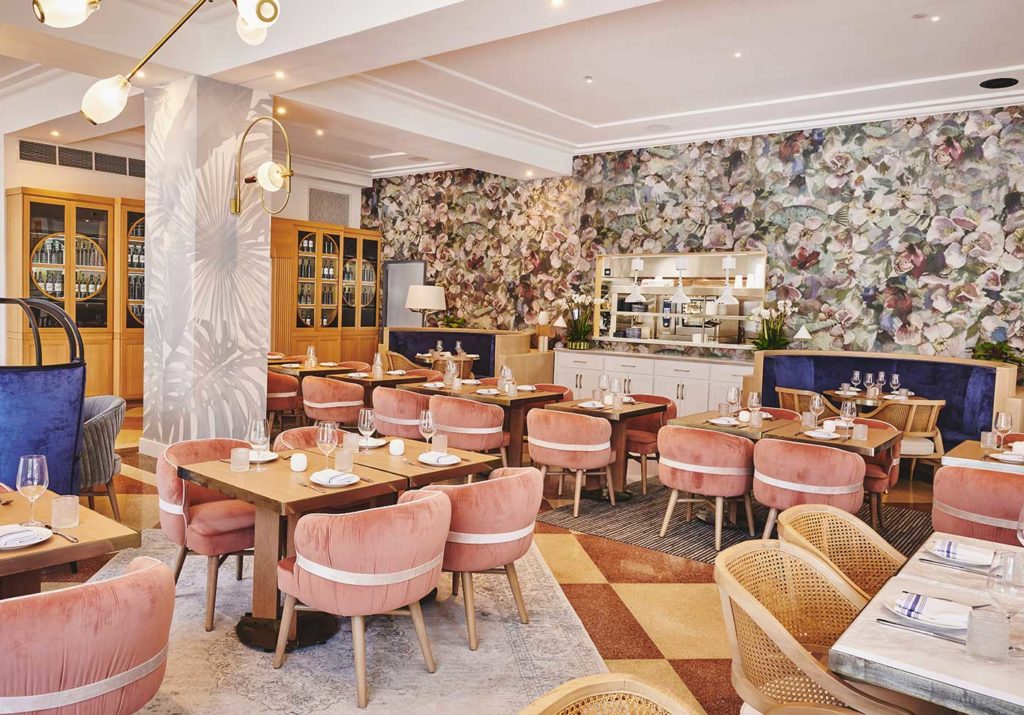 The latest from Toronto-based INK Entertainment, the lifestyle, entertainment, and hospitality company behind globally acclaimed restaurants such as Byblos, Akira Back, and French Made, is a Mediterranean eatery called "Meet Dalia."
Guests will be able to indulge in menu items focusing on fresh ingredients with interpretations of classic dishes created by INK executive chef Patrick Ochs. An open kitchen at the center of it all provides the ideal views while taking in the art deco décor, whimsical coastal colors, and bright Turkish rugs throughout the restaurant.
Menu highlights include raw bar options, ordered individually or in a seafood tower, such as oysters, shrimp, lobster, and stone crab; mezze options like babaganoush, smoked eggplant, za'atar, fermented cabbage, and confit garlic; kale tabbouleh, with purple kale, parsley, mint, pistachio, barberry, lemon vinaigrette, and crispy quinoa; and Mediterranean octopus, with white bean, greek yellow peppers, crispy sucuk, and caper.
Entrées include choices such as the Branzino, salt-baked in pastry, grape leaf, olive oil, chives, and caper leaf; moussaka, with short rib, roasted eggplant, crispy potato and chervil; and oyster mushrooms skewer, with avocado puree, sumac gremolata, and cilantro cress.
INK, founded by Charles Khabouth, is also launching two additional eateries in the near future: Meet Mia, a neighborhood lunch, dinner, and late-night spot that will hone in on the flavors of coastal and northern Italy; and Amal, a modern Lebanese restaurant and rooftop that pays homage to Khabouth's Beirut homeland. Stay tuned for more!
Meet Dalia is located at 640 Ocean Dr, Miami Beach, FL 33139. For more information, visit their official website.
Munch
Virtual food hall and ghost kitchen all rolled into one? Totally doable. Meet Munch, Coconut Grove's new combination food hall and ghost kitchen crossbreed, which offers both counter service and delivery options from several different food concepts housed under one roof.
Chef Aaron Dreilinger, the former chef of Celebrity Cruise Lines and creator of Florida Avenue Hospitality, used his vast corporate experience to bring together the space in partnership with Srinath Perera, the former executive for Yum! Brands and Burger King.
Munch vendors include 2Korean Girls, owned by two Korean sisters and serving up a healthy approach to Korean Bibimbap; Saucy Flamingo, a wing spot by Miami Brewing Co. known for its saucy wings and ice-cold brews; Dumpling Lady, a spot offering up homemade frozen dumplings and sauces; Baba G's, Dreilinger's take on Middle Eastern eats in collaboration with Zaytouna Foods; Stash Burger, a burger spot with a bend on locally-sourced meats and bold flavors; and Pup and Pantry, where you can grab some all-natural, hand-crafted treats for yours truly.
Munch is located at 2801-A Florida Ave, Coconut Grove, FL 33133. For more information, visit their official website.
Oche
The long-awaited gastro gaming lounge that's been on everyone's minds this summer has officially opened in the old Cibo space. Originally a Norwegian concept, Oche is named after the line dart players stand behind when throwing, so it should come as no surprise that the European-style bar and restaurant is filled with dart games from head to toe.
Dubbed Oche and pronounced like "hockey" without the "h," this is anything but your classic restaurant – nor is it simply a game-themed pub. Instead, the concept mixes socially-oriented dart games with chef-driven cuisine curated by executive chef Niels van Halen, formerly of Hoefslag, a Michelin-starred restaurant in the Netherlands.
Guests can reserve booths to play digitized darts, where scores are kept track of in real time, for up to 85 minutes for rates beginning at $25 per person.
As for food, think a full menu of high-end preparations. At the dart booths, expect small but mighty, shareable options. Standouts include feta croquets, with mango, passion fruit, and lime jam; spicy tuna cone, with cilantro mayo, salmon roe, sesame seeds, and waffle cone; and Wagyu slider on a brioche bun with smashed avocado, cheddar, and chipotle mayo. Grab a few of your favorites with Oche's dart menus which include either a bite of each snack, a bite of each favorite dish, or a chef's selection of eight small snacks and shareables including a sweet snack.
Behind the drinks is none other than Miami bar sage David Ortiz. Expect gin-heavy options and cocktails like Dartboard Dreams, with Broker Gin, red lavender oil, orange curacao, and grapefruit tonic; Game for Guanabana with Jose Cuervo tequila, soursop, lime and agave; and Coconut Killer with Don Q Rum, coconut cream, lime, agave and coconut shavings.
Oche is located at 200 South Pointe Dr, Miami Beach, FL 33139. For more information, visit their official website.
Square City Pie
Chef Jeremiah Bullfrog, the brain behind operations such as vintage Airstream turned gourmet food truck sensation GastroPod; Duck Duck Goose, an annual duck-inspired festival; and P.I.G. (Pork is Good), an event bringing together acclaimed chefs from around the country to celebrate all things pork, is officially back! His newest venture, Square City Pie, a Detroit-style pizza parlor located inside TimeOut Miami, is officially dishing out a menu of red pies, white pies, salads, and sides.
Bullfrog, whose prior high-profile stints include working with internationally renowned elBulli and Noma, is focusing on homemade items such as ricotta, focaccia, and chili oil, 72-hour double-fermented dough pies, and a variety of options for vegan, gluten-free and low-carb diners.
Pizza highlights include many magical mushrooms, with cremini, porcini dust, mozzarella, asiago, and garlic; all white e'rrything, with mozzarella, ricotta, parmesan, and roasted garlic; and red in the head, fire in the bed, with spicy Calabrian chili, mozzarella, provolone, and sauce.
Square City Pie is located at 1601 Drexel Ave, Miami Beach, FL 33139. For more information, visit their official website.
Unit B Eatery + Spirits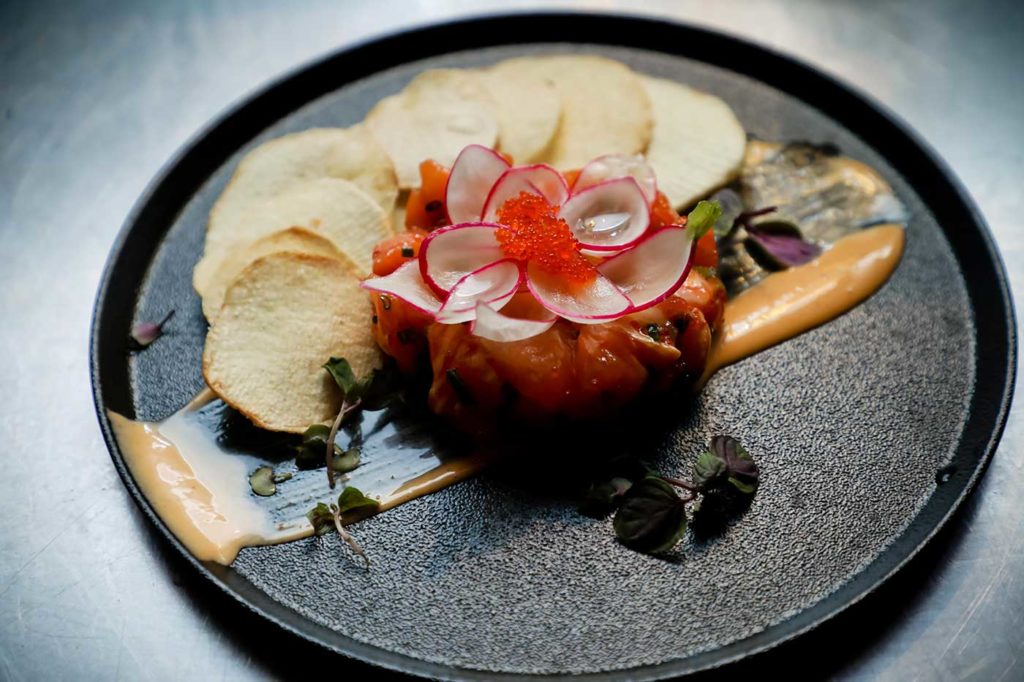 Pembroke Pines' fine dining newcomer boasts a speakeasy-inspired vibe complete with lo-fi beats, new American plates and handcrafted cocktails. Helmed by executive chef Yasemis Gomez, the menu offers a variety of starters, sharable items, greens and raw bites.
Menu highlights include market fresh oysters, served with a passion fruit-chili mignonette, radish, and mint; cauliflower bacon croquets, with cornichon relish and whole grain honey mustard aioli; pan-seared salmon, accompanied with carrot stew, caper, and raisin sofrito; spiced lamb chop, with crispy polenta, blackberry wine sauce, and lamb jus; and the 8 oz. pan-seared filet mignon, served with habanero butter and demi sauce.
Influenced by the prohibition era, the beverage menu includes creative cocktails such as fruit clouds, mixed with Joto Nigori Saki, Glendalough gin, lemon, orgeat, cranberry, and strawberries; overcast shadows, made with charcoal coconut rum, charred lemon, agave, aquafaba, and raw ginger; and the pre-prohibition gentlemen, a gin cocktail made with fresh lemon, egg white, and raspberries. Feeling adventurous? Order the dealer's choice cocktail and let your mixologist get creative with your favorite spirit.
Unit B Eatery + Spirits is located at 610 SW 145th Terrace, Pembroke Pines, FL 33027. For more information, visit their official website.