With so many new restaurants opening up all the time, deciding where to eat is becoming a serious mission. Our suggestion? Try them all! Here are nine new restaurants in Miami or upcoming openings to pencil in this month.
AC Bar & Lounge
Located at AC Hotel Miami Dadeland (opening next month), AC Bar & Lounge will be the first rooftop bar in the Kendall-Dadeland area, serving up an abundance of tapas-style small plates, cocktails, wines, and beers. Feast on a variety of toasts, salads, and small plates like La Quercia Prosciutto and Manchego Cheese with marinated olives and grilled bread; Mushroom Rigatoni with tomato sauce, ricotta, parmesan and basil; and Crispy Potatoes with smoked paprika, roasted garlic aioli, and chives. As for drinks, think signature gin cocktails and others, red, white, and sparkling wines, and a collection of local and international beers.
AC Bar & Lounge is located at 2912 Collins Ave., Miami Beach, Florida 33140. For more information, visit their official website.
Jatto
Taking over the former Alter space in Wynwood, Jatto is poised to be a globally-inspired restaurant from the mind of Miami chef Henry Hané, owner and executive chef of Brickell's B Bistro + Bakery. Helming the kitchen along with Hané will be chef de cuisine Aleric Constantin – the duo plans to create international dishes with a heavy focus on Peruvian flavors. Menu highlights include stone crab causa, huancaina chicken, and affogato colada.
Jatto is located at 223 NW 23rd St, Miami, FL 33127.
Pubbelly Sushi Expands Throughout South Florida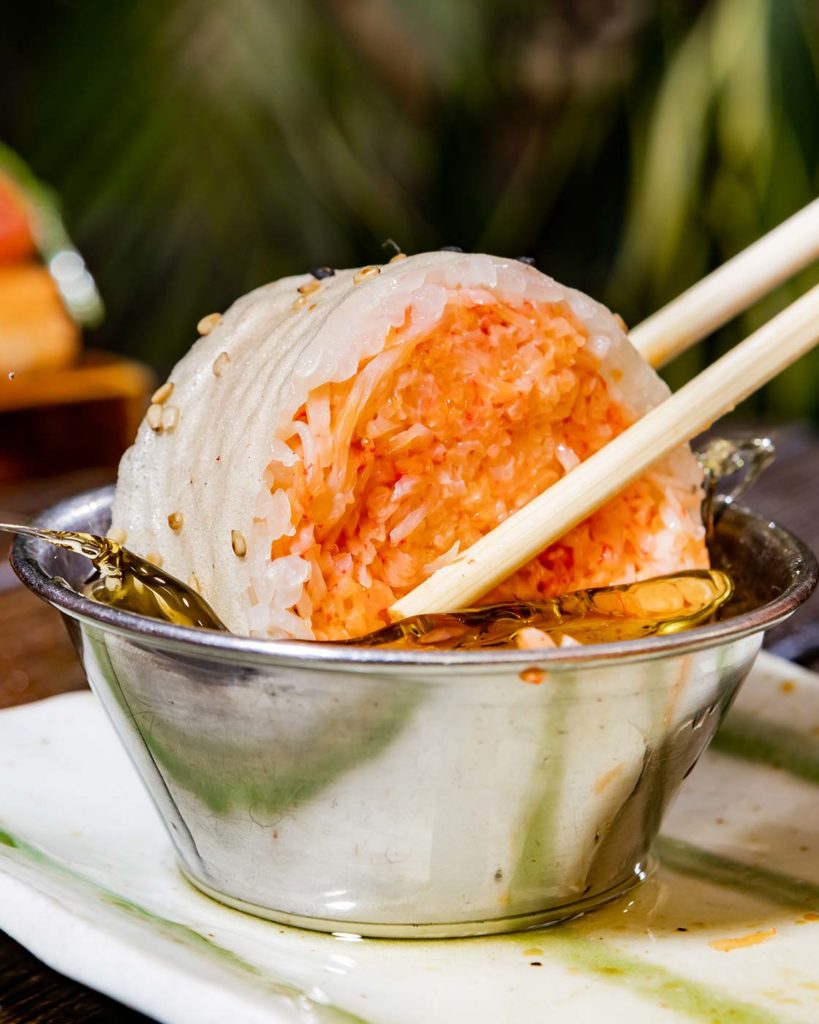 Over the next four months, beloved Pubbelly Sushi will bring their Japanese-Latin fusion flare to four new South Florida locations. Soon to total eight locations with existing spots in Aventura, Brickell City Centre, Downtown Dadeland, and Miami Beach, Pubbelly's upcoming outposts will be located in Boca Raton, Fort Lauderdale, Doral, and Pembroke Pines, with the last two slated to open this fall.
At Pembroke Centre in Pembroke Pines, keep your eyes peeled for a 4,500 square-foot, full-service venue serving up the eatery's classic goodies. In Doral, Pubbelly Sushi will open at Shoma Bazaar, a sprawling food fall located at the main entrance of the Sanctuary building.
According to a press release, we can count on chef Jose Mendin's fan-favorites making an appearance across locations, including "Hot and Cold Snacks" like the Short Rib & Truffle Dumplings; Signature Rolls like the insta-famous Butter Krab Roll; seafood, meats, and vegetables from the PB Grill; a selection of Bao Buns; as well as an east-meets-west-inspired beverage program.
Dining hours will vary, but guests can expect dinner, a daily happy hour, and a boozy Sunday Brunch at the full-service locations.
For more information, visit Pubbelly's official website.
Shoma Bazaar Food Hall
Doral is getting a serious upgrade with its newest upcoming food hall, Shoma Bazaar. From real estate developer Shoma Group, the food hall describes itself as an international emporium of uncommon flavor and flair, which will house over 15 different concepts, including Eating House, Ella's Oyster Bar, and Pubbelly Sushi. The more food halls the merrier, we always say.
Shoma Bazaar Food Hall is located at 9400 NW 41st St., Doral, FL 33178. For more information, visit their official website.
Sushi Garage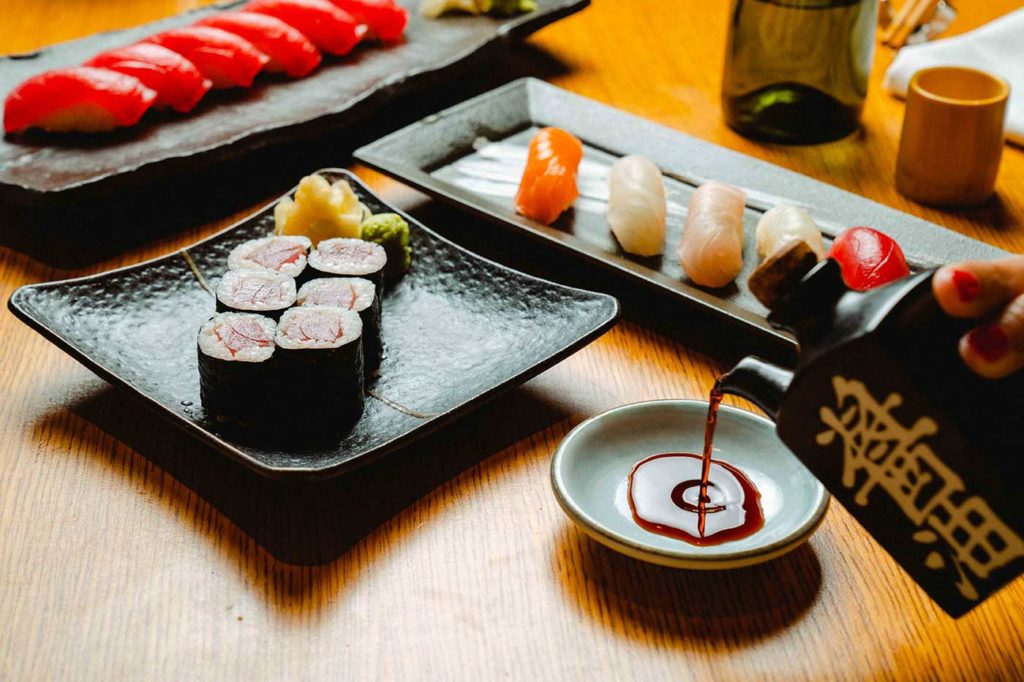 Juvia Group Restaurateurs Alexandra, Jonas Milán, and Chef Partner Sunny Oh, are back at it with their newest Sushi Garage location in CocoWalk.
As the third outpost, Sushi Garage CocoWalk houses 3,800 square feet of both
indoor and outdoor seating, with unique design touches crafting the elegant/casual charm they're known for. Interior wise, expect the eatery's signature Koi fish ceilings crafted by award-winning interior designer Alejandro Barrios-Carrero, sky-high ceilings, and a large, panoramic open kitchen.
As for the dining, much of their beloved favorites can be found on the menu with their own spin as well as decadent confections crafted by executive pastry chef Gregory Gourreau.
Sushi Garage is located at 3015 Grand Ave Coconut Grove, FL 33133. For more information, visit their official website.
Three New Restaurants from David Grutman
Miami's hospitality tycoon, along with his restaurant group, Groot Hospitality, officially announce three new restaurants, all opening on Alton Road side by side: Sushi Fly Chicken, Toothfairy Bakery, and Winker's Diner.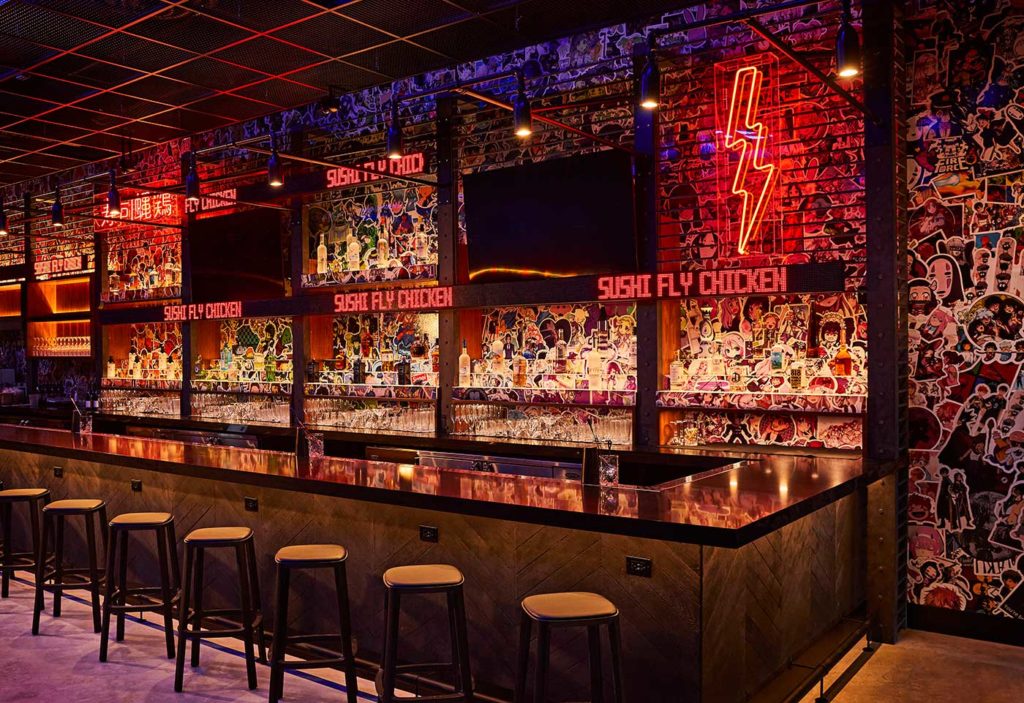 According to their website, Sushi Fly Chicken, or SFC for short, is a restaurant-meets-bar and lounge inspired by Tokyo's underground nightlife scene. Upon entering and passing a take-away and delivery counter, guests walk through a swinging kitchen door into an unexpected atmosphere. Think modern speakeasy with low lights and ultra-sleek décor. Intended to be reminiscent of the "unlisted watering holes" around Tokyo's Roppongi or Ginza neighborhoods, SFC will feature a clandestine dining room, complete with a neon-and-steel-clad full bar backlit by an enormous mural created by Miami-based artist Santlov featuring anime and manga figures.
Helmed by exec sushi chef Tony Mai, SFC's menu is heavy on Asian influence, with Chinese-inspired dishes and pan-continental plates. Standouts include small plates like Wokked Szechuan Edamame with garlic and chili; Peking Duck Bao Dumplings with lemongrass hoisin; and Lobster Prawn Toast with blood orange; noodles and rice dishes including Daring Plant-Based Chicken Rice Noodles with bok choy, bell pepper, and broccoli; and A5 Buri Bop Rice with xo, jidori egg, spinach, crispy leek; Fly Chicken options like Original, Spicy and Wasabi Lemon Pepper; as well as a plethora of nigiri and maki options.
As for beverages, think bespoke cocktails like yuzu margaritas, lychee martinis, and premium Japanese whiskey-based libations.
At Winker's Diner, named after Grutman's one-eyed pet cat, guests can expect a more relaxed, familial ambiance and dining experience. Described as a "day-to-night" restaurant, Winker's Diner offers comfort food classics with a twist in an Art Deco ambiance complete with teal blue leather booths and three-dimensional pastel walls. Think Deviled Eggs with smoked trout roe, espelette pepper, and dill; Isabela's Kosher Matzo Ball Soup with chicken, onion, carrot, and celery; French Onion Grilled Cheese with provolone, gruyere, and au jus chips; and much more. Breakfast lovers can also enjoy an all-day breakfast menu including items like cinnamon toast crunch toast French toast, cookies and cream pancakes and salmon smoked challah, as well as several creative milkshakes and boozy floats.
Toothfairy completes the trio as a retro soft serve ice cream parlor, bakery, and confectionary, manned by pastry chef and partner Dallas Wynne (former pastry chef at Jeremy Ford's critically-acclaimed restaurant, Stubborn Seed). Say goodbye to any diet and dig into a rotating menu of unique ice cream flavors, snickerdoodle cookies, cake pop candy bars, pastries, and cheesecakes, as well as enough sauces, dips, and toppings to swim in.
Sushi Fly Chicken is located at 1575 Alton Rd, Miami Beach, FL 33139. For more information, visit their official website.
Toothfairy is located at 1575 Alton Rd, Miami Beach, FL 33139. For more information, visit their official website.
Winker's Diner is located at 1575 Alton Rd, Miami Beach, FL 33139. For more information, visit their official website.
Tropical Distillers
Miami-based Tropical Distillers is soon to open a distillery in the Allapattah neighborhood, complete with an onsite bar and tasting room for guests to enjoy. They'll be producing their J.F. Haden's Craft Liqueurs and offering guests an immersive brand experience.
Tropical Distillers is located at 2141 NW 10th Ave., Miami, FL 33127. For more information, visit their official website.