From Mediterranean flavors and nostalgic Italian nods to wildly creative omakase and farm-to-table cuisine, October has a few openings we can't wait to try. Here are six new or upcoming spots to sink your teeth into this month or very soon!
Happea's
This Mediterranean-Latin, plant-based eatery made its debut in Brickell, with a focus on sustainable fare, and healthy bites. Happea's offers a daily fast-casual brunch menu, along with lunch items, such as the Mediterranean Breakfast served with Zak the Baker bread, olives, Just Egg & Cheeze, hummus, tzatziki, tahini, avocado mash, goat cheeze, crumble, butter, strawberry chia jam, roasted tomatoes, orange juice, and drip coffee; Roasted Tomato Parmezan Soup topped with Parmezan, toasted pumpkin seeds, microgreens, and a side of Zak the Baker bread; Chick'n Caesar salad with romaine lettuce, Caesar dressing, Parmezan Cheeze, micro greens and Zak the Baker bread croutons; and much more. 
Also available are several juices and fresh smoothies including the Almond Bliss with banana, kale, cocoa nibs, almond butter, almond milk, vanilla protein powder, and coconut flakes; Cookies and Cream with banana, Oreo, oat milk, almond butter, and crushed Oreos; Next-Level PB&J Smoothie with banana, strawberry, peanut butter, hemp granola, chia seeds, and oat milk; and more.
Happea's is located at 1250 S Miami Ave #4, Miami, FL 33130. For more information, visit their official website. 
Narbona
CocoWalk's newest restaurant, Narbona, features farm-to-table cuisine with a strong emphasis on organic ingredients plucked straight from its own farms. Founded in 1909 in Uruguay, Narbona has since made a name for itself with its transparency, clean ingredients, and quality products. The extensive menu includes items like Black Mediterranean Mussels with marinara sauce; Tonnato, made with thinly sliced roasted veal, creamy tuna sauce, and fried capers; Shrimp & Crab Ravioli made with heirloom cherry tomatoes, creamy spicy pink sauce, and basil; a variety of Uruguayan pizzas, homemade pastas, and much more. The 200-seat restaurant also features a bakery, a butcher shop, and a specialty market serving up an array of products sourced from its farms in South America. Think olive oils, pastas, wines, and more.
Narbona is located at 3015 Grand Ave Ste 116, Coconut Grove, FL 33133. For more information, visit their official website. 
Sofia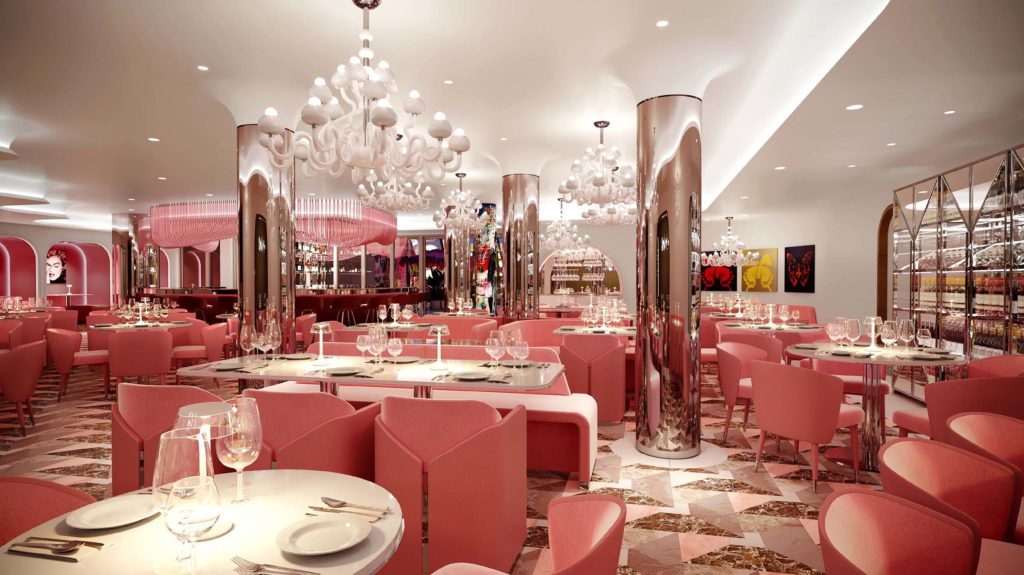 North American lifestyle hospitality group INK Entertainment is at it again with their newest addition, Toronto-born Italian eatery Sofia. Expanding their roster, which already includes South Florida spots Byblos Miami, Meet Dalia, and Amal, Sofia is set to open this fall in the Design District with an upscale, modern-Italian dining and entertainment experience featuring bespoke nightly celebrations. Sofia will offer an honest and refined approach to both new and nostalgic Italian dishes with a commitment to sourcing the highest quality ingredients. 
Menu highlights include handmade pasta dishes like Cacio e Pepe al Tartufo, Rigatoni Alla Vodka, and Ravioli di Ricotta e Noci; fish mains like Branzino, Aragosta (butter-poached lobster) and Gamberetti (wild king prawn); and meat dishes like Bistecca Alla Fiorentina, Wagyu Filets, Breaded Veal, Ribeye, Prime Striploin and more.
Cocktail-wise, expect signature drinks with an Italian twist and a notable emphasis on execution and elegant presentation. A vast wine selection will also include a robust menu of vintages and an ample selection of Italian wines.
Sofia is located at 140 NE 39th street St #133, Miami, FL 33137. For more information, visit INK Entertainment's official website. 
Sushi | Bar
Helmed by one of the country's only female omakase chefs, Austin-born Sushi | Bar after much anticipation has opened its doors at Miami Beach's Esmé Hotel. As for what you can expect to see from executive chef Ambrely Ouimette at the intimate omakase speakeasy, think cutting-edge dishes on a consistently changing menu priced at $175 per person. Be sure to reserve your spot well in advance. The eatery releases reservations at 1 p.m. on the first of every month and is known in Austin for being one of the "toughest" places to book.
Sushi | Bar is located at Esmé Hotel, 1438 Washington Ave, Miami Beach, FL 33139. For more information, visit their official website. 
Sushi by Scratch
With locations in Seattle, Austin, Los Angeles, and more, Sushi by Scratch is well-known for its unique takes on Japanese cuisine, as well as for sourcing and using the rarest fish available. The omakase restaurant recently expanded its offerings with a location in Coconut Grove, where it offers a 17-course dinner chockful of original touches, from the living room of a historic home known as the Stirrup House. Chef/owners Phillip Frankland Lee and Margarita Kallas-Lee keep the atmosphere fun and un-stuffy, but the experience is nonetheless indulgent. Expect to pay $165 per person, and more if you opt for a beverage pairing. Be sure to reserve your spot well in advance, as the eatery is fully booked nearly a month out and only seats 10 at a time.
Sushi by Scratch is located at 3242 Charles Ave, Miami, FL 33133. For more information, visit their official website.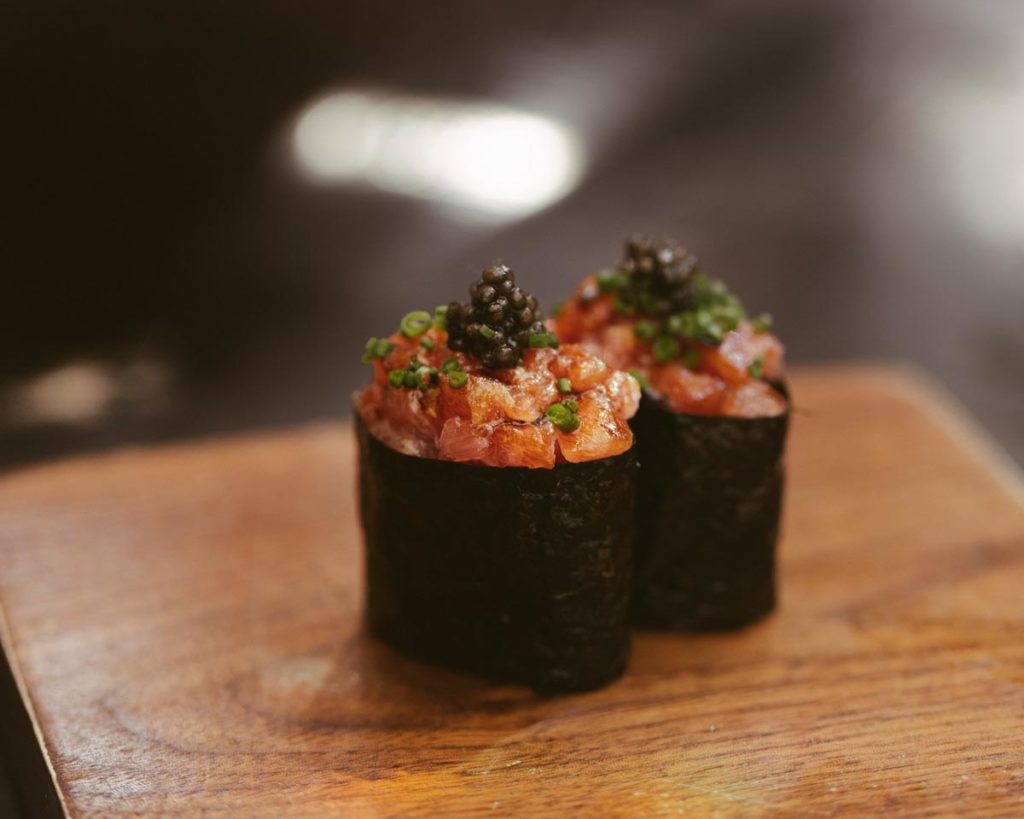 When a sushi craving strikes, where should you go? Our handy list of the best sushi restaurants in Miami has…
Read More
The Wrapper – Smorgasburg
The newest vendor to hit Smorgasburg Miami goes by the name, The Wrapper, and dishes out Lebanese street fare in the form of pita wraps. On the menu are items like the Kafta Wrap, made with kafta spread (ground beef mixed with parsley and onion), tomato, and homemade garlic-mayo sauce; The French Fries Wrap, made with fries, coleslaw, pickles, and garlic-mayo; and more. 
The Wrapper is located at 2600 NW 2nd Ave, Miami, FL 33127. For more information, visit their official website.