Due to the COVID-19 pandemic, restaurant openings have been few and far between. But now that restrictions have eased, it's time to shine. Here are some of the new restaurants in Miami that have recently joined our recovering restaurant scene.
Da Lida
Fooq's in Downtown Miami has been hosting pop-ups throughout the pandemic. The latest pop-up to take over the Mediterranean restaurant is Da Lida. The casual pasta bar concept is helmed by Lina Goujjane, who was part of Fooq's original opening team.
Expect the Old World Italian menu to rotate regularly throughout its residency, which will run until the end of the year. A la carte offerings like burrata and rigatoni Bolognese are available, but the $39 prix fixe menu – which includes appetizer, salad, pasta and dessert – is hard to pass up. Wine is also a priority for the pop-up, and a pairing menu is offered for discerning guests.
Da Lida is located inside Fooq's at 1035 North Miami Avenue, Miami, FL 33136. For more information, visit the official Fooq's website or call 786-536-2749.
Hiyakawa
Located in Wynwood, Hiyakawa is the namesake restaurant of chef Shuji Hiyakawa. For years, chef Hiyakawa has been creating delicious Japanese fare out of his casual Wabi Sabi outpost on NE 79th Street.
Now, he's taking his cuisine to the next level with this much-more upscale Asian concept. The highlight of the menu is the $175 omakase experience, which includes three appetizers, 12 nigiri, one maki, miso soup and dessert. Knowing chef Hiyakawa's high standards, we're sure the neighborhood is in for a treat.
Hiyakawa is located at 2700 North Miami Avenue, Miami, FL 33127. For more information, call 305-890-7228.
Kush By Stephen's
Hialeah is upping its food game with the addition of Kush By Stephen's. This rebranding of Stephen's Deli – the oldest delicatessen in South Florida – brings restaurateur Matt Kuscher's signature burgers into the mix for a "best of both worlds" situation.
The tuna melt and pastrami sandwich that locals love are still on the menu, but now they're joined by Kuscher's more whimsical offerings like the frita by kush (a guava jelly burger), Florida alligator bites, and chicken and waffles. Kush By Stephen's can also serve liquor now, so expect specialty cocktails like Abuela's House, Hialeah's Best Irish Coffee and Pata Sucia Patty Punch.
Kush By Stephen's is located at 1000 East 16th Street, Hialeah, FL 33010. For more information, visit their official website or call 305-887-8863.
Ornos Estiatorio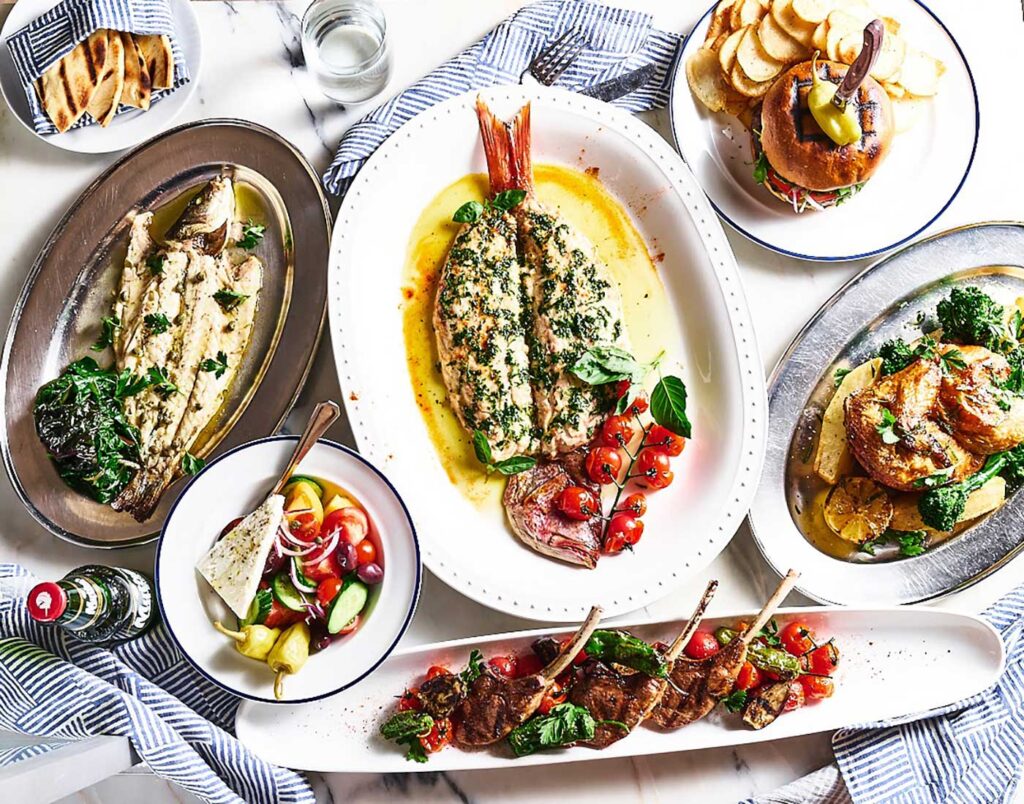 Earlier this year, the Michael Mina-backed International Smoke at Aventura Mall quietly called it quits. In its place, the celebrity chef has opened a new concept that's a far cry from International Smoke's BBQ: Ornos Estiatorio.
The Greek restaurant focuses heavily on seafood, and it's home to South Florida's first-ever "fish sommelier," who will be responsible for sourcing the best items for guests. Classics like sea bass, lemon chicken and lamb chops all pop up on the menu, which is designed for sharing. And of course, expect plenty of spreads like tzatziki and hummus to complement your meal.
Ornos Estiatorio is located at 19565 Biscayne Boulevard, Suite #946, Aventura, FL 33180. For more information, visit their official website or call 786-697-1681.
Public Square
South Miami has said goodbye to an institution: Shula's 347 Grill is no more. The restaurant – named after the Dolphins coach who needs no introduction – had occupied its iconic space since 2010. Now it's home to Public Square, an ode to modern American cuisine from the same opening restaurant group.
On the menu are tasty starters like filet mignon bites, crab cakes and beef tartare. There's a big emphasis on raw bar and steak cuts, with sushi and substantial mains like diver scallops and Alaskan halibut rounding out the menu. The wine selection leans heavily on west coast offerings but there's a good variety of international options, too.
Public Square is located at 6915 Red Road, Coral Gables, FL 33143. For more information, visit their official website or call 305-665-9661.