Miami's dining scene continues to evolve, with a slew of new restaurants gracing our diverse neighborhoods. If you're seeking fresh culinary adventures this month, check out our curated list of the hottest new dining destinations that will captivate your taste buds and make your fall in Miami unforgettable.
Chimba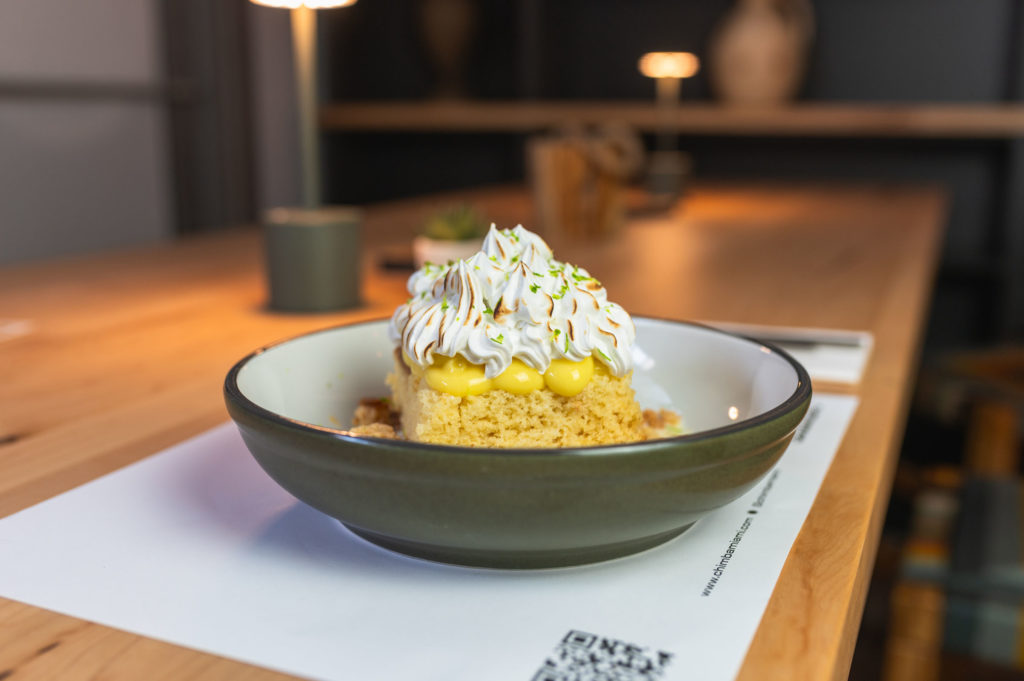 The word "Chimba" is often used to describe a very cool person or thing in Latin America; It's also the moniker of a recently opened Latin-inspired, all-day eatery in Midtown. The Argentinian-based Grupo Alfoz is behind the neighborhood concept infused with vibrant Latin inspiration and a modern twist.
Get things started by ordering the Huancaina Sour. It's infused with Caravedo pisco, passion fruit juice, pineapple syrup, lime juice, and egg white and pairs well with the grilled provoleta or shrimp tiradito. The latter features Argentinian red shrimp bathed in coconut tiger milk with quinoa, jalapeno, mango, passion fruit, and cilantro. Chimba features a sampling of fresh-made empanadas, so be sure to order one—or a few!—to your order. The pavlova mango passion is the perfect way to end your meal. Take a spoon and gently smash through the dessert's layers, unveiling a delightful contrast of sweet and tangy filling. Be sure to snap a photo with the LED sign near the bar that reads: "We're All Chimbas" before heading out.
Chimba is located at 2830 NE Second Ave., Miami, FL 33137. For more information, please visit their official website.
Calle Dragones Miami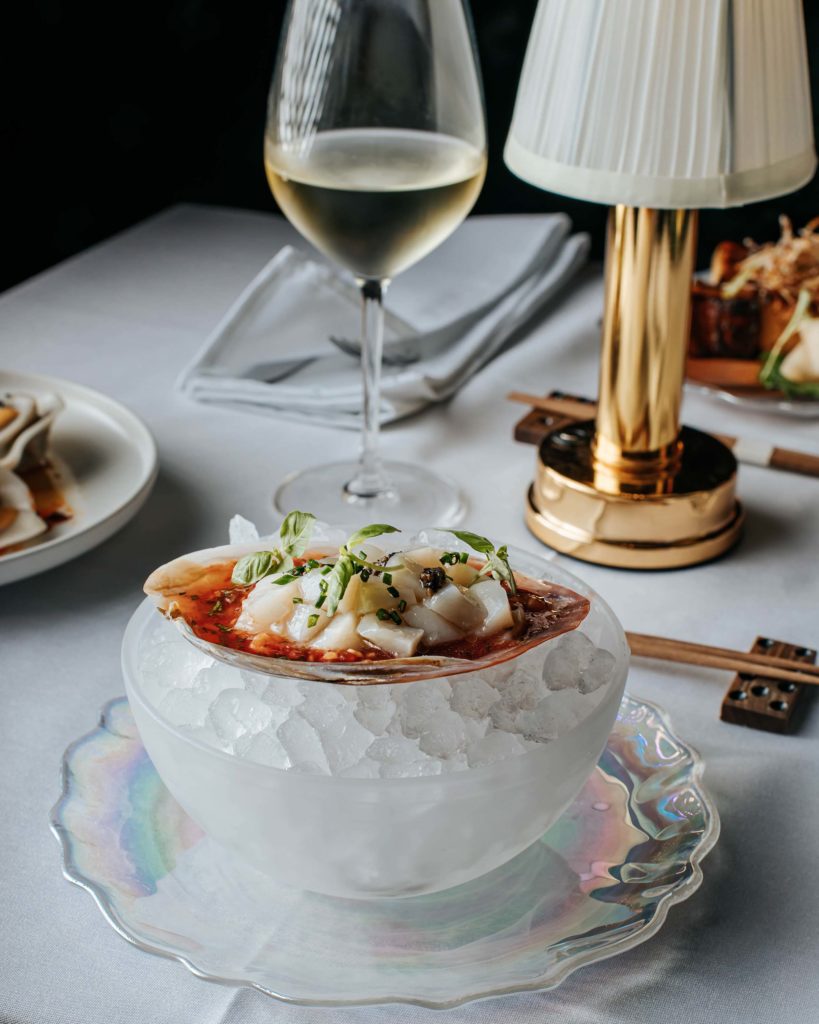 Located in the heart of Miami's cultural epicenter, Calle Ocho, the new Calle Dragones takes guests on a culinary journey through world-class dining, Asian-influenced Cuban cuisine, and cabaret performances. Following successful openings in Bogotá and Cartagena, Colombia, the team behind the new culturally rich outpost welcomes its third Calle Dragones, featuring a carefully crafted menu and a dining experience that guests will never forget.
The menu at this fusion restaurant draws inspiration from chef Louis Pous' Cuban heritage, offering a modern and elevated take on Cuban cuisine infused with Asian influences, all prepared with locally sourced ingredients. To complement this diverse array of flavors, Borja Goikoetxea, the internationally acclaimed and award-winning bar director of Salvaje Group, has meticulously crafted an exceptional selection of craft cocktails. One must-try is the Romeo y Julieta, a Turbocharged Vodka libation enhanced with parsley, pepper, lemongrass, lemon, ginger syrup, ginger beer, and a touch of pickled cucumber. Standout menu favorites include the mojo-roasted lechón pekin featuring guava hoisin and Chinese pancakes and the delectable risotto congri paired with short rib vaca frita. The immersive journey culminates with a delightful treat—a mouthwatering Cuban rum hot cheesecake served alongside guava ice cream, leaving a lasting impression of the Calle Dragones experience.
Calle Dragones is located at 1036 SW Eighth St., Miami, FL 33130. For more information, please visit their official website.
Maty's
Satisfy your Peruvian cravings at Maty's Midtown, the latest addition to Miami's dining scene, boasting 150 seats and helmed by the acclaimed James Beard–nominated chef Valerie Chang. If the name rings a bell, it's no coincidence; Maty's is brought to you by the same team behind the beloved Nikkei restaurant Itamae. (Itamae has actually found its new home right next door to Maty's, presenting an intimate omakase experience for those seeking culinary adventure.)
Diners who visit Maty's can enjoy a flavorful experience, blending quality and fresh ingredients with a playful touch. The cocktails are perfectly balanced and offer some old and new flavors for cocktail connoisseurs. For dinner, options abound, from black grouper ceviche (choclo, red onion, ají limo, and leche de tigre) to whole roasted dorade with chive and an aji amarillo beurre blanc to oxtail saltado with crispy potatoes, tomato, and scallion.
Maty's is located at 3255 NE First Ave, Miami, FL 33137. For more information, please visit their official website.
Ostrow Brasserie
Miami's first and only French Kosher brasserie, Ostrow Brasserie, has opened in Buena Vista, helmed by renowned chef Olivia Ostrow. This French-style brasserie artfully combines the best of French cuisine with a Kosher twist, strictly adhering to the separation of meat and dairy, as well as avoiding proteins like pork and shellfish. The menu's allure extends to all diners, irrespective of dietary preferences.
Inside, diners are greeted at the restaurant's entrance by a remarkable Art Nouveau mural, a faithful reproduction of one of artist Alphonse Mucha's renowned beer posters, which pays heartfelt homage to France's rich and storied heritage. There's also a whimsical art wall proudly showcasing over 40 pieces from Chef Ostrow's personal collection.
Be sure not to miss chef Ostrow's signature specialties, such as the chicken scallopini stuffed with ground lamb and prunes, elegantly wrapped with bresaola, and served alongside truffle pommes puree. For those seeking lighter indulgences, the menu offers a range of options, from the classic Lyonnaise salad crowned with a poached egg to crab cakes paired with truffle beet mousse, and the delightful orange duck confit.
Ostrow Brasserie is located at 4850 NW Second Ave., Miami, FL 33127. For more information, please visit their official website.
Tacombi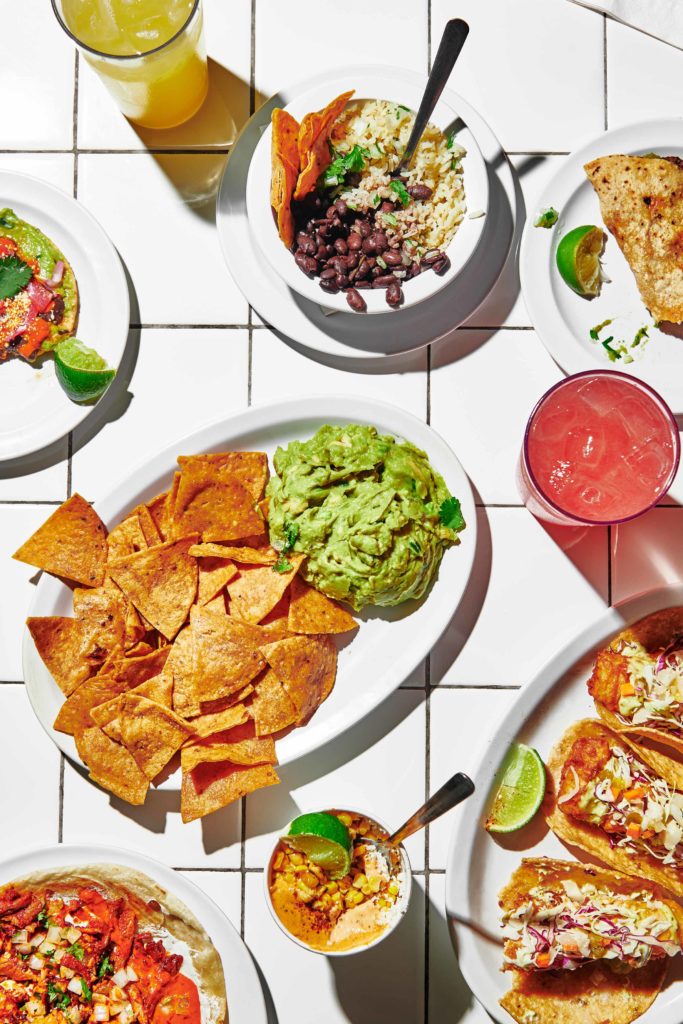 If you love authentic Mexican food, then check out Wynwood's newest taqueria: Tacombi. This outpost's history started on the beaches of the Yucatán in 2006 with a mission to bring Mexican culture to the world. The owners started out with a 1963 "combi" bus in Mexico City and wheeled it slowly around the Yucatan peninsula, sharing delights with locals and travelers alike. In 2010, they set up shop in a garage in downtown New York, establishing their first taqueria, and have since extended their neighborhood-inspired hospitality to Washington D.C., and now, Miami.
Tacombi uses wholesome, simple ingredients to create their inventive cuisine. If you go, order the corn esquites and enjoy this delicacy with guac and chips. Mark off which tacos you want from the paper menu, and prepare to savor delicious flavors. A few of our favorites include Tacombi's rendition of beef birria, avocado tostada, and baja fish. Complete this adventure with a refreshing hibiscus agua fresca to wash it all down. At Tacombi, every bite and sip is an invitation to savor the true essence of Mexican culinary heritage.
Tacombi is located at 3930 NE Second Ave. Ste, 100, Miami, FL 33137. For more information, please visit their official website.