Spring is in the air, and this particular air is wafting over delicious fragrances from several new restaurants you'll want to visit pronto. From authentic Lebanese flavors and creative seafood fare to a German burger haven and high-end omakase space, this month's new openings promise imaginative eats in bright new places.
Abbale Telavivian Kitchen
The duo behind Abbale Telavivian Kitchen, Sam Gorenstein and Omer Horev (Pura Vida founder), has announced that they will open a second Abbale Telavivian Kitchen in Aventura this September. The second location will take over the space formerly occupied by 800 Degrees Wood-Fired Kitchen in the Aventura Shopping Center and will offer more than double the space of the original Abbale's with seating for 140 as well as a private dining room for intimate dinners, exclusive tasting events, and Shabbat dinners.
This location will also offer a 14-seat full bar that will offer cocktails, wines, and beers including several exclusive to Miami Israeli wines and beers.
Menu highlights will include the eatery's favorites, such as Shakshuka, served with two pasture-raised eggs, tomato-pepper-onion braise, Morrocan spices, olive oil, herbs, and Jerusalem bagel; Sumac Chicken Shashlik, served with fire-baked laffa, hummus, shuk salad, pickled cabbage, fresh herbs, tahini, and pickled onion; Crunchy Cauliflower, with tamarind glaze and sumac and more, as well as a variety of new dishes made possible by the new eatery's larger kitchen space.
Abbale in Aventura will be open daily for lunch, dinner, and Sunday brunch, as well as sunset hour offerings like specialty cocktails and light bites.
Abbale Telavivian Kitchen is located at 864 Commerce St, Miami Beach, FL 33139. For more information, visit their official website.
Gutenburg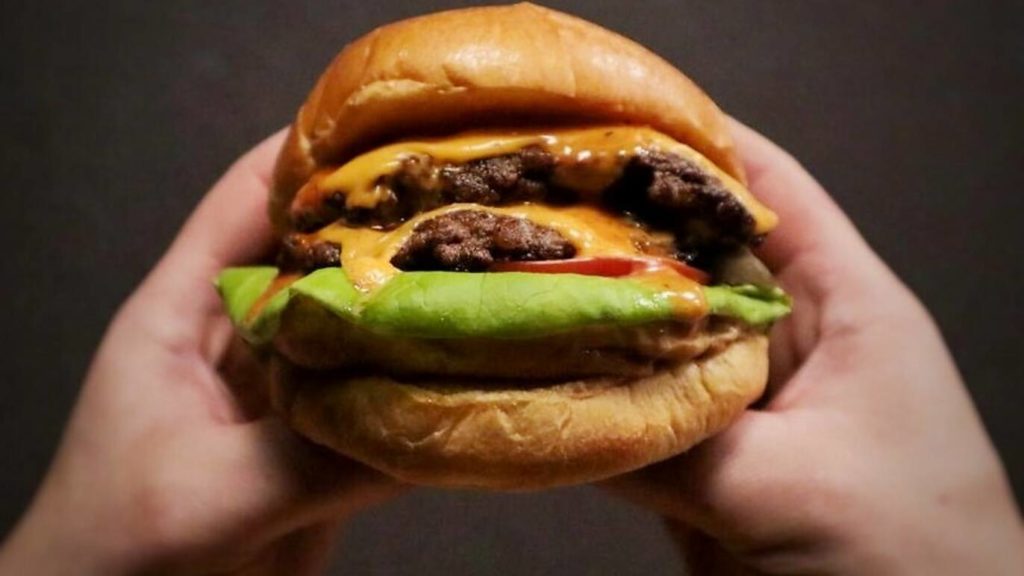 Time Out Miami's newest eatery is officially open. Helmed by chef Jorge Kauam, Gutenburg, the new German-American burger concept, is inspired by Germany's, specifically the city of Hamburg's history of high-quality beef, which was commonly chopped, seasoned, and formed into the world's first burger patties. Gutenburg will elevate its burgers using modern techniques and premium ingredients like brioche potato buns, blends of smoked beef cuts, and house-made sauces.
Highlights include the Gutenburg Burger with a double patty, cheddar cheese, lettuce, tomato, diced onion, house-made pickles, and topped with special sauce; Goat Cheese and Wild Mushroom Burger, topped with crispy onion and aioli; and the Guten Belly, slow-cooked, caramelized pork belly with slaw, pickles, and bourbon fig barbecue sauce. Gutenberg also offers a vegan plant-based burger, German-style sausages, kid's selections, and a milkshake menu for dessert.
Gutenburg is located at Time Out Miami at 1601 Drexel Ave, Miami Beach, FL 33139. For more information, visit their official website.
Lira Beirut Eatery
Wynwood's newest restaurant, Lira, is a standing homage to all things Lebanese culture, art, and cuisine, that promises authentic eats amidst mid-century Beirut vibes, from an era that marks the heyday of the "lira," the official currency of Lebanon.
As for the menu, which is divided into hot and cold mezzes, you'll find highlights like Fried Halloumi with walnuts, cherry tomato, basil, honey and balsamic; Shankleesh Cheese with feta cheese, za'atar, tomato, green bell pepper, spring onion, mint, sesame seeds; Mutabbal, smoked eggplant dip with tahini; Makanek, mini beef sausages, pomegranate molasses, lemon, parsley, and roasted pine nuts; Muhammara, roasted red pepper dip, crushed walnuts, breadcrumbs, pomegranate molasses, tahini, sesame seeds; Kebbeh Labanieh, beef and burghul kebbeh, served with yogurt, garlic, coriander and roasted pine nuts; Kafta, lamb, beef, onion, and parsley skewer; Grilled Whole Branzino, house marinated and served with herbs, garlic and lemon; and much more.
Lira Beirut Eatery is located at 2000 NW 2nd Ave, Miami, FL 33127. For more information, visit their official website.
Ocean Social by Tristen Epps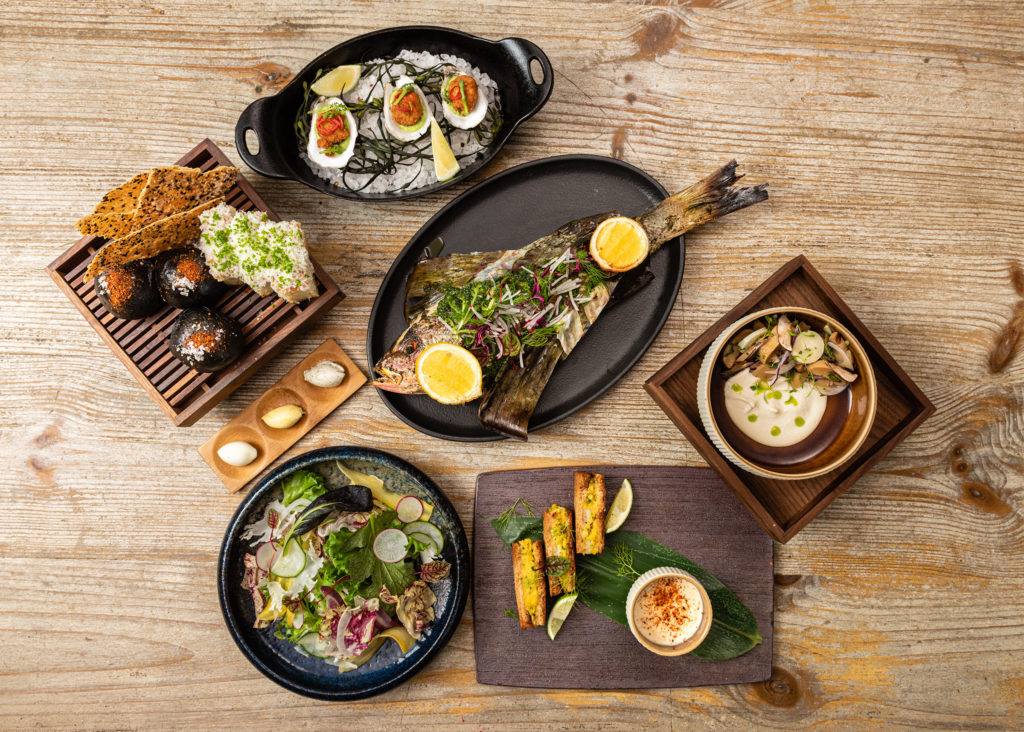 Eden Roc Miami's newest signature restaurant, Ocean Social by Tristen Epps, is helmed by an award-winning chef with Trinidadian roots who boasts a culinary pedigree equal parts Caribbean roots, classical training, and global influences. The 142 indoor and outdoor seating eatery, features a 28-seat bar lounge and, appropriate to its name, encourages sharing with menu categories like Social Snacks, Social Starters, Surf, Turf, and Harvested.
Menu highlights include Crispy Chicken "Oyster," an optical illusion of a dish made of a lightly breaded "grown-up version" of a chicken nugget, served in an oyster shell with nori green goddess dressing and pickled chili; Dry-Aged Swordfish T-Bone, swordfish steak aged 14-16 days in Ocean Social's dry-aging locker, cut on the bone and topped with a mix of braised brisket, local maitake mushrooms, brassica, and Szechuan peppercorn; Mishima American Wagyu Strip with bone marrow croqueta, heirloom confit carrot, and tamarind red wine sauce.
Sweet creations from executive pastry chef Antonia Grandberry round out the menu, including the Calamansi Meringue Tart, a variation on the traditional key lime pie featuring calamansi "caviar" and served with pistachio praline, and pistachio ice cream; Valrhona Chocolate Torte with manjari mousse, praline, gianduja, and toasted milk ice cream; and a Winter Citrus & Strawberry Pavlova made with Swank Farms strawberries, blood orange coconut crème, car acara and butterfly pea sorbet.
Ocean Social by Tristen Epps is located at 4525 Collins Ave, Miami Beach, FL 33140. For more information, visit their official website.
Queen Omakase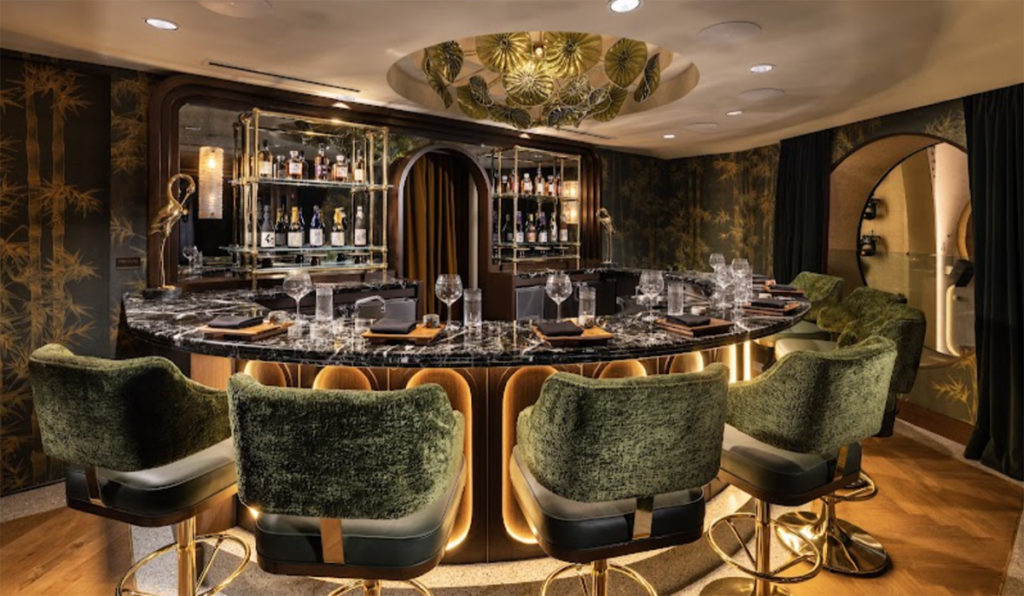 Queen Miami Beach has already expanded its offerings with a speakeasy-style omakase experience in an intimate, eight-seat dining cove on the second floor of its space, dubbed Queen Omakase.
Queen Omakase will offer only two seatings per night, as well as a newly curated chef's selection menu every three weeks featuring a premium selection of delicately composed nigiri and specialty Japanese dishes. The eatery will be open Tuesday through Saturday with a first seating at 7 p.m. and a second seating at 9:30 p.m. Guests must prepay in advance to confirm their seating ($275 per person), which can be reserved on Queen Miami Beach's website or OpenTable.
Queen Omakase is located at 550 Washington Ave, Miami Beach, FL 33139. For more information, visit their official website.