If the still semi-cool, breezy weather has put a spring in your step these days, use it to mosey on over to these new or reopened eateries. From Latin American shareable menus and tequila heavy Mexican delights to coffee connoisseurs and Miami's very first NFT restaurant, you certainly won't run out of interesting new options this month. Below are five new restaurants in Miami worth checking out.
All Day Coffeehouse
Nearly a year later, All Day Coffeehouse is ready to reopen its doors to the public after eight months of regrouping and reorganizing. Initially opened in 2016, the restaurant shuttered its doors with the plan to return post pandemic. The coffeehouse and eatery, owned and operated by longtime Panther barista Camilla Ramos and The Corner owner Chris MacLeod, has plans to launch with the same fan favorite menu items guests are accustomed to, now managed by a new general manager, sous chef and chef. All Day Coffeehouse is scheduled to reopen on March 15.
All Day Coffeehouse is located at 1035 N. Miami Av., Miami, FL 33136. For more information, visit their official website.
Mehzcla
Named after the word for "mixture" in Spanish, Mehzcla is the Balfour Hotel's newest addition, led by Le Cordon Bleu-trained executive chef Steven Acosta. A Latin American concept that offers a diverse menu of shareable items highlighting local produce and fresh ingredients, Mehzcla doles out creative takes on traditionally executed dishes and features all day, breakfast, and happy hour menus.
Breakfast menu highlights include fluffy buttermilk stacks served with warm maple syrup; a Classic Benedict, with Canadian bacon, English muffin, hollandaise, crispy breakfast fingerling potatoes, petite greens, and lime-honey vinaigrette; and a Croissant French toast casserole made with brown sugar-butter pecan crumbled, chunky apple jam and warm maple syrup.
Acosta's global influences and Latin tendencies are more prominent in the All Day menu, which is divided into appetizers, anticuchos, shareable plates, sandwiches, salads, and desserts. Think costillas, baby baby-back ribs with garlic-chili glaze, scallions and sesame; arepitas with fontina, Medjool-date marmalade, and cilantro; Chef Guido's chicharron, served with sweet potato chips, mixed-pepper aioli, cilantro leaves, pickled red onions on a brioche bun; and crispy avocado taco with cilantro-lime tofu-crema, pico de gallo, spicy-pickled red onion on a corn tortilla. Desserts include buñuelos, mini fried doughnuts with chocolate sauce and cinnamon-sugar; chocolate tres leches with chocolate shavings, merengue brulee.
Mehzcla (at Balfour Hotel) is located at 350 Ocean Dr., Miami Beach, FL 33139. For more information, visit their official website.
Pez Loco Restaurant and Tequila Bar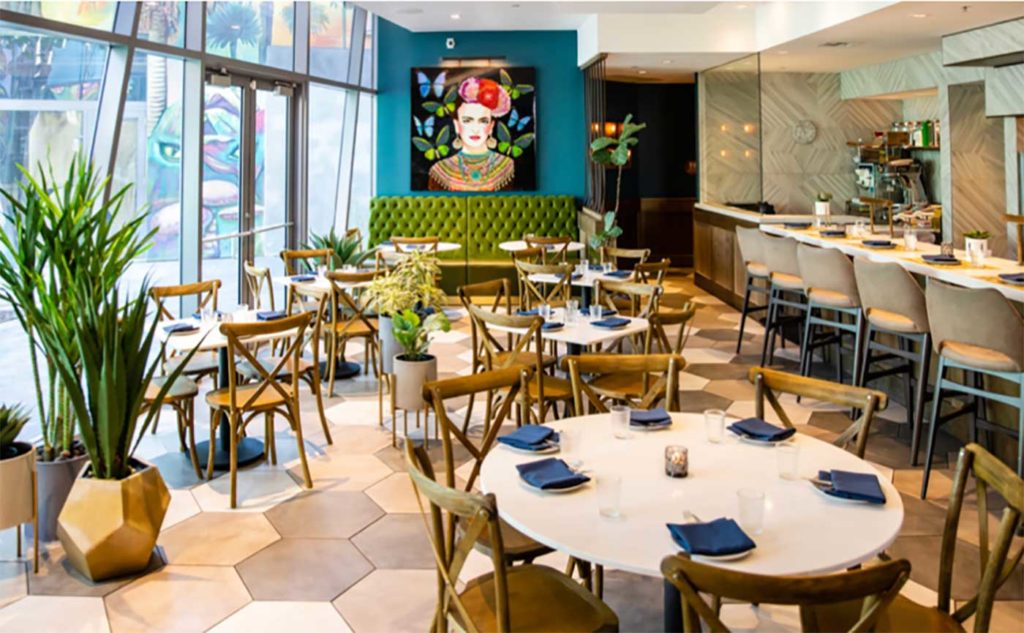 The newest brainchild of Southbound Hospitality, the team behind No. 3 Social Rooftop Lounge, Pez Loco ("crazy fish") Restaurant and Tequila Bar will feature coastal Mexican cuisine and, as its name implies, a hefty list of over 20 different tequila and mezcal offerings, right below No.3. According to the eatery, their menu draws inspiration from both small towns and bustling cities along the coast, with options from tostadas and shellfish from Baja, to ceviches and aguachiles from Guerrero and Michoacan, and Sinaloan-style mariscos from Mazatlan.
Menu highlights include shrimp aguachile with passionfruit, cucumber, and radish; octopus puttanesca with radiatore pasta, mezcal, orange and pecorino; hand-cut beef tartare with salsa macha, queso Oaxaca, shaved radish and arugula; grouper with sake, served with seaweed and fennel; Wood-Grilled Maitake Tacos with spicy cashew crema and pickled shallots and more.
Those with a sweet tooth will find noteworthy offerings such as Baked Miami, key lime curd with graham cracker crumble, and smoked marshmallow; Jericalla served Guadalajara style; as well as sorbets and ice creams.
Pez Loco is located at 50 N.W. 24th St. #101, Miami, FL 33127. For more information, visit their official website.
Piya
Piyarat Potha Arreeratn, also known as Chef Bee, is working on launching Miami's very first NFT restaurant. For those unfamiliar, an NFT is a non-fungible token that can be sold and traded. Read more about it here. Following suit with many large brands currently dabbling in NFTs and cryptocurrency, Chef Bee wants his new eatery to act as not only a restaurant but an educational and common interest hub. Dubbed Piya, the restaurant will not require you to purchase crypto through a crypto wallet but will act as a social platform for those interested in learning more about the NFT and crypto world. According to Chef Bee's partner in the venue, Simon Librati, Piya will offer its own NFT token, which will serve as an access pass to the eatery, as well as perks often associated with owning NFTs, including members-only events.
For more information on Piya, visit their official website.
Shoma Bazaar
Shoma Bazaar is officially opening to the public Friday, March 11. Doral's newest food, beverage, and event destination is founded by hubby and wife duo Masoud and Stephanie Shojee of award-winning real estate developers Shoma Group. Expect 13,000 square feet of expansive indoor/outdoor space that will feature fifteen vendors and a robust cocktail program. Some Shoma Bazaar's current offerings include Italian food from Ash Pizza and Trattoria Dal Plin Italian Eatery; BFF Burgers, Franks, Fries; The Market Milkshake Bar; Asian eats from Pubbelly Sushi, InRamen and Poke MIA; The Bakery/Café featuring Juice & Java, Sweet Manifesto and Tintto by Tributto; as well as street food featuring Doce Provisions and Shahs of Kabob.
Shoma Bazaar Food Hall is located at 9400 NW 41st St., Doral, FL 33178. For more information, visit their official website.