March was a good month for foodies. The 305 welcomed a robust lineup of new restaurants, bars, and breweries. Here are a few of the month's highlights:
Cerveceria La Tropical
While new breweries have been popping up consistently across Miami, it's been a while since one has opened in Wynwood. The neighborhood recently welcomed Cerveceria La Tropical to the fold – and it's quickly making waves.
The first thing you'll notice: its size. The spacious Cuban brewery offers ample seating indoors and outdoors with plenty of room for social distancing. The next thing you'll notice is the delicious menu, created by executive chef Cindy Hutson (ex-Ortanique on the Mile). She's put together a wealth of tropical offerings like sea salt tostones, curry jerk chicken wings, coconut shrimp, crispy seasonal fish, and flatbread pizzas. Pair them with one of three beers – La Original, Nativo Key, and La India—and you're in for a good time.
Cerveceria La Tropical is located at 42 NE 25th Street, Miami, FL 33137. For more information, visit the official website.
Luca Osteria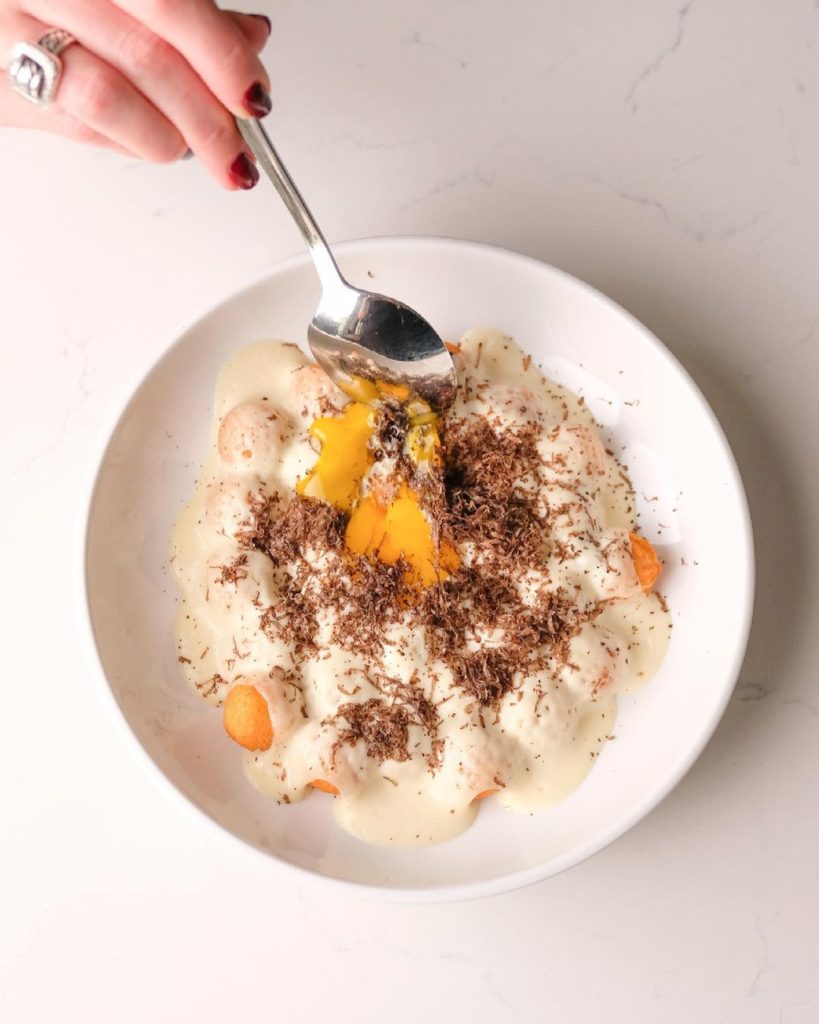 Eating House's Giorgio Rapicavoli has another hit on his hands. The Chopped champion has opened Luca Osteria, his second restaurant in Coral Gables. Unlike the casual, comfort cuisine at Eating House, Luca Osteria focuses on refined Italian food – an ode to Rapicavoli's heritage.
Expect to find selections like wagyu beef carpaccio, Panzanella, cacio e pepe, short rib Bolognese and grilled monkfish. The drinks menu is just as vast, and it's split into aperitivi and cocktails. With over 20 libations to choose from, you're going to be here a while. And that doesn't include the wine list.
Luca Osteria is located at 116 Giralda Avenue, Coral Gables, FL 33134. For more information, visit the official website.
Osteria Morini
New York restaurants are making their way to Florida in droves. Amidst all these transplants, Osteria Morini is one to watch. The Italian eatery from renowned chef Michael White is now open inside Kimpton Hotel Palomar. The menu features an extensive list of outstanding items like creamy burrata, prosciutto and mortadella meatballs, squid ink pasta and truffled ricotta ravioli.
Drinks-wise, Osteria Morini's offerings emphasize Italian spirits and shines the spotlight on the beloved negroni; make sure to check out the Hell's Bells mezcal variation. Pro tip: Take advantage of daily happy four from 4 p.m. to 6 p.m. at the bar to get the most bang for your. Buck.
Osteria Morini is located at 1750 Alton Road, Miami Beach, FL 33139. For more information, visit the official website.
Pilo's Tequila Garden
Pilo's Street Tacos in Brickell is taking things to the next level with a larger Wynwood outpost. Dubbed Pilo's Tequila Garden, this gigantic space features two outdoor bars, stadium seating and a bevy of Mexican art pieces.
Whether you visit during the day or late at night, the restaurant has you covered with tons of tacos and an extensive list of tequila and mezcal. Al pastor, beer-battered fish, brisket, chorizo … if you can think of a protein, it's likely on the menu. What's also cool about the place: Owner Derek Gonzalez's is committed to hiring individuals with developmental disabilities for at least 20 percent of his workforce.
Pilo's Tequila Garden is located at 158 NW 24th Street, Miami, FL 33127. For more information, visit their official website.
Salt & Straw
You can never have enough ice cream in Miami – it's too darn hot here. Enter Salt & Straw, the latest ice cream shop to set up, er, shop in the 305. Locations are now open in Wynwood and Coconut Grove, and each one features their original flavors along with local creations.
Sea salt with caramel ribbons, honey lavender, and chocolate gooey brownie are just a few of the signature options that made the trek over to Miami, and they're joined by the likes of Panther Coffee chocolate tres leches, The Salty Donut guava and cheese, and Exquisito Chocolate hazelnut cookies and cream. Even if you're not in the mood for a quick cone, grab some pints to go – you won't regret it.
Salt & Straw has multiple locations in Miami. For more information, visit their official website.
Tobacco Road By Kush
The iconic Tobacco Road is back … sort of. The Brickell watering hole closed down back in 2014, and rumors have been rampant for years about a potential return. That return has finally happened – just a few steps from the old location. Restauranteur Matt Kuscher (Kush; Lokal) has teamed up with one of the original owners to open Tobacco Road by Kush, a pop-up that's a trip down memory lane.
Old posters and other vintage décor adorn the walls, so past regulars should feel right at home. The food menu is bar food through and through: chicken wings, fried shrooms, nachos, chips, and guac—to name a few. Beers are abundant, and Tobacco Road is particularly proud of its bourbon and scotch selection; there are over 20 to choose from. And in true Kush fashion, there are head-turning cocktails like Kermit Smoking Dat Loud and Sh*t Miami Girls Say.
Tobacco Road by Kush is located at 650 South Miami Avenue, Miami, FL 33130. For more information, visit their official website.