Summer is officially here, and along with it come garden concepts, backyard dining, anti-inflammatory-diet-based restaurants, and other gems definitely worth checking out. Here are four, newly opened eateries to explore when you need a novel date or lunch spot.
Bâoli Garden
Bâoli Miami's newest concept, Bâoli Garden, lives on the venue's outdoor patio and offers an intimate, late-night setting featuring a Moonlight Menu with items exclusive to the garden area. Think crispy rice tuna, bâoli hamachi sashimi, and beef carpaccio pizzetta, among others. Along with new digs and menu, guests can look forward to a new "secret" cocktail menu comprised of five cocktails created with invisible ink, which diners can read using a special UV light provided by their bartender or table staff. Included on the menu are the Don, a cocktail meshing citrus flavors with a sweet honey bergamot tea paired with fresh ginger made with Don Julio Primavera; and B.B.D, a raspberry cocktail topped with champagne and blackberry dust. Bâoli Garden will also offer Hookah table service with a variety of flavors.
Bâoli Garden is located 1906 Collins Ave, Miami Beach, FL 33139. For more information, visit their official website.
Burdo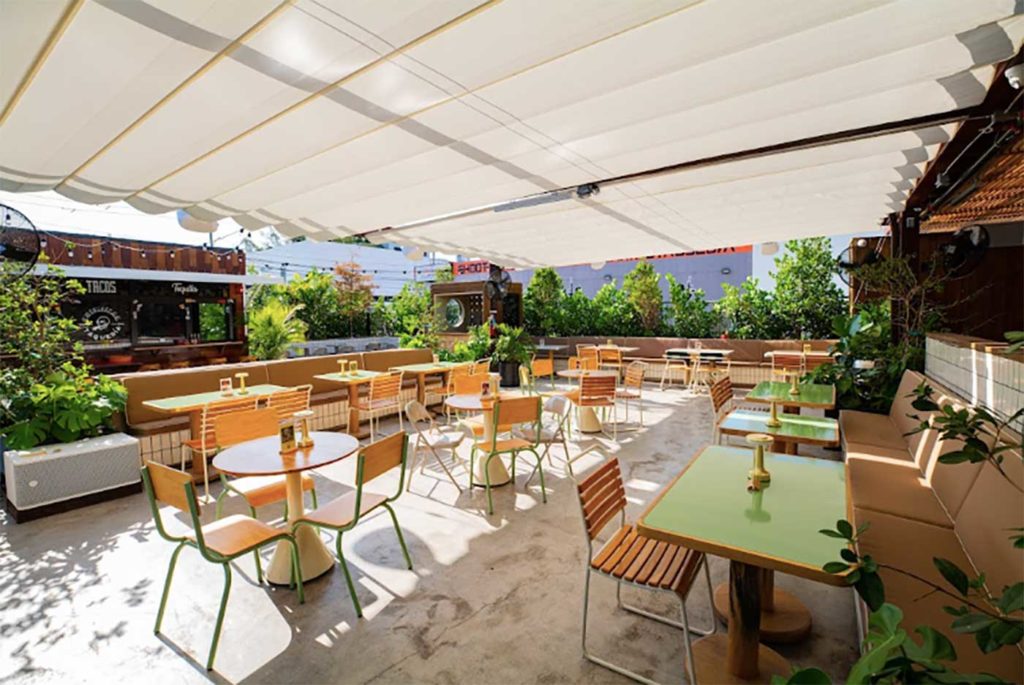 Wynwood's newest addition goes by the name of Burdo and is the latest from Colombian-based hospitality group SinMente Group and Buenavista Investment Group. Burdo will be both a culinary destination and an entertainment venue in one, serving up modern American fare by day alongside playful party vibes by night. Executive chef Damian Magallanes has created an extensive menu featuring items like the Machete Burger, made with Artisan bread, grilled beef patty, bacon, caramelized onions, avocado, aioli, mustard, ketchup, bathed in a layer of creamy cheddar cheese, and served with French fries; green apple and cheese mix pizza, topped with blue cheese, mozzarella, bocconcini cheese, green apple slices in maple syrup, almonds, basil, and spinach; truffle pizza, ceremoniously prepared tableside and topped with parmesan and mozzarella cheese, creamy burrata, mushrooms, and fresh truffle; black wings, made with beer-battered tempura topped with sesame seeds, chives and bathed in black barbecue sauce; and truffle grilled cauliflower, featuring pea purée, tarragon gremolata seasoning, and truffle oil.
On the drink menu, prepare your tastebuds for an array of beers, wines, craft cocktails, and signature cocktails, including mezcal-based creations such as La Parca and El Chingon; gin-based delicacies including, but not limited to, the patio, fresh gimlet, last word, and gin fizz; and sweet offerings including la fraga, jalisco frontier and in basil.
Outside on the 4,000-foot, open-air patio, guests will find Criminal Taqueria at Burdo, which operates independently with a quick grab-and-go service concept, doling out a variety of tacos, burritos, quesadillas, esquites, and elote bowls, as well as margaritas and micheladas.
Burdo is located at 2509 North Miami Avenue, Miami, FL 33127. For more information, visit their official website.
Rosie's
Beloved Little River pop-up Rosie's is back and this time for good. Owned and operated by husband-and-wife duo Akino and Jamila West, Rosie's has reopened a temporary location while they renovate their future permanent home in Little River. For now, diners can expect al fresco dining featuring Southern American classics from chef Akino. Stay tuned for more info!
Rosie's is located at 7127 NW 2nd Ave, Miami, FL 33150. For more information, visit their official website.
True Food Kitchen
Award-winning True Food Kitchen, co-founded by integrative medicine expert, Dr. Andrew Weil, is opening its first Miami-based restaurant at The Falls on Monday, June 27. Their 6th location in Florida and 42 nationwide, the eatery will deliver a carefully curated, seasonally-inspired menu informed by Dr. Weil's anti-inflammatory food pyramid that focuses on eating foods that help maintain optimal health.
The Falls' True Food Kitchen boasts an open-kitchen concept, spaciously designed to fit 385 seats, a private dining room, a full-service bar, and a separate to-go entrance for quick pick up.
To celebrate the grand opening, True Food is giving away one complimentary Chef's Dinner for six including a three-course meal and beverage pairings to one lucky eClub member who is signed up prior to its grand opening on June 27. Diners can sign up by visiting truefoodkitchen.com/rewards/ and selecting the Miami location.
True Food Kitchen is located 8888 SW 136th St, Ste 340A Miami, FL 33176. For more information, visit their official website.