Once the Independence Day celebrations are over and the July Miami heat really starts sinking in you might start wondering why you haven't left the city yet. Luckily, if you are staying put for the summer there are tons of new restaurants to look forward to (and getting a reservation won't be so difficult either). From German biergarten vibes to Vietnamese drinks and nibbles, here are five new restaurants to visit this month:
Bondi Sushi
Omakase enthusiasts will be delighted to know that the NYC staple, Bondi Sushi, is now dishing out affordable nigiri, hand rolls, and omakase in the heart of South Beach. Grab a seat at the spacious sushi bar for a taste of the 12-course omakase going for $75 or stop by for lunch on the patio with one of the amazing lunch specials.
Bondi Sushi effortlessly combines a high-quality sushi experience with an utmost nonchalant vibe making this the place to be for any weekday omakase craving. Make sure to try their specialty—the crispy rice which comes with 6 pieces per order and can be split between two varieties of seafood or veg. Our recommendation: the lobster yuzu and the truffle avocado. Oh, and don't leave without trying their revered cocktail offerings like the Seafoam, a refreshing blue and citrusy sake-based cocktail; or the Honey Dew, a slightly stronger shochu-based cocktail with cucumber and shiso.
Bondi is located at 959 West Avenue Miami Beach, FL 33139. For more information visit their official website.
Mamo
NYC-original Italian nostalgia sanctuary Mamo has recently opened its doors to Miami epicureans in Brickell. Step into a time capsule of Italian heirlooms, where the lighting is soft and the tables are marble, feeling transported into a 50s film.
Dishes that we've long been waiting for include the insalata di polpo e ceci—an octopus and chickpea salad; the heirloom tomato and burrata salad; and perhaps the star of the show—the focaccia al tartufo, the restaurant's signature pizza with shaved truffle as far as the eyes can see.
A dress code is in place, so put on that swanky attire and channel the Italian movie star in you.
Mamo is located at 931 Brickell Ave, Miami, FL 3313. For more information visit their official website.
The New Schnitzel House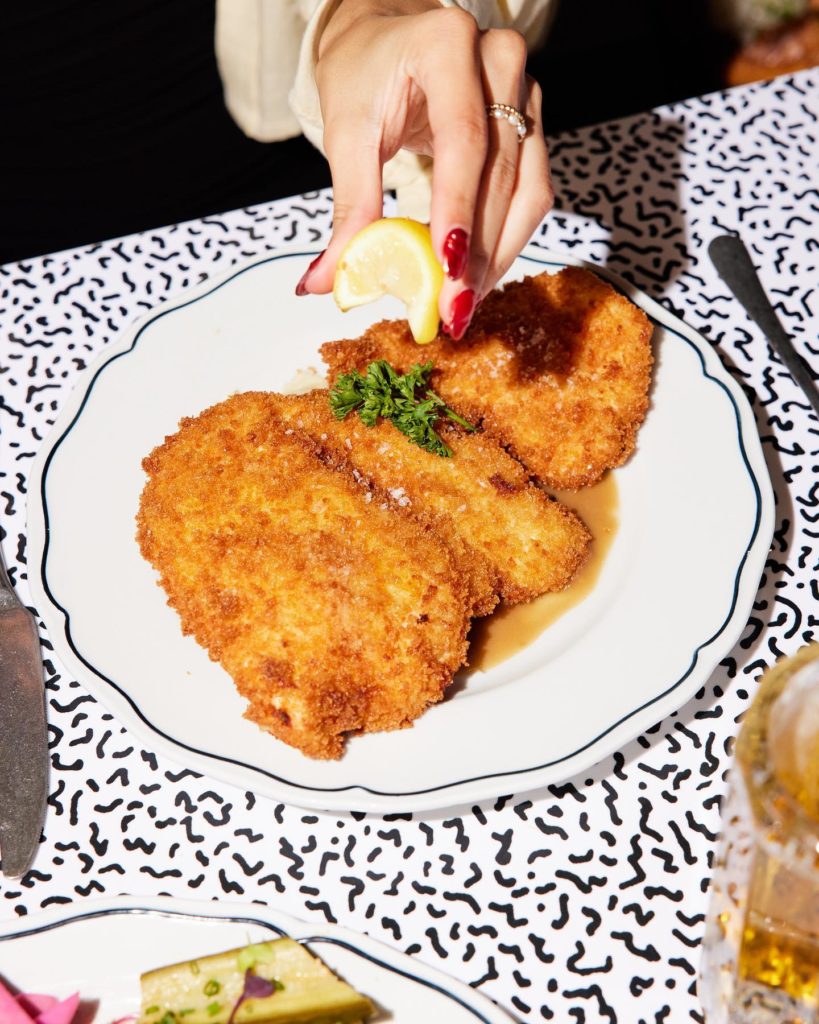 German comfort food with a Miami twist. Gramps owner Adam Gersten has recently unveiled his newest concept which is giving Miami foodies all the German biergarten vibes they were missing. And just in time for summer.
Open for dinner service, come hungry (and thirsty) and expect German comfort-food staples like the crispy chicken schnitzel (but of course), housemade pretzels served with beer cheese, a boatload of brats, and a plate of pickled eggs, turnips, and mushrooms. Grab a seat in the unpretentious ode to 90s Germany dining room, or out on the patio.
The New Shnitzel House is located at 1085 NE 79th St, Miami, FL 33138. For more information visit their official website.
Pastis
Pastis has been open in Miami's Wynwood neighborhood for a good couple of months now and if you haven't been able to make the rezzy for dinner here before, with the Spring crowds winding down now is your chance. Hailing from NYC, Stephan Starr and Keith McNally's quintessential Parisian-style brasserie brings us those tried and true French classics.
The restaurant's unique Miami location effortlessly transports the city's gourmands into the atmosphere of charming Parisian summer afternoons. Grab a seat in the breezy outdoor garden under the enclosed pergola wrapped in beautiful black locust and try some of the original Miami menu items. Seafood lovers will be delighted to see dishes like the big eye tuna carpaccio coupled with a lemon-leek vinaigrette, or the red snapper Provencal. Or, go straight for the Pastis classics—onion soup, escargots, and the steak frites. Accompany the experience with a glass of chilled wine and even the humid Miami summers begin to gain their own charm.
Pastis is located at 380 NW 26th St, Miami, FL 33127. For more information visit their official website.
Tâm Tâm
Tam Tam Miami is now open for dinner rezzies in Downton Miami Tuesday through Saturday. The once underground supper club concept of Vietnamese food and sips has earned itself its forever home and boy is it popping.
There's a healthy selection of wines and beer that beg to be accompanied by shareable dishes like the lotus root salad with pork belly and shrimp; lemongrass coconut clams; and the highly addictive Tam Tam wings bathed in fish sauce caramel. If you're not capping off the night just yet we recommend getting the sherry-spiked Viet iced coffee. Oof. Reservations? Highly encouraged. Sharing? A must!
Tam Tam is located at 99 NW 1st Street. For more information visit their official website.