Summer's in full swing and that means Miami's hotter than ever—unfortunately for us, literally, and, fortunately for us, also figuratively. With restaurants opening up left and right, there's no shortage of new places to try out or look forward to. Here are the six best new restaurants in Miami to feast your eyes on:
Bacon Bitch
Bayside Marketplace is about to get a little yummier with its newest addition, Bacon Bitch. The South Beach eatery is expanding to Bayside with a sister restaurant featuring just as much of your favorite greasy goodness (bacon, baby) as its first spot (aka a lot). What can you expect on the menu? Think classic American breakfast staples.
"Main Bitches," sandwiches served on croissants, are popular options with renditions like Queens packed with applewood smoked bacon, scrambled eggs, and melted cheddar cheese; "Naked Bitches" (or main-and breadless-plates) feature options such as Andouille sausage, melted cheddar cheese, stuffed hash brown, spiced peppers and onions; and Side Bitches and Extra Bitches include sides and add-ons like crispy melted cheese stuffed hash brown, impossible beef, bitch sauce and so much more.
And because nothing can go better with all of this than a little something boozy, guests can not only indulge in a variety of signature drinks but also order up a "Champagne Party," consisting of four bottles of bubbly (Moet Brut) served with fresh-squeezed orange juice. Let the brunch party begin.
Bacon Bitch is located at 401 Biscayne Blvd, Miami, FL 33132. For more information, visit their official website.
Ch'i
This new Chinese restaurant and entertainment concept officially sprung open its doors this summer inside Brickell City Center taking over the former American Harvest space with Chino-Latino flair. A whopping 12,000 square feet of lustrous indoor and outdoor bars, dining areas, and DJ booths, the colossal eatery-meets-lounge is a collaboration between Grove Bay Hospitality Group and Breakwater Hospitality Group, the same teams behind local cult favorites like The Wharf, Root & Bone, Stubborn Seed, Rivertail, Mi'talia, Public Square and others.
Inside, guests will discover four unique concepts enmeshed into one. Stepping into the main dining room, diners will find a bright, colorful space decorated with decadent chandeliers, tropical wallpapers, and large plush booths. In the garden, a lush open-air area complete with bars, cabanas and full restaurant service lets guests enjoy the Miami breeze while munching on more casual bites. The lounge, which is accessible through a large wooden door in the back of the Mercado (we'll get there), is decked in paper lanterns, oversized murals, and a full-service bar with a sprawling wall of spirits and bottle service. For those who don't want a full sit-down experience, enter Mercado, a market fashioned after traditional Asian markets serving up handheld foods via a grab-and-go counter.
Named after the Chinese word for "energy," Ch'i features a combination of Chinese dishes with Latin twists executed by chef Rafael Perez Cambana (formerly of Setai and Mandarin Miami). The menu, comprised of shareable dishes, describes the fusion as "intensely flavored, imaginatively prepared, and equally celebratory of its heritage."
In the main dining room, think Dim Sum options like Bao Burgers with Wagyu patties, cilantro, cucumbers, carrots, and soy wasabi mayo on homemade flour bao buns; Pork Siu Mai with Kurobuta pork, huitlacoche, scallions, ginger, and fermented black bean sauce; and Shrimp Enchilados Dumplings with shrimp, tomatoes, red bell peppers, Spanish onions, and huancaina sauce. Other standouts include a plethora of small plates like the Tuna Tataki Tostadas with chile ancho dusted seared tuna rear, wakame salad, avocado, wasabi soy aioli on a crispy corn tortilla; Foie Gras Spring Rolls with Hudson Valley foie gras, sake onion, and anise marmalade and burnt honey; Signature Dishes like Peking Roasted Duck Tacos with whole Peking duck, flour tortillas, scallions, pickled vegetables, avocado, kimchi cream, soy wasabi mayo; and Wok options like Gambas & Cashews with prawns, red bell peppers, scallions, ginger, garlic, soy sauce, oyster sauce, and jasmine rice.
Ch'i is located at 701 S Miami Ave #339a, Miami, FL 33131. For more information, visit their official website.
Eclectico Restaurant & Mezcal Bar
Coral Gables just got a new spot and it's pretty fly for a Pan-Latin guy. The new culinary concept from Ramzi Zahr of Sawa Restaurant & Lounge intends to explore what it means to eat outside the box with a "barrier-breaking" Pan-Latin tilt and an extensive tequila and mezcal bar. The menu offers a little something of the familiar and the unexpected with original touches "anchored in Mexican roots and designed for a sharing experience."
Food highlights (from an incredibly extensive menu) include Salads like the Beet-ween The Lines with green goddess dressing, red quinoa, candy-striped beet, red and yellow beets, and avocado; Tostadas like the Oppor-tuna-ty with ahi tuna, Maldon salt, guacamole, avocado foam, sweet potato sticks, and spicy cilantro aioli; Guacamole & Canastas like Canasta Eclectica with white arepa, beet arepa, cilantro arepa, achiote arepa, blue tostada, yellow tostada, plantain chip, nata, salsa verde and roja; Chicamole with chicharron, cotija, onion, cilantro, lime, blue corn tostada, and yellow corn tostada; and Street Tacos such as Groovy Shroomy with roasted garlic Portobello and Shrimply The Best with tempura-battered shrimp.
Eclectico Restaurant & Mezcal Bar is located at 320 San Lorenzo Ave Suite 1315, Coral Gables, FL 33146. For more information, visit their official website.
Forte
Adrianne Calvo, the star-studded chef behind restaurants like Redfish and Cracked, is at it again with her newest venture, Forte, which opened last week in Coral Gables in the former Cibo Wine Bar space on Miracle Mile. The restaurant, Adrianne's tribute to her mother's Sicilian heritage, is named after her mom's maiden name and focuses heavily on Italian classics, seafood, and coastal eats.
Menu standouts include Tuscan White Bean soup with crispy kale and parmesan; Burrata con Tartufo with braised cipollini onions, balsamic glaze, and garlic breadcrumbs; 24-hour Braised Short Rib Pappardelle with garlic bread crumbs and parmesan; Mortadella Wagyu Meatballs with stracciatella; and Veal Chop Florentine with cipollini onion and fingerling potatoes.
Forte is located at 45 Miracle Mile, Miami, FL 33134. For more information, visit their official website.
Jia
Say hello to Jia, an upscale Chinese dinner club promising elevated Cantonese food and edgy sophistication that couldn't have found a better location to call home other than South of Fifth. Led by award-winning Executive Chef Weng Choon Lai, Jia will focus on Chinese delicacies with a contemporary twist. Jia is slated to open sometime in July. Keep your eyes peeled!
For more information, visit their official website.
Sexy Fish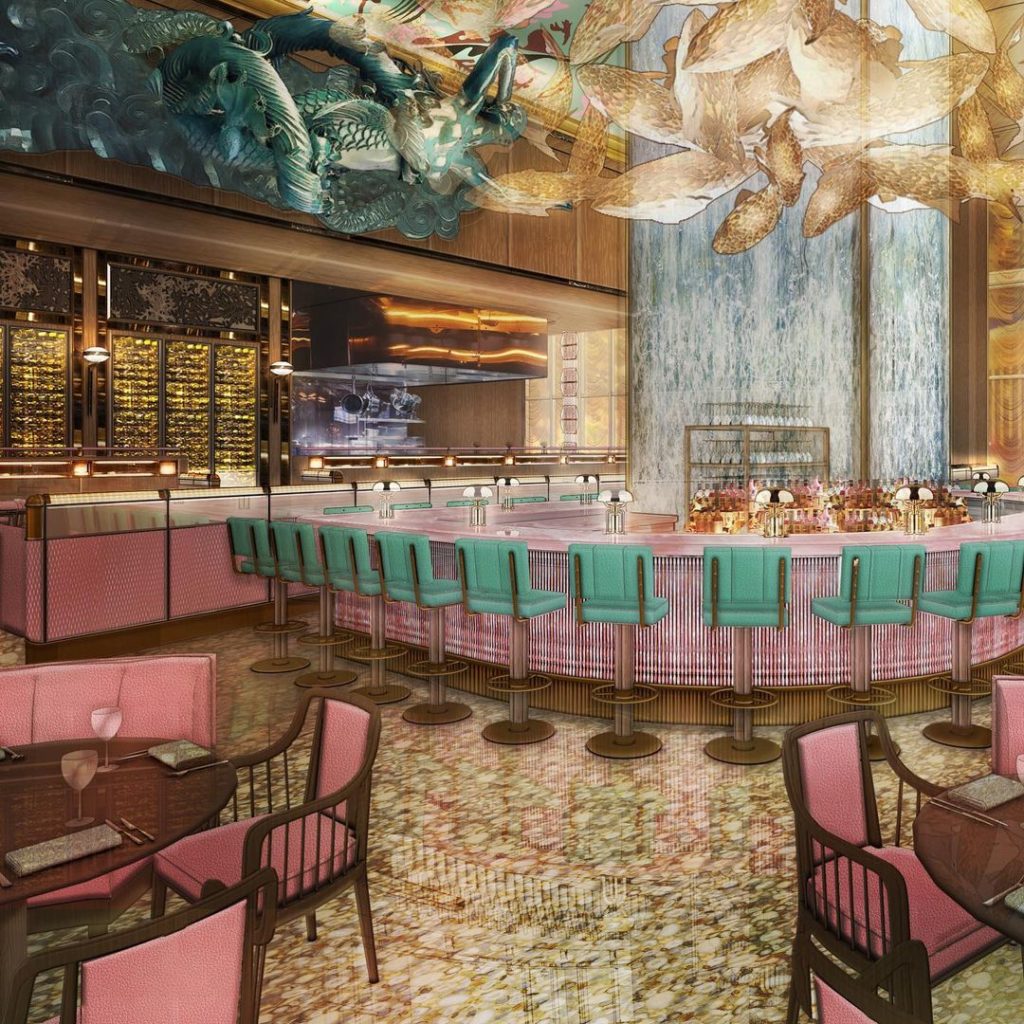 Celebrity London restaurant Sexy Fish is officially making its way down to Miami this fall. The restaurant, known for being frequented by some of the world's most high-profile names including Hugh Jackman, Katy Perry, Johnny Depp, among a slew of others, will open its doors inside the Flatiron Building in Brickell and will mark its very first US location.
Miami's Sexy Fish outpost will include much of its London counterpart's traditional menu offerings including items such as kimchi fried rice, Iberico pork ribs, and smoked tuna belly.
Bjoern Weissgerber, a chef who acquired his first Michelin star at the young age of 27 and who has manned the kitchen at Zuma since its inception, will helm the restaurant, along with Richard Caring of Soho House Group. Details on the Miami opening are slim, but word has it we can expect some serious pizzazz.
Sexy Fish is located at 1001 S Miami Ave, Miami, FL 33130. For more information, visit their official website.