After a crazy year that saw the restaurant industry turned upside down, things are starting to look up in 2021. A slew of new restaurants has joined South Florida's food scene, and this growth shows no sign of stopping. Here are a few of the new restaurants in Miami.
Café Kush
The team behind beloved burger spots Kush and Lokal is taking things to the next level with an elevated French concept (that includes a Miami twist, of course). Café Kush has set up shop at MiMo's Selina Gold Dust hotel, where guests will find bistro classics like steak frites, mussels, coq au vin and croque monsieur.
Not everything is traditional, though: You'll also encounter Kush staples like chicken and waffles, key lime pie, and a quirky list of cocktails with names like Lemon City Lemon Drop. Pro tip: Try to get a seat by the water, where you have a prime view of passing manatees.
Café Kush is located at 7700 Biscayne Boulevard, Miami, FL 33138. For more information, visit their official website.
Cuban Guys (Flagler)
Known for its fritas (Cuban hamburger) and other Cuban comfort food, Cuban Guys has expanded its South Florida footprint with a new Flagler location. This latest outpost features the same great menu items that customers know and love such as Cuban sandwiches, steak bowls, fried yuca, tamales and more.
Just as impressive as their savory options are their sweet options such as flan and tres leches. The dulce de leche stuffed churros are perfect for sharing if you want to watch calories. Have kids? Take advantage of the kids menu, which features mini and "baby" versions of larger plates.
Cuban Guys is located at 8229 West Flagler Street, Miami, FL 33134. For more information, visit their official website.
Miami Diner
From the team that brought you Meraki Greek Bistro comes Miami Diner, a modern – and Miami — interpretation of the classic American diner. There's a big emphasis on comfort food at the Downtown Miami eatery, so expect the usual benedicts, omelets, egg dishes and waffles for breakfast. Mid-day and late-night bites include burgers galore, hearty subs, and plenty of pastas plus so much more.
No diner is complete without milkshakes, and Miami Diner has you covered with cool creations like the CBD-infused Munchies Milkshake and the Miami-esque Guayaba y Queso Crema Milkshake. Craft beer, international wines and a full-service bar ensures no patron goes thirsty.
Miami Diner is located at 140 SE 1st Avenue, Suite A, Miami, FL 33131. For more information, visit their official website.
Myron Mixon's Pitmaster BBQ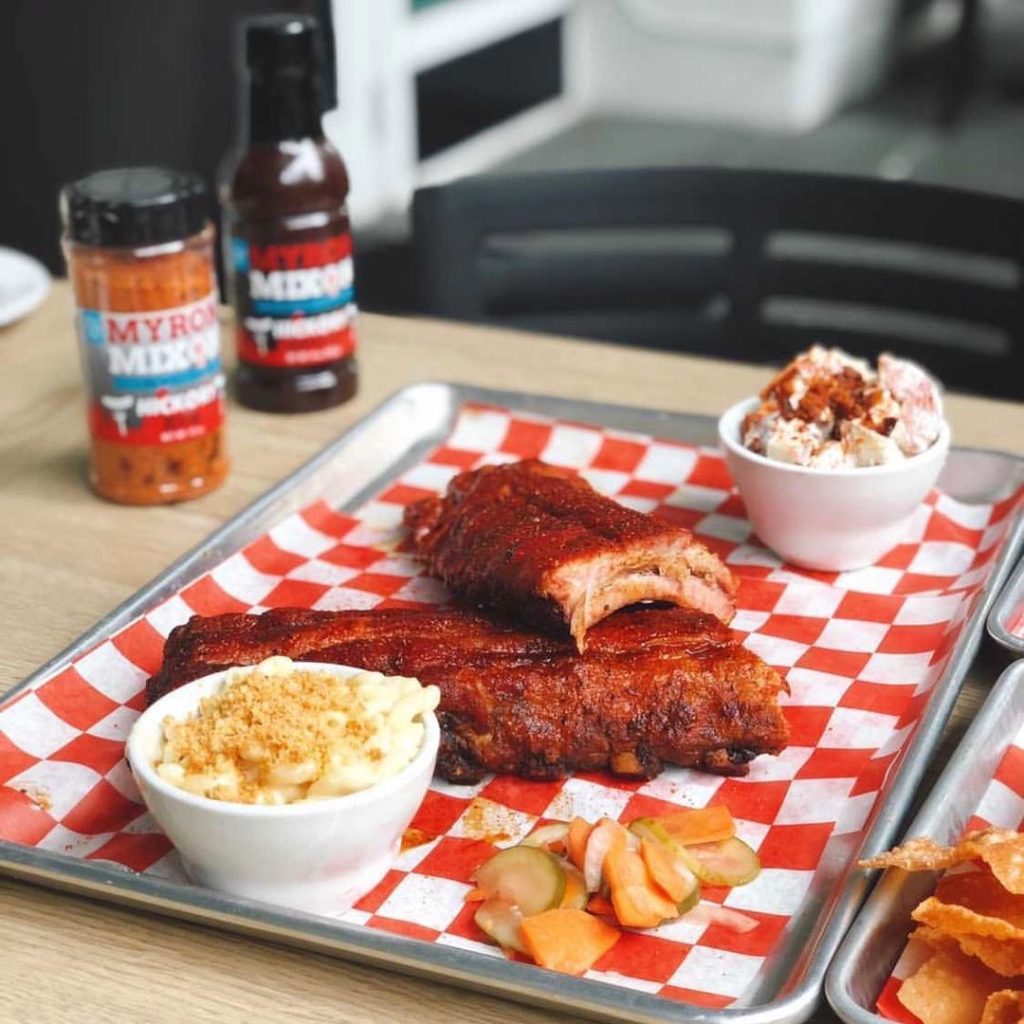 Award-winning restauranteur and pitmaster Myron Mixon has brought his flavorful fare to Brickell, where big portions and big flavors reign supreme. As you'd expect from the name, Myron Mixon's new spot is all about tasty and hefty BBQ selections like pulled pork, beef brisket, mac and cheese, and baked beans. This food is heavy, so bring an appetite and ask for plenty of napkins.
Joining the classic BBQ selections are delicious snacks like BBQ deviled eggs, hog sauce chicken wings, buffalo pork rinds and cupcake corn bread. For those who'd rather do takeout than dine-in, the restaurant offers budget-friendly BBQ by the pound with signatures like pulled chicken and smoked sausage. And in the rare case you still have room, ask about the pie of the day.
Myron Mixon's Pitmaster Barbecue is located at 947 Brickell Avenue, Miami, FL 33131. For more information, visit their official website.
Onigiri Casa Poke
If eating healthy is one of your resolutions this year, Onigiri Casa Poke in Midtown is making it easy. The neighborhood newcomer lets you pick from a variety of poke bowls with equally diverse proteins – or you can create your own. If you don't want to be bothered with customization, traditionalists should consider the Moana Poke with its spicy tuna, avocado and nori seaweed.
Feeling adventurous? Try the Popcorn-Poke with popcorn shrimp and baked onion or the Luau Poke with its udon noodle base and fried wonton. Onigiri Casa Poke gets an A+ for creativity: With so many options, all palates can leave happy.
Onigiri Casa Poke is located at 3301 NE 1st Avenue, #101, Miami, FL 33137. For more information, check out their Instagram page.