Somehow, it's already February, and 2022 is showing no signs of slowing down the culinary emporium that Miami is rapidly becoming. From microbreweries to outdoor food halls, this month's calendar of openings is full of intriguing new and upcoming concepts. Below are 14 new spots to try out stat.
Amalia
A Mediterranean-inspired eatery located inside The Lennox Hotel in Miami Beach, Amalia is poised to open in early 2022, with a menu chock full of seasonal, ingredient-driven dishes melding the Mediterranean and Latin American flavors. Helming the kitchen is Argentina native and executive chef Hernan Griccini, whose culinary experiences span over two decades. Stay tuned for more info as we get it!
Amalia is located at 1900 Collins Ave, Miami Beach, FL 33139. For more information, visit their official website.
Batch Southern Kitchen
Kevin Danillo, the man behind Miami's Batch Gastropub, has opened his second Batch Southern Kitchen & Tap eatery in Fort Lauderdale; with its first location in West Palm Beach still going strong. Batch Southern Kitchen & Tap is Danillo's more elevated concept serving up Southern classics galore and cocktails.
Think apps dubbed "tid bites" like house-made bacon tots with shredded russets, smoked cheddar, scallion ranch; skillet cornbread with chili-thyme honey, seasonal local jam, bourbon-maple butter; and BBQ pulled egg rolls with slow-roasted pulled pork, H.M. root beer BBQ sauce, and buttermilk ranch. A "main fare" section includes shrimp 'n' grits, jumbo blackened shrimp, white cheddar and jalapeno grits, bacon jus; jambalaya with smoked sausage, shrimp, roasted chicken, bell pepper, green chile, tomato, and rice; and 10 oz grilled flat iron with molasses/ginger/soy, buttermilk mash, charred scallion butter, and grilled asparagus. Of course, no Southern spot would be complete without a little mac and cheese and Batch Southern Kitchen offers plenty of it—ten varieties, to be exact! An extensive menu of local and imported beers, wines, and cocktails (including several made with house-infused spirits) completes the menu in all the right ways.
Batch Southern Kitchen is located at 525 N Federal Hwy., Fort Lauderdale, FL 33301. For more information, visit their official website.
Epoca Brewing
North Miami, prepare your beer bellies. The city's latest new nano-brewery and beer garden, Epoca Brewing, promises craft beers aplenty (12 taps), along with indoor space and an expansive outdoor area complete with lounge chairs. Founded by owners Danny Gutierrez, JC Otero, and Jeffrey Delonny. The brewery is home to a seven-barrel fermenter that will churn out a variety of rotating brewskis. Need a few meaty bites to go with your beer? Beginning this week, Epoca will host Apocalypse BBQ, a popup barbecue, every Thursday from 6 to 10 p.m.
Epoca Brewing is located at 12355 NE 13th Ave. #108, North Miami, FL 33161. For more information, visit their official website.
King Patty's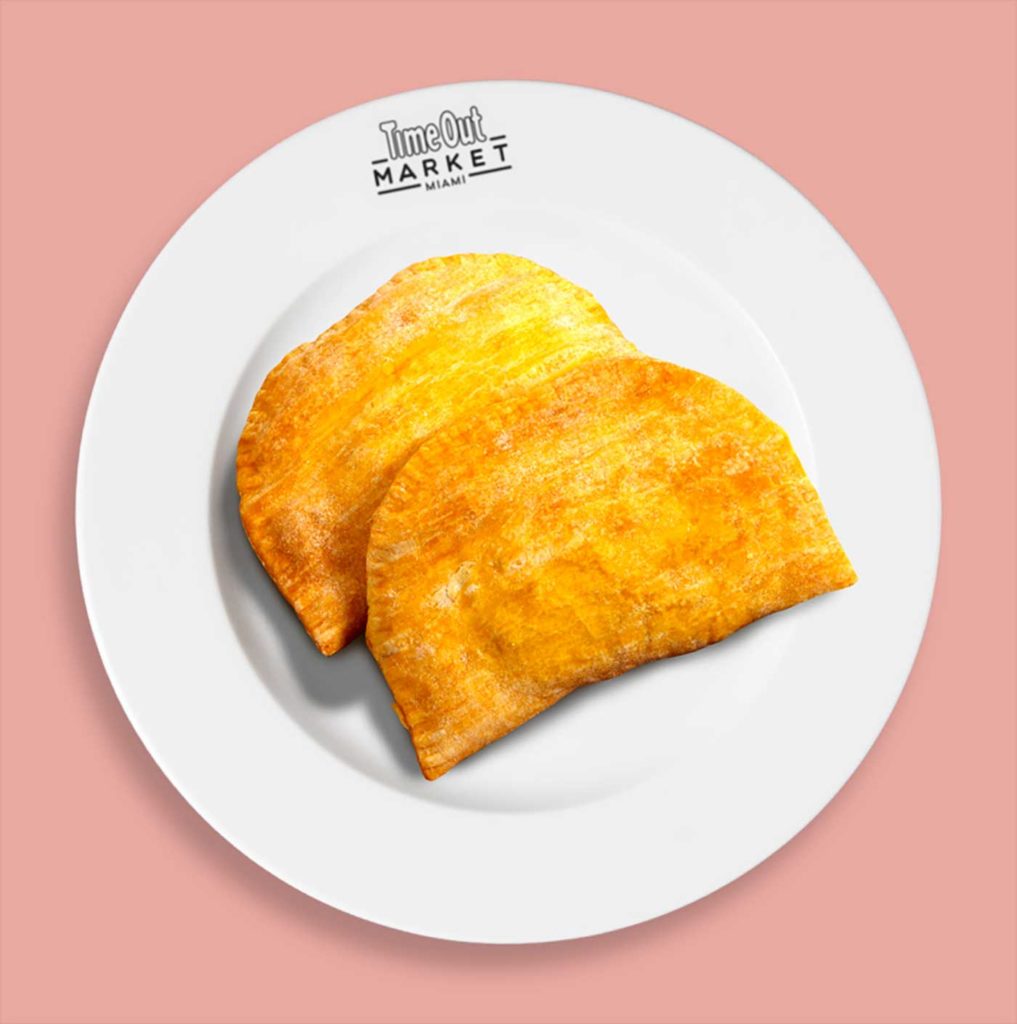 New to the Time Out Market Roster is King Patty's, a Jamaican street food eatery that churns out Jamaican patties with a vast array of fillings you won't want to miss out on. Think signature spicy beef, but also, jerk chicken, curry shrimp, and curry chicken. Your patty of choice will be served alongside an optional coco bread side, perfect as a bun to make a sandwich.
King Patty's is located at Time Out Market at 1601 Drexel Ave, Miami Beach, FL 33139. For more information, visit their official website.
Korner 67
Part of the team behind Aventura's Reunion Kitchen & Bar, husband and wife duo Cesar Olivo and Adriana Perez Benatar, have opened their newest spot, Korner 67, with chef Adriana Cisneros helming the kitchen and an abundance of the signature Reunion menu items patrons have come to love.
Expect bites like duck prosciutto croquettes with citrus fig jam; bacon-wrapped dates with goat cheese; zucchini carpaccio with Parmigiano Reggiano and pine nuts; wok-seared shishito peppers; flaming Greek saganaki and so much more. As for mains, a pasta and rice section includes artichoke white lasagna; pear Fiocchi in brown butter and sage; and Asian short rib noodles. Seafood and meat people, you can enjoy dishes such as French wild mussels; charred octopus; bacalhau Portuguese stew; Mediterranean-style chicken; Nikkei lomo saltado; and filet mignon stroganoff. Caviar enthusiasts indulge in Korner 67's caviar flight featuring white, black, and gold osetra.
Since no menu is complete without cocktails, this one has a long list of them. Think handcrafted cocktails like shishito mule with green mark vodka, shishito cordial, Montenegro, ginger, lime; and prickly caipirinha with soul cachaça, prickly pear, lemon, and club soda; as well as culinary cocktails such as guav-a-lady with Wheatley vodka, St. Germain elderflower, guava cordial, mint and lemon; and white truffle old fashioned made with 1792 small batch bourbon, white truffle honey, and chocolate bitters.
Korner 67 is located at 6769 Main St., Miami Lakes, FL 33014. For more information, visit their official website.
Moréa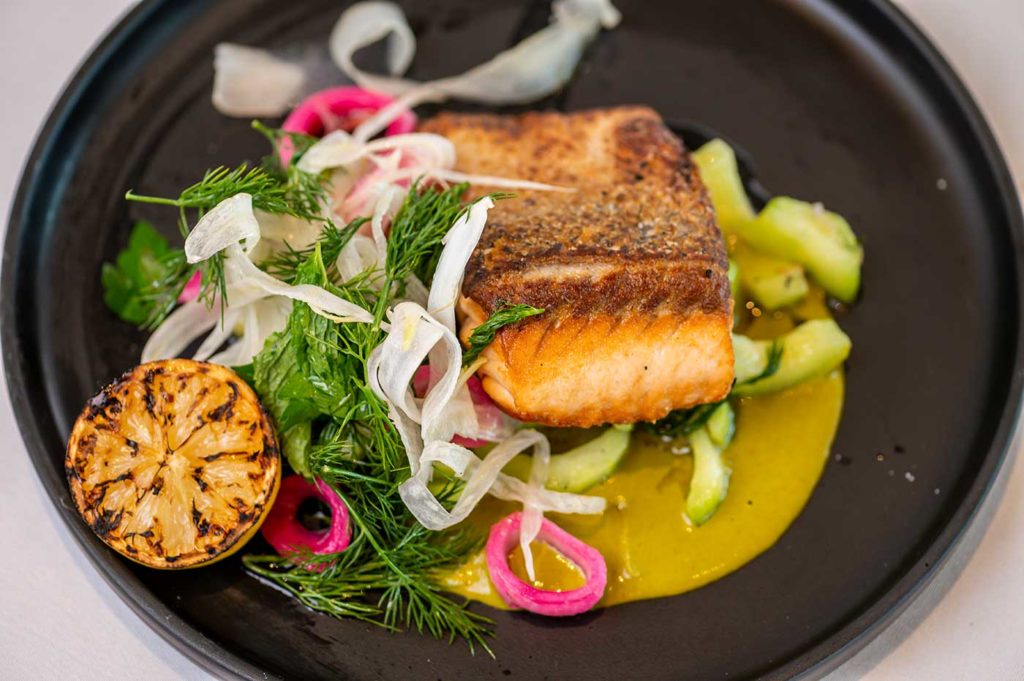 LM Restaurant's latest concept, a Mediterranean oceanfront restaurant dubbed Moréa , is set to open its doors in early 2022. The menu, featuring fresh and simply prepared small plates, mezze, and wood-grilled meats and seafood, hones in on the Mediterranean tradition where meals are meant to be savored and designed to be shared. notable highlights include beet-cured salmon with corn puree, puffed farro, and herbs; clay pot organic chicken with passion fruit glaze, roasted garlic, and lemon; ajillo mushrooms with garlic, Calabrian chiles, and sherry vinegar; roasted cauliflower vadouvan with yogurt, lemon zest, and toasted hazelnuts; seafood paella with bomba rice, sofrito, saffron, shrimp, mussels, clams, roasted piquillo peppers, fresh peas, and socarrat; and fish plaki, fresh catch, slowly roasted with crushed tomatoes, capers and peppers. Design-wise, the space is put together by award-winning artist and Chihuly protégé Doug Frates, who incorporated a two-story glass wall installation along with several signature hanging pieces imported from Italy.
Morea is located at 701 North Fort Lauderdale Beach Boulevard at the Paramount Condominiums. For more information, visit their official website.
Ocean Social
Miami's iconic hotel Eden Roc just got a little bit sweeter with the addition of their newest oceanfront gem, Ocean Social. The menu, crafted by executive chef Darren Anklam, is designed to be shared and features a plethora of wood-fired dishes with an emphasis on locally sourced ingredients and global flavors. Self-described as elevated coastal dining in classic Miami style, Ocean Social appears to be ideal for feel-good bites, stunning ocean views, and just the right dose of neighborhood vibes.
On the menu, expect items like Key West pink shrimp ceviche with leche de tigre, dill and plantain chips; aguacate pizza with lime ricotta, jalapeno, and honey; snapper tacos with chimichurri snapper, corn tortilla, pico de gallo, cabbage, and radish; whole roasted branzino with pea tips, chilies, and crispy garlic; Amish chicken with lemon bomba rice, broccolini, and garlic confit; and so much more. Beverage wise, get your paws on cocktails like Miami twice with Real McCoy 3-year rum, Real McCoy 5-year rum, St. Elizabeth Allspice Dram and Monin hibiscus; It's 3:05 Somewhere with Ron Zacapa rum, Miami Club Cuban coffee liqueur, cocoa angostura bitters, and Licor43 infused whipped cream; and Oaxacan last word with Casamigos mezcal, green chartreuse, lime juice, simple syrup, and flavor cloud.
Ocean Social is located at Eden Rock at 4525 Collins Ave., Miami Beach, FL 33140. For more information, visit their official website.
Ogawa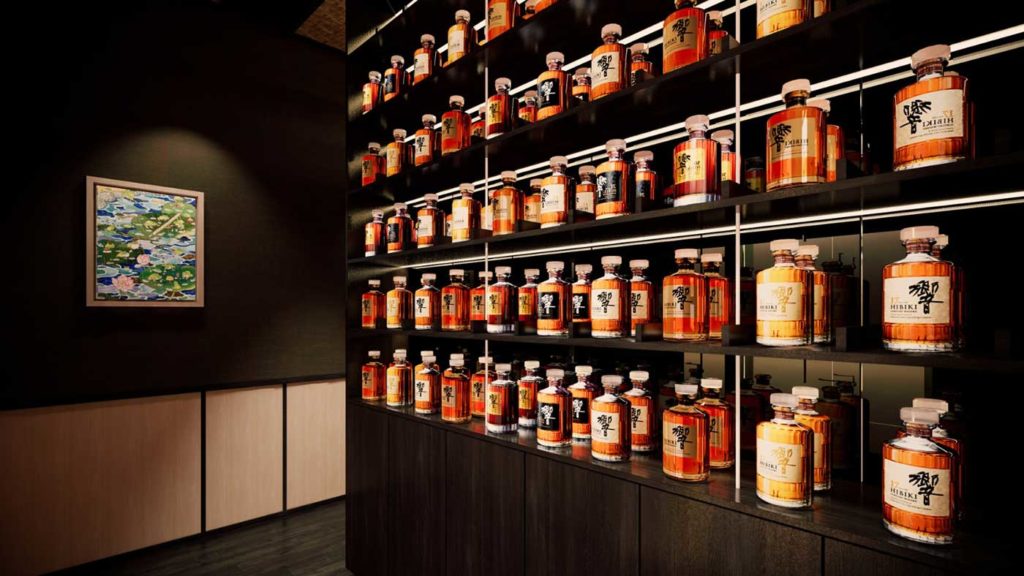 We've mentioned this one before, but it bears repeating! Art dealer-meets-restaurateur Alvaro Perez Miranda (the mastermind behind eateries like Hiyakawa and Wabi Sabi) is officially opening Ogawa, his newest Japanese eatery, this month in Little River. Literally meaning "Little River" in Japanese, Ogawa will be rooted in the simplicity of authentic and traditional Japanese Omakase. The 12-seat restaurant will offer meticulously crafted dishes by Master Chef Masayuki Komatsu, using seasonal ingredients imported from Japan and accompanied by Suntory Whiskey and Suntory's Premium Malts beer, along with a sake and wine list curated by partner/sommelier Luis Martinez. Guests will also be able to enjoy a private Japanese garden designed by Akiko Iwata, which will feature one-of-a-kind Nihonga art pieces by Ryota Unno and a Kakejiku scroll by calligraphy artist Keika Ogawa.
Ogawa is located at 7223 NW 2nd Avenue. For more information, visit their official instagram.
Old Greg's
The famous square pizza spot that started making pizzas out of their home during the pandemic and has been on the tips of everyone's tongues for ages has finally opened a location in the Design District. Stay up to date on hours of operation on their Instagram page if you want a shot at trying their slices! Their website currently says that pre-ordering is no longer necessary and guests can simply stop by.
Old Greg's is located at 3620 NE 2nd Ave., Miami, FL 33137. For more information, visit their official website.
Playa
Playa, the latest from Show Hospitality, the group behind restaurant/club Mau Miami, has officially opened on Lincoln Road with a Mediterranean-meets-Southern menu, lush outdoor seating, and a whole lot of tropical vibes. Expect items like outback lamb chops with Mediterranean herbs and fruit drizzle; seafood pasta with scallops, shrimp, lobster, fish filet and saffron broth; and garlic truffle chicken with demi poulet, champignon and asiago jus; sides like corn on the cob, sauteed spinach, home fries, lobster mac and cheese, brussels sprouts and charred broccolini. Rounding out the menu is a fish market selection, specialty steaks, a raw bar, soups, and salads. A hefty beverage menu features all the classic spirits as well as several bottle party packages.
Playa is located at 915 Lincoln Rd., Miami Beach, FL 33139. For more information, visit their official website.
Smorgasburg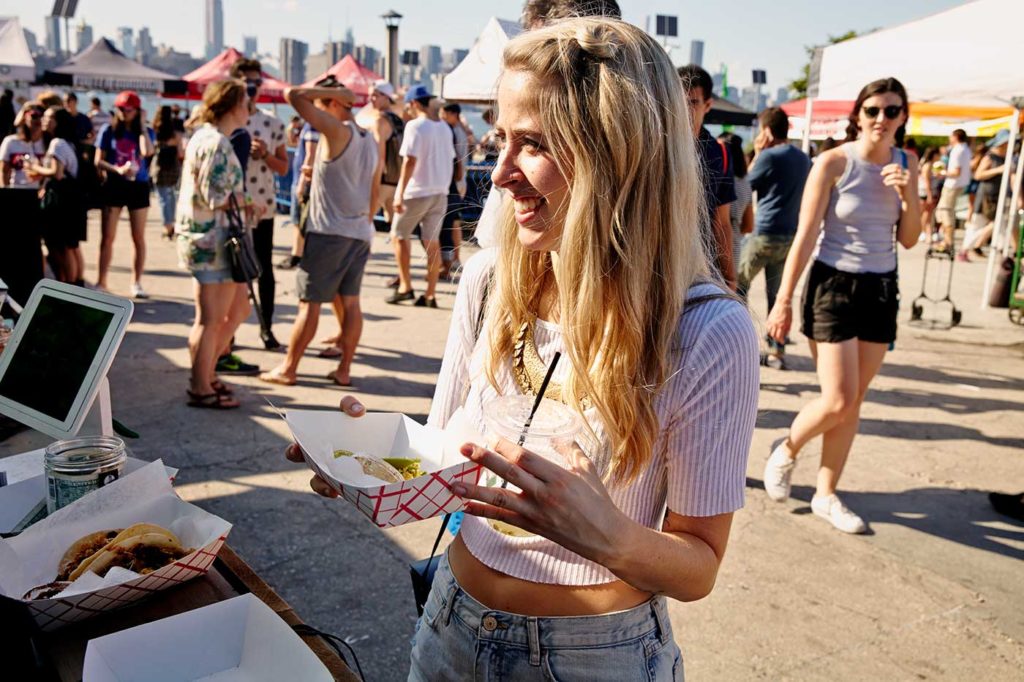 Set to launch in March of this year, Brooklyn's outdoor food market, Smorgasburg, promises Wynwood over 50 interesting culinary vendors with their own unique concepts, 50,000-square feet of alfresco space, and 10 retail vendors. Smorgasburg, the brainchild of Gaston Becherano Cohen and his hospitality company, Omotenashi Group, currently stands as the largest open-air food market in the U.S. and will be a welcome environment amid pandemic times with picnic tables galore and plenty of seating. Look forward to places like Ted's Burgers, Hero by Eleventh Street Pizza, The Maiz Project, Drinking Pig BBQ, and many more.
Smorgasburg is located at 2612 NW 2nd Ave., Miami, FL 33127. For more information, visit their official website.
Tropezon Miami
Get ready for a whole lot of Andalusian charisma. The team behind Lost Boy Dry Goods has officially opened their very first restaurant, Tropezon, on Espanola Way. Inspired by the Spanish village saloons of the 60s, the eatery welcomes "all slippery souls" to indulge in their tapas-style goodies and gin-heavy beverage program. Their menu, mostly highlighting flavors of the Andalusian region also nods to the Arabic influence of the moors, as well as coastal Mediterranean flavors.
If you haven't run over there to try them out for yourself just yet, here's a glimpse at what you'll find on their menu: Jamón Ibérico de bellota, 100% acorn-fed; gambas al ajillo with skull island prawns, chili crunch and piquillo; empanada murciana with saffron wagyu picadillo, aji panca, and piquillo; and cochinillo suckling pig with oloroso, plum sauce, fennel napa slaw. On the drinks menu, guests will discover an abundance of interesting gin infusions, gin and tonics, cocktails, sherry, Madeira, and more.
Tropezon Miami is located at 512 Española Way, Miami Beach, FL 33139For more information, visit their official website.
Whitman's New York
Famed New York eatery Whitmans is opening its first Florida location come February 2022. Named after the poet Walt Whitman, it's no surprise that Whitman's long-standing culinary heritage reflects quality, classic Americana. Its 1,500-square-foot Miami Beach location will feature much of the same cozy vibes, seasonal elevated comfort food, and upscale-casual atmosphere it's known for, and will be the perfect spot for easygoing dinners, happy hours, or a quick snack.
As for what you'll find on the menu: their most renowned highlight is the juicy Lucy, a Minnesotan take on a sandwich featuring two short rib-beef blend patties pinched together around a scoop of pimento cheese. Other than that, expect items like east villi cheesesteak, a chip steak, sauteed onions, and melted cheese on a toasted hoagie roll; The Hound with applewood-smoked bacon-infused batty, arugula, smoked gruyere, and potato crisps on a potato bun; and the Grilled Chicken Club made with free-range chicken, applewood-smoked bacon, bibb lettuce, tomato, pickles, and special sauce.
Whitman's New York (in Miami Beach) is located at 959 West Ave., Miami Beach, FL 33139. For more information, visit their official website.
Ya Mas!
The latest move from hospitality powerhouse Memphis Garrett, the mind behind No Man's Land, Poke House, and Blue Wave Sushi? Ya Mas! aka "cheers" in Greek. Recently opened in Fort Lauderdale, the eatery pays homage to Mykonos' and Santorini's upbeat tavernas with a rustic-chic indoor/outdoor space and dishes reflective of modern interpretations of Greek, Turkish, and Israeli cuisine. Expect dishes like mussels with nduja, white wine, and sundried tomato; farro salad with muhammara, sundried tomato, and herbs; lamb meatballs with toast tomato tzatziki and feta crumble; and harissa buffalo wings; all drummed up by executive chef Austin Blake. As for boozy drinks, beverage director Chevy Farrel will be creating a cocktail menu focused on simple and straightforward classics, beers, wines and a selection of specialty spritzes.
Ya Mas! is located at 1103 E Las Olas Blvd, Fort Lauderdale, FL 33301. For more information, visit their official website.