The holidays are right around the corner, which means it's officially time for a few days off. No better way to spend them than eating and drinking your way around Miami's newest restaurants. Here are six new spots definitely worth a visit.
Joliet
A Lost Boy & Co. Concept, Miami Beach's newest eatery, Joliet, is now open and serving up a taste of New Orleans with a seafood-forward menu, highlighting the bold, Cajun flavors of Louisiana. The bistro and garden, launched by Chris Hudnall and Randy Alonso of Lost Boy & Co., will be offering the soulful creations of Chef Juan Garrido during the day, as well as late into the night.
On the menu, expect appetizers like handpicked oysters Joliet, broiled with braised collard green butter; New Orleans-style bbq prawns served with Worcestershire sauce, garlic butter, and toasted baguette; and wagyu steak tartare, with sunchokes, fried oysters and parmesan. At the restaurant's signature raw bar, guests will be able to indulge in five varieties of oysters (Irish Point, Beau Soleil, Malpeque, Hammerheadsa, and St. Simon), served with a choice of classic, Calabrian chili, passion fruit, and fine herb mignonette. Dinners will also have the extra options of a smoked fish dip, a local fish crudo, Cherrystone crabs, a king crab cocktail, and more.
For the main course, classic entrées—such as rock shrimp po'boy with picked pepper remoulade; cornmeal fried Florida yellowtail and gumbo, made with chef's daily flavors, mahogany roux, okra and herbs; jambalaya with Carolina gold rice, roasted chicken and grilled king crab; and more.
Led by mixologist Derek Tormes, the cocktail menu puts forth a little something for everyone. Options include a spiced grapefruit made with vodka, lemon, cinnamon, grapefruit soda, and prosecco; and a strawberry aperitivo with strawberry-infused Peychaud, basil, lemon, and Torresella. Diners will also find emphasis on natural wines with a focus on boutique champagne and sparkling wines, including low intervention, organically farmed bottles from Europe, Australia, South America, and the U.S.
As for design, be on the lookout for aesthetic elements inspired by marine life—think sapphire-hued jewel tones, natural materials, and eclectic artwork.
Joliet is located at 1209 17th street, Miami Beach, FL 33139. For more information, visit their official website. 
Kaia
Meet Miracle Mile's newest Mykonos-inspired eatery: Kaia (meaning from the earth in Greek). The latest concept from SP Hospitality Group—the team behind spots like Copper 29 and Calle 23—serves up Greek cuisine in lively, bougainvillea-filled environs, along with traditional Greek cocktails and wines curated by a Greek sommelier.
On the menu, you'll find an abundance of Aegean delights, including a variety of spreads such as skordalia, a garlic dip made with almonds and extra virgin olive oil; eggplant salad, made with roasted eggplant and garnished with scallions, walnuts, and parsley; and of course, hummus. Other menu highlights include zucchini chops, thinly sliced zucchini coated with beer batter and served with yogurt sauce; grilled octopus, with fava cream, garnished with capers, charred shallots, balsamic glaze, and parsley oil; lamb chops, with thyme and oregano, served with oven baked lemon potatoes; and grilled branzino served with ladolemono—lemon and olive oil—sauce, broccoli, and carrots. Guests can top the meal off with a little something sweet, like their kormos, chocolate buttered biscuits with walnuts and vanilla ice cream; portokalopita, orange pie with vanilla ice cream; and more.
Kaia is located at 232 Miracle Mile, Coral Gables, FL 33134. For more information, visit their official website. 
MaryGold's
Award-winning Chef Brad Kilgore and the Bar Lab team are back in action with their newest eatery, MaryGold's. Located at the Arlo Wynwood hotel, Marygold's promises a Florida brasserie menu with refined yet approachable dishes, as well as an imaginative cocktail program executed with perfect technique.
MaryGold's is located at Arlo Wynwood at 2217 NW Miami Ct, Miami, FL 33127. For more information, visit their official website. 
MILA Omakase
Miami Beach's swanky "MediterAsian" eatery has opened three new venues. The first, MILA Omakase, is a 10-seat dining experience featuring a chef-curated and ever-changing menu based on seasonality and ingredients. The omakase experience will offer 10-12 courses with additional wine and sake pairing options. Guests will have the opportunity to have a front-row seat as MILA's chefs create dishes inspired by the Japanese 52 micro-seasons. There are two seatings per night and dining is only available by reservation.
The second venue, MILA Lounge bills themselves as an elevated and secluded nightlife experience. Guests can expect Jazz performers, percussionists, singers, and top DJs to provide entertainment regularly.
And last, but not least, MILA has also launched, MM Club, an ultra-private, members-only club providing an intimate experience for the exclusive few that take part in Riviera Dining Group's program. The space will feature a glamorous twist to the conventional speakeasy.
MILA Omakase is located at 1636 Meridian Avenue Rooftop, Miami Beach, FL 33139. For more information, visit their official website. 
Sushi by Bou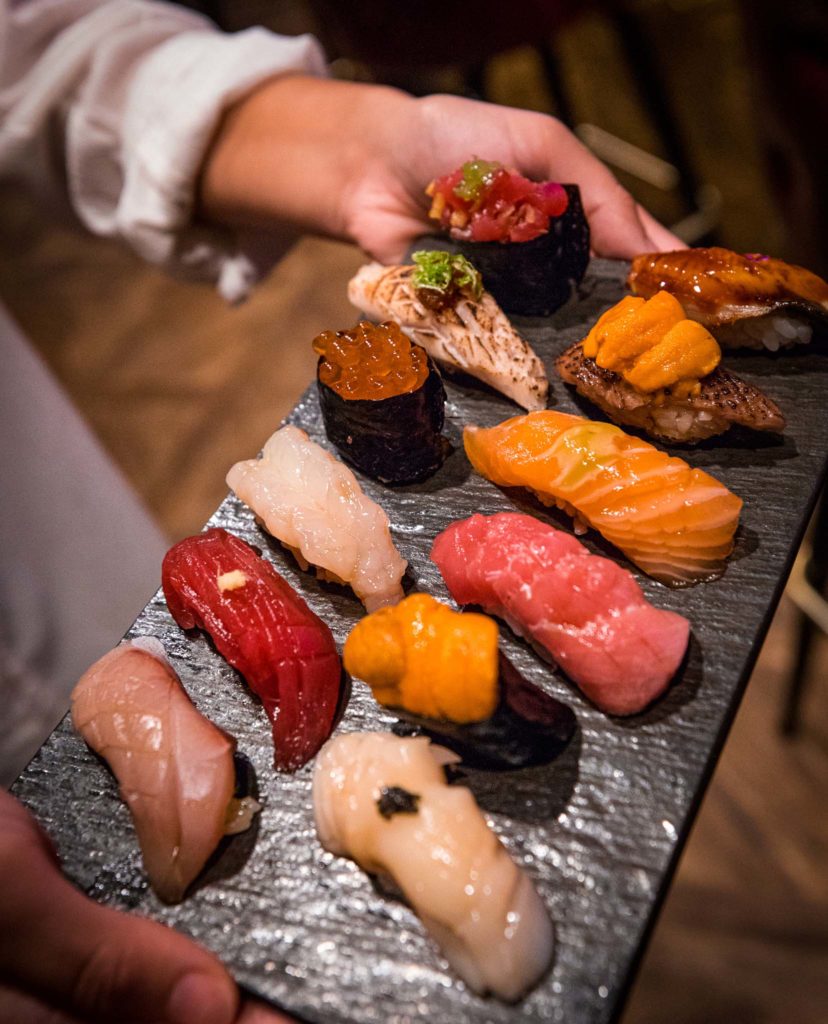 Nationally acclaimed eatery Sushi by Bou has officially re-opened its doors at SLS Brickell, in an intimate, 650-square-foot location. The speakeasy-inspired Omakase restaurant, created by NYC-based hospitality group SimpleVenue, will offer two signature options including a 12-course, $60 experience or a 17-course, $125 experience, each complemented by a selection of handmade cocktails, imported sake, and rare Japanese whiskeys. Seafood offerings, sourced both locally and globally, may include Hamachi, Botan Ebi, Ikura, Hotate, O-Toro, Unagi, and Wagyuni. Hand rolls and other sushi staples can be made upon request.
As for the signature cocktails, whet your palate with the shiso southsider, with Suntory Haku vodka, shiso leaves, simple syrup, and lime juice; yuzu honey bee, made with Maker's Mark bourbon, honey syrup, yuzu, and pink peppercorn; ay-karai, made with Casamigos Blanco, jalapeno, cilantro, lime juice and agave; and el coyote, with Sacrvm Mezcal, pineapple juice, and amarena cherries.
Sushi by Bou is located at the SLS hotel at 1300 S Miami Ave, Miami FL 33130. For more information, visit their official website. 
Walrus Rodeo
Walrus Rodeo, the latest from the Boia De team, has set up shop in Little Haiti, nearby Boia De. The eatery's main focus? Wood-fired cooking, unique ingredients, and old-world wines. On the menu, guests will find a variety of interesting concoctions, like chilled butterbeans with broccoli florets, marcona almonds, and apple-ginger; charbroiled oysters with jalapeno, Franciacorta, and breadcrumbs; panzerotti, made with speck, yucca mascarpone, and tomato conserve; schmaltz roasted maitake mushroom with heirloom beans, Tuscan kale, and sesame seeds; cabbage carbonara with pancetta, pecorino, and fermented hollandaise; and so much more.
Rodeo Walrus is located at 5143 NE 2nd Ave, Miami, FL 33137. For more information, visit their official website.