Some open gifts during the holidays, others open restaurants. Being of the former gift-opening, restaurant-trying group, we're definitely not complaining about it! This holiday season Miami welcomes seven new eateries. Here's what's newly opened and what's coming soon:
Bonci Pizzeria
Acclaimed Chef Gabriele Bonci has come all the way from Rome to give us some of the best pizza we've ever had. Bonci, who once opened the famous Pizzerium (beloved by Anthony Bourdain) right outside of the Vatican, has brought his latest slice of heaven, Bonci Pizzeria, to Wynwood. Pronounced "Bahn-chi" the eatery has no set menu to order from and instead offers an array of different pizzas, made with only fresh, natural, and high-quality ingredients, that change every three hours depending on what ingredients are in season and on hand at that moment.
Bonci Pizzeria is located at 232 NW 24th St, Miami, FL 33127. For more information, visit their official website.
Cebada Rooftop
Coral Gables is now home to its first rooftop restaurant, raw bar, and cocktail bar, Cebada Rooftop. From the owners of Abi Maria and the now-closed Barley, Cebada is the brainchild of Jorge Sr. and son Jorgie Ramos and an ode to the duo's Cuban heritage.
Each drink is inspired by Jorgie Ramos' life growing up in Miami. Expect Cuban-bent libations at the inside bar and creative concoctions outdoors. Some house cocktails include, "Relax, it only tingles a little," made with pineapple aguachile, lime, cucumber, serrano peppers, agave, and Corazon tequila; and "Tom De La Cruz," made with rosemary syrup, absinthe rinse, and Los Vecinos mezcal. Each name alludes to a story from Ramos' life.
As for food, think Corn Ribs, with tajin, cilantro, queso fresco, and crema de mojo rojo; Squid Ink Linguini with buttered king crab, seafood crema and everything bagel crunch; Chorizo Spiced Cobia with sofrito fumet, platano maduro, root vegetables, and yuca mofongo crumble.
Cebada Rooftop is located at 124 Giralda Ave, Coral Gables, FL 33134. For more information, visit their official website.
Citizens MiamiCentral Market
Located at Miami's Brightline Station, Citizens MiamiCentral Market, the newest food hall in the area, has opened a number of different restaurants by some big names in the culinary world. After all, who says being on the go means sacrificing quality and excellence? The elevated food hall is home to Cicci di Carne by Chef Dario Cecchini, EllaMia Bakery & Cafe, Umami Burgers, and Sam's Crispy Chicken. Sa'Moto by Chef Morimoto will be opening soon along with La Gente, Krispy Rice, and El Pollo Verde. You can also find familiar favorites such as Rosetta's Bakery, Patagonia, and more.
Citizens Miami Central Market is located at 550 NW 1st Ave, Miami, FL 33136. For more information, visit their official website.
HaSalon Miami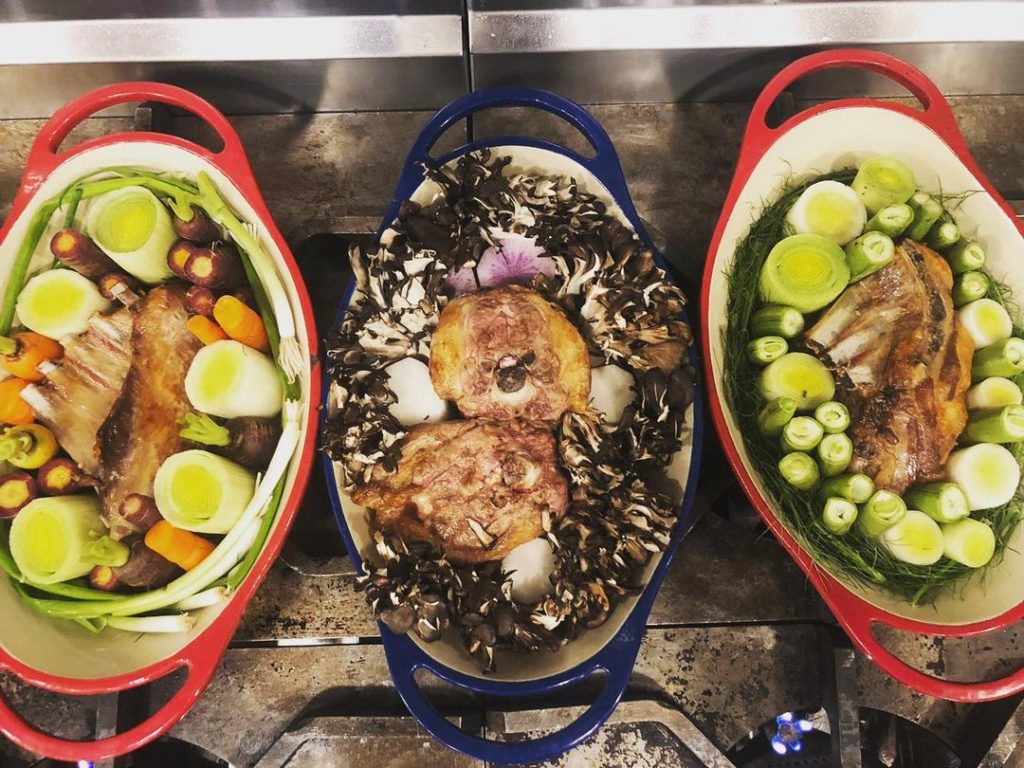 Master Israeli Chef Eyal Shani has partnered up with the makers behind Carbone and ZZ's Club to open his newest outpost of HaSalon in Miami. With locations in Tel Aviv and New York City, HaSalon brings Miami Mediterranean flavors and energetic vibes, along with a flurry of menu items reflective of the unique flavor profiles Shani loves to play with. Signature dishes from a creative menu include items from the "Vegetable Creatures" section, such as "general salad from the embers of creation," "mushroom colony steak laying on its dark forest's blood," and "baked giant ugly potato, sour cream and a mountain of Beluga caviar." The seafood section, dubbed, "Alive from the blue Abyss," boasts items like "octopus carpaccio on the ocean's rocks" and "Dover Sole, in a paper envelop. Swimming in herbs, ginger, citrus." On the meatier side, HaSalon offers "Cow, lamb & chicken. All under humane certificate," with standouts like "the longest, thickest, juiciest lamb kebab in town" and "roast beef carpaccio on a rock from the green field."
HaSalon Miami is located at 404 Washington Ave, Miami Beach, FL 33139. For more information, visit their official website.
Holy Crab
Stone Crab season is well underway here in Miami and Time Out Market's newest addition is the perfect place to get in on the fun. Holy Crab, the delivery-based restaurant, will only be open October through May, just for stone crab season. Founded by Lucas Calderon and fiancée Irene Guerrero, Holy Crab is known for its ultimate freshness; the stone crabs (and oysters) are caught daily by local Miami fishermen, boiled for eight minutes, packed in ice, and are available for same-day delivery, overnight delivery or pick up. The crabs are sold by the pound and come with Holy Crab's signature homemade mustard sauce.
Holy Crab is located at 1831 Ponce de Leon, Coral Gables, FL 33134. For more information, visit their official website.
La Otra
La Otra, Miami's high-end bar and lounge, officially reopened its doors in the city's most colorful location, Wynwood, at the end of November. The new indoor/outdoor space feels as magical as it looks. Looking up at the ceiling, you'll find green plants cascading down from floating planters, along with oversized disco balls hanging in between. Around the lounge lie plush velvet couches, glitzy décor and all the eye-catching details of its former Brickell digs. Guests are invited to dance the night away to live music while sipping on specialty drinks or enjoying bottle service. The venue is open Thursday through Saturday from 8 pm to 5 am, and Sundays from 8 pm to 3 am. Don't forget to check their website for special events and themed nights.
La Otra is located at Address: 55 NE 24th St, Miami, FL 33137. For more information, visit their official website.
Niu Wine
The details are sparse on this one, however, the team behind Niu Kitchen has officially opened Niu Wine. Taking over the former Arson Miami space, the shop will feature a curated collection of wines from Niu Kitchen's wine connoisseur Karina Iglesias, along with a combo of fan-favorite Arson Miami dishes created by chef Deme Lomas.
Niu Wine is located at 134 NE 2nd Ave, Miami, FL 33132.
The Key Club
Not long after opening three consecutive restaurants in the last few months (Sushi Fly Kitchen, Winker's Diner, Toothfairy), David Grutman is back at it with the Key Club, set to open this winter in Coconut Grove. Expect American cuisine featuring seafood, steaks, and a variety of classics in an indoor/outdoor space with seating for up to 300. Inside, a sizable bar in the middle of the space with live palm trees all around will make for the grand centerpiece. Stay tuned for more details as we get them.
The Key Club is located at 3015 Grand Ave, Coconut Grove, FL 33133. For more information, visit their official website.