The South Florida food scene is getting back to normal, and some of our favorite restaurants have reopened their doors after lengthy closures. Emphasis on some: Many restaurants still haven't reopened, but with restrictions eased, they're getting ready for the big day. Below, you'll find a list of newly reopened spots along with other restaurants poised to start operating in the next few weeks.
Beaker & Gray
By the time you read this, Wynwood's Beaker & Gray will have reopened. The reopening follows a temporary rooftop stint at The Citadel food hall in Little River. B&G took over the space atop The Citadel for the month of September, giving fans of the restaurant a chance to enjoy their favorite cocktails during the quarantine. The one downside: Beaker & Gray's international fare was nowhere to be seen.
By reopening the brick-and-mortar space, Beaker is giving its guests the best of both worlds again. Expect signature bites like the cheeseburger croquettes, pumpkin gnocchi, shrimp taquitos, and arroz con pollo. Like many restaurants these days, sharing is caring and the plates are all designed to be split with others (or enjoyed by one very hungry individual). There's no word yet if B&G will offer its popular cocktails of the day again, but one can only hope; the bar team is incredibly talented (as we noted earlier).
Beaker & Gray is located at 2637 North Miami Avenue, Miami, FL 33127. For more information, visit their official website or call 305-699-2637.
Komodo
Over in Brickell, restaurateur and nightclub aficionado David Grutman has reopened his Southeast Asian-inspired eatery, Komodo. The restaurant is a three-story behemoth; it's a sight to behold with its classy color palette and "birds nest" seating. Yes, you're literally sitting in an adult-sized bird's nest. It sounds gimmicky, but it adds to the allure of the place. It's hard not to gawk at everything around you.
Komodo may seem flashy at first, but it takes food seriously. There's a big menu of small plates and larger delights such as pork sticky ribs, Singapore cereal prawns, and garlic king crab lo mein. Dim sum and sushi are also available, and guests are encouraged to share. One selection you won't want to share, though, is the Peking duck. It's so crispy and juicy that you'll want it all to yourself. Fair warning: It carries a hefty price tag. But if you can manage it, it's worth the splurge.
Most drinks on the cocktail list tend to be on the sweeter side, with lots of fruit making an appearance. If you want something with a little kick, you'll likely want to order off the menu. For the tee-totalers at the table, spirit-less cocktails are also available—we think that's a nice touch, as non-alcohol drinkers are often forgotten.
Komodo is located at 801 Brickell Avenue, Miami, FL 33131. For more information, visit their official website or call 305-534-2211.
Le Jardinier
On October 7, Le Jardinier in the Design District will reopen to welcome back patrons for the first time since March. Menus will continue to feature high-quality seasonal ingredients, particularly vegetables. The upscale eatery is by no means plant-based, but they're one of the few restaurants that shines the spotlight so brightly on them.
When you read the menu, you'll notice that the entries lead with the vegetable instead of the main protein. It's a fresh approach you don't see a lot of in Miami. That said, there's plenty of proteins to be found in the vibrant offerings. Pay extra attention to the cocktail program, which features top-of-the-line spirits and cool glassware to make for stunning presentations and equally stunning flavors. Le Jardinier is another place that ensures non-alcohol drinkers don't feel left out. There's an array of mocktails made with teas and juices that can be just as tasty as their alcohol counterparts. Now everyone has something to cheers with.
Le Jardinier is located at 151 NE 41st Street, Suite 135, Miami, FL 33137. For more information, visit their official website or call 305-402-9060.
Lost Boy Dry Goods
One of Downtown Miami's beloved watering holes is back, but a couple of things have changed. The biggest difference from pre-COVID days: You can no longer go for just a drink. If you plan on drinking, you also need to order food; you can thank business license requirements for the change. Although your final check will be bigger, it's not too bad—Lost Boy has stepped up their food game as a result.
Hot pot pies, hot dogs, and sandwiches can all be enjoyed with the libation of your choice. The Sloppy Jose gets its own section on the menu, and rightfully so: The Cuban take on a Sloppy Joe is good, cheap, and filling. For larger groups, it makes sense to order the charcuterie board to share and meet the food requirement without the bank too bad.
On the cocktail side of things, old favorites like the signature Gin + Tonic and CBD Espresso Martini haven't gone anywhere, and you'll find them alongside soon-to-be-new favorites like the Peaches + Chamomile and Watermelon Highball. Beer and wine are also available if that's more your style. Word of advice: Come early if there's a big game on TV—this place is popular with the sports crowd.
Lost Boy Dry Goods is located at 157 East Flagler Street, Miami, FL 33131. For more information, visit their official website or call 305-372-7303.
Mignonette
Mignonette is finally back after closing early on during the pandemic. In the weeks prior to its reopening, Mignonette transformed into Red Sauce, an ode to Italian American classics including a monstrous chicken parmesan. But now the restaurant is again focusing on what turned it into an Edgewater institution: seafood. Think clams casino, crab cakes, crispy skin snapper, and—of course—oysters galore.
If you can think of it, it's likely on the menu. That includes non-seafood items like a crispy chicken sandwich, filet mignon, and the Blue Collar Burger, named after its sister concept up the road. It can get a little pricey here: A party of two can easily spend over $100 for dinner. That said, you're paying for quality and you get that in spades at Mignonette. Even though you'll likely be full from your entrée—many of which come with two sides—you will want to save room for dessert. The famous butterscotch Heath Bar bread pudding is a masterpiece and must be tried at least once.
Mignonette is located at 210 NE 18th Street, Miami, FL 33132. For more information, visit their official website or call 305-374-4635.
MILA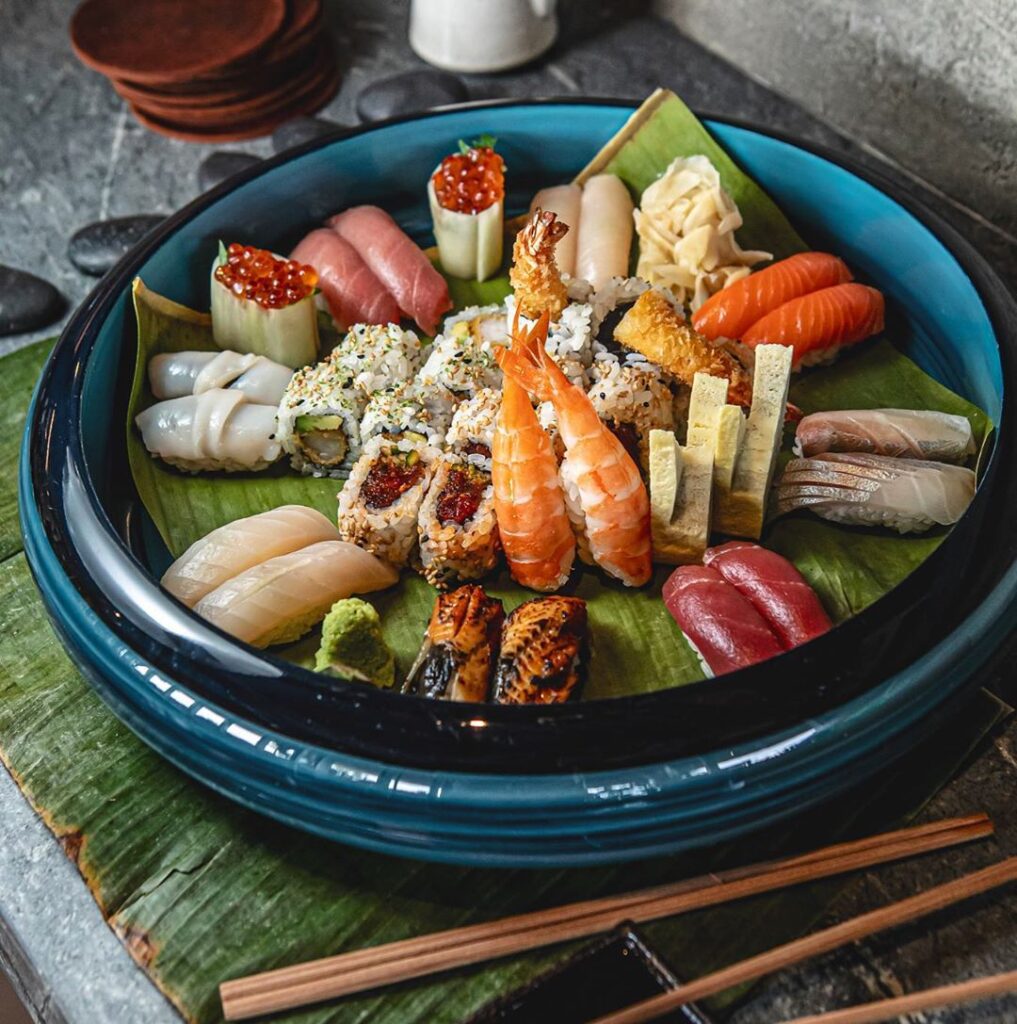 MILA opened back in January on Miami Beach and closed just a few months later due to the pandemic. While it never really had time to make a name for itself before the closure, it's ready for round 2. The spacious restaurant, which fuses Asian and Mediterranean influences, boasts an extensive menu of international flavors that is sure to impress guests from start to finish.
Raw bar, sushi, and crudo selections lean on the lighter side, while items like 5-spice chicken karaage, Cornish game hen tagine, and spicy lamb ragu pappardelle are more substantial. A visit to MILA is worth it just for the ambiance: The rooftop restaurant describes itself as an "open-sky sanctuary" and the whole place is very zen. And don't get us started on the drink menu, which is perfectly balanced between refreshing signature cocktails and reinterpretations of classic adult beverages. Traditionalists need not worry, though, as you can still enjoy manhattans, negroni, daiquiris, and margaritas done right.
MILA is located on the rooftop of 1636 Meridian Avenue, Miami Beach, FL 33139. For more information, visit their official website or call 786-706-0744.
Red South Beach
The pandemic has spared no one, not even South of Fifth mainstays like Red South Beach. The steakhouse's iconic Washington Avenue location has shuttered forever, but Red is set to reopen in mid-October in a new location—one just a few blocks away from its previous building. What will guests encounter when the Miami Beach institution returns? Red's classic menu—plus a few new additions.
Arguably the largest addition is the outdoor seating. Unlike its previous space, Red will be able to offer outdoor dining service on a covered patio. The 70-plus seating area provides patrons with beautiful views of the bay to accompany their satisfying meal. In total, the new space will be able to host 140 guests. There will be an oversized bar, a glass-enclosed VIP room, a wine cellar, and two private dining rooms. Weekend warriors will also be able to indulge in a decadent 4-course Sunday brunch with the appropriate mimosas, bloody marys, and champagne.
Red understands that some guests may be wary of dining despite eased restrictions. That's why they also plan to offer the full menu for takeout and delivery. Customers can also order from the RED Butcher Shop, which offers ready-to-grill meats, sustainable seafood, and signature spice rubs.
Red South Beach will be located at 801 South Pointe Drive, Miami Beach, FL 33139. For the latest information on their reopening, visit their official website.