Great food is just one part of what makes a restaurant special. Another big factor: great drinks. Visit these four South Beach hotspots for some awesome libations.
Casa Isola
Casa Isola in Miami Beach is always busy. Crowds clamor for its amazing Italian cuisine, and its drink selection is just as amazing. Casa Isola doesn't have a full bar, but you'll hardly notice given its creative non-spirit cocktails and other tasty beverages. Must-try drinks include Casa Isola's two spritzes: the Aperol (prosecco and club soda) and the Ginger (Lillet, prosecco, and ginger beer). Other highlights include the prosecco-peach and prosecco-strawberry bellinis.
Complementing these mixed drinks are a bevy of Italian wines and craft beers. When it comes to the latter, definitely check out the Belgian-inspired Labi La Dorata that has some nice spice to it. Cheers!
Casa Isola is located at 1418 20th Street, Miami Beach, FL 33139. For more information, visit their official website.
Orilla
On South Beach, Orilla is the definitive Argentinean restaurant. Empanadas, Milenesa, steak … all the favorites are here; meat lovers will love this place. To help you wash everything down, Orilla boasts an impressive selection of mixed drinks for every palate.
In the mood for something light? Look no further than the Santa Paloma or Into the Woods. The former is a tequila-based cocktail with a delectable mix of guayaba, grapefruit, and other vibrant elements. The latter mixes Grey Goose, Strega, eucalyptus, Sicilian lemon, and dry cider for an equally refreshing feel.
If you prefer something with more oomph, take a swig of the Rey Old Fashioned or Mad Manhattan. There's also an extensive selection of after-dinner drinks, wines, and beers. You won't go thirsty here.
Orilla is located at 426 Euclid Avenue, Miami Beach, FL 33139. For more information, visit their official website.
RED South Beach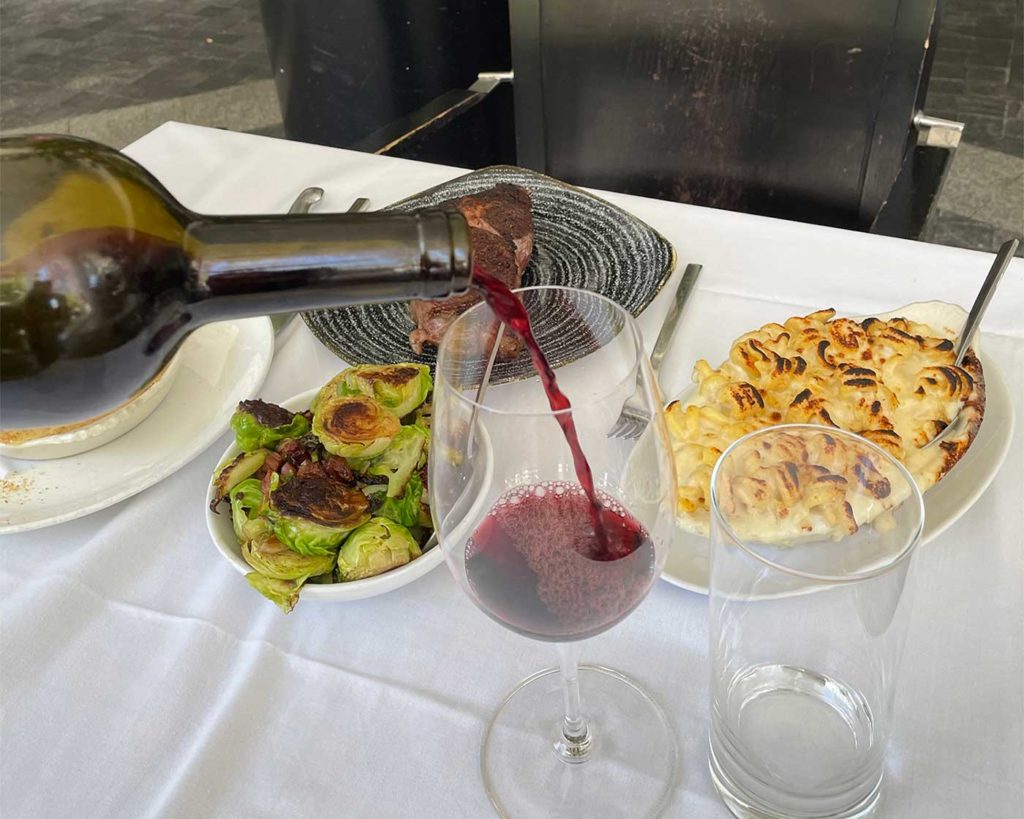 When we think of steakhouses, the drink of choice tends to be wine – they're a match that's hard to beat. At RED South Beach, wine is indeed a big focus; their generous Wine Wednesday promo (50% off most bottles) is a testament to that. Another fun fact: The wine list is updated weekly, so there's always something different. But did you also know that the neighborhood gem has killer cocktails?
RED's eight cocktails run the gamut from bright and light to layered and stiff. Start with a Gin Blossom or Lychee Martini while you enjoy appetizers like Alaskan king crab cake and lemon garlic shrimp, and then sip a Hennessey-based The Ritz or Double Dirty Martini as you indulge in Certified Angus Beef prime bone-in filet and other succulent cuts. No matter what you choose, a good time is guaranteed.
RED South Beach is located at 801 South Pointe Drive, Miami Beach, FL 33139. For more information, visit their official website.
Villa Azur
Thanks to Villa Azur, a trip to the Mediterranean is always within reach. The Miami Beach restaurant is known for its French villa vibes and elevated fare – including its whimsical cocktails. The cocktail list is concise, but each drink packs a flavorful punch. The Finally Old Fashioned is a crowd favorite with its Bulleit rye, Amaro, and cherry smoke, as well as the Spicy 309 with Avion Silver and jalapeno Cointreau.
Make sure to check out the Liquid Sweetness section of the menu, too, as it's full of dessert wines and other goodies that will end your experience on a high note. And don't get us started on that impressive digestif selection.
Villa Azur is located at 309 23rd Street, Miami Beach, FL 33139. For more information, visit their official website.