Whether you're visiting a restaurant for the first time or the fifth time, there are some dishes that you should always get. At these five Miami hotspots, the following selections are always a hit.
Buya
This Japanese-inspired eatery in Wynwood is known for its tantalizing shareable plates. Portions are hefty for the price, and you should order at least two or three dishes per person. There are no wrong choices here, but there are several must-try plates – the duck gyoza hot pot is one of them. This bowl of duck dumplings and smoked shoyu broth will have you slurping up every drop.
Other highlights include karaage chicken and the tempura beech mushroom with Tokyo ranch; the latter is especially flavorful and unlike anything you've probably tried. Honestly, everything is so affordable that you might just want to get the chef's tasting for $45.
Buya is located at 250 NW 24th Street, Miami, FL 33127. For more information, visit their official website.
Della Bowls
For healthy plant-based food, Della Bowls should always be top of mind. The Doral Yard eatery offers guests an array of satisfying bowls to nosh on. You can always build your own bowl, but we suggest you let the kitchen make life easier with pre-selected favorites.
One bowl that can't be recommended enough: the Forbidden Bow that's made up of black coconut rice, tempeh, broccoli, sweet potato, raw roots, almonds, and gold sauce. Its ingredients list is a mouthful and so is the bowl itself; odds are you'll enjoy it for both lunch and dinner.
Another crowd favorite: the Southwest Bowl with its fresh greens, quinoa, avocado, pico de gallo, and a few spicy elements. To save a few bucks, consider visiting during lunch hours for a discounted bowl and beverage.
Della Bowls is located at 8455 NW 53rd Street, Suite 106, Doral, FL 33166. For more information, visit their official website.
La Giulietta
Ironside's La Giulietta is heaven on earth for Italian food lovers. The charming neighborhood haunt offers breakfast, lunch, and dinner for hungry patrons and each service has its own must-try plates. Start your day with a seasonal quiche or croissant sandwich or visit later for mouthwatering menu items like orecchiette, burrata caprese, branzino and tiramisu. You can't go wrong with any of those choices.
In terms of alcoholic beverages, it's BYOB with no corkage fee. There's also a little shop next door where you can pick up a wine bottle (or two) if you forget your own. If the weather is nice, make sure to sit outside on the spacious patio to take advantage.
La Giulietta is located at 7580 NE 4th Court, Miami, FL 33138. For more information, visit their Instagram page.
Pubbelly Sushi
Pubbelly Sushi has multiple locations throughout the city, so you're never too far from creative rolls and other Asian-inspired fare. For those not familiar with the Pubbelly brand, their team is known for putting together award-winning cuisine and adding in a little fun.
The menu is enormous with snacks, rolls, grilled items, buns, and more but we'll narrow it down for you. If you only order one thing, make it the Butter Krab roll. The warm clarified butter used for dipping will have you smacking your lips in ecstasy.
The tuna pizza, served cold, may sound a little strange, but its combination of fresh tuna, crispy tortilla, and truffle oil is a match made in heaven. Lastly, get the pork belly. It might sound basic compared to other items but take one bite and get back to us – you're welcome.
PB Sushi has multiple locations in Miami, including Miami Beach and Brickell. For more information, visit their official website.
Riviera Focacceria Italiana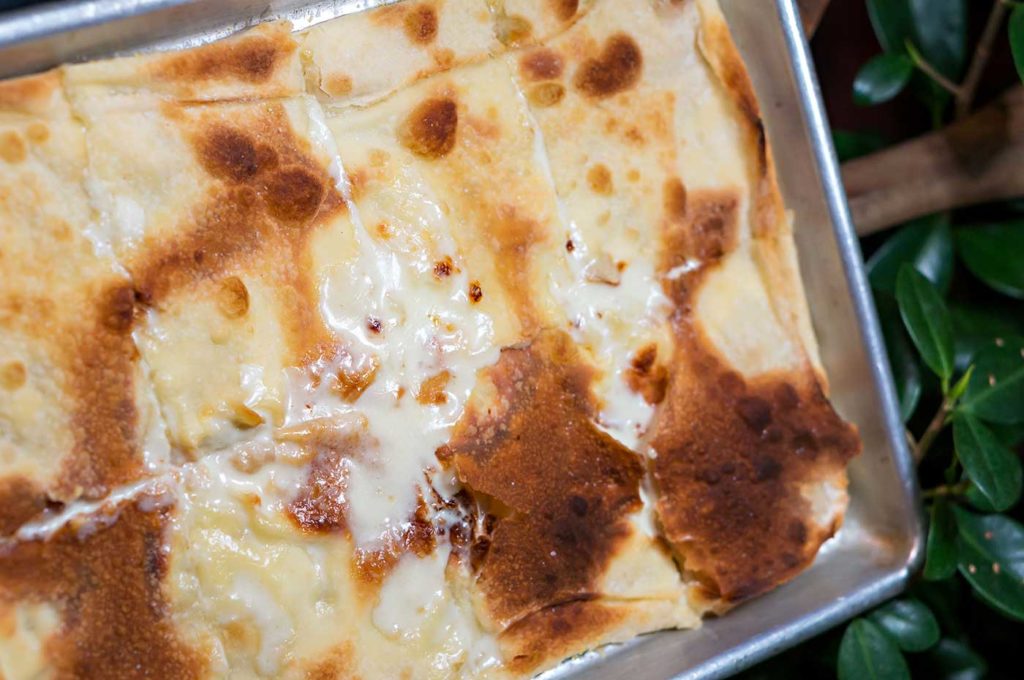 There are only three words you need to know when visiting Riveria Focacceria in Midtown: Focaccia con Formaggio. That's it. You can literally just order this item from the Italian eatery, and you'll have gotten your money's worth.
What is it, you ask? It's two ultra-thin layers of homemade dough filled with imported Italian stracchino cheese. You can also get different toppings. And it's so addicting that the restaurant added a warning on the menu.
Aside from this treat, there's plenty of other options to be had at Riviera Focacceria including the pesto pasta, the bucatini, and the boneless veal chop. Pair any of these three with the focaccia, and you're gold.
Riviera Focacceria Italiana is located at 3252 Buena Vista Boulevard, #110, Miami, FL 33137. For more information, visit their official website.